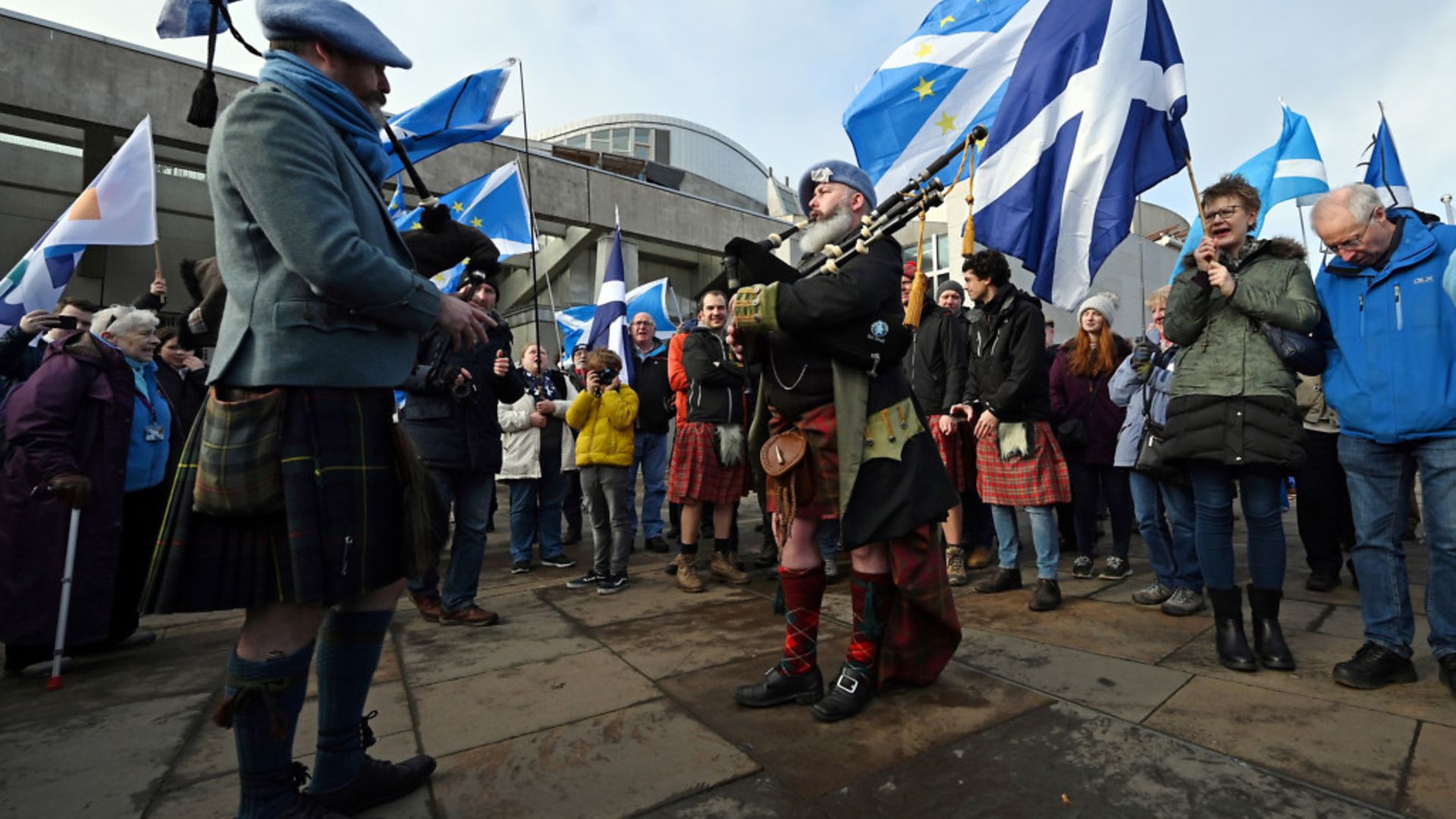 Many pro-Europeans, north and south of the border, have sympathy with the independence cause. But this is yet another Union they should fight to stay in
A referendum on Scottish independence is coming. Boris Johnson pretends it isn't. He will delay, prevaricate, challenge in court and maybe deny it altogether. But none of these tactics will last forever. The SNP and Greens campaigned for another referendum and won a majority of seats. That is a mandate, whichever way you cut it, and no good is done to the Unionist cause by pretending otherwise.
The referendum won't be this year and it won't be the next either. But it will happen. And when it does, it will serve as a kind of Brexit refrain: the same tune, with different instruments.
Until Brexit, independence was a pretty standard project for self-determination. It reflected a desire for Scotland to make decisions for itself and be free from a union of nations. There was a notional plan to rejoin the EU if it was secured, but that path was cloaked in uncertainty.
Once Brexit happened, everything changed. It was now the UK which was cutting itself off from other nations, lost in a childlike fantasy which fetishised sovereignty over cooperation. Independence became a life raft, a way for Scots to get out from a sinking ship and re-establish themselves in the EU.
For many of those who opposed Brexit, both inside and outside Scotland, that was a seductive argument. It's hard to begrudge people the opportunity to escape this parade of reactionary horror. But there is still a basic similarity between Scottish independence and Brexit. You can deny it until you are red in the face. But it remains there nonetheless.
I come from a mixed immigrant family south of the border. And for us, like many immigrant families, we consider ourselves more British than English. It's worth considering why that is.
England always seemed distinctly white: uniform, singular, somehow implying race. Britain did not. And the reason for that lay in the idea of it: Britain was many things, combined as one. It suggested that people of different backgrounds, heritage and nations could live together. It was plural, diverse and open.
There's nothing remotely anti-immigrant about the SNP, of course. They've defended immigration and multiculturalism while many defenders of the Union have degenerated into nativism. But at the core of the project, no matter how many progressive elements encircle it, there is ultimately that same disturbing message: we're better off on our own. We are not you. We're distinct. And by virtue of our distinctiveness we need to make our own rules.
The moment Scottish independence happens, we'll be back to the same old debates, now played out in a clothes-swapping farce in which former Leavers play the part of Remainers and former Remainers play the part of the Leavers.
Customs territories and single markets have borders, no matter what Brexiters once claimed and independence supporters now suggest. Britain left the EU customs union and single market and the SNP wants to join them. It therefore follows that a border would be imposed between Scotland and England.
These debates always sound terribly bureaucratic. But in fact, they are an expression of identity. Shared customs and regulations are the result of a body of people committing to make decisions together, for their mutual advancement.
Pro- and anti-independence supporters are currently road-testing their usual dreary arguments about how much tax money goes from the rest of the UK to Scotland and vice versa. Similar debates played out during Brexit, most notoriously with the "£350 million to the NHS" bus ad.
But the real debate isn't about who gets a better deal. It's about the limits of who we consider to be our group. UK taxpayer money used to get spent in Europe because we were part of one unit. It currently gets spent in Scotland for the same reason. Leavers rejected it in Europe, because they did not consider themselves part of that group. And independence supporters do not consider the rest of the UK part of theirs.
We see this all over the world. Nations putting up barriers up against each other – on the ground and in their heart. Those barriers restrict our sense of identity. They prioritise suspicion and winner-takes-all sentiment over cooperation and mutual advancement. The EU eradicated war on the continent by rejecting this model. And for the last 300 years, the Union has done the same thing in Britain.
You can't hold it against people for wanting an escape route from the clown-car catastrophe of Johnson's government or the geo-political vandalism of Brexit. But you can't fight the politics of borders by insisting that we raise another one through the heart of this island. The Tories won't be in control forever. One day, in the not so distant future, they'll be gone. We will return to Europe. And when we do so, it should be together.
What do you think? Have your say on this and more by emailing letters@theneweuropean.co.uk
Most popular