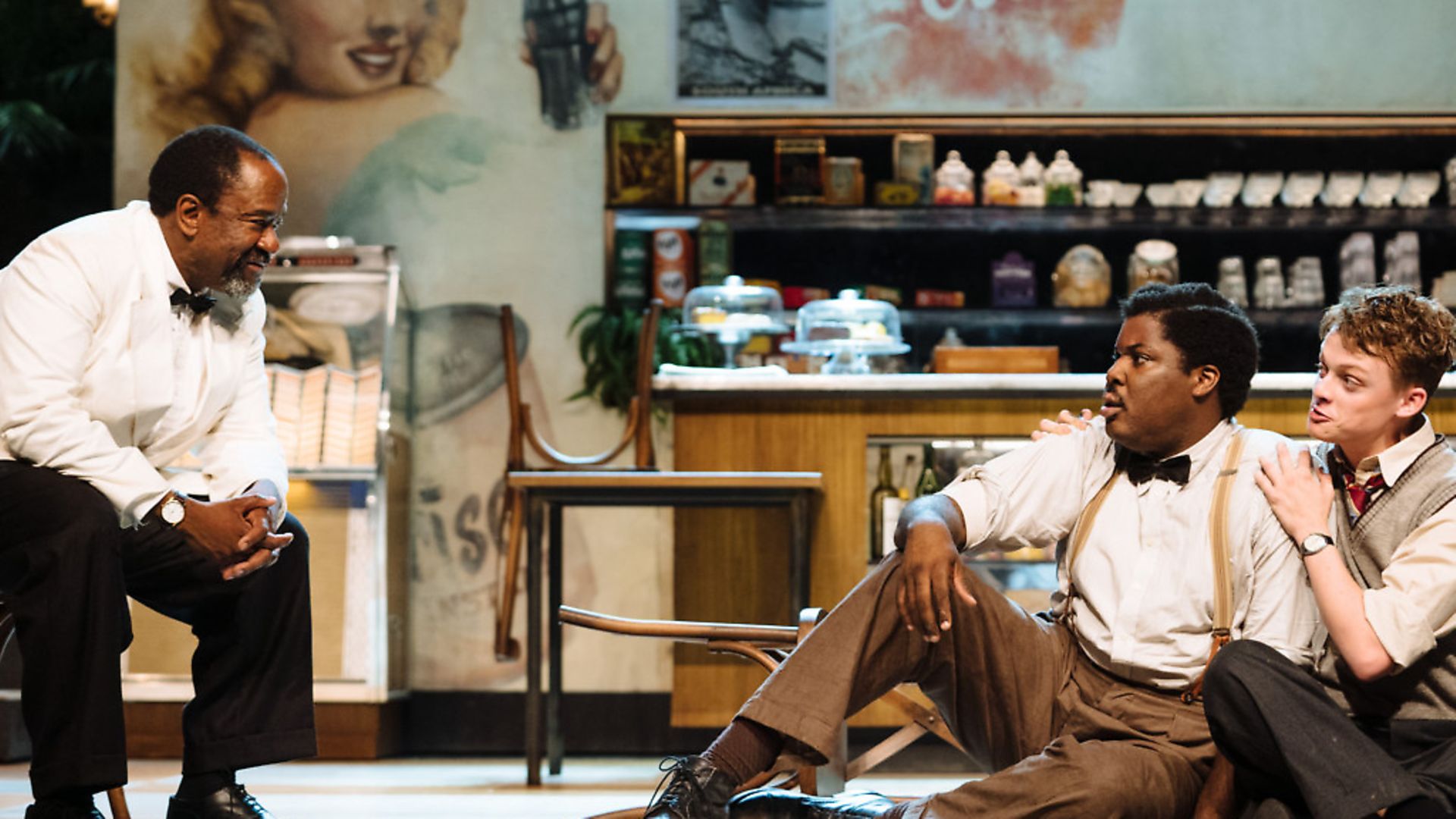 TIM WALKER says 'Master Harold'… and the boys is a long burn production in a time of inpatient theatregoers.
For most of the 100 minutes that Roy Alexander Weise's production of 'Master Harold'… and the Boys runs, there is a 'least said, soonest mended' approach to the issue of apartheid in South Africa in the 1950s, which is, in all the circumstances, exasperating.
Anson Boon plays the teenaged son of the owner of a tea room, who is spending a rainy day, with no customers around, engaging in aimless jocular banter with the two black staff members, played by Lucian Msamati and Hammed Animashaun. They are preoccupied with a forthcoming ballroom dancing championship and are helping each 
other out perfecting their dance steps as the white lad gets on with his school work.
It's easy to think that apartheid hasn't really intruded upon life in this seemingly civilised little enclave, and they are able to go about their lives without any of the sense of division that then prevailed in the country as a whole. In a few explosive minutes towards the end, however, that turns out to have been a tragically false assumption.
Athol Fugard's work was deemed to be much too seditious to perform in his native South Africa in 1982 and it had to premiered outside the country. It was considered at the time to be strong, ground-breaking stuff, but now its obvious technical defect seems all too manifest.
A play about apartheid ought really to get to the point a lot sooner – in all honesty, the endless banter between the three characters is mind-numbingly boring – and, in this production, the actors don't help matters.
I didn't feel any great emotional connection at all between Msamati and Boon, which makes what happens at the end seem a lot less convincing and a lot less shocking than it should.
The National takes its remit to occasionally put on plays that it considers to be important, rather than necessarily entertaining, very seriously and that is clearly what is behind the decision to stage this particular work. I'm just not sure if it really works any more and reviving it is doing Fugard – now 87 years old – any great favours.
In the 37 years between the play's premiere and this revival, theatregoers have become a lot more impatient. If a playwright has got something to say, they like to see him or her get on and say it. It's not enough, either, just to say, as this play does, that apartheid is a bad thing. It's necessary to say something new. It was by no means a surprise that several punters around me just gave up about an hour into the proceedings and clumsily made for the exit.
Still, I very much admire the set, which is designed by Rajha Shakiry, with a huge overhead glass window upon which the rain perpetually beats, and the scene in which Msamati and Animashaun dance to the tune of You're the Cream in My Coffee is deftly choreographed by Shelley Maxwell. Boon's Boer accent is also unintentionally very funny.
Most popular