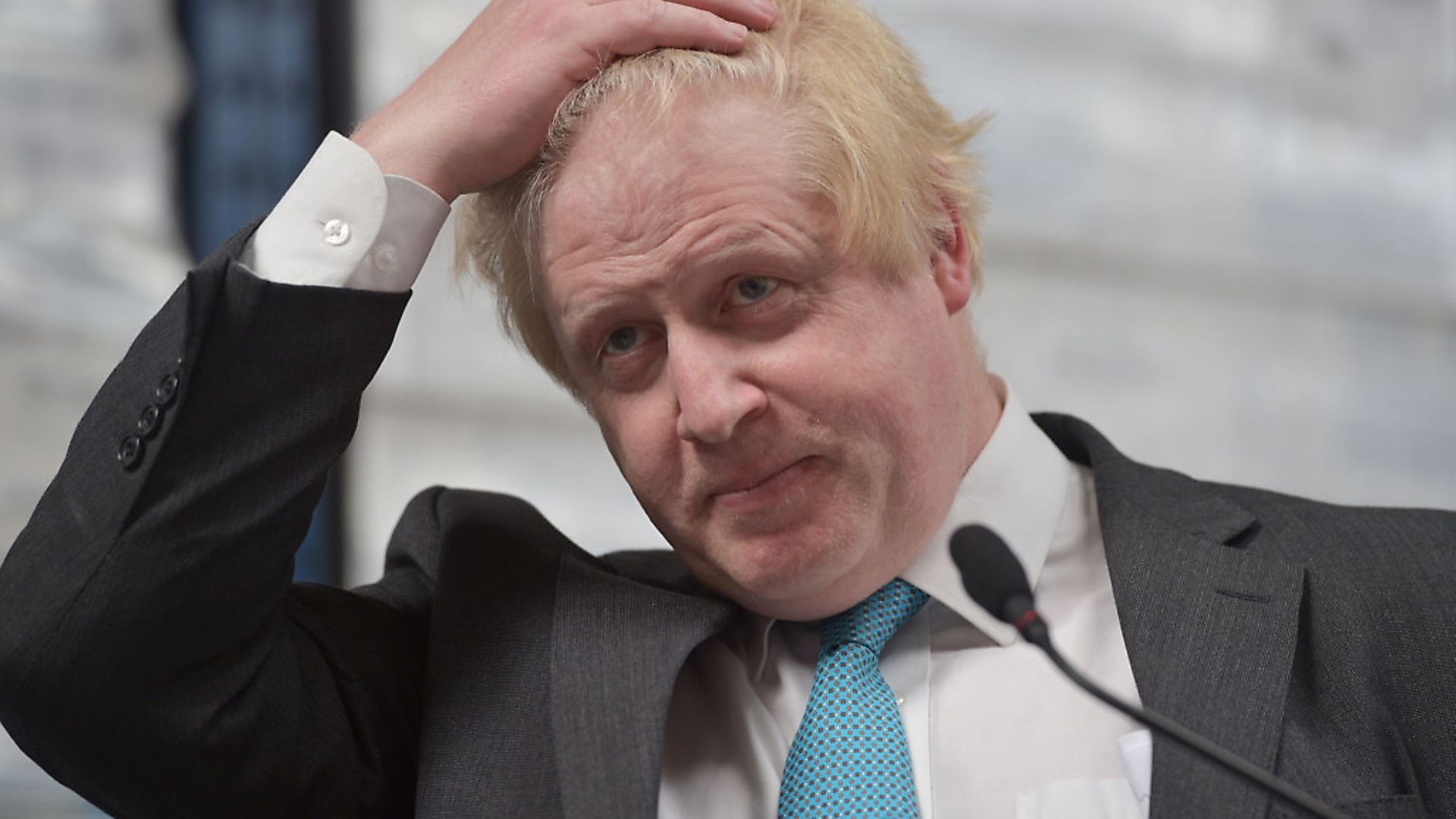 In a one-year period since he was appointed foreign secretary, Boris Johnson has managed to rack up a £150,000 travel bill for taxpayers, covering just shy of 180,000 miles.
My man in Whitehall says the air miles – they would stretch half way to the Moon – are testament to Theresa May's 'resolute determination' to keep the notoriously treacherous Johnson as far away from her as possible. He adds that a place in The Guinness Book of Records as the most-travelled foreign secretary of all time now seems a distinct possibility.
The bill, which covers the period from October 2016 to September 2017, is so humongous because Johnson – like the Brexit Secretary David Davis – has an aversion to travelling with hoi polloi on scheduled flights and insists on availing himself of the Royal Squadron on almost every overseas excursion.
Caroline Lucas, the Best for Britain champion and co-leader of the Green Party, says that, while she understands May's motives, Johnson's visits come at a huge cost not just to taxpayers, but also to the environment and Britain's reputation abroad.
'His jollies across the world have resulted in no positive achievement,' she laments. 'His most high-profile moments as foreign secretary have seen his appalling blunder over Nazanin Zaghari-Ratcliffe, the British citizen trapped in Iran; the offensive poem he recited in Myanmar; and the jokes he made at the expense of those who have perished in Libya. Put simply, he's a costly embarrassment.'
Johnson, by the way, has form when it comes to enjoying the high life: as mayor of London, he was subject to an official complaint from Len Duvall, Labour's leader on the London Assembly, for claiming first class flights on trips abroad, which Duvall maintained breached City Hall rules.

Inside track

The doughty openDemocracyUK journalist Peter Geoghegan has uncovered an intriguing link between the former Ulster Unionist MP David Burnside – now an eager Brextremist who runs a PR outfit that reputedly has access to Vladimir Putin's inner circle – and Cambridge Analytica.
Burnside – a Tory donor who's called in the past for the Ulster Unionists to merge with the DUP – numbers among his clients Vincent Tchenguiz, a property tycoon who was the largest shareholder in Cambridge Analytica's parent company, SCL Group, for almost a decade.
I fancy Burnside's take on this whole web would be fascinating and one can only hope that the Today programme invites him on before too long. No doubt the show's famously impartial editor Sarah Sands won't be put off from doing so because her son Henry was on Burnside's payroll.
Bell tolls

Barely four years ago, the Brextremist Lord Bell was boasting in his memoirs Right or Wrong that he was 'well and truly proud' of his company Bell Pottinger. It was, he added, 'extremely successful and very profitable' because it does 'absolutely brilliant work'. Shortly afterwards, the PR company, with a dodgy client list that stretched from here to Saudi, collapsed after it was scandalously found to have been stirring up racial hatred in South Africa through its work for the billionaire Gupta family.
With a delicious irony, Bell is now finding out what it's like to have to make ends meet on his own. His new company Sans Frontieres Associates has just reported a loss in its first year of trading of £474,000. His other company – The Great British Brexit Company – sells Brexit calendars and hasn't yet reported any figures. The fact it has all of 165 followers on Twitter suggests it has still to capture the mood of the nation.
Lost sparkle

Labour MP Ben Bradshaw has long been pushing for Arron Banks – who I revealed had given almost £13 million to the Brexit campaign – to come clean about how he got so rich.
It would certainly appear from Parsons Jewellery – an old-established Bristol retailer Banks acquired four years ago – that his business acumen is by no means infallible. Its latest figures show a £174,000 deficit in capital and reserves as at June 30 2017. Banks supplies diamonds to the business from four mines that he owns in South Africa. Banks has handed 'significant control' of the business to his Russian wife Ekaterina, but remains in ultimate control of it with long-term associate, Elizabeth Bilney.
Most popular