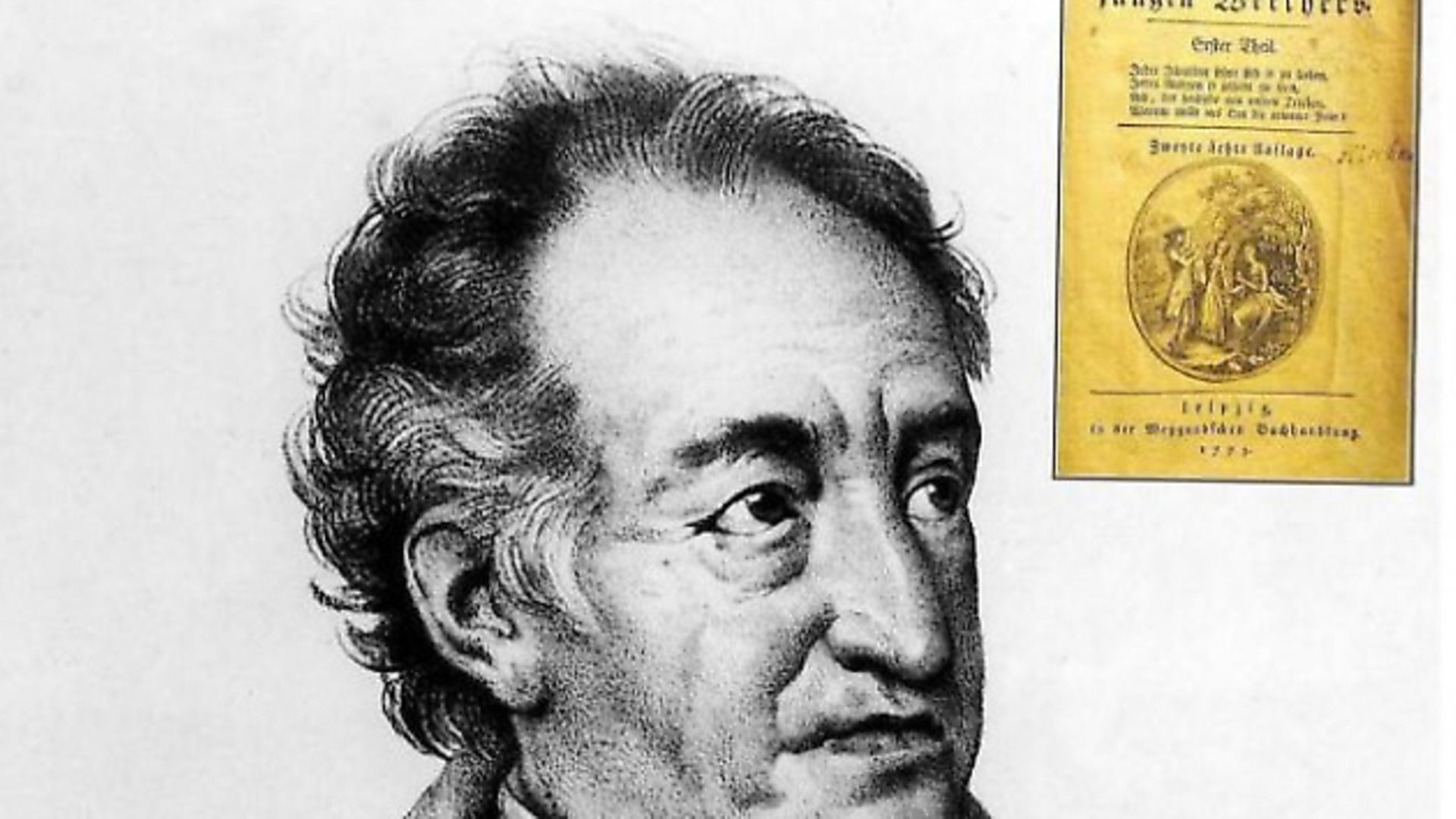 Forget Harry Potter mania – fan fever for Goethe's tragic hero Werther was blamed for copycat tragedies and popularising yellow trousers
This time 243 years ago, in an attic room at his family home in Frankfurt, 23-year-old Johann Wolfgang von Goethe was sitting at a high desk scribbling away frantically in a sustained fit of creative passion to produce what would become Europe's first bestseller.
Written in six weeks between January and March 1774 The Sorrows of Young Werther, a short novel about a doomed love triangle with a tragic conclusion, went on to create a sensation unprecedented in European literature and present the first example of the kind of explosion of youth culture that would later manifest itself in Beatlemania, the rise of Elvis Presley, and Harry Potter.
Young people across Europe were soon buying not only the book but also etchings and miniatures of the eponymous hero. Young men began dressing like Werther in blue tailcoat, yellow waistcoat and trousers and knee-length boots, hand-painted dinner services bearing his likeness sold quicker than the shops could stock them, one London shop with an eye for the main chance began selling Werther wallpaper, while in Paris an enterprising parfumier started knocking out bottles of scent called 'Eau de Werther' as Goethe's book became as much a merchandising phenomenon as a literary one.
Yet so scandalous were the book's contents perceived to be that within months of its publication it was banned outright in Leipzig and would stay banned for the next 50 years, while the Bishop of Milan sent out underlings to buy up every copy in the city in order to prevent the reading public getting their hands on it.
The reason for this combination of rampant youthful enthusiasm and grown-up pearl-clutching conniptions? The book's tragic dénouement: the suicide of the protagonist.
Goethe's novel was written as a series of letters from Werther, a young artist staying in the fictional village of Wahlheim, to Wilhelm, a friend in a distant town. By today's standards Werther would be dismissed as an uber-snowflake; a hopeless, hypersensitive gawd-help-us who even on the first page of the novel is in floods of tears at the death of a local count whom he'd never even met.
He wouldn't have lasted five minutes on Twitter, but in a late eighteenth century Europe firmly in the grip of Romanticism, Werther's histrionics were the perfect conduit for the newly-unleashed passions of the continent's swooning fops and dandies.
Werther falls hopelessly in love with the captivating Lotte who is inconveniently betrothed to Albert, an older man whom Werther has also befriended. His feelings for Lotte are reciprocated, but rigorous contemporary etiquette dictates that Lotte cannot just hand Albert his hat, she has to go through with the marriage or risk a scandal from which none of them would recover.
Werther tries unsuccessfully to come to terms with being just good friends but soon concludes this awkward threesome can only be broken up in the most drastic fashion. He asks to borrow a pair of Albert's pistols, telling the now married couple he's undertaking a long journey, and proceeds to shoot himself in the head so inexpertly it takes him an agonising 12 hours to die.
It was this aspect of the book that prompted such extreme reactions from the burghers of Leipzig and the Bishop of Milan, as rumours spread of a wave of copycat suicides across Europe.
The Enlightenment thinker Gottfried Lessing wrote of how he'd enjoyed the book but considered it would do 'more harm than good'. He had a point, it seems. The 'Werther effect', they called it. 'Werther fever', even.
In 1777 a young Swede shot himself with a copy of The Sorrows of Young Werther at his side while a year later a lovelorn German woman named Christel von Lassberg drowned herself in a river with the book in her pocket.
In England, a 1784 edition of the Gentleman's Magazine carried news of the suicide of a Miss Glover of Southgate with the detail that a copy of the book had been found under her pillow, 'a circumstance which deserves to be known in order, if possible, to defeat the evil tendency of that pernicious work'.
Lord Byron wrote to a friend that Werther was 'responsible for more deaths than Napoleon himself', while in a 1790 treatise on suicide theologian Charles Moore wrote that 'many a deluded female has been discovered in the hour of her self-destruction to have reclined her aching head on this poisonous tale'.
As late as 1927 a Parisian tenor, Monsieur Vidal, who had in the past performed the role of Werther in Massenet's operatic interpretation of the book, shot himself wearing Werther costume at his home in Nantes following a messy divorce.
While the number of copycat suicides doesn't seem to have been at the epidemic levels cited in some quarters, it's difficult nonetheless to comprehend today just what a phenomenon The Sorrows Of Young Werther was in the late 18th and early 19th centuries. It was translated into French, Italian and Russian, while the first English edition in 1779 was an instant bestseller despite having been translated from French and hence was a pretty poor translation of a translation.
This didn't prevent Werther's cultural reach in English literature becoming considerable: Frankenstein's monster reads the book in Mary Shelley's famous novel of 1818 while Jane Austen cites The Sorrows of Young Werther in her early work Love and Friendship.
Perhaps the novel's most famous devotee however was Napoleon Bonaparte, who when he met Goethe in 1808 told him he'd taken the book with him on his 1798 foray into Egypt where he'd read it no less than seven times. Indeed, Goethe became one of the first literary recipients of the Legion d'Honneur, a medal he continued to wear long after Napoleon's downfall.
For all its success, controversy and, indeed, wallpaper, perhaps the most poignant aspect of the book is its solid basis in truth. A couple of years before setting to work on the manuscript Goethe had fallen in love with a betrothed woman called Lotte. Unlike his fictional creation however Goethe's passionate entreaties were entirely rebuffed.
Around the same time in 1772 an acquaintance of Goethe's, the philosopher Karl Jerusalem, shot himself when it became clear the object of his affections, Elizabeth Herd, already engaged to a local dignitary in his home town of Wetzlar, would never be his. He used a pistol borrowed from Elizabeth's fiancé.
Goethe went on to become one of Europe's greatest cultural figures: poet, novelist, librettist, painter, sculptor, playwright, amateur scientist and meteorologist and even a minister of state in the government of Saxony-Weimar. He's perhaps best known for his dramatisation of Faust, but nothing gripped the continent like his debut The Sorrows Of Young Werther.
The book was a stunning achievement, not least for persuading legions of fashionable young Europeans that wearing yellow trousers was a great idea. In more than two centuries since, it seems only Nigel Farage has been sartorially deluded enough to agree.