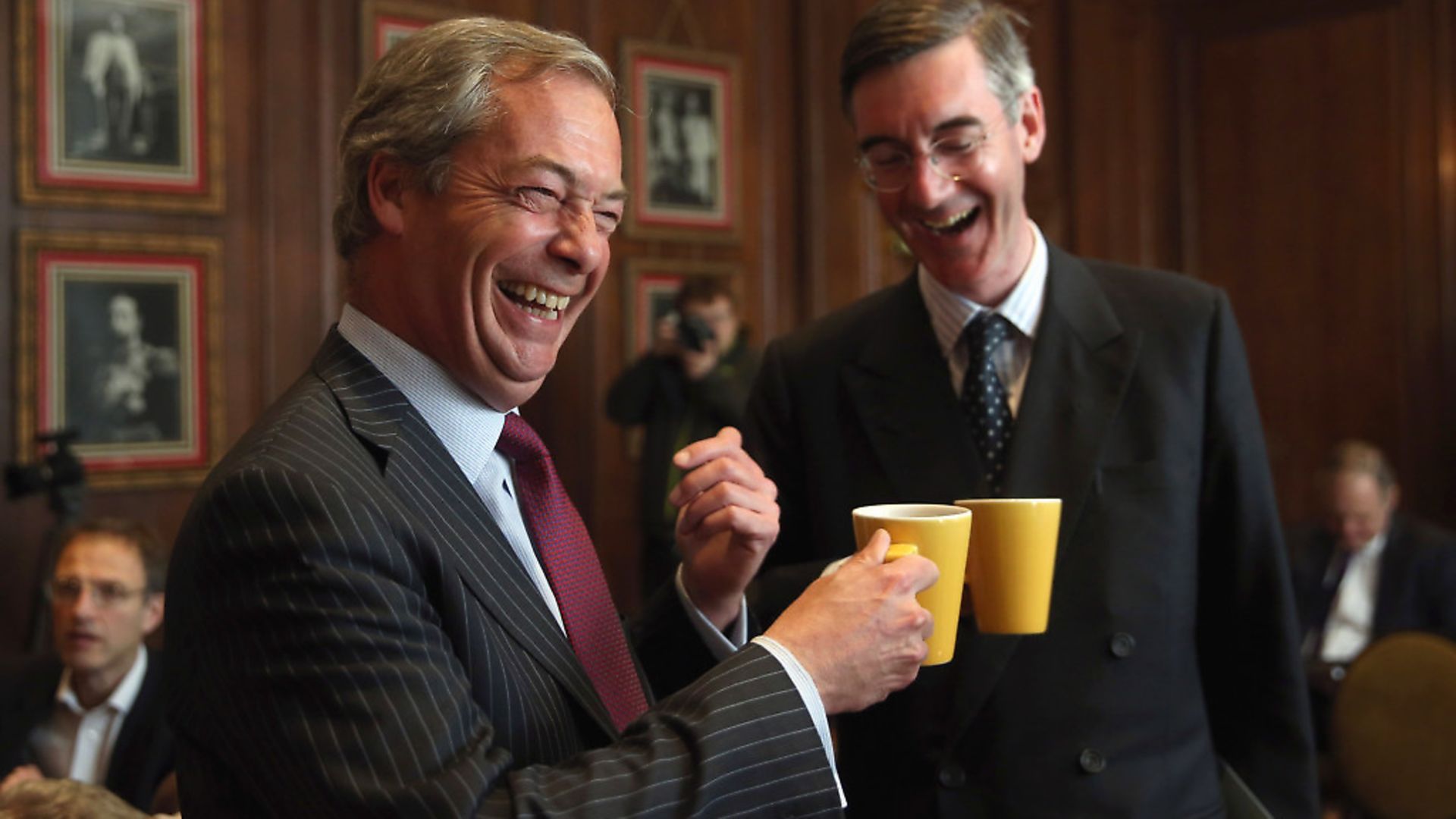 Times up for Nigel Farage as he's banned from his local boozer, while the Brextremists fail to come up with a credible plan, and Gina Miller pursues Jacob Rees-Mogg.
Last orders for Farage and friends
The time is up for Nigel Farage and his carefully-cultivated image as the bloke in a pub who can't help holding forth about Europe as he downs a pint or two. Mandrake hears that the MEP's local – The Old Hack Irish Pub, directly opposite the Berylamont, which houses the European Commission headquarters – has just banned him.
Michael O'Neill, the pub's landlord, came to the view that the man in the Barbour jacket was simply too divisive a figure to be propping up his bar for a moment longer. 'He and his supporters were giving the Berlaymont the fingers, and that's not right,' he says.
The relationship between the pub and the politician, pictured, became really bitter when his UKIP pals chose it as the venue for their Article 50 celebration in March last year. Photographs of party members scoffing cakes and waving Union Jacks flashed around the world.
For the pub – a much-loved watering hole in Brussels – it was not a good look. 'I had actually told them 'no flags," says O'Neill. 'Waving Union Jacks outside an Irish pub – well, just for a start, that kills me. Mr Farage chose my pub. I didn't choose him. Having that character drinking here was rubbing my other customers' noses in it.'
Takings at the pub fell 10% in the year following that party as regulars from the Commission and others with contempt for Farage and his cause voted with their feet. O'Neil says that now he's made it clear to Farage he's not welcome any more, business is picking up. The right sort of customers, too. Farage took the news philosophically: 'Business is business,' he said.
Bone dry
Peter Bone must be hoping that his new campaign group #StandUpBrexit is going to be more successful than his last – Grassroots Out. He has just applied to have it struck-off at Companies House after reporting not a penny in funds in its latest accounts.
Still, it was doing better than his travel firm – A.J.W.B, which he set up with his estranged wife Jenny, whom he left earlier this year for a physiotherapist 20 years his junior. Its accounts, out at the time of his marital breakdown, disclose ongoing losses of £82,000.
The failure of the Brextremists to come up with a credible plan may not therefore have been the only reason Bone was photographed last week with his head in his hands at their gruesome little get-together in London. Awkwardly, he still employs Jenny as his executive secretary at A.J.W.B.
Tej's warning
Self-made Indian tech billionaire Tej Kohli – a mate of Sir Richard Branson and Domenico Dolce and Stefano Gabbana – is the latest to express his heartfelt wish that Britain comes to its senses on Brexit.
'There are many more negatives to Brexit than positives,' he tells Mandrake. 'We won't get a fair deal, it's as simple as that. Brexit will cause serious short-term repercussions as we struggle to disentangle ourselves from the EU. My wife and children are British, and I hope people will reconsider. If not, I fear many of my business friends will leave these shores, and I may go with them.'
Tej celebrated his 60th birthday in style earlier this month, taking over a private beach-front location in Monte Carlo. He gets that great wealth brings with it great responsibility, too – it is his ambition to heal half the world's blind through his work with the Tej Kohli Cornea Institute.
Jacob pursued
Dover voted 62% to leave the EU in the referendum, but Gina Miller was adamant that any of its inhabitants who wanted to attend the launch of her End the Chaos movement in the Town Hall last week should be allowed to do so. 'Invited audiences aren't what we are about,' one of the organisers joked. 'This isn't Question Time, after all.'
In the event, there was not a single unsupportive voice raised at the packed meeting that she presided over. One of the principal concerns of local people was the traffic gridlock in the vicinity of the port that would ensue from a no-deal Brexit.
These days, the unsinkable Mrs Miller, pictured, is actually having to chase after people who still support Brexit to debate with her. 'It's not just Lord Adonis who wants to argue it out with Jacob Rees-Mogg,' says Gina. 'I do, too, and have been trying for ages, but every time he signs up to do a TV or radio show, and then finds I'm on it, he pulls out.' The speech that Gina went on to make at the Lib Dem conference along the coast at Brighton was, by the way, one of the most articulate, passionate and convincing cases I have ever heard made for the European Union.
Most popular