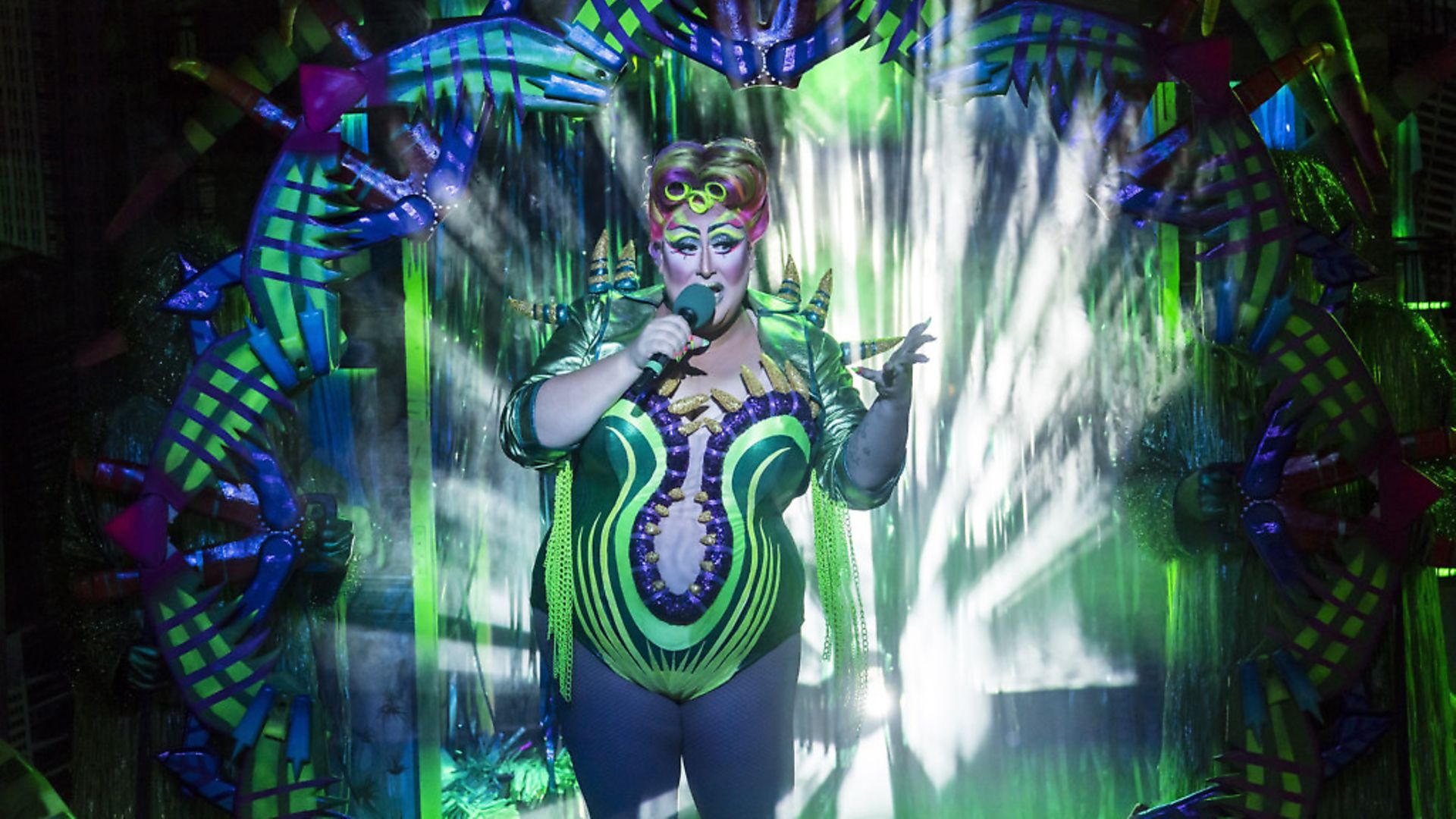 TIM WALKER reviews Little Shop of Horrors at Regent's Park Theatre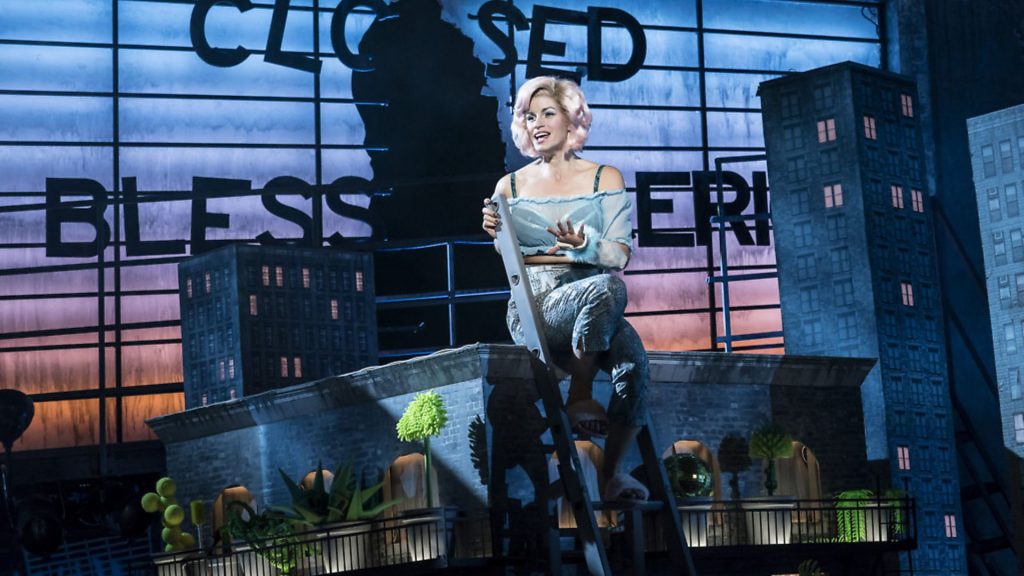 Directed by Maria Aberg ;
Designed by Tom Scutt ;
At the Regents Park Open Air Theatre, London, UK ;
July 10 2018 ;
Credit : Johan Persson – Credit: Archant
It is right of course that theatre should make us think and occasionally weep, but also, when the mood takes us, it should sometimes just be great fun. That is without question what Timothy Sheader, the artistic director of Regent's Park Open Air Theatre, must have had in mind when he decided that Little Shop of Horrors was the show to sign off what's turned out to be a glorious summer season.
Let me say immediately that Maria Aberg, the director of this production, delivers for him and big-time: her re-working of the old Roger Corman comedy-horror film of the 1960s amounts to fun on an epic and delirious scale. Quite frankly, you would need a heart of stone not to laugh – or at least have a contented smile on your face – from the start of this show to the very end.
There is, of course, something about this particular venue, set among the rustling trees of Regent's Park, that makes regulars such as myself feel as if we are metaphorically kicking off our shoes and putting our feet up the moment we arrive. During the hot nights of the summer, this season has felt like a long and stimulating party: I've seldom, if ever, felt a greater sense of community in a theatre, with people chatting away to the strangers they find themselves seated beside like old friends.
That is not to suggest this air of relaxation extends to the stage, as anyone who has ever worked for Sheader – a ruthless perfectionist – will doubtless attest. The first sight of Tom Scutt's set for this production – a dystopian grey vision of a run-down, drive-in urban cinema with a crack running down the words 'God bless America' – is one of the most impressive visions I've seen anywhere in theatreland this year.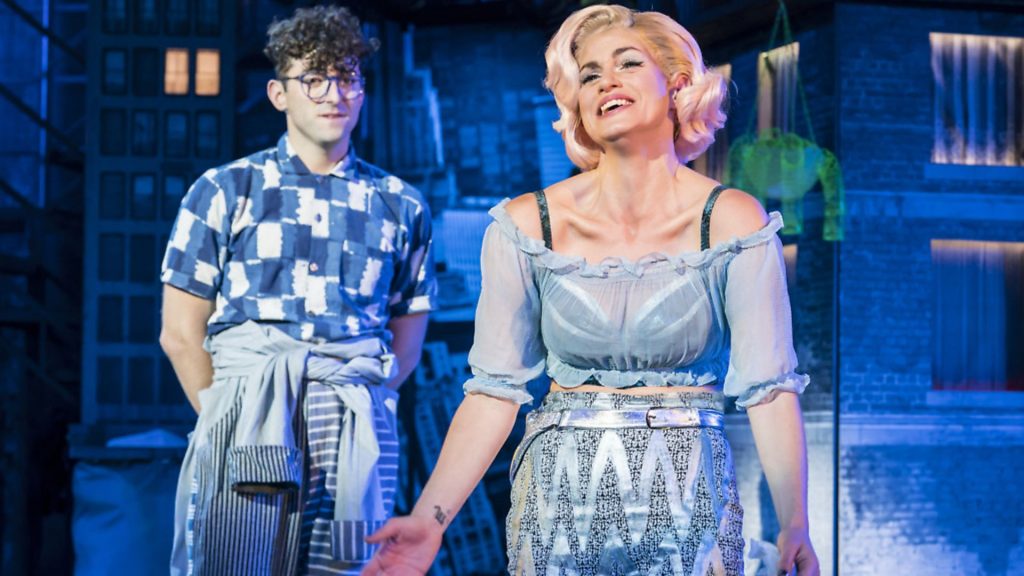 Directed by Maria Aberg ;
Designed by Tom Scutt ;
At the Regents Park Open Air Theatre, London, UK ;
July 10 2018 ;
Credit : Johan Persson – Credit: Archant
The story about a man-eating plant named Audrey II – Vicky Vox, clearly inspired by the late drag queen Divine – can be seen on any number of levels. In the basement, it's an old fashioned horror story that observes all the conventions of that genre – the over-the-top acting, the childlike relish for blood and gore and some moments of genuine shock.
On the floor above, it's a pretty good musical, with some great old standards like Be a Dentist, Suddenly Seymour and the title number all choreographed by Lizzi Gee and belted out with aplomb by an enthusiastic cast. On the top floor, meanwhile, it's got some interesting things to say about greed and contemporary America and even, obliquely, Donald Trump.
Aberg brings out the dark humour of the piece and some great performances from her principals. Jemima Rooper and Marc Antolin are on great form as Audrey and Seymour, whose love blooms in a downtown plant shop with a terrible secret. Matt Willis is suitably ghastly as a sadistic dentist named Orin who meets a grisly end. The coup de théâtre is the set which, as the evening progresses, becomes ever more colourful.
I left wryly recalling how, when I first started reviewing theatre almost 20 years ago, I told an arts editor I didn't think theatre performed in a park could possibly come under my remit as a serious reviewer. Oh dear. What an awful, blinkered little prig I must have been in those days.
Most popular