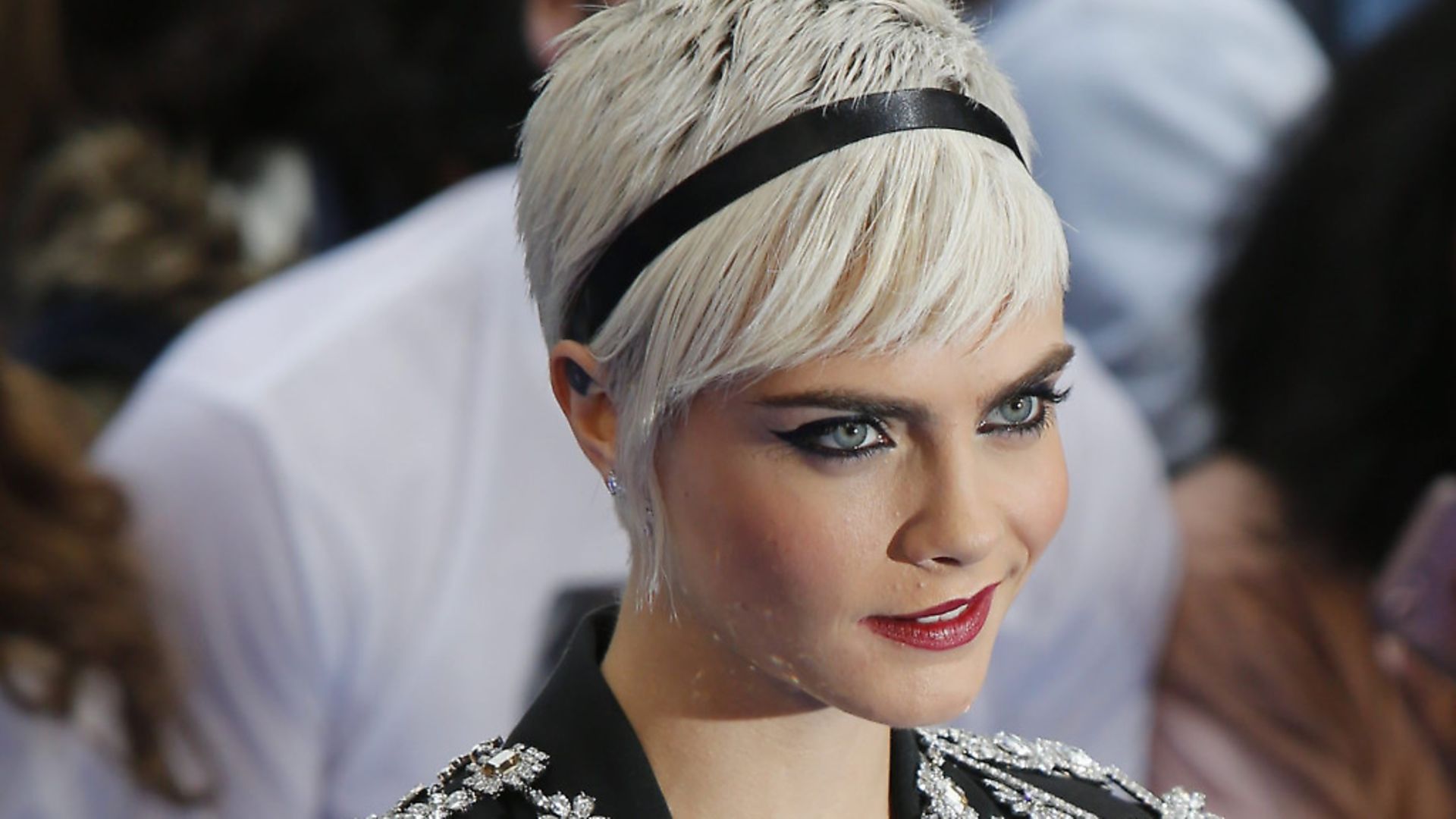 Is Europe's biggest ever movie Europe's biggest ever flop? Cult director Luc Besson talks about his new sci-fi epic Valerian
'The film is made, it's my baby … don't touch my baby, or I'll kill you'
Is Europe's biggest ever movie Europe's biggest ever flop? JASON SOLOMONS talks to cult director Luc Beeson about his new sci-fi epic Valerian
For a man taking the biggest gamble of a long and colourful career, director Luc Besson looks pretty calm.
We meet in London just a few hours before the European premiere of his eccentric, intergalactic sci-fi film Valerian and the City of a Thousand Planets.
At an estimated budget of 200 million euros, Valerian has earned the label of the most expensive European film of all time.
Consequently, there's always a risk it could go down in history as the continent's biggest-ever movie disaster. Doesn't that make Besson nervous on a big day like this, when first impressions will be formed?
'No,' he shrugs. 'The film is made, it's my baby and like any father, I love it … so my feeling is more like: don't touch my baby, or I'll kill you.' He lets out a laugh, even if I don't think he's really joking.
Already the first weekend of US box office has been disappointing and trade bible Variety gleefully termed it 'a flop' – but these days, a poor American performance doesn't always signify failure. Besson fends off attacks like his space cop heroes, Valerian and Laureline, played by relative unknowns Dane DeHaan and Cara Delivingne, in the movie. 'I don't make a film for money – I'm an artist, making a painting,' he bristles.
I do point out that some paintings are more expensive than others. 'Ah yes, but the price of the ticket is the same, so it doesn't change anything. In a way, I'm actually giving people much more for their money.'
You have to admire how he bats away a potential flop. It's one which, it has been said, could bring his mighty, Paris-based mini-studio, EuropaCorp, to its knees. 'I don't like this label of the most expensive European film ever made. It's not a record I will be proud of whatever happens because I just want people to disappear into the film for two hours and come out and say 'Wow'. I never think about the money.'
Straight-faced as he's being (his hang-dog expression, in truth, is hard to read), I find it difficult to believe. After all, he created the distinctively enduring but decidedly risky sci-fi The Fifth Element 20 years ago, a film whose instant reputation was disastrous ('only the French liked it') but which now has cult respect and a place in the sci-fi pantheon.
But Besson was already synonymous with a certain type of stylish European cinema, labelled somewhat disparagingly 'le cinema du look', but which furnished us with era-defining Euro hits from 1985's Subway to diving adventure The Big Blue, Nikita, Leon and – a version of Joan of Arc, no less, along the way – successful franchises including Taxi, The Transporter, District 13 and Taken (a film whose most famous lines one character in Valerian quotes merrily). There's also his animation strand Arthur and The Invisibles.
With such a varied slate of films under his belt, either as director or as producer, it's clear that almost single-handedly, Besson has tried to rival Hollywood with the creation of his EuropaCorp and the construction of giant production facility, Les Studios de Paris. Not for nothing is he often labelled Europe's Steven Spielberg.
'Look, I'm not a businessman,' he insists. 'I started out as an artist and I still think of myself that way. I got lucky early on in that some of my films were big hits, so people think my motivation is commercial, but it never was that. If I have a big success financially, it's sort of by mistake. A lot of painters end up broke, right? But the job of an artist to try and change things. If they don't then we just get the same thing, over and over and I'm not here for that.
'What happens is quite simple: if you make a film and get lucky, then you can make quite a lot of money, very suddenly. So what we do when that happens is: we make more movies. If we don't have a hit, then we don't make so many films. That's really about the extent of my business. If I want to make a film, it's because I want to see it, so I ask people around the world if they want to see it too, they come in with investment money, and I make it. I don't force anybody into anything.
'Making films is fragile – two years to make a movie and it can flop in two minutes or become a big hit. But if you just sit there watching the tides, then you're not going to get anything new. I'm 58 years-old, I've directed 17 films, produced over 100, written 60 of them, so I think I've proven, you know, Luc Besson: he likes to make films.'
He certainly makes them his own way, too. Valerian is, let's face it, fairly bonkers. It has similarities with Star Wars – jazzy space bars, a giant trash facility, faceless corporate soldiers, a teeming bazaar – but it pushes weirder boundaries, with more levity and humour. However, it can also be seen as a giant folly, with hippy tendencies and, perhaps aware of its positioning globally, a strange sexlessness.
Valerian is based on a series of French comics by Pierre Christin and Jean-Claud Mezieres who started their strips in 1967 and Besson admits that at the age of 10, he fell in love with the drawing of Laureline. 'It was very platonic but it was definitely love,' he tells me.
As yet another of his sure-footed action heroines (those footsteps include Anne Parillaud in Nikita, Scarlett Johansson's Lucy and Natalie Portman in Leon), model Cara Delevingne impresses in her biggest role yet and it is probably up to her to save both the universe and the movie itself. There's still a little too much eye-rolling, eyebrow raising and pouting but, in her first major role, she handles the one-liners and action sequences with physical prowess, energy and a natural élan.
'Her time as a model means she doesn't care about the camera or what's going on around so instead she listens very well and performs it,' says Besson. 'I've seen a lot of actresses and I know she's really very good, Cara deserves to be up there with the list of my best female characters, for sure.' He rubs his beard, for effect.
Pity, then, that Dane DeHaan as her time-travelling detective partner Valerian hasn't quite got the lightness of touch needed to pull off a young Hans Solo act and his desperate yearning to get inside Laureline's space knickers too often gives him the air of a pitiful puppy.
Alongside Star Wars, there's a touch of Avatar, though it's far more whimsical than both which leads to a less focused story, less jeopardy but thankfully less bombast. Besson does succeed in restoring a sense of fun to space, though at times that leads to more of a gleeful video game sensibility than anything seriously intellectual.
'I didn't want it to be raining or there to be a tortured hero,' he says. 'I wanted a sense of infinite, an idea that it was a universe with a very delicate balance but also that it was beautiful and a fun place to exist, not a miserable one.'
Making it in the run up to Brexit and the upheavals of Trump, did he allow political elements on our mundane world to feed into his vision of the intergalactic 28th century? 'No because the script was all done before these things happened, but what I do think is interesting is how I've been to different countries these past few days and they all feel that the film is telling their nation's story – it was the same in China and Poland. Even in a sci-fi, with lots of colours and costumes, you sometimes feel like your watching the news.'
Although I can't think there's ever been a news show like Valerian, I know he's referring here to the paradise Planet Mull, whose tall, slender, bald-headed natives (like a planet inhabited by fashion mannequins) have their placid way of life threatened when the awesome power of their sea pearls is discovered by certain renegades in the Universal Human Federation (represented mainly by British star Clive Owen).
Quite what a trio of platypus aliens who finish each other's sentences have to do with all this is just part of the adventure. Same goes for the whale-type underwater monsters, the bug-eyed human eaters and the various other creatures (Besson claims 7,000 species) who give Valerian and Laureline chase at pretty regular intervals.
Nor for that matter is it clear what Ethan Hawke's flamboyant Tom Waits-ish club owner gives us, nor his establishment's shape-shifting star performer Rihanna, who shows off a pole dance as well as a nurse outfit, a chair-straddling cabaret act, a cat-suit and tail and a French maid costume. But no umbrella.
It's in moments, many moments, such as these that you fear you've been set adrift in Luc Besson's universe, never to return. However, the director just about pulls it off, helped by 120 effects artists from New Zealand's fabled Weta workshop among a crew of nearly 1000, some of whom, I note, were employed in Facial Reflectance Capture.
French craftsmen get the chance to stretch out, including Besson's frequent cameraman Thierry Arbogast and costume designer Olivier Beriot, whose creations are eye-catching and imaginative, if not quite at the museum-display level of Jean-Paul Gaultier's on The Fifth Element. And it's good to know that even in the farthest recesses of 28th century space, there's an Alexandre Desplat score tinkling away.
Besson seems to have roped in many of his contemporaries and Euro cinephiles can spot acting cameos from directors including Oliver Megaton, Louis Leterrier, Eric Rochant, Benoit Jacquot, Matthieu Kassovitz. Elsewhere, John Goodman, Elizabeth Debicki and jazz pioneer Herbie Hancock make appearances among a far-from-usual cast list..
It's all a bit 'concept album' in places. Some older viewers might find it naff, but there's a hefty chance a new generation will see it, through their 3D goggles, as charming, fun and retro – if Delevingne and Rihanna's Instagram and Twitter followers (combined total of over 100 million) can tear themselves away from their phones long enough to sit through a movie, they alone could power a hit. They'll be rewarded, I should point out, by new songs from both.
For all his faux-diffidence, Besson is smart and savvy, a long-surviving operator who's spent over 30 years at the top of the unforgiving universe of film and it would be hard to believe he'd risk everything to push through a childhood passion project/comic book crush such as this. Valerian will stave off financial disaster amid the raft of summer blockbusters, but is still likely to go down as a French folly, the space oddity sung about by Bowie in the film's opening credits.
But it comes just when the big screen is taking a bashing from new streaming services, the battle for supremacy having dominated debate at Cannes earlier this year. Obviously, on the eve of his biggest movie yet, Besson's hopes are on cinema still having the edge.
'What's hard in movies these days is to be different,' admits Besson. 'There's a kind of oppression when you're making a movie in that everyone wants to know what you're up to, thinks it's their business to know. That doesn't happen with a book or a painting, you know, they leave you alone pretty much, but with a film, God, the money, the studio, they're always asking. So you have to escape that and hear your own voice, because if you don't, then we're all going to make the same thing, over and over. And that's what's happening to cinema. That for me is the challenge, to not be like everybody else, and I think I've done that.'
As the superheroes dominate the summer schedules, it's hard to disagree with his own assessment even if, I mention, movies don't get much of a run in the current climate. His relatively benign galaxy dispute is also up against the might of Christopher Nolan's ultra-realistic warfare in Dunkirk.'That's the other challenge and much harder because I can't control the release,' he admits. 'Two years ago, maybe more, they knew we would come out for the summer but now I see the movie properly, I think this is a mistake. It's a different film, and by going out at the same time with the others, the risk is the public will think we're part of the pack. But we're not, we're a strange cousin.'
Besson gets up to change his Valerian T-shirt for the red carpet. I wish him luck and hope the risk pays off. French cinema, European cinema could do without the disaster of losing one of its rare giants in EuropaCorp, I tell him. 'Well,' he says, 'The risk is more about notoriety. If it's a big flop, then we'll lose credibility for making these kind of films with these type of actors and technicians. So for me, the risk isn't financial but human.'
I want to remind him about the 7,000 other species at risk, but he's already gone.
Most popular