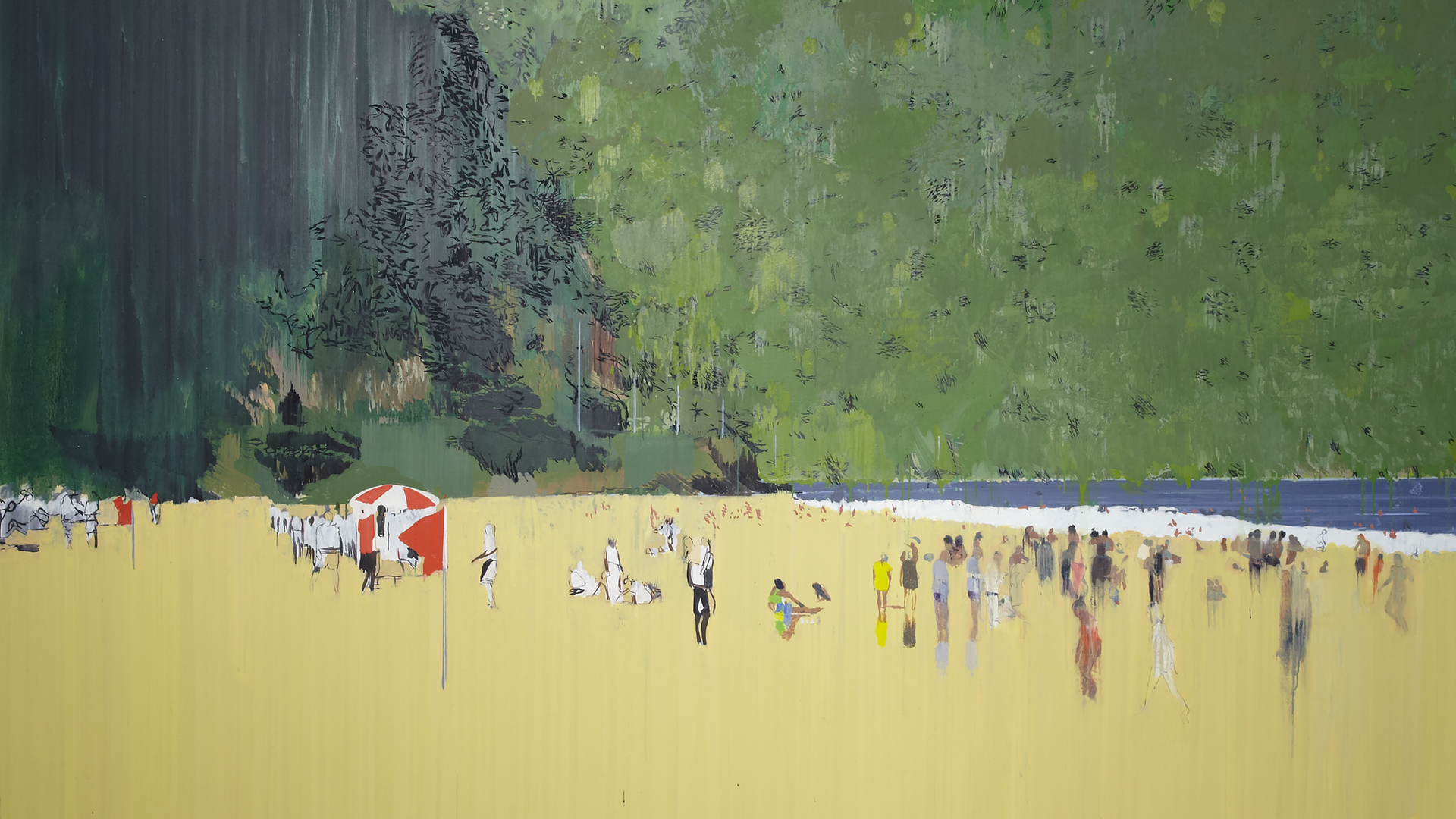 Restrictions might be easing and art galleries opening their doors again, but are virtual visits now here to stay? 
So here I am in the National Gallery relishing the pulsating drama of Rembrandt's Belshazzar's Feast.
By my side, Dr Gabriele Finaldi, director of the gallery, no less, is enthusing about the "huge emotional punch" of the painting which tells how Belshazzar, King of Babylon, paid the price for serving food from stolen sacred vessels. God's hand appears from a cloud and writes: "You have been weighed in the balance and found wanting." Within hours, Belshazzar is dead.
There is just me, the director and the painting. No crowds, not even the socially-spaced art lovers who have been visiting the gallery since lockdown relaxed on Monday.
I'm right up close to the canvas, able to investigate every swirl of paint without setting off one of those annoying beeping alarms. I can see every line of baffled panic in the face of the king. I can take a step back to embrace the entire drama without treading on someone's toes.
Of course, it's too good to be true. My private view was conducted online as one of a series called The Director's Choice in which the viewer is 'walked' and talked past some of the great paintings in the National's collection.
And guess what? It was a real joy. But surely not an experience to replace the actual visit, that would be heresy. Or maybe it can. Maybe it should.
Before March 2020, the National Gallery had not hosted a single live event online, now it has presented more than 500. It is not alone. In the past few months I've been on tours of the Watts Gallery for Art and Action, which was about Victorian activists, and the Ashmolean in Oxford, for Pre-Raphaelites, drawing and watercolours which is now open – in real life – until June 20.
These were only tasters for a technological revolution which was accelerated during the pandemic to stage exhibitions online. Now a 'new virtual arts ecosystem 'called theVOV has conceived a season of online exhibitions which have been previously shown at 15 galleries such as the Hayward, Yorkshire Sculpture Park, the Whitworth and Turner Contemporary.
Click, go, and be pleasantly surprised. Each visit is introduced by the director or a curator and often followed with a talk by the artist. What lifts this virtual visit from a mere parade of images is that you can move around from wall to wall, from work to work with a click of the mouse. Come up close, read the information below each image, pull back for the complete image.
So in one delightful day last week I visited the retrospective of the photographer Andreas Gursky at the Hayward Gallery, first shown in 2018. Gursky's images are invariably vast and to take just one, of the Formula One Grand Prix circuit in Bahrain, is 10ft high and more than 7ft wide. You cannot replicate that on a Mac. But you can still enjoy the drama of the piece with its tarmac which seems to lead nowhere and appreciate how the landscape becomes a monochrome abstract.
I moved on to the Nottingham Contemporary, a place I have never been to, for Linder, featuring works by the artist (Linder Sterling), an intriguing, and often uncomfortable collection spanning more than 40 years of photomontage, costume and performance which owe their influence to the Manchester punk scenes of the 1970s.
And I spent a pleasant half hour in the company of Hurvin Anderson, Birmingham-born of Jamaican origin, whose work Reporting Back reflects visions of the warmer, more colourful, 'other country' of his heritage which he discusses in an engaging ten minute film.
Of course, no purist could possibly accept that this is a way to enjoy the art. But think about it, if you live in London but want to see an exhibition in Nottingham it's an hour and three quarter train ride and about £130 in fares. (That's if the trains are running). How many art lovers in Edinburgh or Aberystwyth can whiz up to London to catch an exhibition?
What if you are a carer or disabled and cannot easily get about? And imagine, what a boon for it would be for an art student.
It also frees you from the tyranny of the blockbuster. What a relief it would have been to avoid the crowds jostling to catch a glimpse of William Blake's works in Tate Britain's show last year. No need to join the queue to admire the newly-opened The Making of Rodin at Tate Modern and there will be no one treading on your toes at David Hockney's The Arrival of Spring, Normandy, 2020, at the Royal Academy.
All three could be perfectly adequately viewed in what theVOV has dubbed this 'Phygital 'era. The virtual shows are free at the moment, but will users be prepared to pay to view? More, will galleries be willing to allow a show to run online at the same time as the real thing?
Probably not. The Hayward's director, Ralph Rugoff, unsurprisingly, insists that nothing can replace the actual, physical presence of going to a gallery, but he can readily foresee the use of online previews, talks and complementary exhibitions.
He stresses the importance of the social dimension, of being with other people. He has a point. Come to think of it, taking tea in the sylvan Arts & Crafts surrounds of the Watts Gallery does trump a solitary brew at home. But, then, it does mean catching a train to Guilford and taking a taxi to the gallery.
To find out more, visit nationalgallery.org.uk/visiting/virtual-tours/the-directors-choice and thevov.art
Click and show: six online exhibitions
Goldsmiths Centre for Contemporary Art : Tony Cokes: If UR Reading This Its 2 Late: Vol 1 (2019). Videos and political commentary.
Spike Island, Bristol: Pacita Abad, Life in the Margins (2020), Vibrant scenes using quilting techniques on canvas depicting diverse cultural traditions.
Tate Britain: Art Now: Lisa Brice (2018). The nude from a female perspective.
Yorkshire Sculpture Park: Yinka Shonibare's FABRIC-ATION (2013). The first two of his Wind Sculptures flutter over the countryside.
The Photographers' Gallery, London: Jan Svoboda: Against the Light (2020). First retrospective of Czech photographer's experimental work.
The Whitworth, Manchester, Ibrahim Mahama, Parliament of Ghosts. Films exploring post-colonial Ghana.
What do you think? Have your say on this and more by emailing letters@theneweuropean.co.uk
Most popular