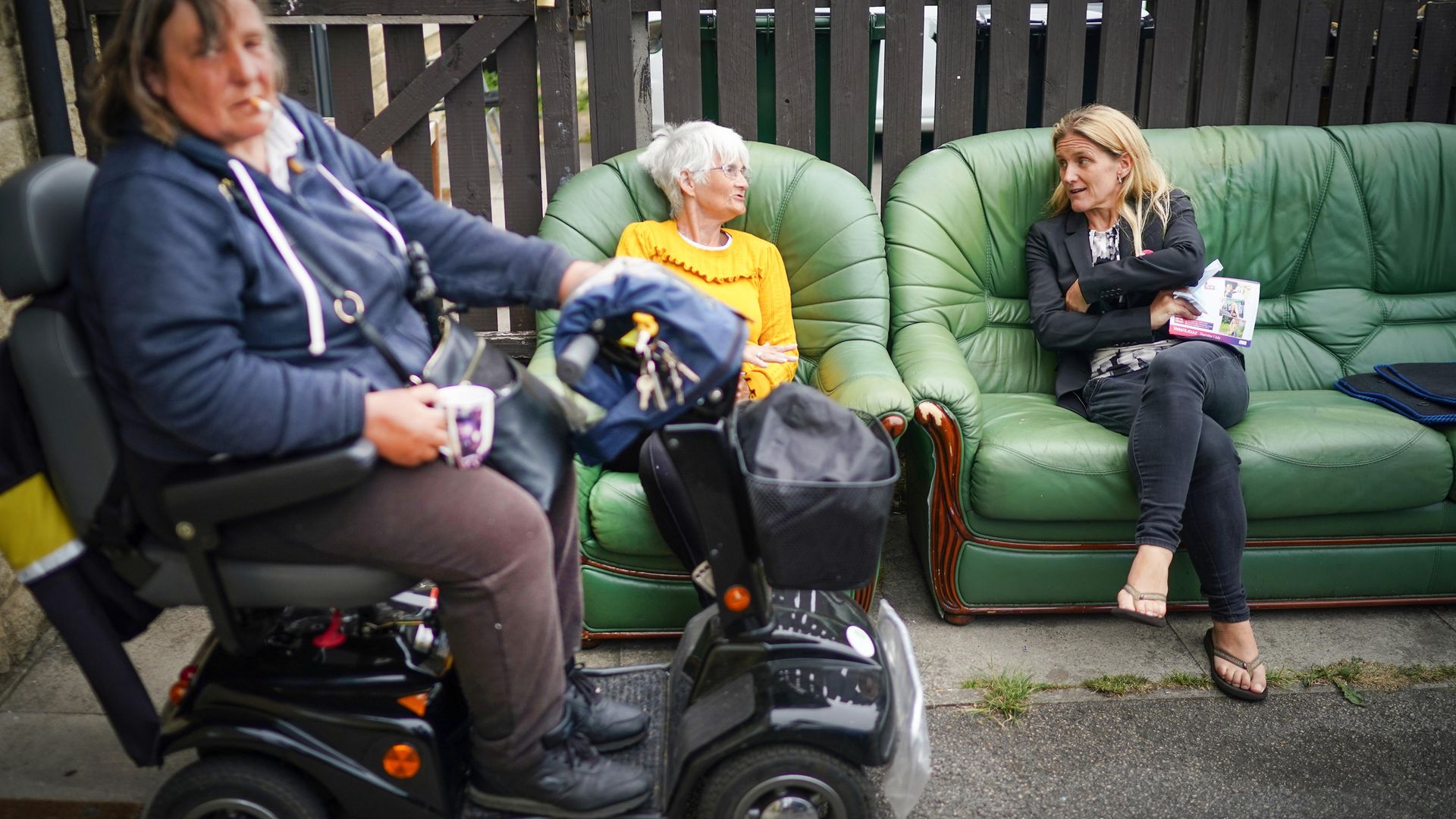 Looking down the road in Batley town centre, supermarket worker Sam Hardy is counting.
"Six," he says. "Six chicken takeaways. Why do we need so many?"
This is emblematic of a major problem here, he says.
"There's nothing here. What is there really except supermarkets and takeaways?"
But Hardy has little faith that the Batley and Spen by-election on July 1 will make any tangible difference to the lives of the people who live here.
He thinks prime minister Boris Johnson is a "funny guy" and says of Labour leader Keir Starmer: "The only thing I know about him is that he got kicked out of a pub and got the mickey taken out of him on Mock the Week.
"I think we should go back to the monarchy," he says, not entirely joking. "At the moment we've got one person pulling one way and then the other going the other way. We get nowhere."
The by-election was triggered in May when Batley and Spen MP Tracy Brabin was elected mayor of West Yorkshire – a rare highpoint for Labour in an otherwise disappointing series of elections – a position that under electoral commission rules cannot be held at the same time as a parliamentary post, due to police and crime responsibilities.
The Labour Party is fielding Kim Leadbeater, a personal trainer and campaigner who grew up and lives in the constituency. For Leadbeater, the election is intensely personal — not just because she is attempting to represent her friends and family but because she is the sister of Jo Cox, the former MP for Batley and Spen, who was murdered by far-right extremist Thomas Mair in the constituency five years ago, just days before the EU referendum.
Leadbeater has devoted the last five years to campaign work, particularly running the Jo Cox Foundation, a charity aiming to build a more cohesive and tolerant society.
She told the Guardian she knows the by-election will be tough and that "people don't trust politicians" and she is right. What is worse, here in Batley like many towns in the UK, for lots of people the issue goes beyond mistrust.
In vape shop 10:TEN in Batley town centre, customers and staff say they did not know a by-election was happening.
"I don't follow politics and I haven't heard about it," says James McArthur, who works in the shop.
A customer, Ruby Crossley, who works as a healthcare assistant at St James's Hospital in nearby Leeds, says: "I've seen the signs up but I don't know anything about it."
Both McArthur and Crossley are non-voters but another customer, gardener and supermarket worker Carl Atkinson, said he has voted in the past and is not sure whether he will this time.
"Last time I voted Labour. The Conservatives are c**ts," he says. "You get told so many lies. It all depends on what you watch and how much you follow. At the start of all the Covid stuff I was watching the news every day but after a while I just turned it off.
"If I was going to vote this time I need to do some research. You can't really choose before you know everyone and what they stand for."
There are 16 candidates and Leadbeater is the only real local, though the Yorkshire Party's Corey Robinson spent part of his childhood here. Many are familiar faces from other by-elections and votes, including former Bradford West MP George Galloway, Monster Raving Loony Party leader Howling Laud Hope and two well-known far-right candidates, Anne Marie Waters and Jayda Fransen.
Waters, who was exposed in an ITV documentary in 2017 as advocating lowering Muslim birthrates and halting immigration of Muslims to the UK, has twice stood for election in Lewisham East, most recently in 2018 when she received 266 votes.
Fransen was previously leader of far right group Britain First and most recently stood as an independent at the Scottish parliament elections for Nicola Sturgeon's seat, Glasgow Southside, receiving 46 votes.
While these characters are certain not to pick up the seat, that is not to say that they will fail to attract attention or even support here. In spite of what happened to their own MP almost exactly five years ago, the constituency remains a breeding ground for far right sentiment.
In 2019, Paul Halloran of the Heavy Woollen District Independents came a solid third here at the general election after accusations he had stoked community tensions. He is well-known locally for social media posts claiming Labour has a "block vote" and criticising Muslim Labour councillors. The replies to his posts from people in and around Batley are rife with dog-whistle racism and many feature outright racial slurs.
But on the street in Batley, it is clear that community divisions are not at the forefront of people's minds.
"I'm not really concerned about the far right," says Farhad Ahmed, a delivery driver. "They can do what they want, kick up a fuss if they want, but the majority of people don't support them."
There are some fine lines though. When a teacher at a Batley school was criticised for showing a cartoon mocking the Prophet Mohammed to pupils in an RE lesson earlier this year, parts of the national media harnessed it as a chance to highlight divisions between Muslim and non-Muslim residents in Batley.
"I think when there are issues in Batley it always seems to be people stirring the pot, it's never really about us," Ahmed says.
Nuzhat Ali, a stay-at-home mum taking her young daughter out for a walk, agrees.
"People get on well here. It's a nice place to live, people are friendly. My neighbours all look out for each other. [Batley] has a reputation of being divided, especially with things that have happened, but that's not true. Or not in my experience anyway."
Both said they were Labour voters and would likely vote in the by-election.
Ahmed says: "I'm going to vote Labour because I'm a worker. That's the main reason really."
He says he is unfamiliar with Leadbeater but he liked Brabin and thought Cox was a "brilliant" MP. He was one of the thousands of people who gathered to pay respects to her on the street when her funeral was held in the town.
On being told that Leadbeater is Cox's sister, he says: "I didn't know that — I think she'd win if people knew that. Maybe they do and it's just passed me by."
Ahmed does not think the Tories can win here but the bookies say differently. While Labour's odds have been shortening, the Conservative candidate Ryan Stephenson, a councillor from the upmarket Harewood ward of Leeds, is tipped to win the seat.
Part of the reason for this is the perceived notion that Galloway, a former Labour MP and Celebrity Big Brother contestant, might split the Labour vote.
Though he is standing for his own Workers Party, cynically, Galloway's red and yellow posters plastered across Batley town centre make no mention of the party. His leaflets claim the seat is a "two horse race" between him and the Tory candidate and state "Senior Kirklees Labour figures admit they cannot win in our area".
He describes himself as "pro-Brexit", "pro-Britain" and "pro-Palestinian".
Though people have accused Galloway of shamelessly courting the Muslim vote, he has a skilled ability to cut through demographics, appealing to all sorts of people attracted to his brand of populism.
His election wins have been an upset in the past but none here today will admit to supporting him, including Corrina and Malik Thomas, who only moved to Batley from south Leeds two weeks ago.
"I thought he was Labour," says Corrina, a nurse. "I don't think he's done anything recently, has he?"
The pair are Green Party supporters who tend to vote Labour to keep the Conservatives out.
"I'd love to be able to vote Green," Malik, who works in sustainability, says. The party's candidate, former professional rugby player Ross Peltier stood down after offensive tweets he posted a decade ago surfaced, and the Greens will not be fielding another candidate.
"I wouldn't be able to vote Tory," Corrina says. "The older generation seem to like Boris Johnson but I think he's a t**t."
"He's a charlatan, a wasteman," adds Malik. "He doesn't know what he's doing."
Despite the Tories' unpopularity among a substantial demographic, Starmer's team know Batley and Spen will be difficult for Labour to win and they are hesitant to say otherwise.
After failing in Hartlepool, this by-election is being touted as a very clear test of Starmer's leadership — in fact, some are even saying it will be the last test — and unfortunately for Labour, locals are finding him lacking.
Corrina says: "I don't know what Keir Starmer's about. I don't think he stands for anything. He doesn't seem to believe in anything. It's hard to get behind that."
What do you think? Have your say on this and more by emailing letters@theneweuropean.co.uk
Most popular