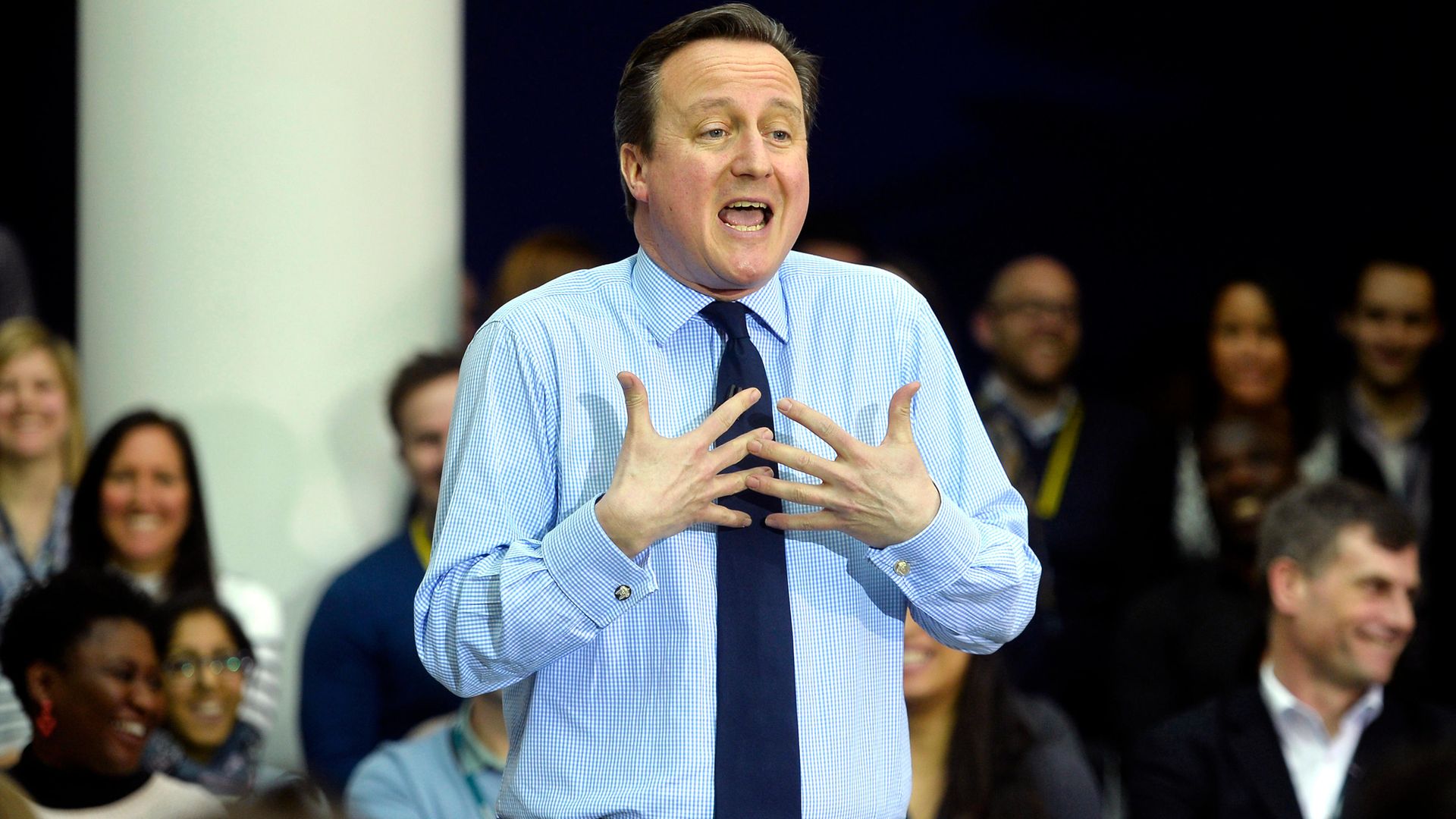 Britain's slack system for regulating politics is responsible for a devastating lack of public trust.
If he were a more sympathetic figure, David Cameron would have a certain air of pathos about him – the longer he lives, the worse his reputation gets. Born to riches and elected to the highest office in the UK, everything since has shattered whatever self-esteem he had.
Cameron built a reputation in opposition as a reforming Conservative, a change from 'the nasty party'. Hoodies and huskies alike would be hugged. Gay people would no longer be condemned. The Conservatives would match Labour on public spending. There was even such a thing as 'society'.
And, of course, Tory sleaze and corruption would be a thing of the past: Cameron picked up credit during the MPs' expenses scandal by being at the forefront of calls for reform – even warning, prophetically but a little early, that lobbying would be the next big scandal.
Cameron's peak surely came right at the start of his premiership, in his Rose Garden press conference alongside Nick Clegg. Perhaps this was the dawn of a new, liberal, internationalist – even compassionate – Conservatism?
Cameron was born into the top echelon of British society and almost everything that followed for him was effortless – from Eton to Oxford, to posh PR, to Westminster. The premiership was a bauble to be won, but also a role he thought he would excel at, likely believing his own hype: he was a new kind of Conservative who could run the country well.
We all know what followed – years of misery inflicted on millions of Britons in the name of austerity: a needless, reckless, ideologically-driven cuts to public services, making budget savings proven entirely pointless by the crisis we are now living through.
Alongside that came self-inflicted blow after self-inflicted blow, fuelled by nothing other than arrogance. Top of the list was his bid to heal his party's divide on Europe and head off the threat from the SNP with a pair of referenda.
The result of one was to leave Scottish voters bitterly divided and its nationalists fired up like never before – but missing these signs amid his apparent victory, Cameron went headfirst into the next, and we all know how that ended.
Cameron's legacy, then, was already heading from bad to worse in the few short years since his time in Number 10 ended. His mistakes had already led the UK out of the EU, undoing any minor benefit to the public finances his flagship austerity policies had introduced.
That EU referendum also left the reinvigorated SNP able to claim grounds for another referendum, just a few years after the first. On a personal level, Cameron's errors also paved the way for his school rival Boris Johnson to take his old job.
All of this means that even before the current lobbying scandal in which he is embroiled, Cameron was already serving as a symbol for many people of what has gone wrong with the Conservatives and what has gone wrong with politics in general. This is about to be turned all the way up to 11.
In many ways, the details of the scandal aren't the most important aspect. Given the company at the centre of it, Greensill – which provided complex supply chain financing (as well as other banking services) – is not a household name, many people won't know or care what it actually did, or is alleged to have done. The problem for Cameron and Greensill is how much the bits that we do hear about chime more broadly.
The narrative forming around Boris Johnson's government is one of grift. Nothing might have broken the law, but breaking the rules – or the ministerial code – doesn't seem to matter. Friends of the government seem to get multi-million pound contracts, often without competitive bidding, and friends of ministers seem to get big jobs.
If things get written up in the headlines, or official panels mount investigations, the result is often a mild slap on the wrist for the minister concerned. The facts of each individual case end up mattering little: the mounting perception is one that something is wrong. It is a story the government should be desperate to change, for its own sake and for the broader social good of politics.
Cameron's story is about to remind voters that this didn't come from nowhere – it had a long history, extending back at least as far as Cameron's time in office, and probably for far longer.
David Cameron became prime minister in the wake of a global financial crash caused by financiers being too clever by half, 'making markets' by creating complex financial products that, it turned out, introduced new systemic risks into the system, rather than making things safer.
Lex Greensill was the founder of a company which made markets by creating complex products which, many have now warned, might themselves create large-scale risks – and that company has now collapsed.
In 2011, Greensill – while still working at the company he founded – was introduced into Number 10 by Cameron's cabinet secretary Jeremy Heywood. While the proud holder of a government business card, Greensill advised the public sector on introducing supply chain finance – while his company offered exactly that service. No-one, it seems, saw a problem with that arrangement.
Skipping ahead a few years, Cameron was offered a job with Greensill two years after standing down as prime minister, with part of his compensation as stock options which the Financial Times valued at their peak as worth $30 million to $60 million (Cameron denies the valuation, but has not offered an alternative).
As the economic crisis caused by coronavirus reached its peak, Cameron contacted multiple government ministers on Greensill's behalf, to try to get support for the ailing business. This included texting the chancellor and setting up private drinks between Hancock and Greensill.
After a series of leaks – some of which seem to originate from Number 10, leading some to wonder whether Johnson's team briefed against their boss's disliked former schoolmate – both now face a public inquiry into the whole affair.
It's impossible to know what that inquiry will find. But the scary yet very real probability is it will find no rules were broken – because that's how the British system works. The reality of the political rules of Britain are that we have numerous codes which give the appearance of propriety, while making sure these have no real teeth.
Ministers have a code, the enforcement of which lies solely with the prime minister. The PM has an ethics advisor, but he can choose who that is – and the last holder of that office resigned when Priti Patel was found to have breached the ministerial code over bullying allegations made by her former permanent secretary, but faced no sanction.
Once politicians leave office, they are supposed to request permission from a committee before taking outside jobs, which will grant permission or not. But even that committee turns out to be entirely voluntary: it will usually toothlessly approve appointments but say the ex-politician shouldn't lobby.
It then does no enforcement, but writes a stern letter if the media find lobbying occurred. Alternatively, the politician concerned can simply not consult the committee at all – as George Osborne did – in which case an even more stern letter is written, and then ignored.
Short of being caught on camera accepting a brown envelope full of notes, UK political regulation has no sanctions. And the system has been cleverly engineered so that no-one ever need offer or accept a brown envelope. Everything is done on an 'understanding' – private sector advisors are brought in to help, and later hire former politicians for their knowledge. No promises are made, no quid-pro-quos offered. Everyone knows the game.
The problem is the public know the game too, and it is killing trust in politics even more than expenses ever did. The government needs to stop trying to hide behind small print – it doesn't mask anyone's view.
It's entirely possible David Cameron's relationship with Lex Greensill broke no rules at all. If so, that's the biggest scandal of the whole thing.
What do you think? Have your say on this and more by emailing letters@theneweuropean.co.uk
Most popular