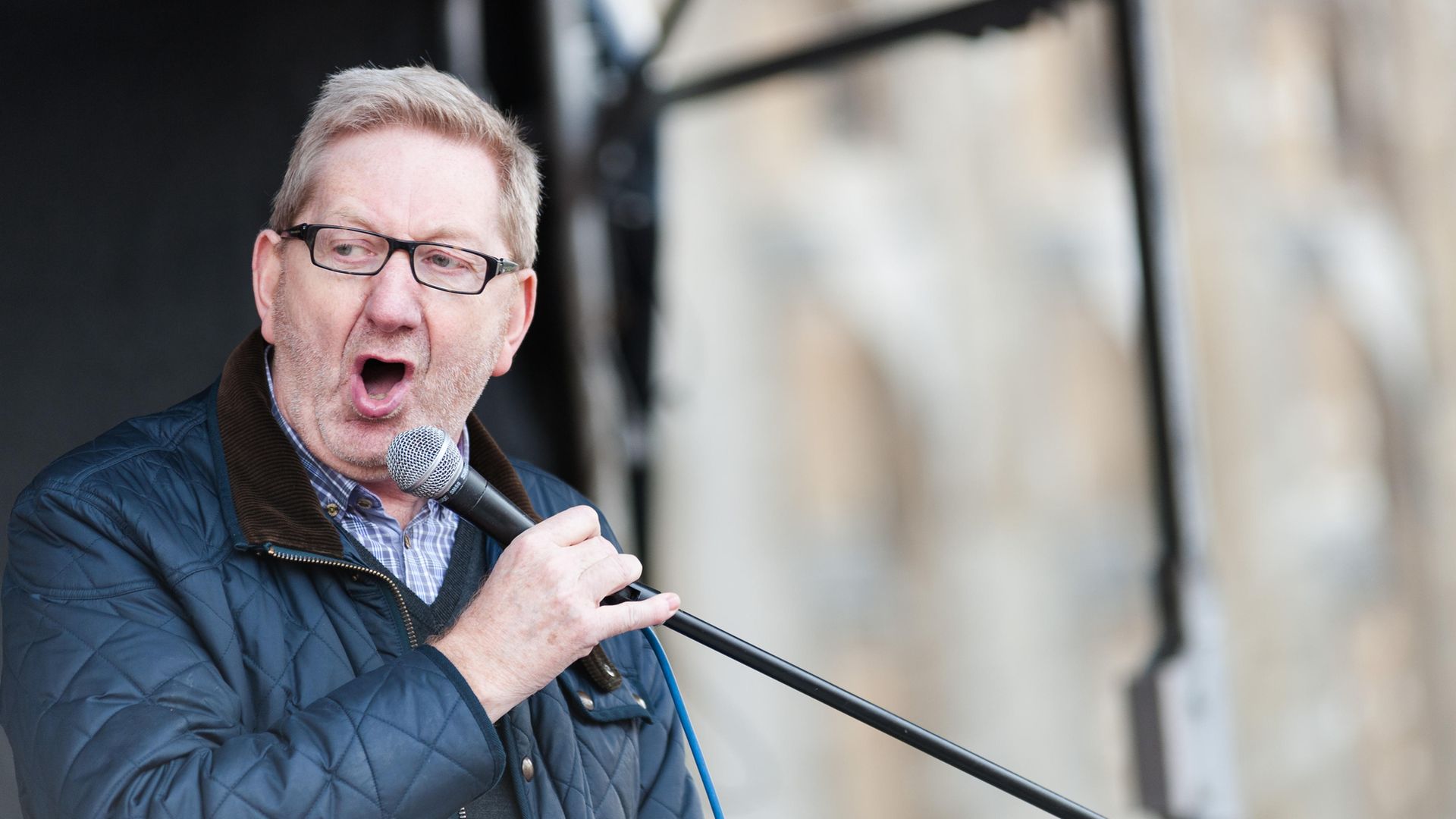 Len McCluskey has been a large, often disruptive, figure in the Labour Party. With his departure, will his Unite union revert to its former, steadying role?
Keir Starmer had a bit of good news this week, for a change. Not only is his most dangerous enemy, Len McCluskey, general secretary of the Unite trade union, finally retiring the age of 70 – Starmer wanted him gone long ago – but McCluskey looks likely to be replaced by someone who thinks attacking the Labour leader in public is a really rubbish idea, and does no one any good.
McCluskey's job could well go to Gerard Coyne, an enthusiastic Starmer supporter, who says: "I'm sick and tired of Unite messing around with Westminster politics when workers are crying out for representation in the workplace."
It could go to national organiser Sharon Graham, who says: "At times many of us have felt that Unite has focussed far too much on the Westminster bubble and not enough on the workplace." As though to emphasise the point, she had to cancel her interview with me for some urgent negotiations.
But the current front runner is Steve Turner, who is more nuanced, and careful not to be seen to be attacking McCluskey: "I will spend more time looking after the interests of our members in the workplace." He didn't vote for Starmer, "but I'm a democrat and I accept the result. I don't think Starmer is a right winger and I want to see him leading a successful Labour Party. I don't think the union gains much from a public spat with the leader of the Labour Party." He told me that if he doesn't like what Starmer does, he'll tell the leader privately.
Starmer will cheerfully settle for any of that. And it looks like a winning pitch. Four years ago, when McCluskey last stood for re-election, Coyne stood against him on a similar platform and almost unseated him. That, says Coyne, is why his rivals are now adopting it. "Imitation is the sincerest form of flattery" he told me. "They saw that my message resonated with our members."
Of the four candidates so far announced, only assistant general secretary Howard Beckett is for more – much more – of the same, and, partly for that reason, his candidature is already struggling. Last year the union's left caucus narrowly chose Turner as its candidate, rather than Beckett. Both men had promised to abide by the decision of the caucus, but Beckett has reneged on that promise, claiming there were irregularities in the ballot.
Beckett's route to power and influence in Unite has been an unorthodox one, and is now coming under unfriendly scrutiny. He was a partner in Merseyside solicitors Bemrose, Beckett and Hagan, which was sold in 2011 to the big trade union law firm Thompsons – whose clients include Unite – for £2.69 million. Beckett became Unite's director of legal services, and, fairly or not, is blamed for some very expensive decisions, such as paying for the website Squawkbox to defend itself against a successful libel action by former Labour MP Anna Turley.
He is now also the union's political officer, and represents Unite on Labour's national executive, where last year he led a walkout in protest at Starmer's "factionalism". (The walkout left the rest of the NEC, so Beckett's enemies claim gleefully, free to fill all the important committees with Starmer supporters.) When the head of finance died suddenly last year, Beckett took on oversight of finances as well.
Starmer would love a return to the days when the leader of Unite's predecessor, the Transport and General Workers Union (TGWU), was a steadying influence in the Labour Party.
In the 1930s and 1940s, the TGWU's legendary founder Ernest Bevin made and broke Labour leaders, and eventually threw a protective cordon around Clement Attlee. In the Wilson/Callaghan era, Frank Cousins and then Jack Jones were key players.
But by 2007, when the TGWU merged with Amicus to crate Unite, trade unions had suffered a catastrophic decline in influence, both in the country and in the Labour Party, and Unite does not throw up leaders with the gravitas of Jack Jones.
McCluskey, first elected in 2010, has been anything but a steadying influence in the Labour Party. He demanded that Ed Miliband drop "Blairite" shadow ministers, and fell out with Miliband out over allegations that Unite had rigged the selection for the Labour candidate in the 2013 Falkirk by-election. McCluskey threatened to disaffiliate from Labour if the party lost the 2015 general election.
McCluskey supported Jeremy Corbyn, but he very publicly dislikes Starmer's leadership, which is why Unite – Labour's biggest financial backer – cut its affiliation dues by 10%, or nearly £1 million, last year.
Steve Turner's alternative vision harks back to the glory days of Bevin, Cousins and Jones. He thinks the union should "keep the Labour Party's feet on the ground", remembering that "the Labour Party came from the trade union movement."
Labour Party politics should not be a major preoccupation for the general secretary, he says. During the referendum campaign he tramped the country arguing passionately for Remain, but "there had been 40 years when people had been taught to blame the EU for the failings of our own governments – the convenient enemy," he says. "Now we have to move on. People want us to be proactive about our future."
Sharon Graham spearheads the union's campaign for recognition at Amazon. Her manifesto promises "a union that does more than talk a good game and send out strongly worded press releases. We need a union that puts action before rhetoric." She would be the first woman ever to lead Unite or either of its predecessor unions.
Turner and Graham stop short of openly attacking McCluskey. Not so Gerard Coyne. He and McCluskey have history.
When he last stood for McCluskey's job, in 2017, he was Unite's West Midlands regional secretary. As soon as the election was over, Coyne was fired, allegedly for irregularities in his use of data. He withdrew his industrial tribunal claim when threatened with costs of £20,000. He worked for a print company, but since the end of last year has been working full time on his campaign.
McCluskey has not said whom he supports, but to no one's surprise, he's made it clear it isn't Coyne.
What do you think? Have your say on this and more by emailing letters@theneweuropean.co.uk
Most popular