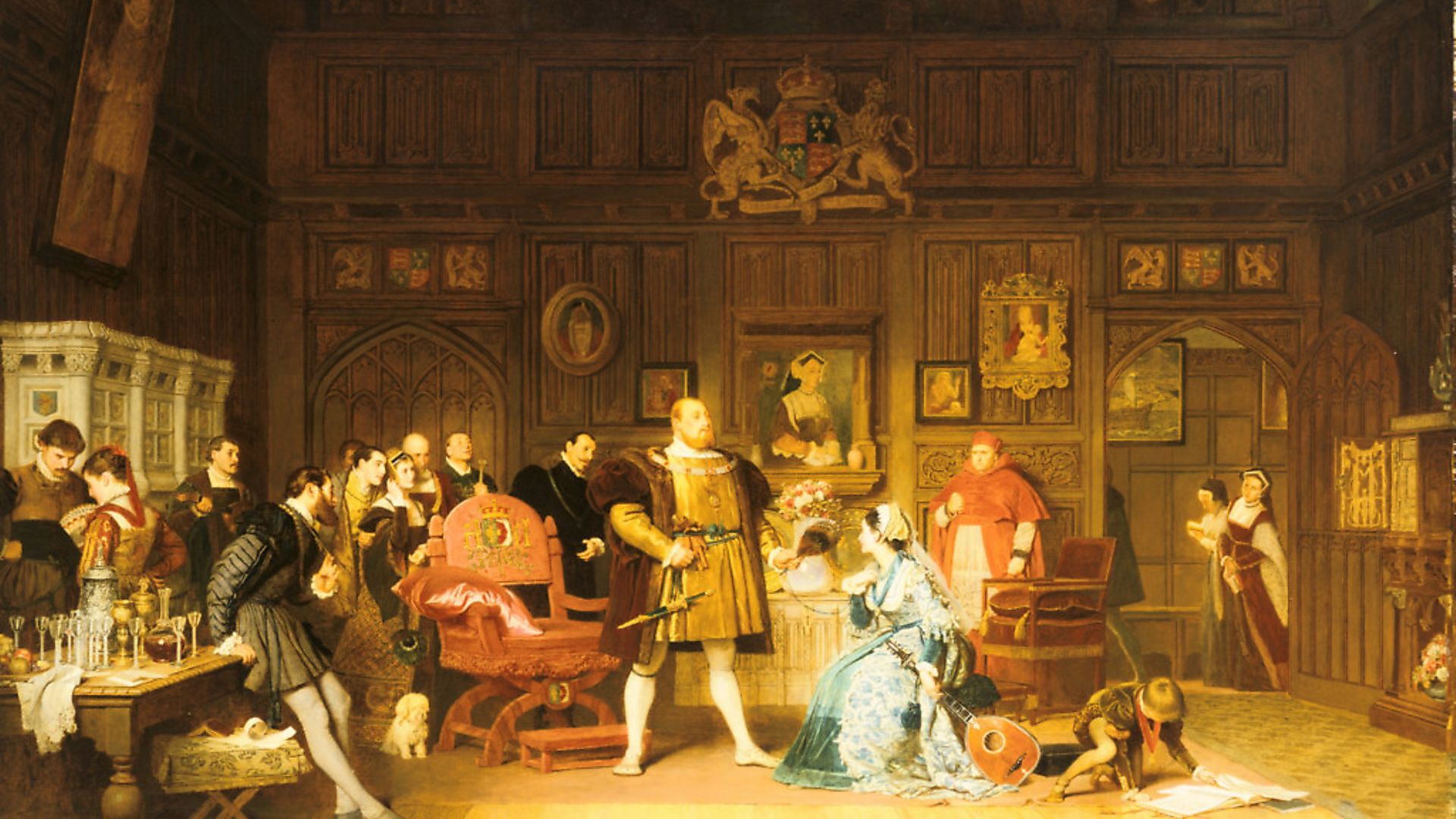 His musical talent and passion might have been overshadowed by other elements of his reign, but Henry VIII deserves his reputation as a king with an ear for a tune, says SOPHIA DEBOICK
Henry VIII is known as a musician monarch, but it is a characterisation based on a song he almost certainly didn't write. Despite wishful thinking that Greensleeves and its lament 'Alas my love you do me wrong/ To cast me off discourteously' was written by Henry for a coy Anne Boleyn, there is no record of it until more than 30 years after Henry's death, and it was written in a Spanish style not used in England in Henry's time.
Yet Henry's prowess as a musician is not in doubt – he was an accomplished player of the lute, recorder, flute and harp, as well as the organ and other keyboards, and a skilful singer. His personal passion for music was matched only by his passion for women, but he also saw music as part of a programme of public spectacle intended to represent him as the ultimate Renaissance man – a giant on the world stage at a time when political intrigue reigned, the arts were becoming of primary importance, and religious revolution was just around the corner.
The fundamental basis of early modern European society was shifting in 1513. The elderly pope Julius II died in February, replaced by the relatively young Leo X, and while a document in Henry's papers speculated that the new pope would be more cultured and less warlike than the warrior pope Julius, he had hardly been a philistine, having commissioned Michelangelo to paint the Sistine Chapel and Bramante to rebuild St Peter's Basilica.
Leo's granting of indulgences (a remission of sins) for donations to the ongoing St Peter's project would inadvertently catalyse Martin Luther's later attacks on Catholic doctrine, and in 1513 Luther was experiencing his first spiritual breakthrough.
Through lecturing on the Psalms and the Book of Romans as a professor at Wittenberg University, he concluded that faith alone was the key to religious righteousness, writing 'I felt as if I were entirely born again and had entered paradise itself through the gates that had been flung open'. European religion would be changed forever by this moment of realisation.
This background was of vital importance to Henry and England. While relations would sour horribly later, the Henry of 1513 was well ingratiated with the pope, and it was as a member of the anti-French papal Holy League, as well as in fulfilment of his own ambitions over French territory, that Henry staged a daring invasion of France in June, just two days after his 22nd birthday.
The PR assault was as fierce as the actual battles, and music played a central role in enhancing Henry's image. He took at least 10 minstrels, eight trumpeters, and a number of German drummers and fifers with him to France, and after taking the city of Thérouanne in August's Battle of the Spurs, he went on to the court of Margaret of Savoy at Lille where he performed on a number of instruments for the court and danced until dawn.
Apparently energised by such pursuits, he then besieged and took Tournai, entering the city 'to the sound of drums and minstrelsy'. Meanwhile, as the Scots threatened to invade England in support of France, early September's Battle of Flodden resulted in the death of King James IV of Scotland and huge Scottish losses, mourned in the later folk ballad, Flowers of the Forest. Henry's military escapades in 1513 amounted to a PR coup and for now, at least, he was punching far above his still modest weight.
As Henry made an image for himself as the ultimate ruler, he reflected the qualities laid out in Machiavelli's The Prince, which made its first appearance in this year. Before the decade was out, Machiavelli would praise Henry by name in his Discourses, writing approvingly of his invasion of France and calling him a 'prudent man' in military matters.
Given his impressive martial derring-do, it is a sign of his remarkable musical achievements that Henry's musicianship was so commented on by his contemporaries. The secretary to Giustinian, the Venetian ambassador, noted during his 1515 visit to England that the king practised the lute, organ, and harpsichord 'day and night', while the ambassador himself noted 'He was extremely skilled in music', adding that during a 10-day visit in 1517, he 'enjoyed hearing the king play and sing, and seeing him dance, in all which exercises he acquitted himself divinely'.
Giustinian would give a lush assessment of Henry: 'He is very accomplished; a good musician; composes well; is a most capital horseman; a fine jouster; speaks good French, Latin, and Spanish; is very religious; hears three masses daily when he hunts, and sometimes five on other days.'
Henry was 'much handsomer than any other sovereign in Christendom', according to Giustinian, and he added 'He is extremely fond of tennis, at which game it is the prettiest thing in the world to see him play, his fair skin glowing through a shirt of the finest texture'. The sexed-up Henry of Showtime's The Tudors is perhaps not so fanciful a rendering of the young king after all.
Henry captured the hedonistic life at the early Henrician court – an endless round of feasting, hunting and jousting – in his most famous composition. Pastime with Good Company was probably written around the time of Henry's 1509 accession to the throne, and it embodies his youthful exuberance at that time. Celebrating the opportunity to 'hunt, sing and dance', the song proclaims 'youth must have some dalliance' and 'mirth and play is best of all'.
The earliest source for the song is in the Henry VIII songbook held in the British Library, which was probably compiled around 1518 and includes more than 30 compositions by the king.
The song went on to have a life throughout the 16th century, being a favourite of Elizabeth I, and well beyond. Folk rock embraced it, and it was recorded by Ritchie Blackmore and Candice Night's husband-and-wife project Blackmore's Night, as well as by Jethro Tull as King Henry's Madrigal. Pastime with Good Company is as beguiling an ode to having a good time as any latter-day pop song, and many of Henry's other songs also took up the eternal concerns of popular music – Whereto Should I Express?, for example, was concerned with the heartache of separation from a lover: 'Whereto should I express/ My inward heaviness?/ No mirth can make me fain/ Till that we meet again.'
Henry may have been an accomplished musician and composer, but his role as a patron to other musicians was vital. Robert Fayrfax, organist of St Albans Abbey and first doctor of music at Cambridge (his most complex work, Missa O quam glorifica, was probably part of his submission for that qualification), had been Henry VII's foremost musician, and he continued to serve under Henry VIII.
His Lauda vivi alpha ends with a prayer for the king, and he was one of the singers at both Henry's coronation in 1509 and the funeral of his infant son in 1511.
While Henry effectively inherited Fayrfax, he went to considerable lengths to bring other exceptional musicians into his sphere, many of them from the continent. (That he was keen to import continental musical culture was evident in the fact that, on Epiphany 1513, Henry staged the first Italian-style masque seen in England.)
When the Venetian friar and organist at St Mark's, Dionysius Memo, visited England, Henry and Catherine of Aragon were so enraptured by his playing that Henry petitioned the pope to have him released from his order so he could join the Chapel Royal.
By the end of Henry's reign, Flemish lutenist Philip van Wilder was in charge of the music of the court, having served him for many years. In van Wilder's chansons, like his Pour vous aymer j'ay mis toute ma cure ('I Have Given All My Care to Loving You') a rather 'pop' sentiment can be detected, but these songs would also later be used as models for a less ornate Protestant church music, and he was a key figure bridging into the full flowering of the musical English Renaissance, inspiring the likes of William Byrd and Thomas Tallis.
Henry's life of wine, women, song and easy military victory would be replaced with a mire of bitter power struggles and personal turmoil, and Machiavellian ideas played no small part in his increasingly megalomaniac and destructive behaviour.
It was perhaps fitting that a court musician, Mark Smeaton, would be the pawn used to discredit Anne Boleyn (his low-born status made an alleged affair with the queen all the more scandalous and made him fair game for torture, under which he supplied the names of her other, aristocratic 'lovers').
Yet, as shown by the hundreds of instruments in the 1547 inventory of his possessions after his death, including bagpipes, flutes, lutes, organs and almost 50 recorders, even as Henry suffered a terminal decline and vacillated in faith and love, music was his one passion 
that abided.