Anthony Hopkins can do many things but playing a Jewish grandfather, speaking Yiddish in early-1980s Queens, isn't one of them.
That's one of the major revelations of the 75th Cannes Film Festival. It happens in a film called Armageddon Time, which I actually rather liked despite this humongous lump of 'elephant in the room' casting.
Look, he's a great actor, so he sort of gets away with it. But not with me. I had two Jewish grandpas, whom I loved just as much as the little kid in the movie loves his, but they were nothing like Hopkins. I had a problem with it, especially as the film, directed and written by James Gray, is about the disastrous effects of casual racism and white privilege.
As the 11-year-old kid, Paul Graff, newcomer Michael Banks Repeta is excellent. He befriends the only black boy in his school class (Jaylin Webb, also terrific) and the pair of them bond despite the misgivings of Paul's parents, Esther and Aaron, played superbly by Anne Hathaway and Jeremy Strong (I've no idea if either of them are Jewish or not, but they're fabulous).
They're part of a middle-class Jewish family who bicker as they eat together, and talk about their favourite bridges and fret about antisemitism and yet the youngest kid wants to go into the city for a Sugarhill Gang gig with his new best friend? This might have been possible were the pair of them not caught smoking a joint in the school toilets.
Paul is whipped out of school and put in the local private educational establishment, Forest Manor, where he has to wear uniform and carry an 'attaché' case – and where the Trump family come to deliver lectures.
Paul has made the leap up society's ladder ("you'll dine with kings," beams his mother) and left his old friend Jonny behind, although not before one last incident involving a stolen school computer, which will cement the divide, just as Ronald Reagan is voted in.
And that's when twinkly old Grandpa Hopkins tells his favourite little grandson to always be a "mensch". Hearing him deliver this line clanged like the chimes of doom. I found it outrageous and the film was ruined. I have no idea what director James Gray was thinking with this casting – he was probably too self-absorbed in telling his own artistic foundation myth to hear the bum notes.
Armageddon Time (the title refers to the increasing threat of nuclear war) was one of the starrier vehicles to pull up to the competition over the early days of a festival which unfurled in an atmosphere of renewed bonhomie and relief following the continually imperilled vibe that hovered over last year's sticky, spit-tested and masked iteration. Even the French, I can report, have sanctioned the return of faire la bise, something I feared might never come back. Mwah, Mwah.
The films haven't quite delivered as yet. One I was really looking forward to was Triangle of Sadness, by Sweden's Ruben Östlund, he of the brilliant skiing holiday movie Force Majeure and Palme d'Or artworld satire The Square.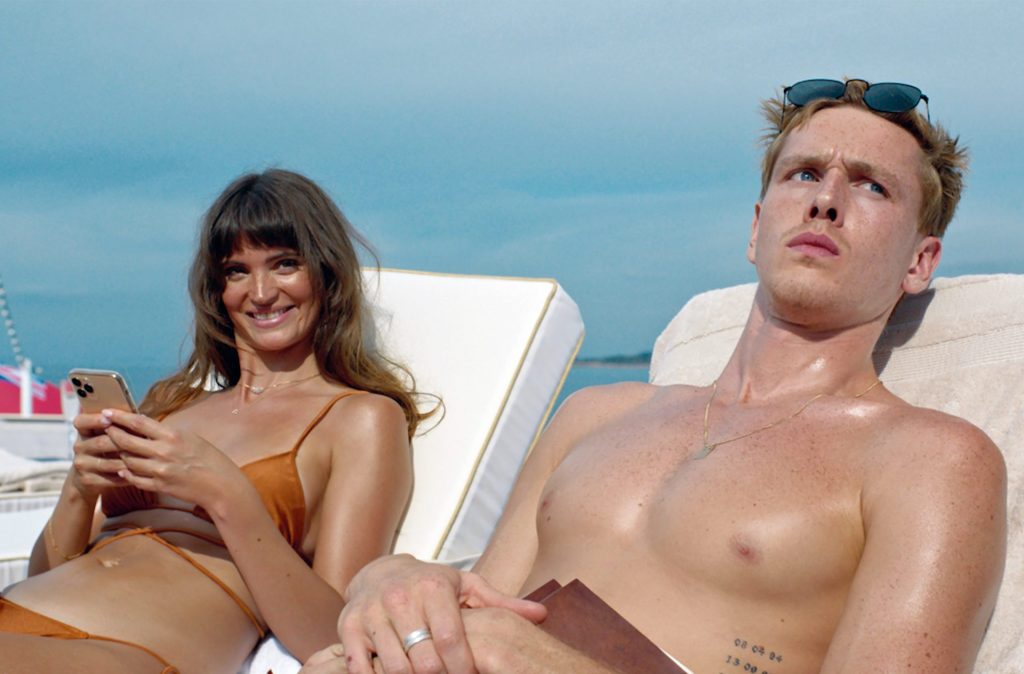 Indeed Triangle was a film born in this very newspaper – the director was casting it and writing it as he was doing promotional tours for The Square and when it opened in London, in March 2018, I was interviewing him for The New European and we kept being interrupted by British stars such as Carey Mulligan and Tom Hiddleston popping in – all slightly bewildered as to what I was doing there. None more so than Hugh Grant.
---
None of these have made it into the final movie, which nevertheless does bear strong resemblance to the version he pitched me – about a male model, his model girlfriend, a luxury cruise yacht and a deserted island.
British actor Harris Dickinson is powerful as Carl, the male model dealing with his slightly fading career: the Triangle of Sadness of the title refers to the little bit of skin that gathers above the nose and between the eyebrows when models do their best "Blue Steel" look. Harris's Carl is dating Yaya, played very likeably by South African model Charlbi Dean in her first film role, and the opening section of the movie has a great little satire of the fashion industry and then a Curb-style moral dilemma argument over who should pay for dinner.
It's all very promising of uncomfortable things to come and then in Part II, Carl and Yaya are on this boutique cruise, paid for by Instagram following. The other passengers offer an assortment of Euro-wealth, while the crew attend to their every need, helicoptering emergency supplies to cater to their every whim (Nutella, apparently).
Woody Harrelson is the alcoholic ship's captain barely able to come out of his cabin, although he does spruce up for the captain's dinner, which takes place in a storm and which frames the film's centrepiece scene, an extended tableau of disaster, of vomit and exploding faeces that pushes the viewer to the limit. That's a bit of an Östlund signature, like the man monkey scene in The Square. You want to look away but you really can't and you squirm and wriggle at the humour and these rich folks reduced to indignities.
And then there's a third part, on a shipwrecked island. The film does play out to diminishing returns, in terms of themes and new things to say about societal hierarchies and privilege and, to a lesser extent, fashion and socials. I wanted more on the modelling and the media, less on the "aren't rich people ghastly". Because, yeah, they are. And they've got more money than us.
But there's bravura on show all around with Östlund, a major talent with a signature control of his tone and camera. Another one of Europe's best at mood, for me, is Mia HansenLøve, whose film One Fine Day provided a lightness of touch and one of the best performances of her life from Léa Seydoux. She plays a woman in Paris going about her everyday life – a single mum in a little flat, doing the school pick-up, popping in on her ailing, dementia-ridden scholar father (Pascal Greggory) and beginning an affair with a married man (Melvil Poupaud) while holding down a high-pressured job as an interpreter.
Nothing happens and everything happens, Paris looks lovely, Léa is beguiling and, as seems practically contractual at Cannes these days for her, often naked. It was no surprise – yet not without a certain frisson – that one of the big announcements of upcoming projects at Cannes is a new version of 1970s arty softcore classic Emmanuelle, with Léa Seydoux in the role made iconic by Sylvia Kristel. Calm down, the lot of you.
Now that's good casting – take note, Mr Hopkins.
Cannes did offer up a clucking turkey in the form of George Miller's Three Thousand Years of Longing, based on an AS Byatt novella. The only shock is that it starred the usually daring and reliable Tilda Swinton, who plays a version of the writer – sorry, narratologist – attending a literary festival in Istanbul and discovering a genie in a bottle she's bought in the bazaar. It's an adult fairy tale (adult as in for grown-ups rather than adult in the Emmanuelle genre) and it also stars Idris Elba as the djinn genie who, uncorked, tells stories of Solomon and Sheba and various other ancient stories that all look a bit like the Michael Jackson Remember The Time video, with Eddie Murphy and Iman. The more I think of this movie, the more awful it grows, haunting my eyeballs no matter how many other movies I watch to try and cleanse my retina.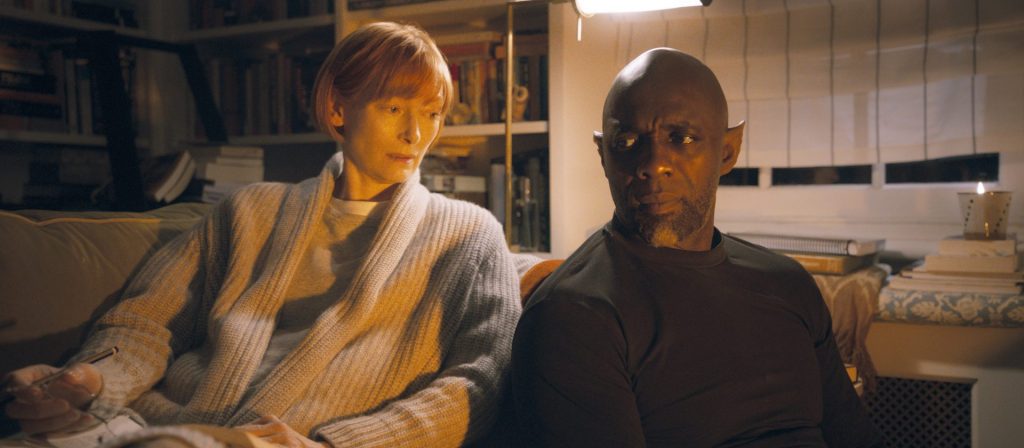 Irish fishing village drama God's Creatures couldn't quite do it, despite a decent cast of Emily Watson, Paul Mescal and Aisling Franciosi. While throbbing, Aussie true crime entrapment drama The Stranger settled on me like a cloud of depression, all men with beards and dark hotel rooms closing in on a man they suspect of a child killing years ago. Joel Edgerton and Sean Harris are macho and creepy, like De Niro/ Pacino in Heat, a two sides-of-the-same coin set-up and a score like the last breaths of a dying beast.
This is a genre Australian cinema has rather pioneered recently, these heavy-duty, rather grubby-feeling scowlers such as Animal Kingdom, Snowtown and last year's mass-shooter drama Nitram, soon to be released in UK cinemas. Neighbours feels a long way off.
You know, it feels like Tom Cruise left everything trailing in his wake, like the red white and blue smoke that streamed out of the fly-past planes swooping deafeningly over the Palais to herald the red carpet of Top Gun: Maverick. I watched them from the press room, where things have gone paperless this year "for a greener festival."
But, let's be honest, Cannes need star wattage and blockbuster balls, and Top Gun is all of that, cheesier than an Alpine raclette restaurant and weirdly obsessed with Tom Cruise's boyish looks in the original and his, well, still boyish looks in the new one. Is there a new anti-ageing software programme, called Dorian Gray or something?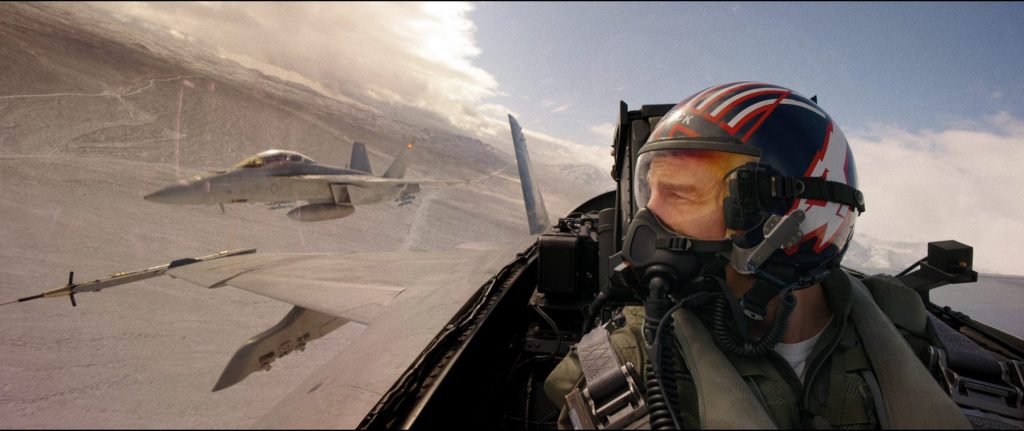 How long did they spend going back to the old movie and making it look not so, you know, old, so that we never for a second watch the new movie and think: "Wow, Tom's got older, haven't we all, weren't the '80s a long time ago and isn't the world different?" Because in Top Gun, nothing's changed and it's still cool to fly planes and dick about with your macho mates having dogfights and then going off on an impossible mission that looks like a video game to destroy some nameless, faceless enemy but who we all know is an Iranian nuclear factory.
---
None of that cynicism stopped me from thoroughly enjoying the movie and the clip reel of Tom Cruise that played before it and his acceptance of an Honorary Palme d'Or which he, honestly, really, truly, knew nothing about, oh you kill me, Thierry … well that was so much fawning and fireworks and genuflecting before the grand artiste producer Jerry Bruckheimer and the great star Tom Cruise.
But how we needed it, how movies need it, that shot in the arm of thrill-ride big-screen pizzaz. And the biggest cheer of the festival so far? When Tom was asked if, during the big pandemic delay that's seen Top Gun put back until now, if he'd ever considered streaming it, releasing it online and into our homes? 'That's never gonna happen," he said, "Not gonna happen, never."
So I guess what they're trying to say, before a tiny arthouse gem from Belgium or Algeria wins the Palme d'Or, is that movies are back, the big screen is back. Vive le cinema.