On Christmas Day 2019 the then recently appointed Chief Constable of the Police Service of Northern Ireland Simon Byrne tweeted an extraordinary photo of himself posing with armed officers at Northern Ireland's most heavily fortified police station in Crossmaglen.
"I take my hat off to colleagues policing such a unique part of [NI]. Their sense of duty and optimism is inspiring. Stay safe and thank you," he said.
Perhaps the festive visit was intended as a morale-booster for those serving in an area of South Armagh once so notorious for IRA attacks it was dubbed "Bandit Country". Maybe Byrne rather liked the machismo of it all too – a leader going to the frontline.
But the image and sentiments harked back to the worst days of the Troubles, suggesting he had bravely stepped into "enemy territory", and Byrne was roundly criticised.
It appeared to be a stand-off along old lines – military hardware no longer sat as comfortably with modern policing in a post-Good Friday Agreement Northern Ireland. The messaging was all wrong.
The fall-out highlighted just how visceral responses could be post-conflict, especially in proximity to the border and even more so after the Brexit vote.
It seemed with the Irish government talking up the threat of renewed violence should the Irish frontier "harden" as a result of Brexit, the stakes in PR terms couldn't have been higher.
It was an example of policing being dragged this way and that in the vexed context of identity politics in Ireland.
Byrne's gaffe prompted a review into policing South Armagh, the findings of which caused a furore when published this week. Among its 50 recommendations was that Irish language police signage could help make the PSNI more acceptable to local nationalists. 
But other proposals, including a highly emotive one to relocate memorials to murdered officers as well as further collaboration between PSNI and Garda on cross-border policing, saw unionist politicians swiftly reject the report as representing unacceptable concessions to nationalism.
For now, Byrne has said that Irish language messaging and relocating memorials are on hold pending further consultation.
It may seem odd to people living in Great Britain that language could prove both so useful and so objectionable but the Troubles saw Irish become a cultural and political fault-line in Northern Ireland, claimed by nationalists and feared by unionists.
More recently, nationalists have come to promote the language as a neutral artefact and it has made tentative progress among Protestant communities, with some notable advocates among working class activists.
Linda Ervine, whose late brother-in-law David Ervine was a former member of the loyalist paramilitary faction, the UVF, and leader of the Progressive Unionist Party, is a prominent Irish language campaigner.
But the vast majority of unionists still view the language with suspicion, if not active dislike, regarding the idea of Irish being neutral as a fig-leaf to disguise its part in an ongoing war against them.
Unionists believe the Irish language has been weaponised by the IRA, and that it has become part of the overall Irish identity, which their embattled state, in its 100th year, has spent a century resisting.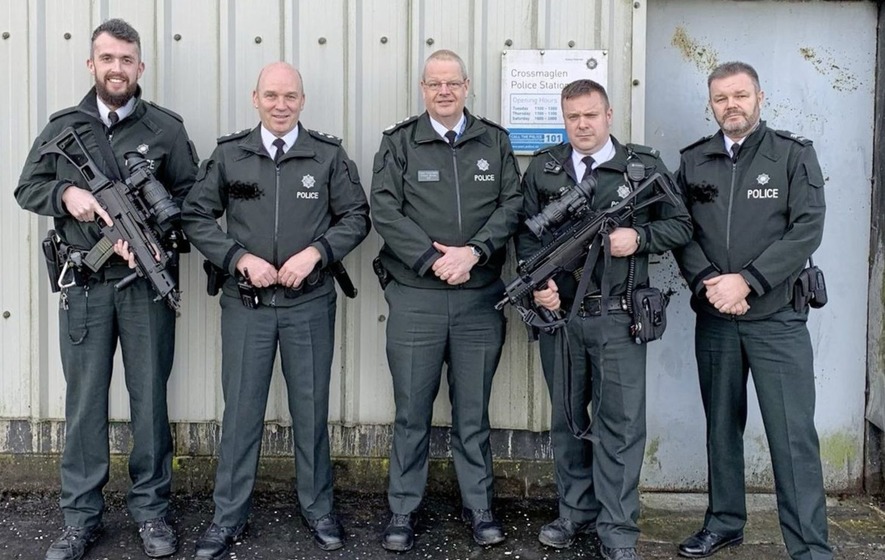 For many decades the most famous phrase in Irish was Cead mile failte, which translates as "A hundred thousand welcomes".
But the three words that most Protestants know now is Tiocfaidh ar la ("Our Day Will Come") – an IRA threat used to intimidate them when they were being targeted and murdered. They're also familiar with the "official" name for the IRA, Oglaigh na hEirean ("Soldiers of Ireland").
A 1980s republican slogan had it that "every word of Irish is another bullet being fired in the struggle". Then there's the name of the republican political party Sinn Fein, which means "Ourselves Alone", not exactly an inclusive sentiment. 
These phrases have bedded themselves into the unionist psyche as threatening and alienating.
Some unionists even believe that the use of Irish street signs, predominantly in nationalist areas, is an attempt to strip away British identity.
This has led to some unsavoury mockery of the language by DUP politicians. Infamously, the MP Gregory Campbell's 2014 bastardising of the language in the Stormont chamber – "Curry my yoghurt can coca coalyer" – managed to offend several cultural communities at once.
Ironically, there wasn't always antagonism among Protestants towards the Irish language. In fact, in some senses it was actually saved by northern Protestants during many revival movements in the 18th and 19th centuries, when it was at risk of being lost.
There are other aspects to diversity in Northern Ireland of which linguistic variety is one example. There are languages of incoming migrant communities, British and Irish sign languages, and Ulster-Scots which is, along with Irish, recognised under the European Charter for Regional and Minority Languages.
Irish presenting suddenly as both "neutral" and open to all on the one hand, while intimately connected with Ireland and "Irishness" on the other has been a thorny issue as identity and allegiance became contested. Ulster-Scots, a long-established presence in Ireland related to Scots, has become identified with "Planter" culture and identity, though neither its linguistic reach nor its political identification with unionism have paralleled the potency of Irish which has a whole nation – Ireland – sustaining its ideological clout.
Language rights are recognised by legal frameworks around the world and have been reflected in legislation in the UK in relation to Welsh and Scots Gaelic and Scots.
An Irish Language Act was promised by Tony Blair in the 2006 St Andrews Agreement, though wasn't delivered when devolution was restored a year later. The DUP has insisted it never agreed to any such move.
But progress seemed to have been made when the Stormont Executive was re-established in January 2020. The New Decade New Approach agreement included official recognition for Irish and Ulster-Scots, two language commissioners and "best practice" rules for public authorities.
After Sinn Fein threatened to collapse the Executive in June this year because of the failure to implement this legislation, the UK government committed to legislating at Westminster on the Irish language and the other cultural provisions, which included Ulster-Scots, if they are not dealt with at Stormont by next month.
It would be a mistake to think that anyone confuses language rights as a substitute for the community reconciliation which, after more than two decades, remain unaddressed.
There are small signs of hope, however.
Before its suggested use in police signage recently, Irish also made headlines in July when an Irish language nursery due to open on the site of Braniel Primary School in Protestant east Belfast was forced to relocate after a social media hate campaign.
Hearteningly Diane Dawson, head of Braniel Primary, which has 400 pupils, said she had received only three complaints about the nursery and blamed outside elements on the abuse.
She said: "I am a unionist, I will be first, foremost and last a unionist and not one word of the Irish language spoken undermines or weakens my unionism".
That self-confidence is exactly what unionism needs to meet the challenge of recognising diversity while not fearing it.