At 15 years old I wanted to be Emily Ratajkowski, I just didn't know her name. 
She was the carefree and beautifully bold brunette in Robin Thicke's Blurred Lines music video and I envied her. Those 4 minutes and 32 seconds ensured questions of who she was would be soon rendered unnecessary. Ratajkowski, according to a 2014 Cosmopolitan cover, was here to stay.
Her recent accusations against Thicke now make my wistful teenage yearning feel nauseating. 
Thicke's Blurred Lines, featuring rapper T.I. and Pharrell Williams, tells how a disinterested woman in a club is pursued by a man who, apparently, knows her desires better than she, repeatedly singing "I know you want it". Two versions of the video exist: in one Ratajkowski's breasts are covered, and in the second she is naked, save for a flesh-coloured thong.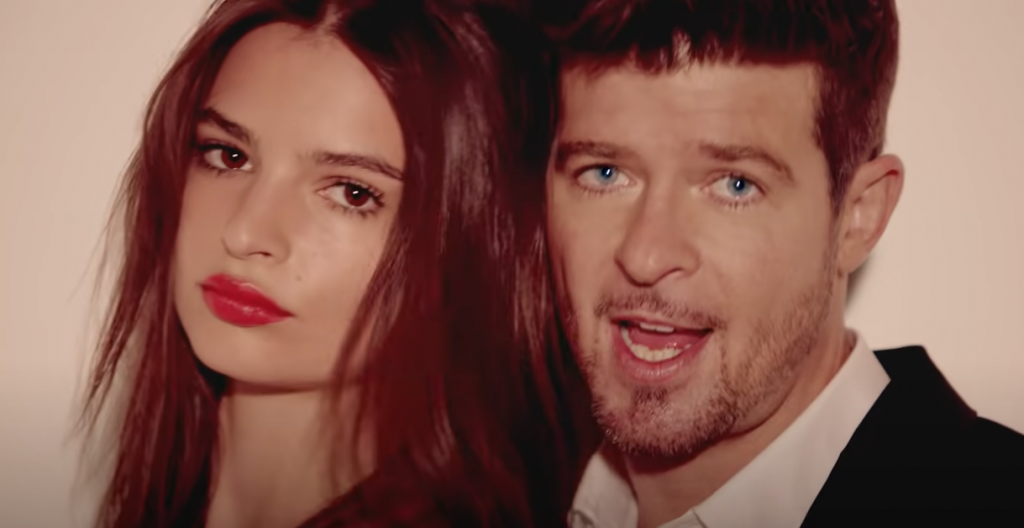 Now, Ratajkowski accuses the singer of assaulting her on set. Her account recalls how the shoot, directed by Diane Martel, was enjoyable, right up until the moment she found herself alone with Thicke.
"Suddenly, out of nowhere, I felt the coolness and foreignness of a stranger's hands cupping my bare breasts from behind. I instinctively moved away, looking back at Robin Thicke," she wrote. "He smiled a goofy grin and stumbled backwards… Diane's voice cracked as she yelled out to me, 'Are you okay?' I nodded and I may have even smiled, embarrassed and desperate to minimise the situation." Thicke's representatives have yet to respond to the accusations.
Ratajkowski says she felt "naked for the first time that day" but she was still "desperate to minimise" what she had just experienced. "I pushed my chin forward and shrugged, avoiding eye contact, feeling the heat of humiliation pump through my body," she said. "I didn't react — not really, not like I should have."
Typically, in cases like this, two lines of enquiry emerge. Firstly, why did the victim wait years before breaking their silence? Speaking to People magazine, Ratajkowski explained she feared speaking out, before the advent of #MeToo, would have ended her career. 
The second, more toxic focuses on what the victims were wearing. On her Instagram, under posts advertising her book, comments were made condemning her for speaking out against a man who birthed her career. She is asked, repeatedly, why she was naked if she didn't want to be touched.
Ratajkowski's clothing, or lack of, at the time of her assault is irrelevant. The same should be said for any survivor of sexual assault, but we aren't there yet.
In 2013, (the same year Blurred Lines was released) Jen Brockman and Dr. Mary A. Wyandt-Hiebert attempted to make this very point. They created a poignant art exhibit at the University of Kansas entitled after the question too many women receive after they share the news that they were sexually assaulted – "what were you wearing". The exhibit contained 18 stories of sexual violence and representations of what the victims were wearing at the time of their attack. 
"A swimsuit. We had been canoeing at the river all day. It had been a really fun time. Then they came into my tent when I was trying to change clothes." This account appeared on the wall next to a black and white patterned bikini top and black bikini bottoms as one piece. 
Another read: "Khakis and a dress shirt. I had to give a presentation that day in my communications class. They took my clothes at the hospital during my rape exam. I'm not sure what happened to them." This one accompanied a maroon vest shirt with scalloped hemming and brown khaki trousers that hung on the display wall. 
A third was wearing a sundress. "Months later, my mother would stand in front of my closet and complain about how I never wore any of my dresses anymore. I was six years old." This message featured adjacent to a child's pink, red and white striped sundress.
In the installation, no two outfits, or experiences, were the same. Participants had been attacked in bikinis, sundresses and shirts and trousers alike. Brockman and Wyandt-Hiebert had made their point – assaulters do not discriminate on the basis of clothing. 
When I was 15 I wanted to be Emily Ratajkowski. Eight years later, I have been her and felt the presence of an unwanted hand. A recent investigation by UN Women UK found that 97 per cent of my age bracket (18-24) have been sexually assaulted, 96 per cent of whom don't report their attacks out of the belief that it would achieve nothing. I know Emily Ratajkowskis, I walk past Emily Ratajkowskis on the street and sit next to them on the bus. 
When the unthinkable, and seemingly statistically inevitable, happens we all face the same usual questions. We should stop having to dish out answers to them – Emily Ratajkowski included.
Most popular