As happens so often, the news from America was shocking and horrifying and expected. As indicated in a document leaked in May, the supreme court overturned Roe v Wade, the decision that legalised abortion nationwide almost 50 years ago in 1973.
Without the landmark case, 26 states are certain or highly likely to ban abortion as part of a clampdown on women's rights. "It wasn't the least bit surprising to anyone who was paying attention," Mara Clarke, founder and director of the Abortion Support Network (ASN), tells me. Now, as the world looks to the US in disbelief, abortion activists like Clarke have their eyes on Europe.
Started by Clarke in 2009, today ASN helps women across Europe who need access to abortions, including in Poland, Malta and Gibraltar. ASN provides information on clinics, travel and accommodation, and offers financial assistance for those who need it. By her own admission, fighting for abortion rights across Europe is her jam. "Now you're speaking my love language," she says, laughing.
"I'm not interested in playing oppression Olympics," says Clarke, "but the law in Poland is worse than the one in Texas, as is the one in Malta." Texas alone has 12 abortion funds, she explains, and Europe has five.
Malta has one of the most restrictive abortion laws in the world. It's the only European country where termination is illegal under any circumstances, including after rape or incest and when the life of the mother is at risk. If a woman is found guilty of breaking this law, she can face three years in prison and the doctor who aided her could be jailed for one year while also losing their medical licence. When it comes to abortion rights, the country is stuck in the 1800s.
However, this restrictive law is right at home with other Maltese legislation. The staunchly Catholic country only legalised divorce in 2011, with same-sex marriage following six years later in 2017. The island nation has no state-subsidised or free access to contraception and preaches abstinence to its teenagers in sex education lessons. The morning-after pill was introduced in 2016; however, it is exceptionally difficult to obtain, with pharmacists able to conscientiously object to handing it out – which many do. The Catholic country's laws, and society, make it very easy to get pregnant, and nearly impossible to get an abortion. Nearly.
While there are no official government statistics, activists estimate that approximately 300 women a year in Malta have an abortion. Data from the UK government shows that, over the last 10 years, an average of 57 women have travelled to England and Wales for an abortion each year. "People in Malta are accessing abortion at the same or similar rate as anywhere else in Europe, the law just means that they are criminalised for it and are doing it less safely," says Aleksandar Dimitrijevic from Voice for Choice, the first Maltese pro-choice coalition campaigning for reproductive rights.
The Maltese government insists that its law is only in place to act as a disincentive, with no one being jailed for having an abortion since the 1980s. Dimitrijevic couldn't disagree more. "The law has no effect as a deterrent," he tells me. "The last person jailed might have been in the '80s, but women have been charged and prosecuted for having abortions as recently as 2012."
Poland closely follows Malta with its own set of restrictive abortion laws. As of January 2021, following the constitutional court's ruling in October 2020, women can only legally terminate a pregnancy up to 12 weeks in cases of rape, incest, or when the mother's life is at risk. Prior to this recent change, abortions were also permitted in cases of severe foetal abnormalities. Any doctor or individual who helps women to obtain an illegal abortion is liable to a three-year prison sentence. Poland is also the only other European nation that did not legalise abortion upon demands from activist groups, the other being Malta.
Officially, the Polish Ministry of Health reports that about 1,000 abortions take place each year. But activists claim these figures to be unreliable. "Activists estimate the number is about 150,000," says Clarke, which she understands is a fair reflection on the population of Poland, when the Department of Health in England reported that approximately 200,000 abortions happened in England and Wales in 2020.
In practice, while it is legal, abortions in the case of rape are rarely performed in Poland because of the conditions these women are required to meet by the state. "You need to open a criminal trial and the prosecutor needs to certify that you were, in fact, raped," explains Clarke. More often than not, women decide against reporting their assaults to the authorities.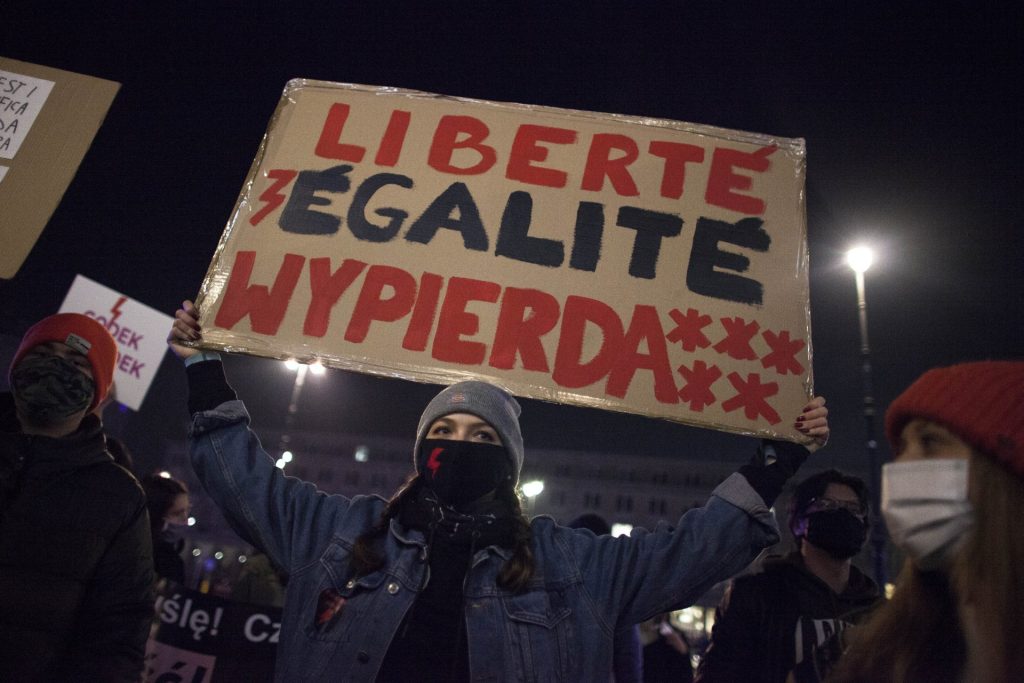 In response to the constitutional court further restricting Poland's abortion law in October 2020, Poland's women took to the streets as the country witnessed eight days of mass protests, believed to be the largest demonstration nationwide since the fall of communism in 1989. One of the most popular messages written on signs was "Wypierdalać", which translates roughly as "Fuck off".
"It was quite telling," says Kinga Jelinska, one of the four co-founders of Aborcyjny Dream Team (ADT) and executive director of Women Help Women, an international activist non-profit organisation made up of feminist activists, trained counsellors, medical professionals, and researchers working on access to abortion. Ironically, the protesters achieved the opposite of what the government wanted. They raised awareness of groups like Women Help Women, tripling their website traffic in a matter of days. It was a huge vote of trust that Jelinska takes very seriously.
---
Aside from Malta and Poland, abortion is largely legal across Europe. At least, that is the case on paper, but often the reality tells a very different story.
In Germany, interestingly, there is no such thing as a woman's right to terminate a pregnancy. Unless one has been caused by rape or is endangering the woman's health, abortion is against the law and section 218 of the penal code states the maximum penalty is a prison sentence of up to three years.
But there's a compromise: section 218a gives impunity as long as the abortion is within the first 12 weeks and at least three days after compulsory counselling.
And because there is no right to abortion, there's also no help to pay for it unless rape was committed or there are medical reasons why the pregnancy should be terminated (See Germansplaining, page 17).
In Italy, abortion has been legal up until 12 weeks since 1978. However, it is not a readily accessible service. Some 70% of the country's gynaecologists do not offer it and 72% of doctors conscientiously object. Of the EU states, 22 out of the 27 also allow for these objections, including France, Spain and Germany.
"Sure, they have a great law," says Clarke, but "in reality, they let a woman die." She is referring to the death of Valentina Milluzzo, the 32-year-old who died in 2016 after falling ill when miscarrying. Her doctor was morally opposed to performing abortions.
"Screw the law!" exclaims Clarke as she tells me how often legislation and reality are not fair reflections of each other. In 2017, Clarke and her team undertook some research and found that Naples had one abortion provider for the 3 million people who lived in the area. "Then he died," she says, "so for two years there was no abortion provider for the whole city."
The law only works in practice if the healthcare system can operate effectively alongside it. "I can't get into Italy yet. I'm focusing on Hungary and Romania," she explains.
Abortion has been legal in Romania since 1989, but research completed by Andrada Cilibiu from the feminist NGO Centrul FILIA surveyed 134 hospitals and found that only 55 provided abortion, with only one saying they would offer pill-administered abortion. She also spoke to 802 obstetricians-gynaecologists, only 275 of whom said they would offer abortion on demand (the Office of National Statistics confirmed these figures).
In Hungary, the other nation high on Clarke's radar, abortion has been legal since 1989. However, before being able to have one, women are subjected to two sessions with a childcare worker. The first session details the financial aid and organisations available to future mothers should they continue their pregnancy, while the second involves in-depth discussions about the procedure. There are wide reports that women are given moral lectures during these appointments in an effort to blackmail them out of their decision. Once this is completed, the woman is charged 41,667 forints (£99) and health insurance companies only reimburse this in cases of rape, when the mother's life is in danger or in circumstances of severe financial need.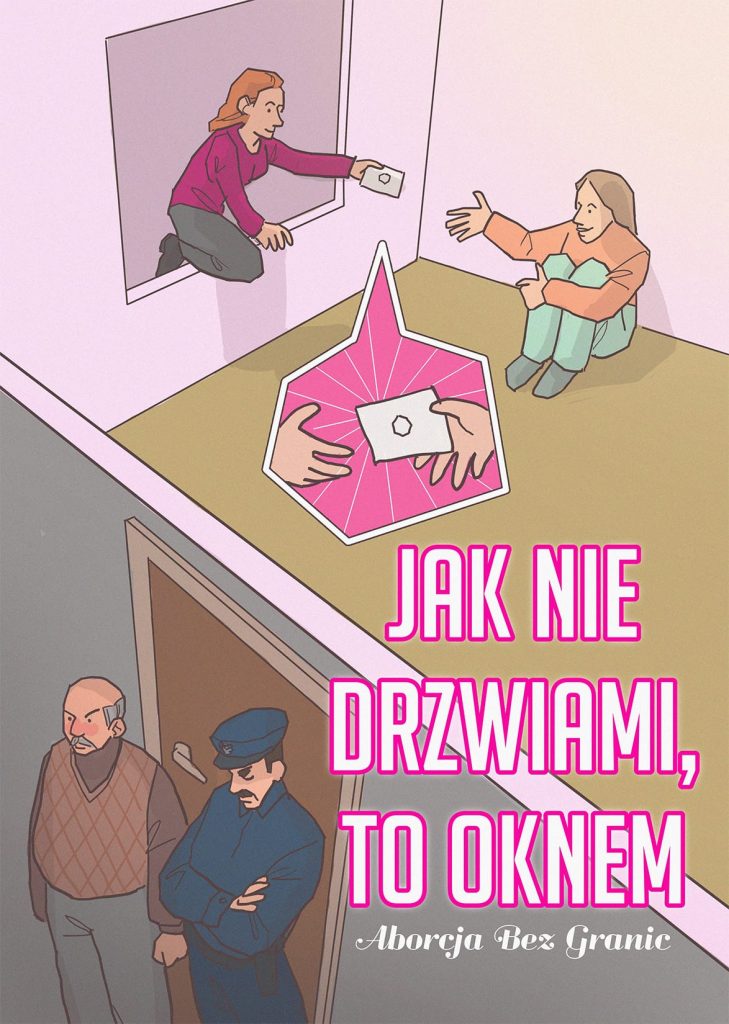 In December 2019, just three months before coronavirus was declared a global pandemic, six organisations – Aborcyjny Dream Team (ADT), Kobiety w Sieci, Abortion Support Network, Women Help Women, Abortion Support Amsterdam and Ciocia Basia – joined together to form Abortion Without Borders. An initiative that works together to help women in Poland access abortions at home with pills or abroad in clinics. Their helpline is staffed by Kobiety w Sieci, who have been providing pregnancy options, counselling and information about abortion since 2006. "We all have the same goal," says Clarke, "that 'I can't afford an abortion' can't be the only reason someone continues a pregnancy. That's it."
Three months after AWB formed, Europe's borders closed and suddenly helping women travel abroad for abortions became more difficult. But "We are creative problem solvers," Clarke told me proudly, and it's a pride that Jelinksa shares. She concedes they didn't know how things would work at first nor how bad delays to post would be, which would affect the sending of abortion pills. "But, we never ever stopped the service in Poland, which we are particularly proud of," she adds.
In 2021, AWB supported around 34,000 people from Poland to get safe abortions and Women Help Women answered 140,000 emails. In the same year, the AWB helpline received 9,467 calls, 2,788 of which were referred to Women Help Women. This year, they have also been helping Ukrainian refugees who fled to Poland and suddenly found themselves in a country where the law discourages them. So far, they have been made aware of 500 Ukrainian women requiring their help.
---
"Do you have a minute? I'm going to tell you a story." The tale that follows from Clarke is how one Brazilian woman's keen observations eventually led to the popularisation of the abortion pill today.
"Once upon a time, in the 1980s, there was a guy investigating mortality from unsafe abortion in Latin America. In Ecuador, it was high, in Colombia high, Argentina high, but in Brazil? Very very low. He didn't understand. So he sent his wife, who was a psychologist and spoke the local language, to find out more. What happened was that a pregnant woman saw a bottle of medicine used to treat gastric ulcers at the chemist with a label that read: 'do not take if pregnant, may cause miscarriage'." The active ingredient was misoprostol, which now makes up one of the two medicines used to have a pill-administered abortion.
"Through sisters doing it for themselves and through zero medical intervention, the mortality rate for abortions went down by 90%," she says, concluding the story. Today, misoprostol and mifepristone together are 98% effective if used correctly in the first 12 weeks of pregnancy. Millions of women have used this method safely and the official advice of the World Health Organization is that it is an essential medicine that should be readily available everywhere.
The way it works is that mifepristone blocks the hormone progesterone, which in a full-term pregnancy regulates the lining of the uterus and maternal immune system. Then, misoprostol stimulates the uterus to expel the foetus.
They say necessity is the mother of invention. Abortion pills were not devised during the pandemic but a popularisation of them occurred almost overnight. "Prior to Covid, we found that a lot of people in Malta were quite nervous about taking pills," Clarke says. Women on Web, an organisation that provides access to safe abortion services, says it is seeing one pill a day being ordered, an astronomical number for a nation of 500,000 people.
"I can absolutely confirm this," says Jelinksa. She found that during the pandemic there was a greater demand for women to control and manage their own abortion from within the safety of their own homes, as these pills allow. "We were getting a lot of calls, for example, from women in Italy saying they needed police permission to go out. It's a country where, although abortion is legal, it isn't easily available as a lot of doctors conscientiously object. They didn't feel safe going to another city and trying to get an abortion there, so they wanted to get the pills and do it at home."
Jelinska has been working with these pills for 17 years, and the reason it has taken so long for this trend to become visible in some countries is simple. "It's not about science or women's health, it's about the state being able to exert control."
The work these activists do doesn't come without risk. "We can get prosecuted and we can get harrassed, and we are," Jelinska tells me. This is the case for Justyna Wydrzyńska, co-founder of ADT and a close friend of both Jelinska and Clarke.
In March 2020, Wydrzyńska was contacted by a woman – who isn't publicly named – in Poland at the ADT offices. She needed help getting an abortion. She had already tried to go to Berlin to get one but her abusive partner threatened to call the police on her after learning she planned to take her child with her. At nearly 12 weeks pregnant and with a new virus causing Europe's borders to close, she was growing desperate.
Wydrzyńska knew this sense of despair all too well, having previously left an abusive marriage 10 years ago. She decided to send the woman a packet of pills that the 47-year-old had been keeping for her own personal use. "At that moment I wasn't thinking about my own safety. I empathised with her because I understood the violence she was facing," she tells me.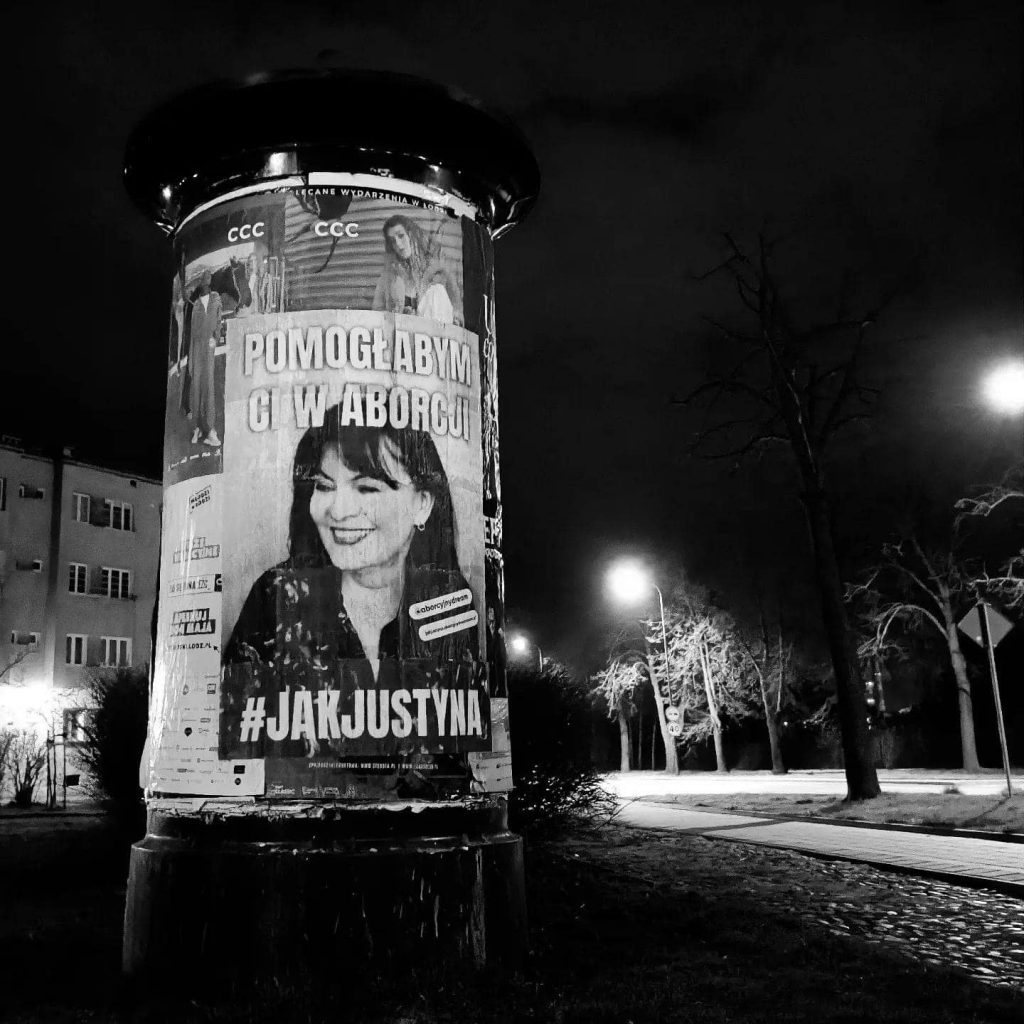 There is an expression in Poland, Jelinska tells me, where an individual is accused of doing first, thinking second. "We don't mean that you are rash or hasty, it's meant as a compliment. That you are a person of action," she explains. So, when she learned that her friend had sent the woman her pills, it didn't surprise her at all. In fact, she admits, she would have done the same.
However, before the woman could take them, the pills were intercepted by her partner. She has since suffered a miscarriage because of stress.
A year went by. Then, out of nowhere, the police arrived at Wydrzyńska's home with a search warrant, prepared to ransack the place. She recounts how when one male police officer searched her daughter's bedroom he stumbled across her underwear drawer, panicked and immediately slammed it shut. "The young man's really frightened about underwear?" she says, laughing down the phone. It is clear Wydrzyńska hasn't lost her sense of humour.
The police took her phone before she could contact her lawyer. "They only let me use the policeman's phone to call them, but they saw this strange phone number and didn't pick up." They also took the three computers in the house, one of which was hers, one her son's and the other her daughter's. All were being used to homeschool the children during the pandemic.
Wydrzyńska tried, again and again, to explain that her children's laptops were needed for remote learning but the police wouldn't budge, insisting they had no way of knowing she didn't use these devices for criminal activity. "I even put in a request to the court," she says, "but they gave the same answer."
The trial will take place on July 14 after the first date in April had to be rescheduled when the woman she helped, and her partner, did not turn up. For aiding and abetting this woman, Wydrzyńska faces the threat of three years in prison.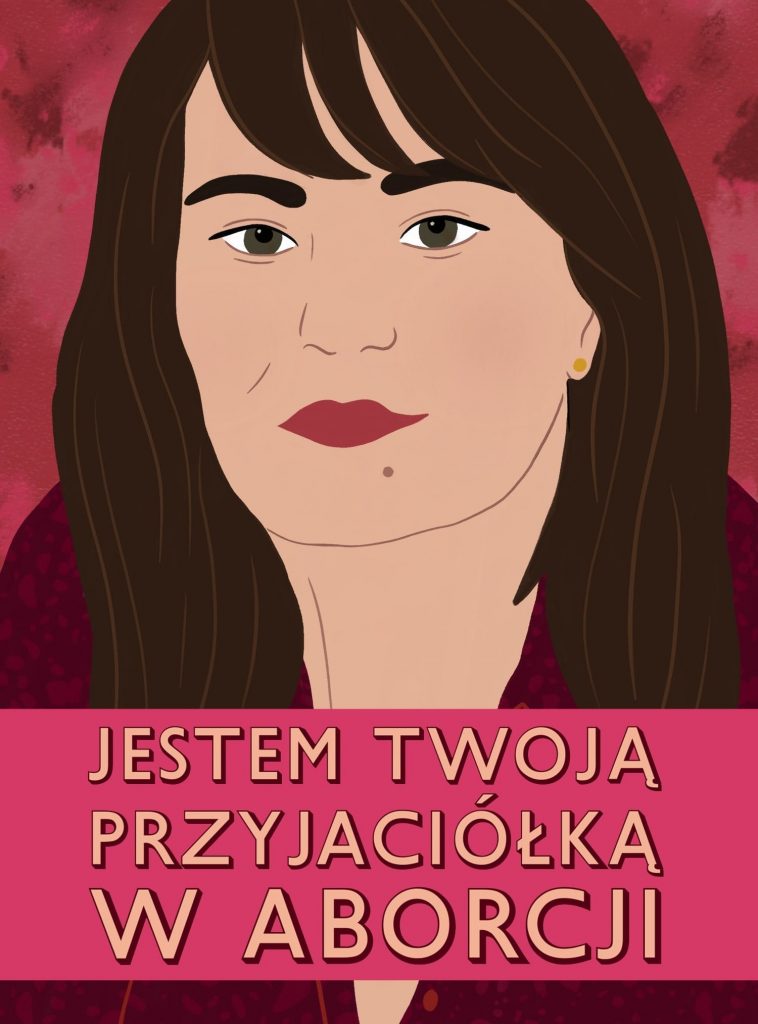 This is one of the aims of the law in Poland, Jelinska tells me. "Its goal is to build a wall around the woman that needs help and cut off those who could potentially assist her because they too would be criminalised," she says. It's a piece of legislation designed to isolate.
Wydrzyńska is unwavering. "I don't have any hope the charges will be dropped because of how political this case is. The judge will make an example of it," she says. She is hoping for six months of probation instead of the full three-year sentence. "I will not be afraid of what will happen. I know that there are a lot of activists and friends supporting me who will do anything to make me feel safe."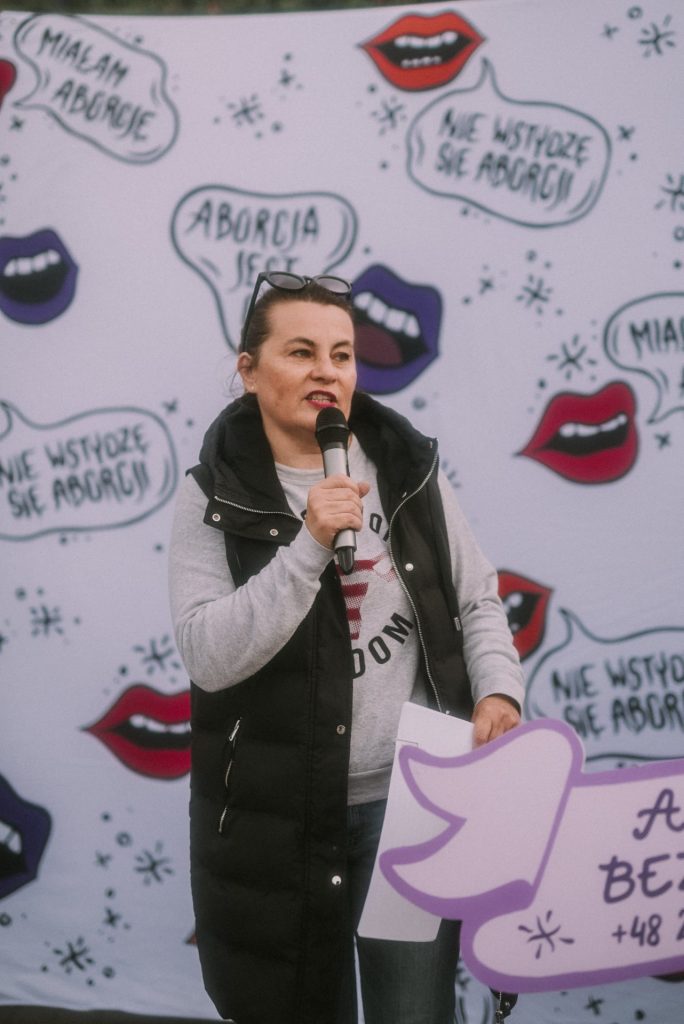 This support is clear to see, but so is the admiration. "She said to the system that, as a woman, this is not right. It isn't my problem that I broke the law, it is your problem that you have a law that is absolutely ridiculous. This is how change happens and I admire her for this," adds Jelinksa. "We want Justyna free. That goes without saying. But it is important that this is seen as a human rights issue," she goes on. Jelinska has faith in her friend's strength and that this case has the potential to help women who are also trapped by a law that works against them. For her, the state is not doing its job and, until it does, to quote the placards from the eight days of protests in October 2020, she wishes they would just "fuck off" and let the activists do it for them.
As for Clarke, she hopes that one day her work will become obsolete. She recently took part in a fellowship where the 16 attendees were asked to imagine a cover story published 10 years into the future featuring their work. What would that cover story say? Clarke had her answer instantly. "We're closed!" she shouts, imagining a day when AWB has switched off its helpline as it is no longer needed. Until that day comes (and even beyond it), "we will always be a resource for those who need the help where states don't offer it," she says. Until then, abortion activists like Clarke, Jelinska and Wydrzyńska continue to step up where the law steps back, refusing to let women fall through the cracks.