There is a two-word phrase whose use has become increasingly enshrined in the lexicon of those who follow Everton FC. A shorthand to quickly encapsulate the grotesquely tragicomic nature of so many of our club's failings, and the habit of wider events conspiring against us: "Everton, that".
In recent years, even that all-encompassing phrase has fallen short of adequately describing the increasing tribulation at Goodison Park. Having retained Premier League status despite the involvement of a now-sanctioned Russian oligarch and a series of misfiring managers from Britain and continental Europe, the Toffees are now in the process of being acquired by a mysterious American investment company with a decidedly mixed history with other European football clubs. 
777 Partners, who also own Italy's Genoa, Germany's Hertha Berlin, Belgium's Standard Liege and France's Red Star have agreed a £500million takeover that would make Everton the biggest club in their portfolio, which also includes part-ownership of Spain's Sevilla. But the deal is still waiting for Premier League approval, reportedly because of concerns about the source of the Miami-based firm's funding, as well as allegations – which 777 denies – of fraud, illegal loans and failure to pay bills.
Complicating matters still further is the Premier League's case against the Toffees for breaching profit and sustainability rules, over which the league is recommending a 12-point deduction which, if enforced now, would send them to the bottom of the table.
And amid the confusion there is also sadness with the death last month of club chairman and former owner Bill Kenwright, the theatre impresario who bought a majority stake in the club in 1999 but was often criticised by supporters.
When British-Iranian billionaire Farhad Moshiri bought an initial 49.9% of the club from Kenwright in 2016, a stake which gradually rose to 94%, it seemed that, after a couple of decades of low relative investment and austerity, we finally had an owner with the financial clout to compete with the so-called "big clubs".
Initial signs were encouraging; plans for a world-class new stadium on the city's famous waterfront were announced, and one thing that can't be denied is that the new owner did indeed splash the cash. Record sums for the club were spent on player transfers, not least the Barcelona trio of Lucas Digne, Andre Gomes and Yerry Mina.
But without the guidance of a competent sporting director, the money was spent erratically on inflated wages, with the playing squad becoming overloaded in certain areas, and desperately short in others.
While the woeful on-pitch performances resulting from this, and an equally incoherent approach to the hiring and firing of coaches (from the 'Hollywood' appointment of Italy's Carlo Ancelotti to the incredibly divisive appointment of the Spaniard Rafa Benitez, a former Liverpool manager), have been some of the worst we've been forced to witness at the club, the tumult behind the scenes has far exceeded it.
The distance between the fans and the board has been steadily increasing, as meaningful communication from club to fans decreased, leading to escalating terrace unrest.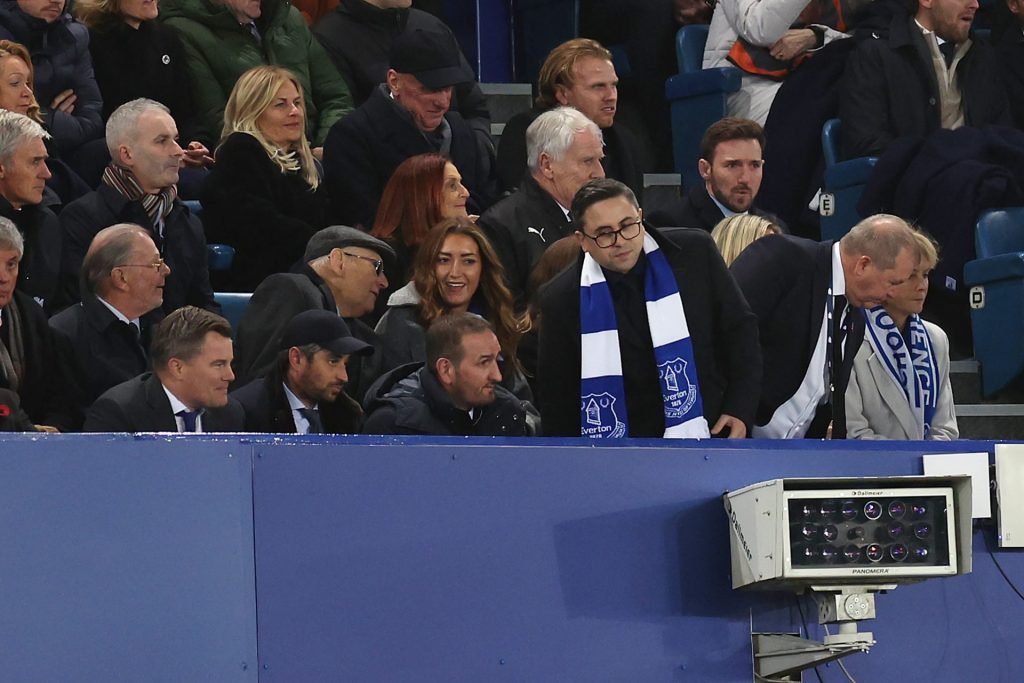 When it seemed things couldn't get any more toxic, the board announced they wouldn't be attending home games for the foreseeable future, after "real and credible threats" to their safety, and the claim that CEO Denise Barrett-Baxendale had been put in a headlock by a fan. No evidence for either of these was offered, and it felt as though the board had decided to throw the fans under the bus.
Into this maelstrom came current head coach Sean Dyche who, having kept the club up on the final day of last season, is currently tasked with doing likewise, with a playing squad stripped to the bare bones in an attempt to balance the books and presumably appease the investigation into alleged breaches of Financial Fair Play rules (Everton has posted financial losses of almost £372m over three years, more than £250m above what the Premier League's guidelines allow).
Even the construction of the one beacon of hope – the new stadium – has felt at risk recently.
In the background of Moshiri's ownership was close ally Alisher Usmanov, a former fellow shareholder in Arsenal through their investment vehicle Red and White Holdings. Moshiri's close association with the oligarch has led many to question just how deep the Uzbek-Russian's involvement at the club went.
Paul Quinn, an Evertonian with a 30-year business background, has spent two decades scrutinising Everton's financial affairs both in writings and podcasts under the name The Esk. What began as a hobby has seen him providing analysis for Talksport and BBC 5Live.
"There's no suggestion of direct ownership," he told me when I asked him what he felt the extent of Usmanov's bankrolling of the club was. "The formal position is that he has only provided funds through the sponsorship of USM and its associated brands. That funding stopped abruptly immediately after the invasion of Ukraine. Based on figures taken from Everton's audited accounts, sponsorship revenue from USM totalled £114 million."
The withdrawal of Usmanov's sponsorship following the sanctions imposed upon him as a Putin ally left a black hole in the club's finances, leaving Moshiri looking initially for new investment and, when it became clear how difficult that would be to procure, a way out.
That way out has now been offered in the form of 777 Partners. Co-founded by Josh Wander and Steven Pasko, it agreed a deal on September 15 to acquire Moshiri's 94% ownership stake. In a statement released on the club's website, Moshiri described them as "the best partners to take our great club forward". But what would 'forward' even look like under 777?
"Is there anyone in the world that's been more serious about buying football clubs in history than Josh Wander?" Wander himself asked in a recent interview. Leaving aside the red flag of someone referring to themselves in the third person, this question, and variations on it, have subsequently been asked many times.
Should the deal be ratified, 777 Partners will become the 11th American firm to acquire at least a minority stake in an English Premier League club, a clear indication of the direction of travel in terms of the nature of club ownership. With a few notable exceptions, the majority of Premier League clubs are now under foreign ownership.
Some firms operate a 'multi-club' model across Europe and beyond, such as (Manchester) City Football Group and Red Bull, which owns Germany's RB Leipzig and Austria's FC Red Bull Salzburg, among others. 777 Partners also operates on this model, but it's their relatively short track record of working in this way that gives real cause for concern.
Their initial foray into football was just two years ago, when they purchased a 7.5% share of Sevilla, after which they took either majority or total control of Brazil's Vasco da Gama, Genoa, Parisian club Red Star, Standard Liege, Hertha Berlin and Australian club Melbourne Victory, none of whom could are flourishing under 777's ownership. Genoa and Hertha have both been relegated, with Genoa since regaining their top-flight status, though Hertha are struggling near the bottom of Bundesliga 2. Vasco da Gama and Melbourne Victory are perilously close to the foot of their respective leagues, while fans of Standard Liege have staged protests over the firm's ownership.
If Everton join their stable, 777 will have interests in six European clubs. With barely two years' experience of owning football clubs, it could be argued the sample size is still too small to judge, but promises of "significant synergies through access to world-class data and analytics, player development and global commercial opportunities" will do little to allay the fears of a fanbase at the end of their tether after years of struggle. Quinn shares these fears.
"What is there in the 777 Partners stable that suggests a strategy that leads Everton back to being one of the leading clubs in the country?" he asks. "The overwhelming evidence is the exact reverse."
Undeterred, Wander and his colleagues have been on an all-out charm offensive, visiting the club's Finch Farm training ground for a 'positive' meeting with Dyche and director of football Kevin Thelwell, as well as attending the last two home games, occupying the directors' seats vacated by the old board.
It's hard to imagine Wander's visit to Finch Farm without thinking of the Succession episode where Roman Roy acquires Hearts FC as a gift for his father Logan, rather than their Edinburgh rivals Hibs, the team he actually supported.
The hope is that Wander is more knowledgeable when it comes to football, or at least employs people who are, but the struggles of the teams he currently owns begs the question whether this is the case.
It's not just 777's dubious track record that has sent Everton's supporters deeper into their default sense of despair, with various allegations raising questions, such as Wander's arrest for cocaine trafficking aged 21. Hardly Narcos territory, but enough to set some alarm bells ringing, as are allegations of fraud and racketeering.
Personally, I find Wander's disturbing habit of wearing a baseball cap with a suit the most disconcerting thing about him, but that's unlikely to be a factor for the Premier League's fit and proper person test.
This Owners and Directors test has been beefed up recently, and the examination of Wander et al's suitability is likely to be a stern test. The feeling, even among fans vehemently opposed to the takeover, is that the deal will be waved through. A decades-old cocaine arrest and a bunch of unproven allegations seem unlikely to scupper the deal.
Outweighing the sense of anger and betrayal is one of grim acceptance. Debt, funding required for stadium completion and Moshiri's asking price ensure suitors aren't exactly kicking down the doors to buy the club. With club finances so precipitous, the deal being blocked would offer far more questions than answers.
Typically for Everton, while the away victory against West Ham on October 29 was further evidence of Dyche gradually turning things around on the pitch, even this was against the backdrop of not only the news of the Premier League's proposed  12-point sanction if they're found guilty by the independent commission, but also the passing of Kenwright after a battle with cancer. 
The last two seasons have shown two things about Evertonians; that their passionate support can be enough to drag a broken and dispirited team over the line to survival, and that they aren't shy of a chaotic protest or two. But there's only so much fight a support that has endured so much can muster. Being forced to witness their club being turned into a joke has simply drained the fight from them.
Stuck between the rock of Moshiri's calamitous ownership and the hard place of a firm with a questionable reputation, all a significant chunk of the fanbase feel they can do now is sit back and hope for the least damaging outcome.
After years of yearning for a benevolent billionaire owner, we got one who has brought the club to its knees. Our prayers for a further change have been answered by a bloke in a suit and baseball cap, who is facing a host of allegations. Everton, that.