The pandemic means it's impossible to predict quite what the European film calendar will look like in the first part of 2022, other than to say this: The movies themselves will be good.
Already key festivals, such as Rotterdam (IFFR) and UniFrance's Rendez-Vous, have moved back to their virtual states from last year, and things are not looking good for the Berlinale in mid-February. At the time of writing,
though, the organisers are still committed to an in-person event, with M. Night Shyamalan heading the jury and directors, including Claire Denis and Francois Ozon, set to unveil new films starring Juliette Binoche, Isabelle Adjani and Emmanuelle Béart.
Attractive as that all might sound, it's hard to see Asian, American or even
British delegates moving freely around the festivals' film markets and social
scenes, even if it's possible to attend screenings … if cinemas remain open,
that is.
Belgium's theatres were ordered to close over Christmas but some remained defiantly open; there were protests and the government relented five days later. It's all horridly familiar and confused already, with the annual awards season celebrations, such as the BAFTAs and the Césars, casting worried glances at their sponsors.
However, unless things veer towards the catastrophic, there'll be no moving Cannes' 75th anniversary edition (May 17 to 28). Rumours suggest this could be the year Netflix and festival boss Thierry Frémaux reach an understanding and the streamer's films again grace the Croisette, maybe even in competition. In any case, this will be the first time in nearly 30 years that Canal Plus is not the main festival sponsor – look out for increased presence from new guys; digital media platform Brut and France Télévisions.
So, your most likely contact with European film in 2022 will be in the form of some excellent non-English language titles likely to be nominated at the Oscars and BAFTAs, and in the strong line-up still to be released in UK cinemas over the coming months. Here's my quick guide to what to look
out for in the year's first third, from romantic dramas to gritty realism and old-fashioned war tales.
JANUARY
Parallel Mothers: Penélope Cruz is widely predicted to score some major acting nominations for her eighth collaboration with Pedro Almodóvar. She plays a woman from Madrid who suspects all is not right with her new baby. Her investigations into personal DNA, however, lead her into an excavation of Spain's murderous political past. If it's not Almodóvar at the top of his considerable game (his previous release, Pain and Glory, earned Oscar nods for Antonio Banderas), it's still new territory for an ever-evolving director and the most complex performance yet from Cruz, making it a key European film for 2022.
Munich – The Edge of War: WWII is still never far from the big screen and this film's based on a Robert Harris book and features a pan-European cast. It is set in 1938 as Neville Chamberlain (played by Jeremy Irons) seeks to appease Hitler (Ulrich Matthes). Two former Oxford chums, Hugh Legat and Paul von Hartmann (George MacKay and Jannis Niewohner), find themselves working as top operatives in opposite camps, but with vaguely aligned aims to prevent another all-out war across Europe, if Hitler's invasion of Czechoslovakia can be halted. The fine cast also includes Sandra Huller, Jessica Brown Findlay and Liv Lisa Fries.
Truffaut Season at the BFI: A major retrospective of François Truffaut, one of the most influential figures in European cinema, is cause for celebration. The season coincides with two gorgeous restorations of his most famous films, The 400 Blows (1959) and Jules et Jim (1962), which will be getting UK-wide theatrical re-releases and hopefully can still be as instrumental in turning a new generation onto French film as they've always been. Themed around his Antoine Doinel films, his literary adaptations, his Renoir-influenced films and his Hitchcock obsession, other highlights of the retrospective include Mississippi Mermaid, starring the late Jean Paul
Belmondo, Shoot the Piano Player, Day for Night and The Last Metro.
The Souvenir Part II: Not technically a continental European film, but as it's by one of the most European-style British filmmakers, Joanna Hogg's 1980s memoir merits inclusion. It takes its title, after all, from a Fragonard painting in the Wallace Collection. It's funny, light, deeply moving, subtle and superbly acted by Honor Swinton Byrne and her real-life mum, Tilda Swinton, playing her on-screen mother. The story follows the former film student as she finds her way in the pop video and indie film world of 1980s London, all while recovering from the blow of losing her heroin-addict lover
(see The Souvenir part 1).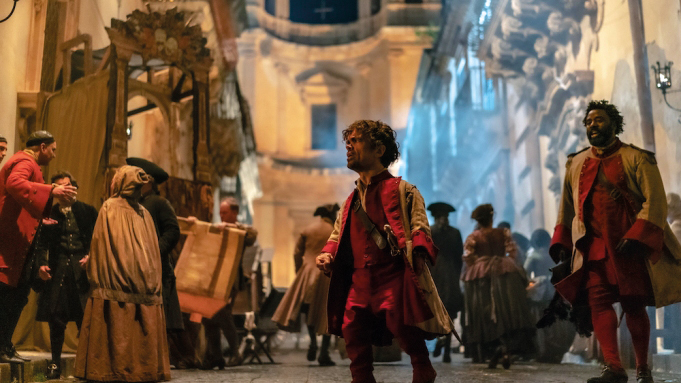 Cyrano: Filmed in gorgeous locations in Sicily, Joe Wright's musical adaptation of Edmond Rostand's play stars a wonderful Peter Dinklage as the French army captain smitten by Roxanne but unsure how to confess his love, despite his swordsmanship and verbal dexterity. If we are travel restricted, the film's swooning romanticism is matched by Seamus McGarvey's cinematography and Sarah Greenwood's production design, in tandem with the postcard beauty of locations including: Mount Etna, Maniace Castle in Siracuse, the Palazzo Castelluccio in Noto and the island of Ortigia.
FEBRUARY
Belfast: Kenneth Branagh evokes his own childhood during the summer of 1969 when the escalating 'Troubles' in his native Belfast saw the British army brought in and factions of Catholics and Protestants splitting neighbourhoods down the middle. The film looks likely to amass large numbers of nominations, with strong chances of winning in the supporting categories for Ciarán Hinds as the elderly Pop and the lovely Caitríona Balfe as Ma. There's also a strong chance of nominations for Van Morrison, who provided many of his greatest hits for the soundtrack, as well as some original music and a new song, Down to Joy.
The Real Charlie Chaplin: A rags-to-riches tale of one of the great European lives, the story goes from Dickensian poverty to Hollywood studios, global fame (the most famous person on the planet, at the time) and exile in a Swiss
mansion, all examined with stylish fascination by documentary makers James Spinney and Peter Middleton in a bid to understand both the man and the wildly popular character he created. Using archive footage, court reports and audio tape recordings, they trace the journey of the 'Tramp' character and show how the south London streets show up in Chaplin's films; how the 'little man' figure came to embody the working man around the world; the troubling penchant for young actresses; his hounding by the FBI and subsequent 'cancellation'; and the later years of seclusion in Vevey.
La Mif: Possibly a break-out movie, Frederic Baillif's documentary-style drama is set among a group of teenage girls in a youth protection 'safe house' in Geneva. It's where they, at last, find a sense of family – hence the title, back-slang for "famille', meaning you might find some places translate the title as The Fam. Their stories are told in chapters but the film really sings when it all comes together; a naturalistic whirl of tension and energy amid a flurry of handheld camerawork.
MARCH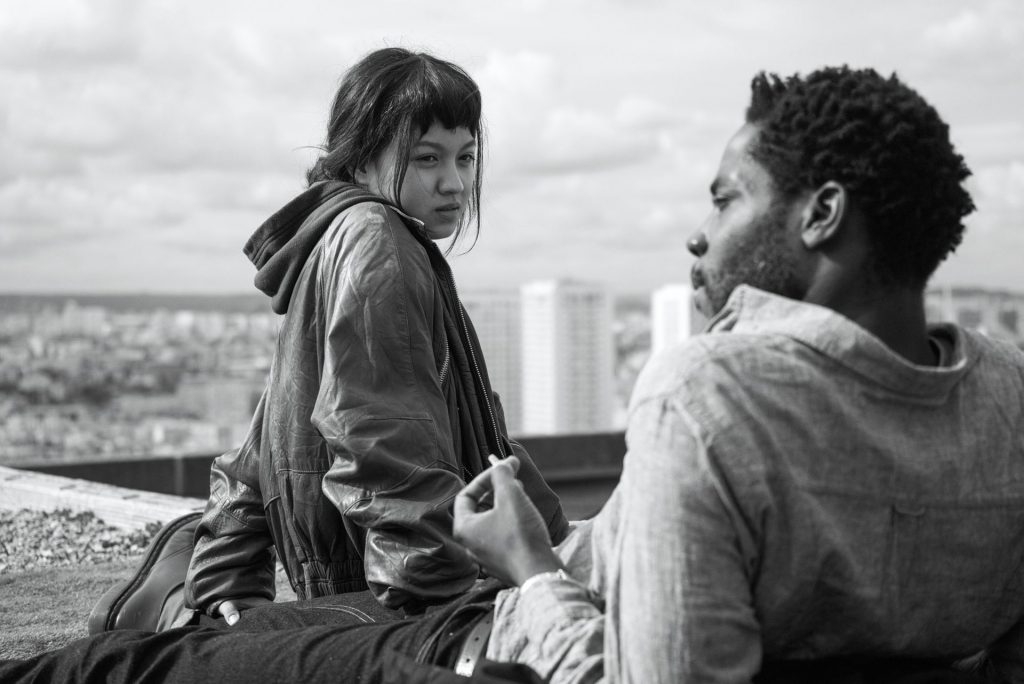 Paris, 13th District (aka Les Olympiades): Set in the 13th arrondissement – otherwise known as Paris' Chinatown or Little Vietnam, or Quartier Asiatique, one of my favourite filmmakers, Jacques Audiard, turns his stylish
attention to millennial lovers amid the urban jungle. Based on a comic strip and adapted into a screenplay by no less a talent than Céline Sciamma, among others, it's a roundelay of affairs, sometimes sexually explicit, as Emilie meets Camille, who is attracted to Nora, who hooks up with Amber, all in the concrete world of call-centre workers, students, estate agents and
Chinese restaurants in the titular housing estate. Shot in black-and-white, it's cool, sexy and insouciant and, if not the director's finest work, it showcases a side of Paris very rarely seen on screen and a star-making debut for actor Lucie Zhang – you heard of her here first, folks.
Great Freedom: German actor Franz Rogowski is the take-away talent from
this excellent Austrian drama about a man imprisoned for being gay in post-war Germany. Part prison movie, part societal satire, part queer cinema, Sebastian Meise's film is powered by Rogowski's many-layered performance across the ages, and his relationship with cellmate Viktor (Georg Friedrich). Rogowski's distinctive face may be familiar from films with Michael Haneke and Christian Petzold, but he raises his game to unforgettable levels here, and is likely to find Hollywood calling.
The Worst Person in the World: A star is born, was the phrase on many lips when Renate Reinsve burst out as Best Actress at Cannes for her role in this
Norwegian romantic drama. The actress revealed she had been about to give up on film and TV and stick to the Oslo theatre scene but since playing the complex, beguiling, reckless, sexy, infuriating, admirable Julie in Joachim Trier's episodic love story of angsty, urban 30-somethings, she has won audiences over on the festival circuit and now looks set to carry the film to
awards nominations. It's also a film that could well inspire a spike in weekend breaks to Oslo.
APRIL
Compartment No. 6: While his new movie is unlikely to do much for Russian rail tourism, Finnish director Juho Kuosmanen has nevertheless come up with an excellent and memorable contribution to the train movie genre, set mostly in the titular compartment where a pair of unlikely co-travellers are obliged to form an uneasy bond. Laura's a Finnish student (played by Seidi Haarla) in Moscow who is going to Murmansk for archaeological research; Vadim (Yuri Borisov) is a brutish miner on his way to his mother's and looking for a new job. Between vodka binges, heated arguments and pickle munching, the duo find warmth in the freezing cold.
Benedetta: Already delayed a couple of years by the pandemic, Paul Verhoeven's controversial "nunsploitation" movie premiered (to quite a few boos) at Cannes 2021 and now finally makes it into cinemas. Virginie Efira is the sister who, in 17th century Tuscany, claims erotic visions of Jesus and can display stigmata. There is awe around this miracle but the Abbess (played with thunderous panto evil by Charlotte Rampling) is full of doubt and jealousy, and gets even more hot under the habit over rumours of Benedetta's relationship with a younger sister, Bartolomea (the striking Belgian-Greek actress Daphne Patakia). It's a soft-core romp at times, certainly, as comical and outrageous as it is also an angry examination of good and bad faith, and the abusive pomp of the Roman Catholic church.
Mrs Harris Goes To Paris: The always-excellent Lesley Manville stars as the
London 'charwoman' from Paul Gallico's book, called Flowers for Mrs Harris on original UK publication in 1958. Enchanted by a Dior dress hanging in her employer's wardrobe, the humble cleaning lady vows to one day have a gown of her own and scrimps and saves to get to Paris to fulfil her Dior dream. Isabelle Huppert, Jason Isaacs and Lambert Wilson co-star in a film that, we're promised, "transports the audience to the glamour of 1950s London and Paris and the timeless fantasy of Dior haute couture." Although, I should add, it was mainly shot in Hungary.
Operation Mincemeat: You can imagine Boris Johnson and his pals lapping up
this old-fashioned WWII spy bauble during a screening at Number 10; a right jolly wheeze of a film in which posh chaps pull the wool over Jerry's eyes with a war-winning public school prank. Wartime Whitehall echoes to the footsteps of Colin Firth (as Ewen Montagu), Matthew Macfadyen and
dashing Johnny Flynn as an aspiring writer called Ian Fleming. Based on
Ben MacIntyre's book, it's a true story of how our boys floated a decoy corpse with false information onto the Spanish coast to throw Hitler off the
scent about the 1943 Sicily landings.