A cascade of golden hair, tasteful, natural make-up and a generous smile that reveals a flash of Hollywood-white teeth – in her publicity pictures, Giorgia Meloni projects the image of an attractive, likeable woman at ease with herself. One who inspires confidence and calm.
For her detractors, it's the dangerously innocuous mask of a handmaiden of fascism.
So alarm bells rang when Meloni's Brothers of Italy (FdI), a party with neofascist origins, topped the latest opinion polls with less than a year to go to the country's general elections, scoring 22% and edging ahead of the centre-left Democratic party (PD) of former prime minister Enrico Letta.
Also encouraging was a strong showing for the right, at this month's local elections.
If that trend continues, Meloni, 45, until recently barely known outside Italy, could lead into government a party that grew out of the post-1945 political grouping of fascist dictator Benito Mussolini's allies. Could she go even further, emerging from among a sea of rival men in (no doubt well-tailored, designer) suits to become Italy's first female prime minister?
That's a disaster scenario for Europe's leftist media, with Jacobin magazine's Europe editor, David Broder, branding her "a dangerous new leader for Italy's far right" and the Guardian calling her rise "disturbing". La Repubblica's investigative journalist Paolo Berizzi, who is under police protection after far-right death threats, says Meloni and her fellow right wing populist Matteo Salvini constitute "the entry-point of fascism into institutions".
Unexpectedly, I find others in Italy – not just supporters – are more sanguine. Far from seeing her as a neo-fascist extremist, they say she's not so different from many other right wing leaders, including former US President Ronald Reagan, whom she often references, and her former boss and four-times Italian premier Silvio Berlusconi. Without irony, Boris Johnson's Conservatives have been evoked as a comparison, with its span across the political spectrum and anti-immigration stance.
A former part-time bartender and junior political activist, Meloni co-founded the FdI in 2012 and became leader in 2014, making headway only slowly. In the 2018 general elections, she scored a mere 4%. But, refusing to join the governing coalition, she kept her powder dry through the coronavirus pandemic and Italy's economic travails, escaping public discontent and gaining supporters for her consistency while other parties that pledged the same were lured into power. "I'm getting ready to lead my country," she confidently declared last year.
"She is doing well, cashing in on the dividend of being queen of the opposition, positioning herself like blue-blooded British Tories, trying to make her party more bourgeois. I'd say she's halfway through that difficult journey," Francesco Galietti, co-founder of political consultancy Sonar, told me.
Galietti knew Meloni in 2008 when she was Italy's youngest-ever minister – aptly, for youth. Although wary now, he felt sympathy for the young woman, then overweight and less confident, surrounded by grey men. Meloni has polished her image since then, losing weight, smartening up and projecting herself as a capable family values candidate. Her progress was carefully crafted. "She's worked hard on her dramatis personae. You can tell she has ambition and drive and balls. Today she is a mixture of traditional politician and social media geek – she's quite a machine."
With her surprisingly low voice and confident delivery, Meloni is a forceful speaker and interviewee, unafraid of yelling if needed. Although a relative upstart in national politics, she has already outflanked her right wing rival and political ally Salvini, the volatile former interior minister who, to coin a phrase, was also "the future once".
Her story, told in her bestselling autobiography, Io Sono Giorgia ("I Am Giorgia"), is one of childhood hardship and determination. She discusses how she was abandoned by her father and was de facto adopted by the party – a political and emotional journey worthy of a reality show. When pregnant, she was told to focus on family rather than elections – advice she ignored – but, like other right wing female leaders, she is not a feminist and opposes gender quotas.
Over the years, Meloni, a Eurosceptic, has caused concern by cosying up to Hungary's right wing autocratic premier Viktor Orbán and other European far-right leaders, as well as with her admiration for Donald Trump. She has given talks at American conservative and Christian forums and slammed so-called cancel culture and gender politics. A critic of lockdown measures during the pandemic, she angers progressives with her opposition to gay marriage, abortion and immigration – and once said a migrant boat moored in Sicily should be seized and sunk. Meloni doesn't want citizenship for migrants' children and rails against perceived Islamisation". She has roused the crowds at rallies with the opener: "I am Giorgia. I am a woman, I'm a mother, I'm Italian, I'm a Christian, and you can't take that away from me!" – a formulation her opponents link to fascist messaging.
But then this is a country that never had to fully break with its fascist past – thanks to the fact that it ended the second world war as an ally on the winning side – with a political scene that accommodates rising young fascist groups such as CasaPound, politicians from the Mussolini era and descendants of the man himself. Meloni has not one, but two Mussolinis in her party – his granddaughter Rachele and great-grandson Caio. Her party's political roots go back to the Movimento Sociale Italiano (MSI), formed by Mussolini allies. Not such a cuddly girl next door after all, then.
In this era of war, social and economic turbulence, a Meloni-dominated government seems like the last thing Italy and Europe need. Italy has finally achieved a period of political calm with a coalition led by former president of the European Central Bank Mario Draghi, who was appointed in February 2021, while in Germany, France, Slovenia and the Czech Republic moderate, pro-European leaders have seen off the far right. Is the hard right coming back with a vengeance in Italy, in the form of a proto-fascist party led by a blonde Caligula?
This has been the recent narrative. But Italy's politics are more complicated than that. First, it's still conceivable that Draghi will be persuaded to head another grand coalition. Nothing is certain in Italy's anarchic political scene, as permanently disillusioned voters try, then discard, new leaders at warp speed.
"What the past years have told us is that a party that was strong a few years ago might collapse in a few months," Lorenzo Castellani, lecturer on politics at Rome's LUISS University, told me. "That's been the characteristic of Italian politics for the last decade."
There is no better illustration than Meloni's allies on the right, who are expected to contest the spring 2023 general elections as a prospective coalition. Salvini, who rebranded the northern separatist League into a national right wing party and took it into government in 2018, became so influential that he was the byword for the worrying European drift to the political extreme right.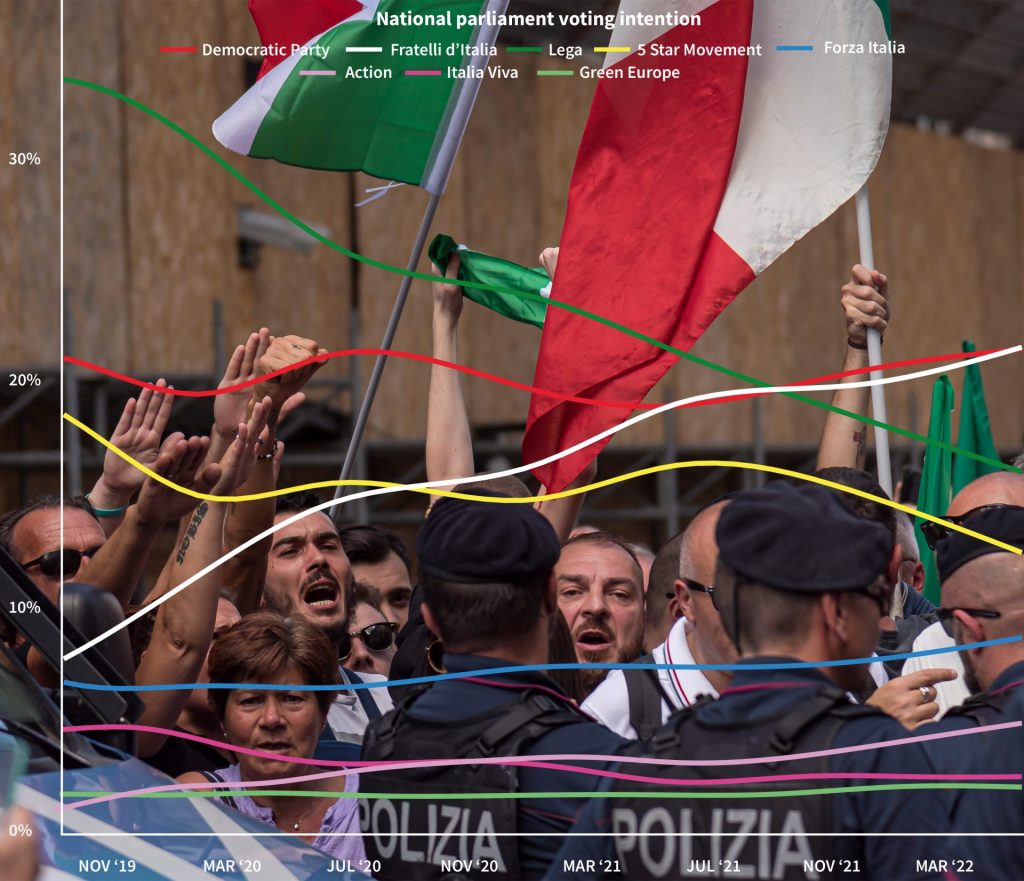 Now his party's poll ratings are on the floor – 16% compared with over 30% three years ago – after a series of missteps including a botched attempt to bring down the coalition in 2019 and return as prime minister in the resulting elections. Instead, his coalition partners, the Five Star party (M5S), formed an alliance with the PD, there were no elections and Salvini was left in the wilderness.
"He likes to be called the captain, but now he's more like that captain of the Costa Concordia, which hit the rocks and sank (in 2012)," Daniele Albertazzi, professor of politics at the University of Surrey, told me. Salvini also went to Poland to look supportive of Ukraine but was attacked as a friend of Putin. "He looked stupid. Now he's talking about going to Moscow to present a peace plan that's obviously completely made up. He's lost his image of being a winner."
---
Meloni's other right wing ally is Forza Italia – the party of 85-year-old four-time premier Berlusconi, currently polling 8% and clinging on to Meloni's coattails. Humiliating enough, but even worse given that Meloni was once his underling, deserting Mr Bunga Bunga after he resigned amid corruption allegations.
Although overall, right wing support remains around 45-48%, it is being reshaped, with Meloni as the beneficiary. She's trying to capitalise on this, styling herself as "centre right" and saying her party is "no place for fascist nostalgists". Not everyone got the memo, as a photograph of 30 party officials giving a fascist salute demonstrated.
Embarrassed by such baggage, Meloni has been presenting a softer persona as she smells power. She's polite towards Letta and even supported Draghi's decision to supply arms to Ukraine, despite her erstwhile admiration for Vladimir Putin. This alienates her populist allies, but could attract more mainstream votes. Meloni even publicly embraced a more Atlanticist approach long unfashionable among Italy's anti-Nato right wing. Savvier than Salvini, she ensured she wasn't compromised through ties with Russia and China.
Political analysts say her stance melds uncompromising views on immigration and nationalist rhetoric with a regular conservative take on social and ethical issues and a free-market, low-tax, low-welfare, smallstate economic platform – more Berlusconi than Mussolini. Although Berlusconi was controversial, he wasn't a fascist dictator.
"She's worked in institutions for many years; she was deputy speaker; she was in Berlusconi's government, so basically it's not proper in my opinion to say she's representing a far-right party," said Lorenzo Pregliasco, director of the polling company YouTrend. "Should we be worried if she becomes PM? That depends on your political position. Probably not if you're a centre-right voter."
More to the point is how widely shared some of her opinions have become. Meloni's views on migrants are distasteful, but similar to others across Europe who haven't – yet – been called fascist. She hasn't – yet – proposed sending vulnerable refugees to Rwanda. Abortion is another right wing flashpoint issue, and where the FdI has been in power locally, it has sought to curtail it – to the outrage of women's rights groups but the delight of the Vatican. But again, these views are not unique to Italy and even FdI isn't expected to go as far as the US as it backtracks on Roe v Wade.
On foreign policy, few thought Meloni would make waves. Despite her Euroscepticism, she doesn't demand Italy leave the EU, the Single Market or the euro. She was elected president of the European Conservatives and Reformists party in 2020.
---
"I'd be very surprised if she picks a fight with the European Commission," said Albertazzi. With its parlous economy and a public debt that, at around 150% of GDP, is proportionally the highest in the eurozone after Greece, Italy is too weak and dependent on EU money flows. "The whole anti-EU discourse is not working because Italians are seeing the advantage of being in the EU."
Galietti says the shape of a future Meloni administration is still a mystery: "Does she have a team, who would be her pick for cabinet, what is her agenda? We just don't know."
Italian pundits are sometimes criticised for underestimating the far right. As the journalist Matteo Pascoletti wrote for the openDemocracy website: "Meloni's normalisation has allowed her to become a mainstream figure in pop culture, while providing a fig leaf for her aggressive agenda against marginalised groups."
But Castellani says in Italy the heirs of fascism have been de-fanged by being included in coalitions since the 1990s. "The normalisation of populism and nationalism is better than excluding them from government, because then you can integrate them into the European framework," he argues, saying that including M5S and the League in government in 2018 also allowed their false promises to be exposed to a derisive public and eventually led to a strong coalition led by the respected Draghi.
"In the postwar era Italy has remained basically a moderate, centrist country," he said. "The far right isn't taking over." But has anyone told Giorgia Meloni?