On October 14, a couple of days before its local teams Lazio and Roma took on the Serie A giants of Inter and Juventus, a long-awaited murder trial was about to begin in Rome. Four senior Egyptian military officials were to stand accused of killing Italian student Giulio Regeni.
Or so everyone thought, apart from them. The four did not turn up, their lawyers argued that the men did not even know they were supposed to be there, and to further complicate matters, the Egyptian authorities are now refusing to release details of their whereabouts. Finally, the case was kicked back down to a preliminary court, who will decide if the trial can resume.
Yet despite the frustration – shared by Regeni's family, who declared, "We are not going to give up" – the fallout from the student's death continues to reverberate. This is in part because of the shocking nature of his murder and the strong suspicion that remains of a cover-up. But it's also partly to do with a campaign for justice launched by an obscure amateur football club from Italy's capital.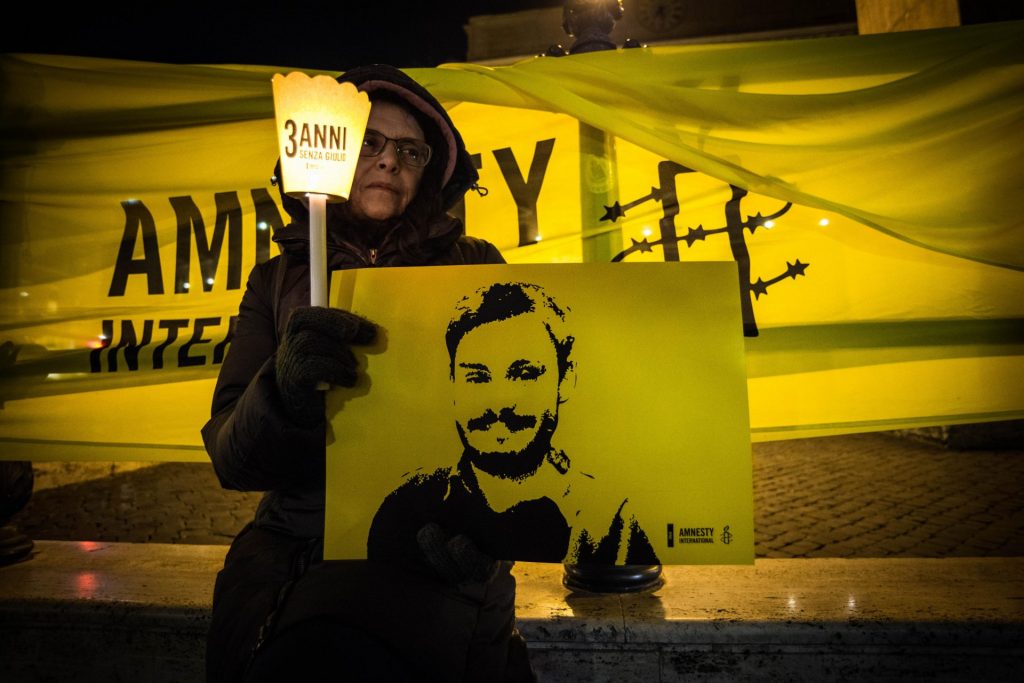 Regeni was a Cambridge graduate who went to Cairo in October 2015 to research independent trade unions, a sensitive subject for a government which made those unions illegal later that year. His work prompted the authorities to monitor his movements in the belief that he could be a British spy.
In January 2016, Regeni was tortured, electrocuted, beaten beyond recognition and dumped in a ditch by a desert road which runs from Cairo to Alexandria. One of several false explanations for his death was that he was robbed and murdered by a gang of criminals posing as policemen.
Officials in Rome immediately questioned this version of events – Regeni's death bore the hallmarks of state-sponsored murder.
This also prompted Amnesty International to join forces with the Italian Coalition for Civil Liberties, and Antigone, an NGO advocating human rights for prisoners. Collectively, they started a campaign to keep Regeni's case in the public eye and seek the truth about what happened to him.
That campaign began in earnest on April 3, 2016, with a protest by a football team from the third division of an amateur district league in Rome. Before kick-off, Atletico Diritti's players each held up a letter that spelt out "Verità Per Giulio Regeni" ('Truth for Giulio Regeni').
On its own, this may not have amounted to much more than a noble gesture. But it was the catalyst for Serie A and Serie B clubs to get behind the campaign and parade banners before every match played on the weekend of April 23.
The one exception was AS Roma who didn't want the banners visible when the players came on to the pitch. The club said it would put their Egyptian forward, and future Liverpool star, Mohamed Salah, in an awkward position.

But football gave the campaign momentum. No mean feat for a bunch of amateurs. Then again, Atletico Diritti is anything but an ordinary club.
Translated, it means Athletic Rights and the squad is made up of prisoners, detainees, refugees and students. The team's shirt sponsor is Made In Jail, an arts co-operative based at Rebibbia Prison in Rome.
Images of Atletico Diritti playing at Campo Gerini, a dusty, clay pitch on the outskirts of the Eternal City, have been used countless times around the world. You can buy one of the pictures in the form of a 400-piece jigsaw for £27.99.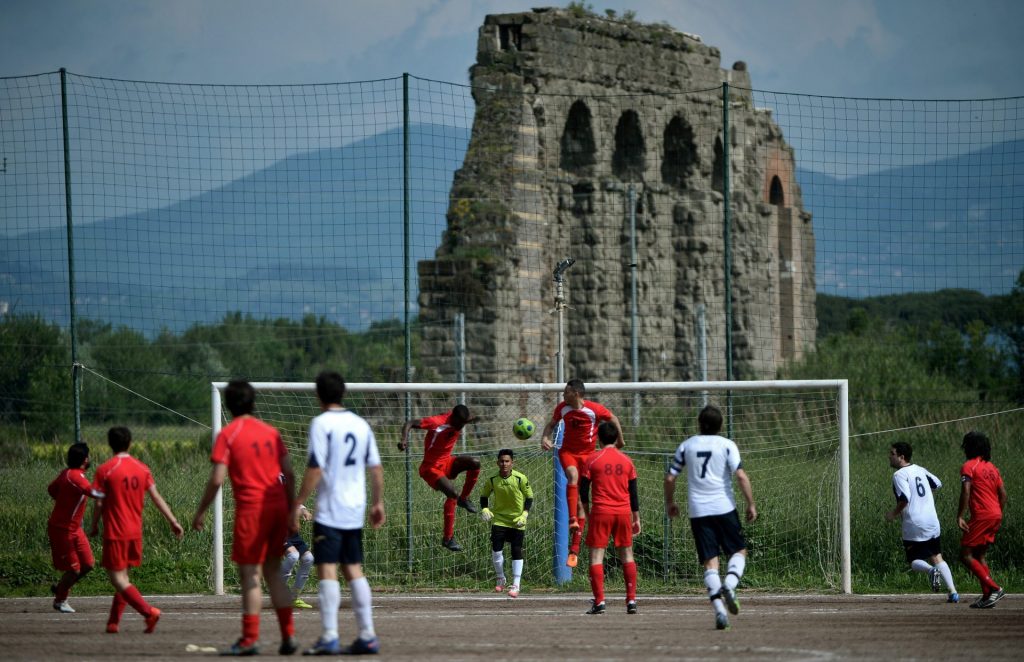 But the team is barely known outside Italy. Atletico Diritti was founded in 2014. It was born out of two action groups, Progetto Diritti and Antigone. "Even when I was younger I was interested in politics and criminal justice," says club president Susanna Marietti, who is also national co-ordinator for Antigone and conducts research into European criminal justice systems.
"There was some overlap with Progetto Diriitti, who are mostly made up of lawyers providing legal assistance to migrants. So we decided to collaborate.
"We gave birth to a multi-sport society in which migrants and people in detention could play. But we wanted our teams to be about integration, so we worked with Roma Tre University."
The university now runs a human rights and refugee legal clinic within its law faculty.
Soon after Atletico Diritti was launched, the president of a Roman municipality got in touch. Marietti recalls: "The president was involved in dealing with migrant issues. When she heard about Atletico Diritti, she wanted the team to play in her neighbourhood at Campo Gerini because she felt it sent out a positive message to her community."
Campo Gerini also happens to have one of the most extraordinary backdrops to any football pitch in the world. It is situated on the edge of the Parco degli Acquedotti, which features in La Dolce Vita: the film that reinvented Rome. The ruins you can see in the background are from the Felice Aqueduct. Built between 1585 and 1587, "Acqua Felice" was part of a plan to renovate a water system first built in ancient Rome.
Marietti then received another call, this time from Alessandro Marinelli, a young award-winning filmmaker who wanted to follow the team throughout its first season. The end product was an hour-long documentary, Frammenti di Liberta (Fragments of Freedom), that was screened at the Human Rights International Film Festival.
In the film, one of the players talks about fleeing Libya during the 2011 civil war and how he thought he would die on a boat crossing from Tripoli to Italy.
Marietti says: "I remember some players telling us 'this is now my family. This is something that can change my life'. We said, 'no, this alone will not change your life. But we are together, like a family'." Diritti also have basketball, table tennis and cricket teams. Then there's the women's football team who only ever play at home because they are all doing time in Rebibbia.
The president of the chamber of deputies (the third highest-ranking office in Italy) met the players in 2019 when they hosted a tournament inside the prison.
In April last year, during lockdown, the team captain was given special dispensation to leave Rebibbia, visit the Vatican and meet God's representative on Earth aka football fanatic Pope Francis. Marietti says the teams can help change perceptions about prisoners, migrants and detainees. Atletico Diritti also provides a platform for campaigns such as Truth for Giulio Regeni.
Marietti used that campaign to highlight the fact that hundreds of people disappear in Egypt every year. Some are found murdered, having clearly been tortured.
The men's football side kicked off a new season at a new home in Piazza Bologna, although they did spend pre-season at Campo Gerini. It lacks the drama of the club's first home, but you won't get skin burns making a sliding tackle.
Although the team may now struggle, having won promotion to the second tier, the fact that Atletico Diritti exists means that every time they walk on to a pitch it's a victory on some level. Football is often accused of being simultaneously awash with money and morally bankrupt. But, as Alastair Campbell argued in these pages recently, footballers can be more effective than politicians at holding people to account. And sport, more generally, is one of the few things that cuts through increasingly polarised societies.
"Sport is an extraordinary tool for integration and affirmation of the values of solidarity," says Marietti.
"Access to sport must be a right for everyone, whether they are free or in prison. We hope Serie A players take a strong position on issues like discrimination. Yes, they do it sometimes. That's important because it's a message that reaches out to so many people.
"Football can communicate with every section of society."
For Giulio Regeni's family, the hope is that football taking a stand on the issue will eventually contribute in some way towards closure on the death of their son, and that the truth will out.