"This was where we had our meals and dinner was always at midday," says Richard Blair, adopted son of Eric Arthur Blair, aka George Orwell. "My
father always sat with his back against the fireplace, smoking and throwing
his cigarette ends into the fireplace. One day I found a broken old pipe in
the garden." Richard, now 78, was then aged about five. "I thought, well, if you lot can smoke, I'll have a crack at it myself. So, I crawled to the fireplace
and took out the fag ends and stuffed them into the pipe, whereupon I asked
for the lighter."
Without a break in the conversation, "my father took out his Zippo and passed it down behind his back and waited for the inevitable. I lit this bloody thing, turned a delicate shade of green, the world started to spin, and lunch reappeared."
So went life for the Blairs on the remote Scottish island of Jura from 1947 to 1949, with Eric, as he was known to his family, occasionally chasing geese with a shotgun, hunting down and slicing up adders for the pot, tending his vegetable patches, and fishing each afternoon for lobsters, crabs and "whatever we could catch", says Richard – in between writing one of the 20th century's literary classics, Nineteen Eighty-Four, of course.
It was a far from a conventional existence, but – importantly – it was also a long way from the journalistic pressures down south that had left him "feeling like a sucked orange". And the result remains hauntingly with us: Orwell's warning to humanity of the dangers of Big Brother, so prescient now with CCTV and internet surveillance, not to mention the rise of yet another dictator in Russia (Orwell's concern had been Stalin).
It was with these thoughts in mind that the Orwell Society set off to the island of Jura in the Inner Hebrides last month, led by Richard, with 20 or
so Orwell devotees in tow.
Not many people make it to Barnhill on the north-east coast of Jura – population roughly 200, as it was in the 1940s – which was precisely why Orwell liked it so much. During a 1946 visit to the Jura estate of David Astor –
the aristocrat who was the legendary editor of the Observer and Orwell's patron – the writer had discovered that the isolated property was up for
rent. Having wanted to get away from things and work on a big project, it
immediately set his mind racing.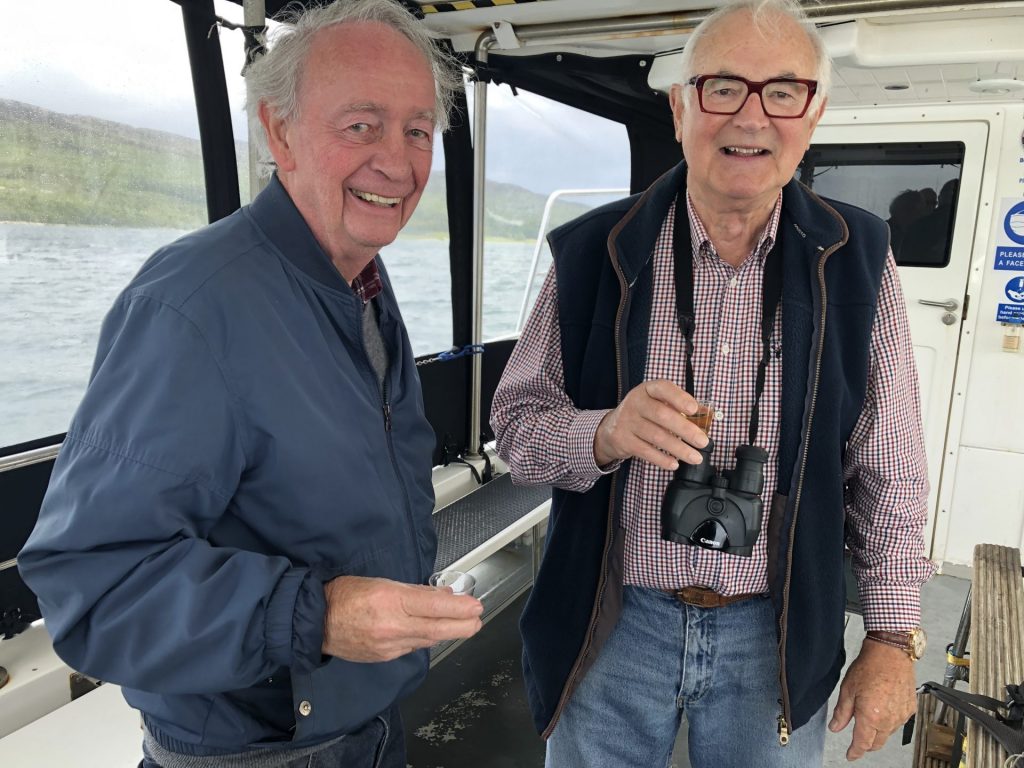 Little can have changed at Barnhill over the years. The simple but spacious whitewashed building feels on the edge of nowhere, tucked on a hill clad in bracken and foxgloves in June, with oaks on nearby slopes and a field of Highland cattle by the shore. Delightfully "un-get-atable", was how Orwell described the setting.
It remains so today. Jura's "main road" (the only proper road) ceases eight miles to the south, requiring a bumpy ride in a 4×4. Much better than that, though, is to take a boat from the tiny south-eastern village of Craighouse, Jura's hub and home to the comfortable Jura Hotel (where the Orwell Society stayed) and the island's renowned whisky distillery. This zips along in an hour to a little landing in a sheltered harbour close by. The Orwell Society arrived, moored, clambered up a rusty ladder and trudged up a short track to Barnhill.
They were an eclectic bunch: retired English and history professors, teachers, diplomats, novelists, filmmakers, the president of the HG Wells Society, chairs of local Labour party councils, a retired firefighter, a retired FTSE 100 managing director, the son of one of Orwell's Spanish civil war comrades (Quentin Kopp, chair of the Orwell Society), retired journalists and even a sports mascot for an NBA team, who was visiting with his father, an English teacher from Chicago – his job, he says, involved dressing up as a coyote for the San Antonio Spurs.
Orwell enthusiasts come in all shapes and sizes. "You're going to Jura? My partner is a big fan of Orwell, we often stay up late at night debating him while drinking wine," the rental car assistant at Glasgow airport had exclaimed on hearing of the trip. It was this love for Orwell and appreciation of the foresight of his dystopian work that had drawn the group to this out-of-the-way spot.
---
Barnhill is a family home privately owned by the Fletchers; descendants of the same family who rented to Orwell. A discreet sign on the track leading up says: "Please respect our privacy", ie, do not just turn up.
But the Orwell Society has special permission to visit every two years, being met at the landing this year by Rob and Scofie Fletcher, their two children and a friendly tan-coloured whippet-lurcher. Suitably, tea was soon served in Barnhill's kitchen before the guests were shown round, reminding some of those present of Orwell's pithy essay explaining what makes A Nice Cup of Tea.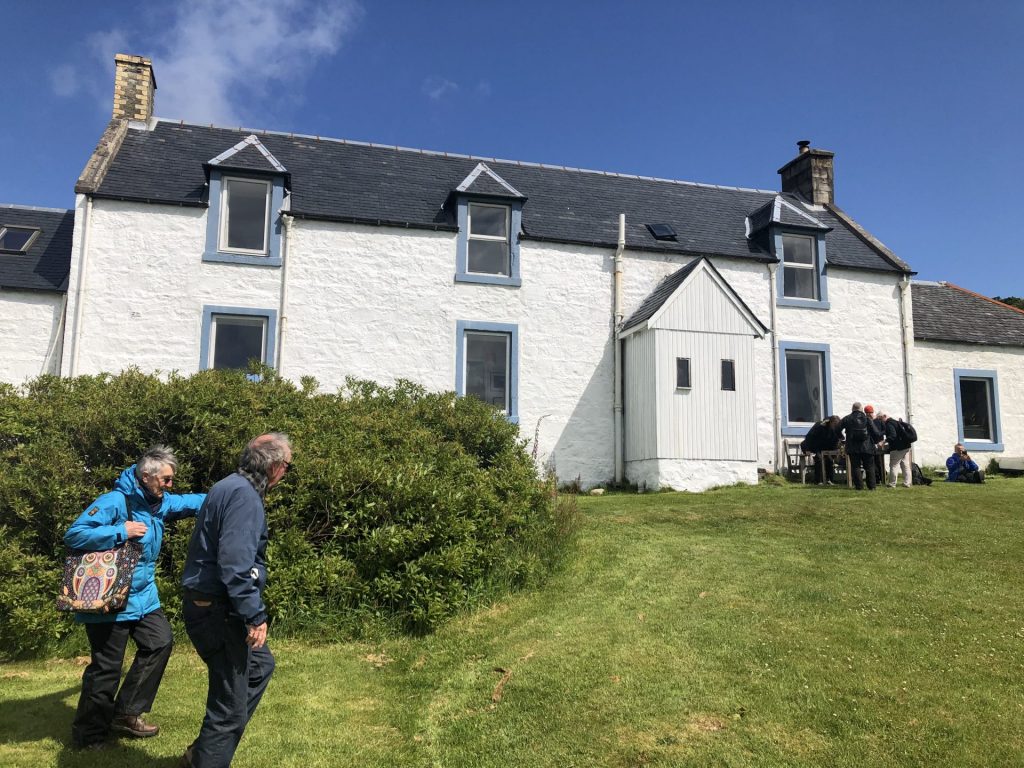 This kitchen is at the heart of the house. The old enamel sink dates from Orwell's time and a rack on a pulley for drying clothes hangs above a wood
stove (Barnhill is off grid). Orwell paraphernalia on the walls includes a cutting from The Sunday Oregonian from January 1, 1984 showing a picture of Barnhill, plus a framed quote from its acclaimed former resident: "If you set yourself to it, you can live the same life, rich or poor. You can keep on with your books and your ideas."
This was just what Orwell did at Barnhill, only occasionally popping over to the mainland via ferries for treatment for his TB (which he died of aged 46 in 1950, a mere seven months after Nineteen Eighty-Four was published). Sadly, his first wife, Eileen, passed away before his Jura plan came to fruition and Richard was looked after by Orwell's sister, Avril, on the island.
---
All this is conveyed by Richard in the hall, before the group traipses up the
narrow staircase to a low-ceilinged hall with a bathroom featuring Orwell's original bathtub on one side, looking grimy and chipped. "When I cracked my head open one time, I was rushed over there to bleed in that sink. My father wouldn't have wanted it on his manuscript!" says Richard. Nearby is a small room facing the sea that was once his bedroom, now Rob's office for his work for Aquaculture magazine, covering fish farming and breeding.
"Not quite Nineteen Eighty-Four," Rob jokes. Maybe, but writing still goes on at Barnhill.
Beyond this bedroom is the highlight: the room where Orwell had his desk and typewriter, dreaming up "Newspeak", "thoughtcrime", the "Thought Police" and "doublethink", in the process turning his name into an adjective.
Yet there is nothing Orwellian about the setting, with a window view across a field to a calm, slate-grey sea. "You are looking at the room where Nineteen Eighty-Four was created. This is history," says Richard, sweeping a hand towards the window. He is a tall man like his father, with receding grey hair, a penchant for checked shirts, thick-framed Ronnie Corbett-esque glasses, faded jeans, a ruddy complexion, and the jolly manner of the owner of a country estate. Murmurs of approval all round from the assembled members of the Orwell Society.
Apart from the lack of a desk and the addition of the Fletchers' bed, the room remains much as it would have been. "I still remember the tap, tap, tap, tap [of his typewriter]," says Richard, as well as the "pretty foul" smell of his father's cigarettes.
For a while the Orwell Society stood in silence, soaking up the atmosphere. Then everyone walked back down the hill to the boat and visited another
famous Orwell spot, a whirlpool at the Gulf of Corryvreckan on Jura's northern tip. It was here in August 1947 that Orwell, Richard and three others (a woman in her early 20s, a teenage girl and an army officer aged
20) almost died when Orwell extremely unwisely took the party across the treacherous whirlpool and had the outboard motor twisted off as he had failed to tie it down. Thanks to the strength of the officer, they managed to row to a small rocky island, where the boat promptly overturned as they landed, casting them in the water. By great chance, they all survived, crawling up the rocks, whereupon Orwell is said to have exclaimed: "Oh look, some puffins. Curious creatures, puffins."
He seemed oblivious to the peril they had just survived, Richard recalls. "Yet my father could have banged his head on the rock as we were going under. Who knows what could have happened? The tide was moving fast. We could have been swept away. No more Nineteen Eighty-Four."
He pauses and adds: "So the moral of the story is: always tie your bloody outboard down." And with that the group sped back along Orwell's coast
to Craighouse, contented members of the Orwell Society, one and all.
Tom Chesshyre is author of Slow Trains Around Spain (published by Summersdale) which includes a visit to the trenches in which Orwell served during the Spanish civil war