The case of a noisy toilet has finally been settled by Italy's highest court, after a 19-year legal battle that critics say typifies the country's super-slow justice system.
What has become a cause celebre for Italians began when a couple in La Spezia sued their neighbours, complaining that their new toilet – with a water tank embedded into a wall close to their headboard – was keeping them awake with "intolerable noises".
The supreme court has finally found in their favour, arguing that loud flushing at night violated their quality of life as set out by the European Convention on Human Rights. The neighbours have been told to move the water tank and pay the couple around £420 for every year since it was installed, nearly £8,000 in total.
Noting that Italy has the least efficient legal process in the EU, with civil and commercial cases taking an average of 500 days in the first stage and on average 1,300 days to reach the supreme court after appeals, newspaper Il Giornale said: "If Franz Kafka had been an Italian citizen of today he would not have written 'The Trial,' he would have written 'The Toilet' to describe justice in our country. At the judicial level we are a big, huge, gigantic clogged toilet."
---
A 17-year-old who led Berlin police on a wild car chase through the Reinickendorf district, causing seven accidents, crashing into ten cars and injuring three officers, turned out to have his girlfriend and their baby in the back seat.
Police said the chase saw the fugitive drive along pavements, forcing pedestrians to jump out of the way, before ramming several vehicles and finally crashing into a bus.
The unlicensed driver was found to be in possession of 200 grams of white powder, a baseball bat and three cell phones, although it is not yet known if he will claim that they all belonged to the baby.
---
Paris police went on a wild goose chase when they swooped on a couple suspected of kidnapping one of the city's wild swans.
Gendarmes were called into action when walkers in the Bois de Boulogne reported seeing a man and woman park their Renault at the edge of the Saint-James pond, lure one of the birds to the bank and then cover it with a blanket and drive it away in broad daylight.
It seemed to be another case of theft of the protected birds, who number around 50 in total and can command prices of up to €300 on the black market. But when police arrived to arrest the kidnappers, having traced their licence plate to the suburb of Neuilly-sur-Seine, they found two bewildered 70-year-old members of the Paris society for the protection of city birds, who had responded to reports of an injured Bernache goose in the pond by picking it up and taking it to a vet.
A spokesman for the mayor's office said the story was "cute" but that the couple should have informed them before removing the bird. In September 2020, a former soldier was jailed for six months for stealing one of the city's swans and attempting to sell it on the internet.
---
The world's oldest man, Spaniard Saturnino de la Fuente García, has died a few weeks before his 113th birthday.
García, who said the secret of long life was "don't hurt anybody", passed away at home in Leon at the age of 112 years and 341 days. Nicknamed Pepinio (the cucumber), he was born in February 1909 and might have been killed in the Spanish civil war but at only 1.5metres tall – less than five feet – he was too short to join up.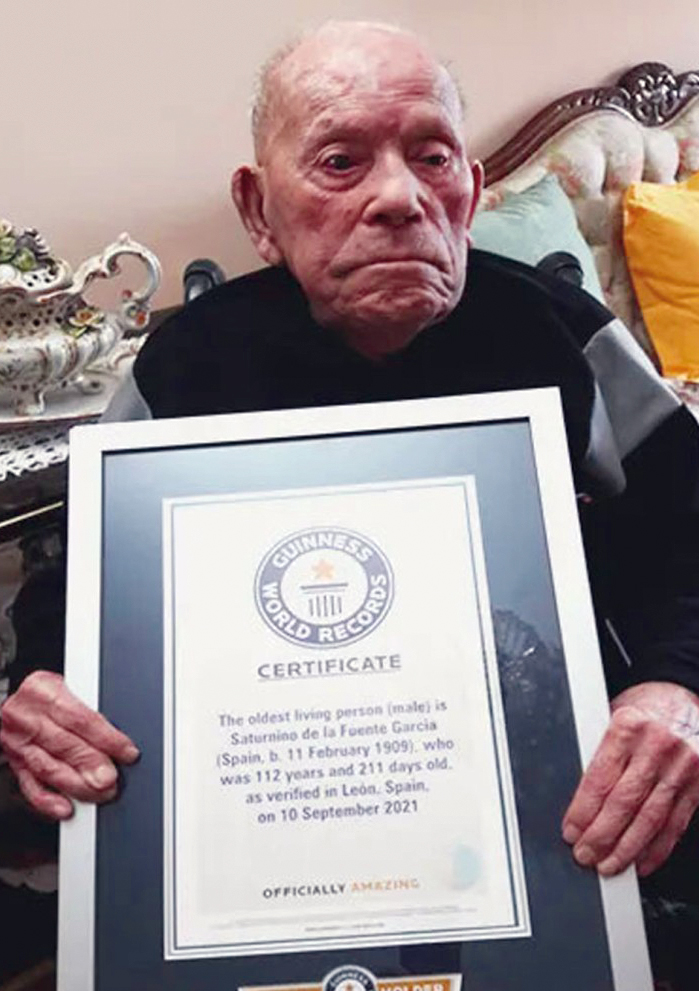 ---
A Dutch tourist at Auschwitz has been fined after posing for a photo below the concentration camp's infamous 'Arbeit Macht Frei' ('Work Makes You Free') sign while raising her right arm in a Hitler salute.
Police said the woman had blamed her gesture on "a bad joke".
---
A 10-year-old Russian girl survived 18 hours in a -11c blizzard by cuddling up to a stray dog.
Vika Z was walking home from her village school in Uglegorsk, in the country's far east, when a snowstorm hit, piling snow up to the first floors of local houses.
After a search by 40 police she was found the next day only 800m from home, suffering from frostbite but still clutching the dog, which had been lying on a mattress underneath a balcony.
---
An online meeting of Italian senators to discuss transparency in politics was interrupted when one attendee 'Zoombombed' it with an explicit pornographic video showing Tifa Lockhart from the Final Fantasy video game series.
The explicit clip broke into a speech by Giorgio Parisi, winner of the 2021 Nobel Prize for physics, and played for almost 30 seconds until it was disconnected.
The Italian parliament quickly pointed out that the video had not been broadcast accidentally by one of the politicians but by a hacker.