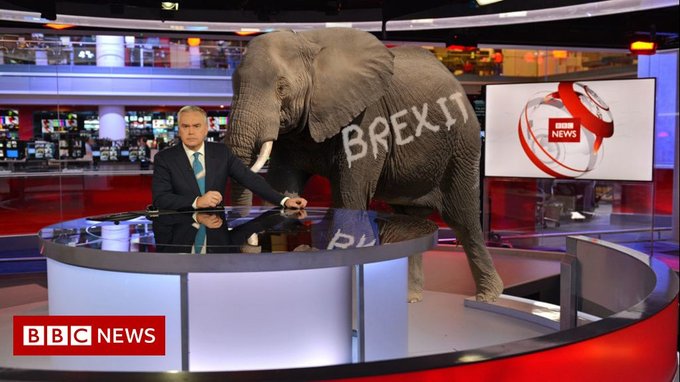 Fran Unsworth, the BBC's outgoing head of news, has been known to scold journalists who've been less than impartial on social media – often demanding that they delete tweets.
Huw Edwards, the corporation's highest paid anchor on a salary not unadjacent to £500,000, saw fit last week to retweet an image of himself reading the news with an elephant in the background emblazoned with the word "Brexit."
The 60-year-old Edwards joshed: "Can I give you my eventual successor? He never forgets."
A disgruntled news journalist at the corporation tells me: "It's hard to imagine a more embarrassing image for a BBC employee to give greater currency to, and, if it had have been someone lower down the pecking order who'd done that, there would have been immediate disciplinary action.
There has been no comeback for Huw, but then it's a rich man's world at the BBC."
Edwards has periodically got into difficulties with his tweets – usually involving his views about his native Wales – and has had to delete some, but he is controversial, too, in his own newsroom.
His recent comments about how unhappy he was that the BBC had divulged his salary – when many journalists he works with are at risk of losing their jobs – did not go down well.
Edwards' tweet is part of a wider trend among journalists from major news organisations who are keen to distance themselves from Brexit.
Peter Oborne has gone from talking about Johnson two years ago as a a "brilliant" man who would want to surround himself with other "brilliant" people to calling him over the weekend "the most dishonest and morally corrupt prime minister in British history."
Sarah Baxter, the former deputy editor of the Brexit-supporting Sunday Times, who once wrote a column saying Johnson deserved the top job as he "deserved" it and would deliver "a more cheerful Brexit", now assures me she never personally backed leaving the EU.
No 1 fan
Boris Johnson has always been wary of Liz Truss, his new foreign secretary, not least because she has, according to ConservativeHome, an 85.2% approval rating among party members, compared to his derisory 12.8%.
It's unlikely to make the floundering PM feel any more secure to learn that Truss was feted by Rupert Murdoch at his belated 90th birthday bash at his Oxfordshire estate.
"There was an interminably long film shown that was apparently intended to remind Murdoch of who he actually was that began before dinner, and then, to everyone's horror, resumed again after it," one guest tells me. "At the end, Truss applauded. Even Michael Gove – seated a lot further away from Murdoch – looked at her aghast, as she'd managed to out-creep even him." Without wishing to sound unduly callous, I wonder how advantageous it is for any of them to be paying court to a nonagenarian newspaper tycoon. My source adds that Murdoch's son Lachlan – seen as his father's heir apparent – is "a lot less obsessed with British politics, not least because he sees the country as a mature market for the business".
Game on
One detail I discovered about Gina Miller as I researched my play Bloody Difficult Women is that she was a formidable rugby player at school. "You didn't mess with her when she had the ball," one old girl of Moira House told me. "Gina always played to win."
Theresa May and Boris Johnson found that out when their governments were both beaten by Miller in the courts as she set about defending parliamentary sovereignty. If her application to register a new party called True and Fair with the Electoral Commission is approved, I've no doubt this prowess will hold her in good stead.