Sometimes, the more someone tries to reassure you, the worse you feel. When you don't get a job and friends extravagantly say you'd have been great at it, or when someone breaks up with you while assuring you that you're fantastic and it's all on them – in comes a niggling feeling that steadily worsens.
Spare a thought, then, for poor Jacob Rees-Mogg, who now has the longest job title in politics, two seemingly unrelated ministerial briefs, and retains full cabinet minister status despite his new job holding the more junior rank of minister of state.
When the prime minister is working that hard to reassure you that your new gig isn't a demotion, you can be absolutely certain you've been demoted, and heavily.
Actually looking at Rees-Mogg's new brief is also telling. His responsibilities are nominally "Brexit opportunities" and "government efficiency" – two things that both sound like polite phrases for "deregulation".
Traditionally, you would expect a minister with these kinds of briefs to work out of the Department for Business, Energy and Industrial Strategy, but Rees-Mogg will be based out of the Cabinet Office. When asked about this unusual assignment, one Westminster wit noted "that's because the Cabinet Office is where all the non-jobs live".
---
Even several days after his appointment, clicking through to Rees-Mogg's official ministerial profile revealed his job title, biography, and even the names of his six children – but under the "Responsibilities" section there was nothing except empty white space, a classic political gaffe in which the mistake might be that the truth gets told in public. As he was apparently casting around for a way to fill his days, Rees-Mogg hit on an unoriginal first idea – writing in The Sun inviting the paper's readers to weigh in and suggest Brexit opportunities to him. What regulations imported from EU law should the UK drop, he asked, and what Brexit benefits should the government be seizing?
Rees-Mogg's own background might offer him some answers to these questions.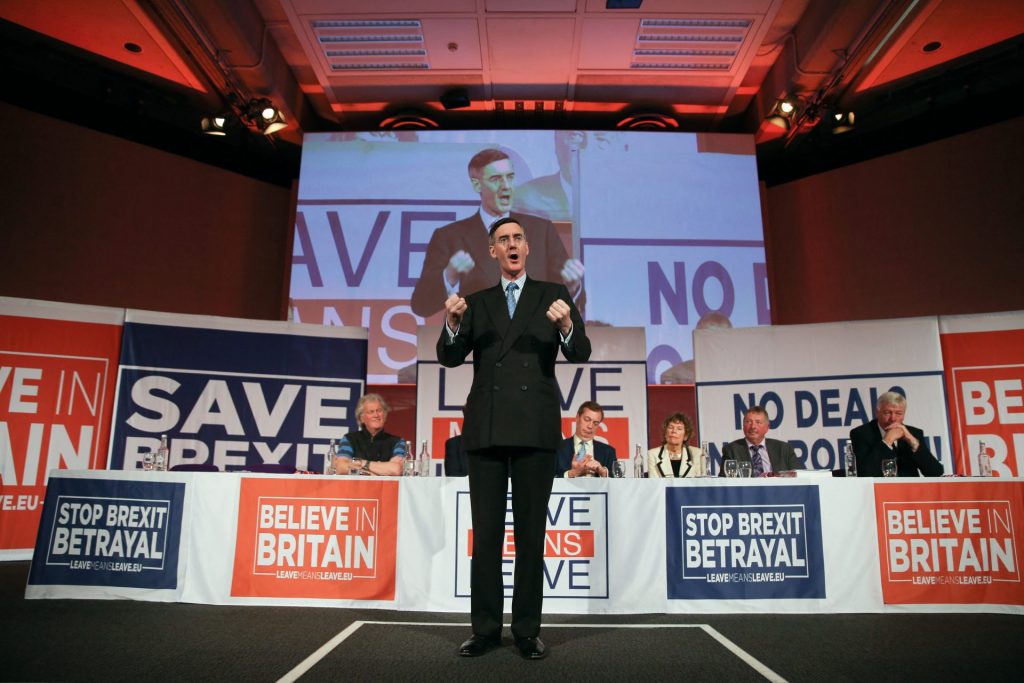 One of the key arguments from the global Britain school of Brexit thinking was that leaving the EU would help the UK pivot to building closer trading relationships with fast-growing emerging nations across Africa and Asia.
That's something Rees-Mogg can claim to know a great deal about, as it is how he accumulated his vast wealth, estimated at something north of £100 million. Despite its agrarian British name, the emerging market fund manager Somerset Capital – founded by Rees-Mogg in 2007 – is a vehicle for investment in emerging economies.
As such, the pivot to global Britain is very much relevant to Rees-Mogg's interests, both intellectual and financial.
Rees-Mogg continued to play an active role in the business until 2019, when he joined the Cabinet and thus was required to step back from other roles. The UK's laws don't, however, require him to relinquish his substantial shareholding in the company, which continues to pay him annual dividends.

Last year, that dividend alone amounted to £600,000 – several times Rees-Mogg's ministerial salary – and Rees-Mogg has also loaned himself money from another company he owns (which itself is a partial owner of Somerset Capital) to the tune of £6 million, a transaction he decided didn't need declaring on any ministerial disclosures, though it was properly reported in the company's accounts.

Somerset Capital continues to pay Rees-Mogg far more each year than we pay him as taxpayers, and his shareholding continues to make up a sizeable portion of his personal wealth.
Even though he no longer has any direct control over the decision-making of the fund (which manages more than $7 billion in assets), Rees-Mogg is now in a position where decisions he makes as a minister could affect it quite directly.
The idea of Brexit opportunities – as presented by its supporters, while strongly opposed by numerous actual trade efforts – was that EU nations made bad trading partners. Their economies grow slowly, they are very highly regulated, and they are arguably falling behind on innovation.
So, they argue, rather than lashing ourselves to that slowly sinking ship, we should align to trade with the rest of the world – yes, the US, Australia, and so on, but more importantly to fast-growing and increasingly rich countries across Africa, Asia and Latin America.
The issues with replacing EU trade with trade with these nations are many – they have very different patterns of commerce, they are still generally at a considerably lower income level, and crucially, they are a lot further away than EU nations, and when it comes to trade, proximity is still king.
But given that Brexiteers have been happy to leave those fundamental issues lightly ignored, Rees-Mogg will find that his job involves advocating for deregulation at home and for boosts to the UK's trade with emerging economies. That cannot help but make for good news, one would have thought, to an emerging market fund manager specialising in investment in… emerging economies, from (and even named after a county of) the UK.
Even if Rees-Mogg intends to do his job as scrupulously and fairly as anyone would wish – as surely he does – this kind of ownership conflict of interest is impossible to manage entirely. You cannot stop yourself knowing what you and your company did while you were actively involved, a period that ended just two years ago.
You might not know the details of every investment your company currently holds, but you'll know a lot of them.
And so as you make your decisions about which countries, sectors or similar to prioritise – how do you stop that influencing you, even with the best will in the world?
An enthusiasm for one sector over the other might come from your sincere belief that it presents the best opportunity – but then that same sincere belief might have caused you to invest in it several years previously.
The values and rules of government are supposed to tackle not just actual conflict of interest, but also perceived conflicts of interest. Clearly they are entirely failing on the latter front. Even someone who went out of their way to decide Rees-Mogg would try to avoid such perceived conflicts would be forced to conclude there's no way he can Memento himself and erase his memories. Since he is allowed to continue being a shareholder, it is also something that could last for an indefinitely long period.
Rees-Mogg also shares an interesting conflict of interest with several others in his inner circle: while at the helm of Somerset Capital, he largely steered free of major investments in China, but the fund has now made some major bets on China.
The UK government has been picking quite major diplomatic fights with Beijing, on human rights and on security issues around the rollout of 5G. Rees-Mogg has a financial stake in better relations, which of course risks influencing his views.
In that, he's not alone, as the prime minister's new director of communications, Guto Harri (who has had a very interesting first few weeks), worked in a public affairs role for Huawei, the tech giant now banned from the UK's 5G network.
It is a telling sign of Johnson's indifference and inability to change that when he needed to do a mini-reshuffle to strengthen his position and move on from what has rapidly become an omniscandal, he was too weak to actually demote anyone.
The result was, in what is supposed to be a reset, moving a minister to a role in which they are profoundly conflicted, and of which you haven't really worked out the duties, let alone how to try to manage the job. Here comes the reset, same as the old set.