Another Kennedy assassination anniversary passes. Another Kennedy assassination film is released. Another wave of conspiracy chat flows through social media. And one name, familiar to anyone with more than a passing interest in what happened at Dealey Plaza, recurs.
That name is George de Mohrenschildt.
Remember Zelig, the Woody Allen mockumentary about a human chameleon who, through his desire to fit in, finds himself at the centre of the 20th century's key events? Well, de Mohrenschildt was pretty much a real-life Zelig, only it was his business to make said events much, much worse.
From working as an intelligence officer for the Vichy government to spreading discord throughout Central America, George was an agent provocateur beyond compare. A tough character to pin down, elusiveness covers every aspect of his life. Even his name wasn't really his name. Born Jerzy Sergius von Mohrenschildt in what's now Belarus, it's in large part thanks to the Dutch journalist Willem Oltmans that we know anything at all about the peculiar route that brought de Mohrenschildt to Dallas where, in 1962, he became good friends with perhaps the one person with a backstory as weird as his own, Lee Harvey Oswald.
With a customer as slippery as de Mohrenschildt, it's perhaps best to begin the story of the most infamous episode in his life with his arrival in the United States in 1938. At the time, the US secret service had de Mohrenschildt on a watch list, so convinced were they that the Baron, as he was known, might have Nazi affiliations. Not that this would prevent de Mohrenschildt from becoming a naturalised American in 1942.
And as film director and JFK assassination aficionado Alex Cox points up his book The President And The Provocateur, whatever lingering controversy there might have been, it didn't stop de Mohrenschild visiting such contentious destinations as communist Yugoslavia.
It couldn't have hurt that de Mohrenschildt was employed as a petroleum geologist by the American Co-Operation Administration, a company that'd later be identified as a creature of the Central Intelligence Agency. Certainly his CIA liaison J Walton Moore didn't have an issue with George and his fourth wife touring conflict-strewn Central America in the early 1960s. It was on his return from this 'walking tour' that de Mohrenschildt – resident in Dallas since 1952 – first met Lee Harvey Oswald.
An event Oliver Stone would depict in 1991's JFK, it's hard to stress the improbability that de Mohrenschildt – rich, multilingual, fiftysomething, conservative – could have anything in common with the likes of Lee Oswald – a poorly educated 23-year-old former Marine whose admiration for communism saw him defect to the USSR. As Cox's points out, their apparent incompatibility was underlined by de Mohrenschildt in his testimony before the Warren Commission, the body entrusted with investigating the assassination of John F Kennedy:
"[Oswald's] mind was of a man with exceedingly poor background, who read rather advanced books and did not understand even the words in them… how can you take seriously a person like that?"
In burying the reputation of his former friend, de Mohrenschildt also ridiculed the idea that any official body would task Oswald with a scheme as complex as the assassination of the president:
"I never would believe that any government would be stupid enough to trust Lee with anything important… What government would give him any confidential work? Even the government of Ghana would not give him any type of job!"
As de Mohrenschildt's remarks were racist, they were also at odds with the picture he painted of Lee Harvey Oswald in his own, unpublished account of the Kennedy assassination, I Am A Patsy! I Am A Patsy! Here, he praised Oswald for his "concentration, thought and toughness". Regardless of what he really made of him, it didn't prevent de Mohrenschildt from befriending Oswald in the summer of 1962.
This wasn't some casual acquaintanceship, either. De Mohrenschildt benevolence towards the much younger man and his wife Marina included regular dinner invitations and an appeal to Dallas' Russian community to help the impoverished couple with gifts of furniture, clothes and toys for their infant daughter. It also fell to the Baron to introduce the Oswalds to Ruth Paine, the woman who took Marina in during a lengthy estrangement from her husband and whom found Lee a job at the Texas Book Depository from which, well… who knows?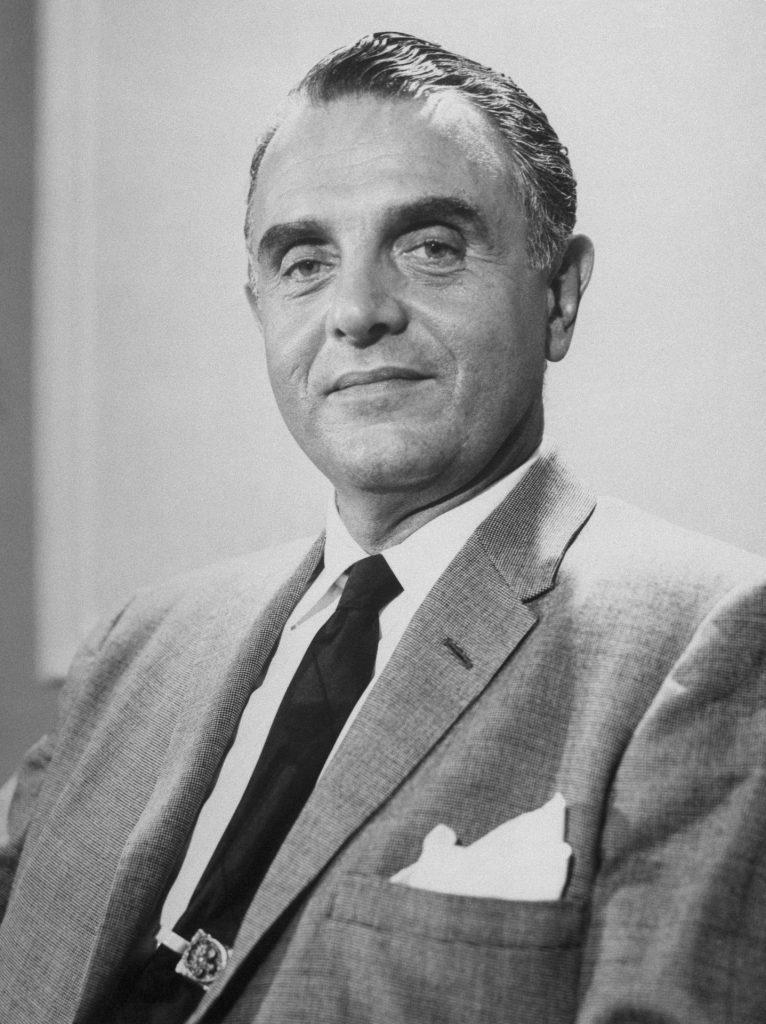 Of course, 'who knows?' sums up so much of what we (mis?)understand about the Kennedy assassination. But just because we don't know all things doesn't mean we don't know some things about Oswald, his actions and the people around him. In the case of George de Mohrenschildt, we know that the last time he saw Lee Harvey Oswald was June 1963, after which the Baron relocated to Haiti where he went into business with Clémard Joseph Charles, a trusted advisor to the Duvalier regime. Of course, it couldn't have hurt that de Mohrenschildt's bank account swelled to the tune of several thousand dollars ahead of his Caribbean relocation.
During his three years 'growing sisal' in Haiti, George de Mohrenschildt only returned to the US to testify before the Warren Commission. Here, in addition to the ridicule he heaped upon his friend, the Baron recalled how, during one house visit, he chanced upon a rifle very similar to the one with which Oswald was said to have shot the President. It was to prove a damning remark but it contradicts what George and his fourth wife Jeanne told New Orleans District Attorney Jim Garrison when he interviewed the couple as part of his prosecution of local businessman Clay Shaw, the case that provides Oliver Stone's movie with its focus and momentum.
A sketchy figure himself, Garrison had little in common with the James Stewart-esque character Kevin Costner's portrays in JFK. But while one might question his conclusion that the de Mohrenschildts were Oswald's "babysitters… assigned to protect or otherwise see to the general welfare of Oswald", the couple's claim that their friend was merely a scapegoat for the assassination is one they also related to Willem Oltmans, the journalist whose pursuit of the Baron became his life's work.
Indeed, it's Willem Oltmans who portrays de Mohrenschildt in JFK. A delicious piece of mischief on behalf of director Stone, the casting might've been different had the Baron still been alive. If in his best health his ego was so vast, he'd have insisted upon playing himself, it was a profoundly troubled George de Mohrenschildt who put a gun to his head on March 29th 1977. The morning of his suicide, he received a letter from the House Select Committee on Assassinations, the Congressional body tasked with reinvestigating the slaying of Jack Kennedy. The Committee described him as a "crucial witness". In his absence, it fell to Willem Oltmans to inform the HSCA that the Baron "told me Oswald acted at his instructions and that he knew Oswald was going to kill Kennedy."
In trying to shine a light upon the shadow he cast over the Kennedy assassination, there's a danger George de Mohrenschildt remains tangled up with countless other figures on the fringe of the crime. David Ferrie, Dean Andrews, James Angleton – all are of interest and each is discussed in JFK Revisited: Through The Looking Glass, a fascinating new documentary from Oliver Stone which sees the filmmaker weigh up the evidence about the tragedy that's emerged since his original movie was released.
And while there's an uncanniness to some of the coincidences surrounding de Mohrenschildt – his wife Jeanne was the former business partner of Abraham Zapruder who shot the most famous home movie in the history of film – it's the hard facts that really compel.
Take the letter de Mohrenschildt sent on September 26th 1976 asking an old friend if he could protect him from the House Select Committee on Assassinations.
"The flurry of interest that attended your testimony before the Warren Commission has long since subsided," replied the newly-appointed director of the CIA, George HW Bush. The missive continued in the sort of friendly, informal manner you'd expect from two people who'd known one another since Bush's university days and had grown close while working in the oil industry in the 1950s.
None of which actually proves anything. However, it's a rare witness who can call on America's top spook in a crisis. "I hope this letter has been of some comfort to you," wrote the future president. Even though it didn't, it's clearly preferable to have friends in places higher than the sixth floor of the Texas Book Depository…
---
JFK Revisited: Through The Looking Glass is released theatrically on November 26th, and will be available on digital platforms from November 29th.