What's a guy like him doing in a place like this? The guy is Joe Tacopina, the Brooklyn-born celebrity lawyer who made his bones as part of 'Teflon Don' John Gotti's defence team and has gone on to represent rapper Jay-Z, baseball legend Alex 'A-Rod' Rodriguez and Trump acolyte Kimberly Guilfoyle. The place is Ferrara, the north Italian city where Tacopina has become the owner of Serie B football club SPAL.
There are 4,000-plus miles and several centuries between the steel-and-glass of Manhattan, where his Tacopina Seigel & DeOreo law firm is based, and the Renaissance stone of Ferrara's palazzi. Tacopina, 55, says spending time in Italy gives him a different perspective on life. "I come from New York, where everything is a competition, everything is a race. My best friends in Italy don't necessarily have a lot of money, but they're the happiest dudes I've met. They have figured out their priorities in life," he explains.
The child of Italian immigrants, Tacopina studied law, became a prosecutor and won 39 out of his first 40 cases. He then switched sides to become a defence lawyer and achieved fame – and notoriety – after getting a police officer, charged with rape, acquitted.
"Holy shit, the effect that that verdict had on my office," he recalls. "I had reporters from Germany and France in the court. The headline in the New York Post the day after was 'Justice Defied'. We had protesters outside the office for a year, people who didn't know anything about the evidence of the case, didn't have the woman's testimony."
He next took on the City of New York and secured a significant out-of-court settlement for a lesbian police officer who was being harassed by colleagues. "Hey, my knees don't buckle," he says. And yet football has a habit of turning people who have been successful in one walk of life into quivering wrecks.
---
Tacopina didn't visit 'the old country' until he was in his thirties. He then instantly fell in love with the culture, the food, the football, the history, the works. Ten years ago he blazed a trail for North American owners in Italian football (seven Serie A clubs alone are now owned by US investors, and five more in Series B and C are American-owned) and brokered a deal for a consortium to buy AS Roma.
He then became president of Bologna and the team won promotion to Serie A in 2015. The next stop was Venezia, a club that had been declared bankrupt four times in 10 years, where he oversaw two promotions. Now he's in charge of SPAL (Società Polisportiva Ars et Labor), a team born out of a social club formed by a priest in 1907.
"That's kinda cool. And then you have Ferrara, which has this wonderful culture and architecture, is a UNESCO World Heritage site, the home of the Italian renaissance. And then you add in these amazingly passionate fans," he says.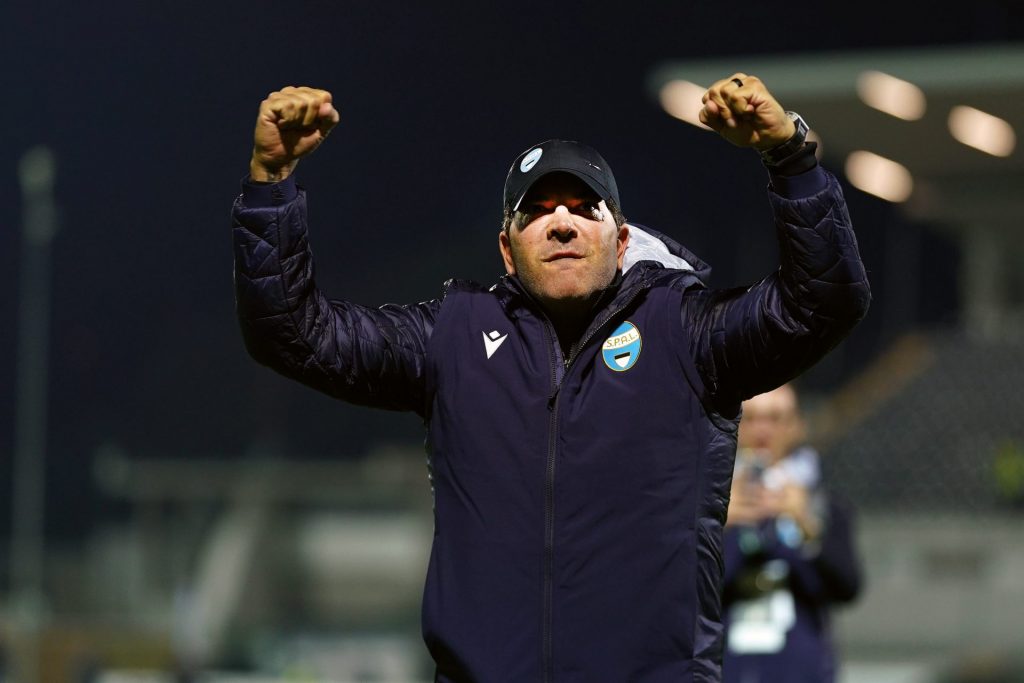 He has an apartment in the heart of Ferrara with a view of a castle. But apart from the lifestyle, why has Italian football become so attractive to North Americans? Tacopina says it's because the country's clubs have not been run properly.
He says, "It took me three years to get the AS Roma deal done but we purchased the club for $110m. At the time we had Totti and De Rossi in the
squad, so that's $110m for the players, the training camp, the brand, the logo. The LA Clippers basketball team was sold for over $2bn. They don't own their own arena and they're never going to be the top team in LA.
"The reason Italian clubs have been undervalued is that they've been
mismanaged. Italian football owners have traditionally created these teams as, sort of, social currency.
"Silvio Berlusconi bought AC Milan and became prime minister of Italy. The Sensis bought AS Roma and they became the most important family in Rome. It helped their real estate business.
"The families who buy and purchase these teams are wildly successful in their other businesses, but when they run a football team it's like a neighbourhood club."
Berlusconi's AC Milan of the 1990s and 2000s was, at times, the best team in the world. But the latter years of his tenure as its owner, before selling up in 2017, were instantly forgettable.
"You can have the social currency benefit but also try to run it in a fiscally responsible manner. So many stadiums are antiquated. They're just horrific. So that's also why they're undervalued.
"They started trying to build a new stadium for Roma when I was there. They haven't put a nail in the ground. Unless you're on the right side of the fence you never get anything done."
---
Tacopina is clearly smitten with SPAL and Ferrera: "Such a vibrant place, thousands of students and the stadium is in the centre of that city".
He talks of building museums and bars; of hosting concerts and conferences. With promotion a target too, it's already a daunting workload.
But Tacopina has added to it by taking on a client in New York, every bit as controversial as John Gotti: Kimberly Guilfoyle, the eyeliner-enthusiast fiancee of Donald Trump Jr who is now best-known for her unhinged 2020 Republican Convention speech in praise of her future father-in-law.
Guilfoyle, whose much-lampooned convention speech included bizarre lines like "you are capable, you are qualified, you are powerful, and you have the ability to choose your life and determine your destiny", faces questions over the raising of about £2.3m to fund the 'Stop The Steal' rally on January 6, 2020, which ended in the insurrection at the Capitol. "I'm not going to let them touch her," says Tacopina.
He may face flak from the stands too, as it seems clear that it will take more time for Tacopina to repeat the success he had at Venezia and Bologna. SPAL are currently midway in the bottom half of the table. But if there is a constant thread that runs through their owner's career it is that he will take on the most difficult client, case or club simply because he thinks he will eventually end up on the winning side.
Or, as he puts it, "If you worry so much about the opinions of others, you become their prisoner."
In the meantime, SPAL fans are less interested in the legal machinations of
Washington DC, and more in the progression towards promotion. Perhaps this explains Tacopina's obsession with Italian football; when you are engaged in it, there really is nothing more important.