When the besuited young man started to expound from the speaker's rostrum at the United Nations General Assembly – "It's the thought of being young, when your heart's just like a drum" – it became clear that something profound was changing in the world order.
This was no international leader, but a member of South Korean supergroup BTS, who was joined by the rest of the septet in playing the recording of their song Permission to Dance, filmed at the UN, before giving a seven-minute speech, watched by one million, on the climate crisis, Covid vaccines and the power of youth to change the world.
Since the boyband's performance last month became the talk of the town, Squid Game smashed all previous ratings on Netflix, becoming an international sensation. South Korean culture's word takeover seemed almost complete.
After three decades of government-supported effort and good fortune, South Korea's ubiquitous K-things have spread their tentacles across the world. K-pop, the infectious music of synchro-dancing manufactured boy and girl bands such as BTS and Blackpink; K-dramas, and not just the dark die-or win narrative of Squid Game; the billion dollar K-beauty industry; K-art, boosted this month by a Saatchi gallery exhibition of young Korean contemporary artists, including K-Pop stars on a side hustle. And Tatler says K-craft is quite the thing these days.
Ubiquity is also matched with measurable success. Koreans dominate the production of video games and, increasingly e-sports too. BTS didn't just get a free pass to the UN by being designated special envoys by President Moon Jae-in, they also win awards and top streaming charts. Last year, the comic, macabre social satire Parasite became the first non English-language film to win a Best Picture Oscar. And who can forget Psy's catchy Gangnam Style dominating the airwaves back in 2012?
Next year, the Victoria and Albert museum are putting on a show dedicated to the importance and influence of South Korean popular culture, called "Hallyu! The Korean Wave", placing the K-phenomenon into British cultural history. After all that, if you were surprised by Squid Game, where have you been? 
For me, ignoring the rhythmic march of all things K wasn't an option. With my children listening to K Pop and demanding K Food, I was inevitably sucked in.  K-Dramas? We've seen a bunch – yarns such as the North-South Korean love story Crash Landing on You with its paragliding heiress and pianist soldier, the spooky video game fantasy Memories of Alhambra, the rich business brats meet working class girl tale in Boys Over Flowers have taken over the TV screens. A selection of dapper-dressing male leads as 20-something CEOs or lipstick-wearing androgynous heartthrobs at least makes a change from the more traditional wannabe sports stars, politicians, hardworking doctors or superheroes of the Anglo-Saxon canon. Netflix has been increasing its output for years, and it shows. Earlier this year it pledged to spend $500 million in twelve months on Korean content.
Last year, I discovered my then 15-year-old son, in the middle of his GCSE studies, putting aside his German textbooks to grapple with Korean characters in a bid to teach himself the language of his favourite pop culture icons. He wasn't the only one. His younger sister's friends were doing the same. I know of children who are vowing to take A-level in this difficult-to-learn language, and a quick search online brings up a wealth of options for Korean tutors in the UK. Degree-level courses are popping up. Sheffield University has a BA in Korean Studies. Edinburgh offers a Masters and Doctorate.
The question is, how did this country tucked away in Asia become so influential across in the western world? The narrative of the moment is that this was all a government masterplan, inspired by a eureka moment in the early 1990s when South Korean officials realized that Jurassic Park earned more for Universal Pictures than the annual sales of car giant Hyundai. And it's true that the government built a conducive environment for creative industries with tax breaks and other financial incentives, hoping to match Hollywood's heft.
But there was so much more than that. The incentives were useful and infrastructure investments such as early adoption of very fast broadband certainly helped, but to assign the current success to government interventions demeans Koreans by denying their creative efforts, said CedarBough Saeji, Assistant Professor of Korean and Asian studies at Pusan University of South Korea, often referred to as the K-Pop professor.
"It's not like the Korean government was like 'here let me build you a drama and I will pay your salary," she told me, with frustration. Government support to create opportunities for flagship industries is hardly unique, she added. Whether this succeeds or not is another matter: "So when people think that what's been happening in Korea isn't happening in their own country. I kind of have to laugh."
Hallyu, usually translated as Korean Wave, is really about a canny response to history and circumstance, she said — most significantly the 1997 Asian financial crash.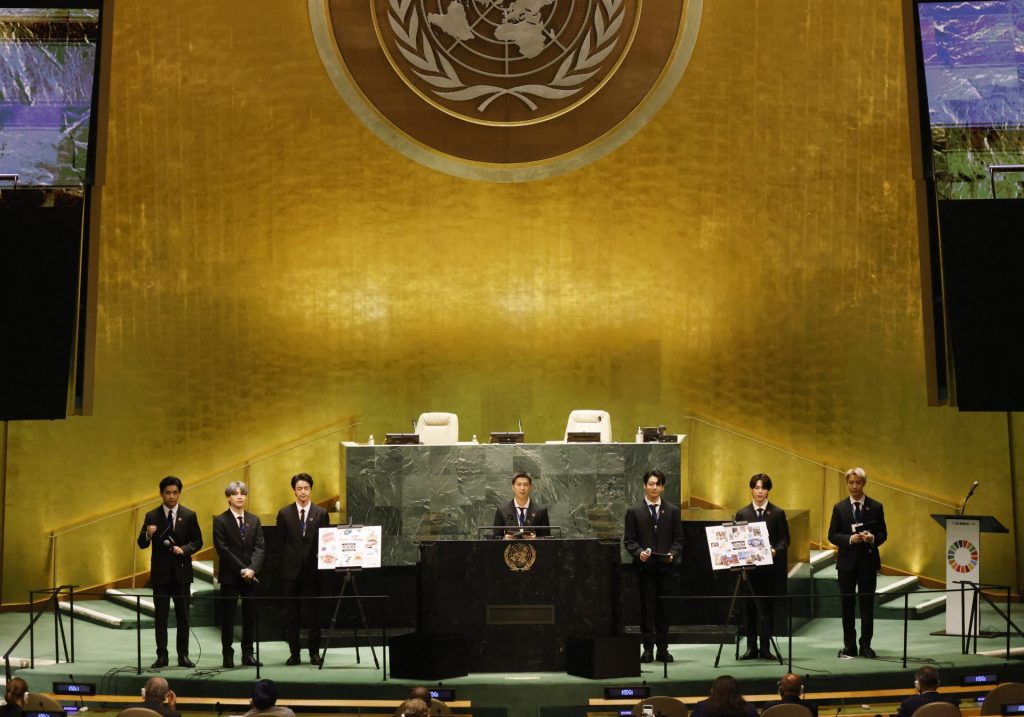 While South Korea was very badly affected by the meltdown, Japan, a major supplier of TV dramas to the region, was much less so, meaning its television output became too expensive. Into the breach stepped South Korea's television producers, pointing out that their TV series were suddenly cheap and attractive.
Mindful of the new, wider target audiences, the directors avoided national in-jokes and complicated character names nobody else could say. This ensured the industry was well prepared with outward-looking shows when wider international audiences beckoned. Another surprise helping hand came from the International Monetary Fund, which, as part of its rescue package, demanded big companies divest the numerous media subsidiaries they had added as a result of earlier incentives. The newly independent companies were freed from dull businessmen and run by young artistic people pursuing their own ideas.
They were joined, in the years to follow, by young film school graduates returning home from the United States, where they had studied after the country began to transition from decades of authoritarian rule to democracy in 1987 and gave them permission to leave. Returnees included Hwang Dong-hyuk, director of Squid Game, who studied at USC, the University of Southern California.
 With post-crash unemployment on the rise, traditional business careers lost their lustre, making jobs in the arts as viable as any. The TV, film, music and gaming industries began to flourish.
 The government was not always benign. In 2009 a secret blacklist was created to stop left-leaning artists receiving government funding. President Park Geun-hye greatly expanded it for years later to over 9000 names. It included Bong Joon Ho –the Parasite director. Bong used the time on the blacklist to begin collaborating with Netflix, expanding his international profile.
Saeji believes the government is riding the coattails of the likes of Bong – who became flavor of the month among sceptical politicians after winning his Oscar – and BTS, glitzy additions to any international meeting. "It's like saying let BTS shine a light on us, it makes us look cool. "
In an examination of Korea's cultural successes, Carnegie Endowment for International Peace maintained that the Korean government had not yet managed to make the leap to converting this powerful culture into true soft power.
"The key will be setting and sticking to deliberate goals—by finding key South Korean foreign policy priorities like trade promotion and development, health security, or even territorial disputes—rather than merely assuming that the presence of a famous Hallyu celebrity at an event will be enough to garner support from fans," wrote Chicago University's Jenna Gibson in the report.  
There have been some successful initiatives – such as the concert by famous singers such as Red Velvet and Baed Ji-young to perform a concert in Pyongyang in honour of the North-South Korea summit in 2018. Government and private sector sponsorship of Korean-language learning materials – including textbooks featuring BTS – have fed a growing interest in learning Korean both by international students in South Korea and foreign institutions. South Korean celebrities taking an interest in traditional Korean instruments, architecture or clothing in their daily lives has inspired their followers to do the same.
South Korea's positive international profile was enhanced during Covid, avoiding lockdown and limiting deaths to around 2,600 through rigorous testing and tight contact tracing. It is a rare country to suffer very little economic damage from the pandemic as a result.
But the high profile of its K-stars is a double-edged sword. Their every uttering and social media post is analysed, some innocuous remarks even turning into foreign policy disputes – such as BTS honouring the fallen in the Korean War leading to an angry Chinese backlash.
This also means that the artists' unflinching exploration of the dark hinterland of Korean society give the country's dirty laundry an embarrassing public airing.
As evidenced by the desperate no-hopers who fight to the death in Squid Game, poverty, the lack of opportunities and indebtedness are a blight for South Koreans, who hold more debt than the country's entire GDP. The cycle of debt is almost impossible to escape. An unexpected redundancy or just a run of bad luck can leave them at the mercy of moneylenders. Parasite hones in on similar territory with a depiction of two deeply unequal families and the gory consequences of this unbreachable imbalance.
Some of the latest dramas examine discrimination and abuse of women workers in the low level corporate world, elitism and nepotism in the judiciary, and the tough life of aspiring K-pop stars. The latter touches on issues like the casting couch, lack of privacy, non-stop body shaming, cut-throat competition, transient fame, cyberbullying and depression – put into dark relief by the suicides of stars such as Sulli, Goo Hara (both 2019) and Kim Jong-hyun (2017), and the mental health nightmares suffered by some of the stars groomed from their early teens.
The K-phenomenon has diversified the image of Koreans, from hardworking besuited salarymen (the long hours culture remains) to the slender, childish-looking sexpots and foundation-wearing "flowerboys" of K-pop. While a welcome move away from traditionalist stereotypes, it also coincides with an epidemic of plastic surgery. Skin whitening and double eyelid surgery, which makes eyes look bigger, are popular. Jaw surgery, which involves cutting the jawbone to create a slimmer, v-shaped chin, has been showcased by celebrities.
Not all Korean dramas are grim – there are also many sunny stories with happy endings. And even those that are don't put off the growing international K-fandom. The phrase "Korean Wave" might make it sound transient, but actually Hallyu more accurately translates into Korean Wind. A force that ebbs and flows, maybe, but never goes away.