Multiple lockdowns created many a TikTok star. But perhaps none quite so unexpected as 97-year-old Holocaust survivor, Lily Ebert. 
Tapping Ebert's name into the search bar of the social media platform reveals an account that boasts an impressive 1.3 million followers.
With the help of her great-grandson, Dov Forman, who set up her account as the more obvious tech wizard behind the operation, she shares anecdotes of growing up Jewish in Hungary and her memories of the Auschwitz concentration camp.
"I remember getting the yellow star, and I remember having to sew it on because we could not go out on the street without it." She tells her audience directly to the camera in one video. "We were punished when we would go without and we were afraid". 
Ebert even takes requests. "What surprised her most when she came out of the camp?" asked one user. "When I saw a buggy with a baby," explains Ebert in her video response, admitting the idea that new life carried on had become foreign to the members of the camp. 
Educating her followers on the horrors of the Holocaust is just one feather in Ebert's newfound social media cap. Her fan base is further captivated by her videos of her watering her garden to the somewhat unexpected tunes of The Weeknd and Becky G while sporting a fur leopard-spotted hat. 
Lily shares her story from her home in North London. It began, however, over 1000 miles away in Bonyhád, a town that sits in Tolna county of South-West Hungary. In 1941, the Jewish community made up 14% of its population, and among this number was Ebert and her family. 
Born on 29 December 1923, she was the eldest daughter of six siblings. At four years old, her mother, Nina, gave her a small gold pendant. It was modest in worth and did not hold a particularly unique design. But for Ebert, it instantly became her most prized possession. And then, in 1944, the Nazis came.  
Property was confiscated and valuables were ordered to be handed over. It seemed the gold pendant was sure to be lost and it may well have been had it not been for the quick thinking of her brother, Bela. Knowing full well how important this piece of jewellery was to his sister, he swiped it and hid it in the heel of their mother's shoe. There it sat, undiscovered.
Aged 14, Ebert was deported from her family home by the Nazis in July of the same year, along with her mother, brother and three sisters and was taken by train to Auschwitz. Still undetected in the heel of her mother's shoe, the pendant rode the harrowing journey with them. 
When they arrived at the concentration camp, it was Nina's turn to act fast. She told her daughter to swap shoes with her, and she did as her mother told her. 
Climbing out of the train, they were ordered to stand in rows of five. Before them stood a man clutching a cane. Unbeknown to Ebert at the time, it was Dr Mengele, the camp's angel of death. A wave of his hand sealed the fate of the people arranged into rows; right for life and left for death.
Those who were sent left were immediately taken to the gas chambers and crematorium. Lily and her sisters, Renee and Piri, were sent right while their mother, Bela, and her sister, Berta, were sent left, and they never saw them again. 
It is this memory one of Ebert's followers asked her to expand on. "The angel of death. He sentenced my mother, my brother, Bela, and my sister, Berta, to death," she said plainly and clearly. 
Walking right and into Auschwitz, Ebert and her sisters were forced to take a shower and have their hair cut short while their remaining belongings were seized, leaving them only with their shoes. Once again, the pendant evaded capture. 
Casting their eyes around their surroundings, the three sisters caught sight of a fire in the chimneys emitting a horrific smell. The young girls asked their fellow campmates about this mystery factory, and it was only then they learnt the truth and the fate that their mother, brother and sister had been subject to. 
Now her only link to her mother, the pendant became more precious than ever. When guards demanded all valuables to be surrendered, it stayed in its home of the heel of her shoe. When the shoe eventually became worn through, meaning the pendant may be in danger of slipping out of its long-held hiding spot, it was instead housed inside Ebert's daily ration of bread. 
The Ebert trio endured Auschwitz for four months before being transferred to an ammunition factory near Leipzig. Once again, the pendant made the journey. 
After allied forces liberated Leipzig in 1945, the sisters sought out a new life in Switzerland. Marrying and having children, Ebert began to rebuild her life and, free from being hidden in a shoe heel or nestled in a ration of bread, the pendant hung around her neck for all to see. In 1953, she was reunited with her brother Imre, who was imprisoned in a Nazi labour camp, before settling in London 14 years later. 
It is here where, together with her great-grandson, she educates her TikTok community on the horrors of the holocaust and the Nazi regime. But, Forman has also donned his detective hat once to track down relatives of one of the US soldiers who liberated her and passed her a banknote with "Good Luck and Happiness" written on it.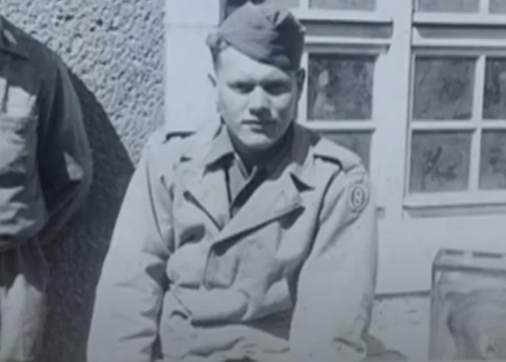 Forman's sleuthing did not stop here. During his efforts, he was able to dig out archive footage of his great-grandmother from the US Holocaust Memorial Museum. 
In the clip, filmed by the US troops in 1945, Ebert is boarding a train to Switzerland, and to freedom. At first glance Ebert didn't believe it was her, not out of astonishment nor amazement, but as she could not see two beloved sisters near her in the footage. She had become accustomed to keeping them close by throughout their time together in Auschwitz. 
After a few days, it was only the fabric of the dress she was wearing that convinced Ebert that it was her in the film. The material was gifted to them after liberation, and three identical dresses were produced. It was then she allowed herself to concede a smile. 

Ebert promised herself that if she were to survive all she endured, she would tell her story. Entitled Lily's Promise and written with the help of Forman, her latest memoir does just that. But, on her TikTok page, digitised snippets continue to emerge to share her journey. In each one, she sports the gold pendant that travelled with her each step of the way, be it in the heel of a shoe or a ration of bread.