Unless you count the Scottish-born Logan Roy in Succession, Europe has long lacked a media mogul to whom the English-speaking world pays any attention.
Britain could lay some claim to the Australian-born, but now American citizen, Rupert Murdoch – who might have sold off the bulk of his movie studio empire, but who still owns multiple UK newspapers, TalkTV and Times Radio, but also the Wall Street Journal and Fox News. Beyond him, there is the sometime non-dom Daily Mail owner Jonathan Harmsworth, aka Lord Rothermere.
Mainland Europe has not lacked media moguls of its own in the past – it's just that they have often been content to stay in their home markets, feeling little need to try to break into the English-speaking world. So it was that Silvio Berlusconi was able to build up enough media ownership to help take charge of Italy, without much troubling the international scene.
German media giant Axel Springer was happy to do that for many years in its own home market – but in the more recent years of Mathias Döpfner's 20-year stint as the company's CEO, much has changed.
Döpfner, a former journalist, is big news. Not only is he 6ft 7in tall, he is also one of the most important and influential media executives in the world. In 2020 Axel Springer had revenues of €2.75 billion, a colossal amount for a media company. Döpfner has huge private equity resources behind him, and in 2015 he tried and failed to buy the Financial Times. But that didn't put him off. Instead, he bought Insider and POLITICO, large and growing online publishers, and he is becoming an increasingly well-known presence in US tech and media CEO circles.
---
But he is raising the alarm too: Döpfner's handling of a series of scandals at the German tabloid Bild have come in for criticism, as have his company's policies requiring all staff (including journalists) to sign up to a certain set of beliefs – including affirming Israel's right to exist.
Most controversial of all, in US circles at least, is his apparent support for Donald Trump – and his desire to make POLITICO a counterweight to what he reportedly sees as a tack to the left from the New York Times and the Washington Post. In 2020, he sent an email to his team reading: "Do we all want to get together for an hour in the morning on November 3 and pray that Donald Trump will again become President of the United States of America?" Döpfner then denied having written it, until the Washington Post informed him that it had a printout of his message, at which point he conceded that he may have written it – but if he did, he was being ironic.
Döpfner's at times unusual pronouncements, his approval of Trump and his apparently close relationship with Elon Musk – the two are on texting terms and he has called the Tesla CEO "one of the most inspiring people I've ever met" – along with his new acquisitions have given him an increasing role on the global stage. And while Döpfner may have friendly relations with tech and business leaders, he does not seem to have made much headway with New York's media mavens. The result is a man who is trying to make his mark but at times looks like someone who's unsure how to navigate his new world.
People familiar with Döpfner stress that he is used to being a very large fish in a very small and rather cosy pond. German media executives tend not to extensively cover or scrutinise one another, whereas American outlets delight in it. But with a greater profile has come increased scrutiny – can he take on the global media establishment? And could he win?
Döpfner's status among the boardroom class is an unusual one. Born in 1963, he studied musicology rather than economics. He can claim neither the status of a self-made founder, but nor is he the direct scion of some form of media dynasty. The company known as Axel Springer was founded by a man called – unsurprisingly – Axel Springer in 1946, and quickly became the juggernaut of West Germany's media scene.
When Springer died in 1985, his considerable shareholding in the media empire passed to his fifth wife, who managed her interest in a range of board roles, including deputy chair, over the years. As she fought with Springer's various children from previous marriages throughout the years, Friede Springer bought them out in turn, consolidating her control.
Döpfner, meanwhile, had joined the company a few years before the titular executive's death, and risen through the editorial ranks to become Springer's choice of CEO by 2002. In 2020 – after nearly two decades of Döpfner at the helm – Friede Springer, now in her late 70s, named Döpfner as her successor to the company.
She sold Döpfner around 4% of the company's shareholding, and then, remarkably, gifted him 22% more – an amount worth $1bn. She also handed Döpfner the voting rights for her considerable remaining stake in the business. "I have always said that I will ensure continuity in the company," Friede Springer said at the time. Back then the company was worth around €8bn and while now the majority shareholder is a US private equity firm, Döpfner has a serious stake.
But his position as an elevated employee leaves him needing some way to justify his enormous promotion, at least among the very top tier of US society. It is as if a question hangs over him: did he deserve the billion-dollar gift he was given?
Döpfner's apparent response to this possibility began years before he actually received his gift – when he began his attempt towards Springer's global expansion, for which he did not set his aspirations low. Hearing in the run-up to 2015 that then-FT owner Pearson – which otherwise sells educational products – was looking to sell the Financial Times, Döpfner put his weight behind the purchase.
The deal looked to be going well: Pearson was open to selling, Axel Springer seemed like a good buyer, and there was an apparently acceptable offer on the table. According to one person with knowledge of the deal, Döpfner's plane was on the tarmac ready to close the deal when the news came.
The FT had been sold – but not to Axel Springer. Instead, the Japanese company Nikkei had managed to secure, amid a good deal of secrecy, the newspaper for a slightly better price.
Döpfner looked around for something else – but there are only so many trophy business publications around, and none of the flagships were up for sale. He decided to take the start-up route instead, and a few months later Axel Springer bought Insider (then known as Business Insider) at a valuation of $450 million.
Though Insider still remains a successful digital publication, Döpfner was rapidly seen to have bought the company on the rebound from the FT – and so to have overpaid. Several people suggested that while Insider was a worthwhile purchase for Döpfner and Springer, it could have been secured at a much better price.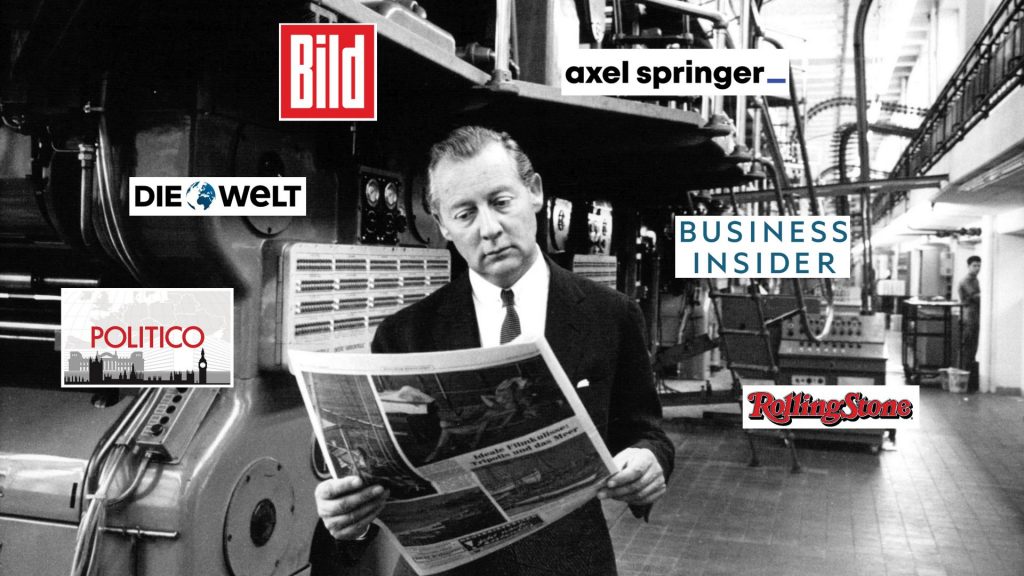 This has not appeared to deter Döpfner's deal-making instincts. In 2019, he and Friede Springer helped to secure the interest of a US-financial backer in Henry Kravis's KKR – meaning he had a lot of hard-nosed private equity money behind him.
The reason for the financial backing of KKR became clear last year, when Döpfner bought POLITICO for $1bn, after a much more skilfully handled negotiation – in which Döpfner reportedly played POLITICO against Axios, a new rival set up by several POLITICO founders.
While the $1bn price tag looks far higher than what was paid for Insider, POLITICO is different – whether in Washington DC, Brussels, or London, lots of politicians and people in their orbit start their day with the outlet's emails. It is the ultimate inside-the-bubble publication.
This is a much bigger opportunity for international influence for Döpfner and for Axel Springer, but will bring much more scrutiny – and is it worth remembering that German business standards are quite different to those of the US, especially as POLITICO looks to merge its US and European newsrooms.
The biggest cultural problem for Döpfner is probably Bild – which one person described as still operating much like the UK Sun did in the 1980s. It is still irreverent, quite blokey and very male-targeted.
It has also been plagued by allegations of sexual impropriety, which Döpfner is said to have handled in a legalistic and somewhat out-of-touch way for a global company in the post-#MeToo era. Editor Julian Reichelt was sacked after an investigation at the paper found that he had promoted a female employee to a more senior role while the two were having an affair. It turned out Reichelt had already been investigated over a previous matter, but had come back to the paper after a brief absence.
It was a mess, made more embarrassing now Axel Springer's handling of its business inside Germany is open to international scrutiny in a way it wasn't before. The scandal at Bild got long, in-depth treatment from the New York Times.
Similarly, Axel Springer's longtanding company charter of values – which has gone largely unnoticed for years – became a matter of controversy once journalists learned it would be applied in the US setting, where staff are used to a much greater degree of freedom (at least culturally) than in Europe.
The values are, in reality, fairly uncontroversial and come more from Axel Springer than they do from Döpfner. Springer founded his company in very recently post-war Germany, and so he instilled values of support for democracy and free expression. As Israel came under attack in the early years of the state, Springer also added a charter of support for the country's right to exist (not for support of particular policies of its government, or opposition to criticism of it).
In the context of a post-war German company, these instilled values perhaps make more sense than they would for a US rival – by pushing these, Döpfner is proving himself the continuity candidate, rather than someone pushing his own political agenda.
His seeming desire to see US politics through a European lens is what seems alarming to some watching his stewardship of POLITICO. It is still fashionable in Europe to talk about trying to bring together polarised factions to the same media outlets. In the US context, this rings alarms for some – either because it sounds detached from the reality of the Trumpian wing of the Republican party, or else because to do so would in practice require both-sidesing events like the January 6 insurrection.
Those who have dealt with him are unsure how strong Döpfner's apparent affinity for Trump is in reality. Döpfner is said to be a fan of America as a state looking to be strong, credible and optimistic – and according to some believed the Obama presidency to be the antithesis of that.
As a result, he would instinctively look to the right, especially in 2016 when Trump was still seen by some Republicans as a pro-business president who would moderate the rhetoric of his campaign once he was surrounded by more serious advisers. We all know how that worked out.
Döpfner is unlikely to become a Musk or Trump, known to the public for outrageous behaviour – but he's not the anonymous American executive either. His style is very blunt, and his sense of humour – dry and Germanic – does not cross the Atlantic well.
He also has some of the habits of a European proprietor. Having started out as a music critic, Döpfner retains the critic's ear for the sector – and tries to affect a Berlin-style cool. He is said to "delight" in his large collection of nude art.
Döpfner also plays a clever game with big technology. He is certainly not a committed foe of the tech industry – he has attended at least one karaoke party hosted by Mark Zuckerberg. But Axel Springer has also cleverly positioned itself as a friend of the media versus big tech in Europe, which is a strong piece of enlightened self-interest: Axel Springer has a much bigger classified ad business than most, and so is a direct Google competitor in a way most outlets are.
Döpfner has been a shrewd operator, has made powerful friends and has a strong instinctive gift for identifying trends in global politics and media. It is not easy to fill the role of global media titan and he has not played a perfect hand – far from it. Even so, Mathias Döpfner has been in charge of Axel Springer for 20 years, and controls nearly half of its shares. That is an almost unassailably strong position – but one that brings with it the risk of isolation and that can lead to mis-steps.
If he plans to thrive in a world dominated by the tech giants, he can afford very few of those.