Eleven artists from across Europe and further afield have just gathered in the Granite City to grace the walls and streets with a fabulous variety of epic murals and other assorted urban art interventions.
Founder, director and curator Martyn Reid initiated the Nuart enterprise originally as a music festival in Aberdeen's twin city of Stavanger, Norway, more than 20 years ago. It has adroitly morphed into a globally recognised platform for street art and celebration of it in its many and varied forms.
As we emerge from the Covid-blighted years of lockdown and social distancing, Nuart Aberdeen 2022 appropriately opted for the theme of "reconnection". The Spanish artist Pejac created a site-specific work in the doorway of 41½ Union Street. This building houses the Citizens Advice Bureau – with its remit to offer support regarding benefits, debt, employment, family and immigration – and Pejac's exquisitely rendered Welcome Mat addresses these issues. Deploying his trompe l'oeil painterly skills, at first glance the work appears to be a standard, somewhat threadbare doormat. On closer inspection we see that the mat comprises thousands of minuscule figures fleeing in all directions.
The Danish muralist Jacoba Niepoort's immense monochrome wall painting features naked female bodies enfolded together; her aim being to communicate our mutual reliance and fundamental connectedness.
---
There is something magical in walking the city streets, turning a corner and suddenly being confronted with imagery that's breathtaking both in terms of scale and execution. Slim Safont's 10-storey-high figurative painting features a girl standing on a chair in front of a school blackboard. The lines on the board: "I will pay my taxes, I will pay my taxes, I will pay my taxes…" This work is painted on the side of an office building. We can surmise that the girl's accusatory expression isn't aimed at Aberdonians reeling from the cost-of-living crisis.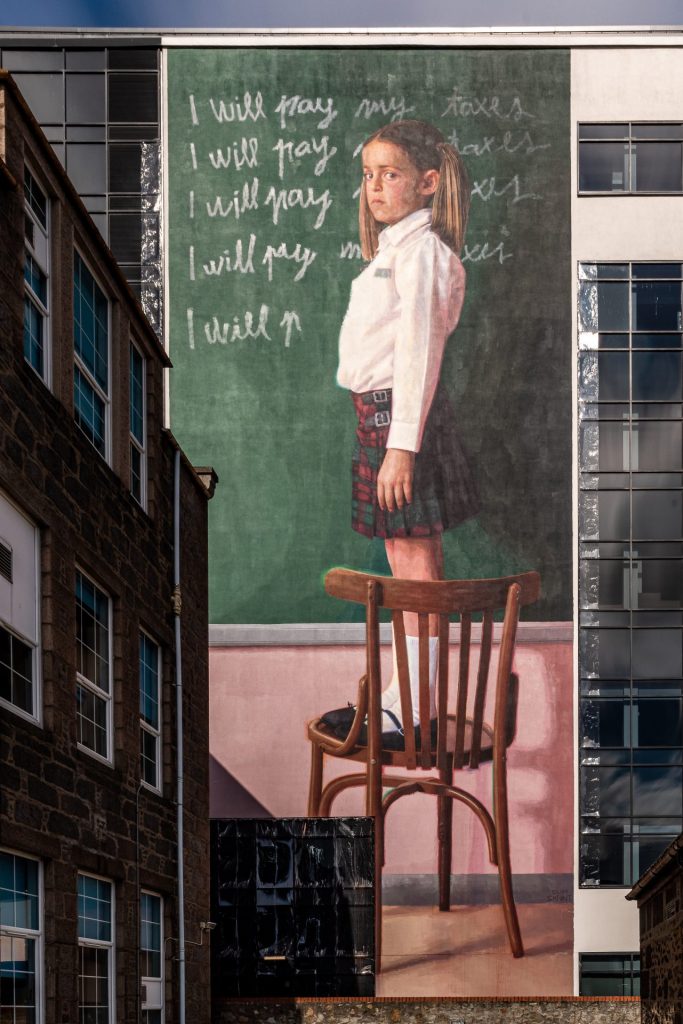 Norwegian artist Miss.Printed's interventions are tiny by contrast. Her work involves creating and siting around the city what she terms "locative collages". These small, delicate collaged paper works both interact with and are subject to the vicissitudes of urban dwelling. They seed the city with amusing, tender and often poignant narratives.
Originally a graffiti artist, Nuno Viegas from Portugal nowadays creates startling, razor-sharp works that have an unsettling, surreal quality. His portrait of a glowing white cowl with a queen of hearts playing card veil set against a smiley yellow and black ground, painted towards the north of the city, is another heart-stopping artwork.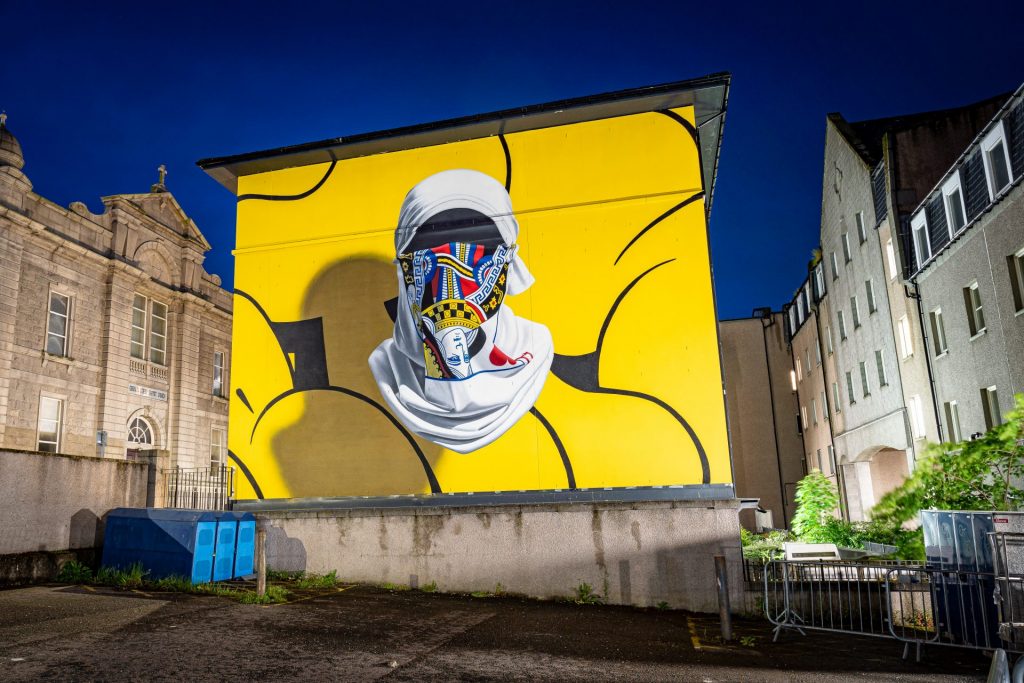 Both the Barcelona-based Elisa Capdevila and homegrown Erin Holly's wall paintings seem to confound the architecture they're situated on. Capdevila's mural – a view from behind the head of a woman who is staring out through a window towards the sea – appears to punch a hole through the nondescript building it's on. Similarly, Holly's aerial bathroom scene painted on the side of a building intrigues and perceptually discombobulates in equal measure.
The Norwegian street artist and Nuart veteran Martin Whatson reconnected with Aberdeen after a previous work was lost to developers. Whatson's signature style of combining calligraphic, flurried mark-making and stencilled figures is riveting. In his latest work, a dusty grey workman sits astride and chips away at, seemingly to no avail, a colossal wall of graffiti.
Glasgow-born James Klinge's work combines intricate and detailed hand-cut stencilled elements with expressive, abstract and gestural controlled chaos. Mohamed L'Ghacham from Morocco has created a beautiful piece whose colour palette chimes with its surroundings. And Spaniard Jofre Oliveras's The Man Who Owns the Stone deftly critiques the ills of nationalism in an image of a lone figure standing on a rock with a flag obscuring his face, as well as any perspective other than his own.
In addition to the artwork, another thing that makes Nuart a bit special is the academic and experimental research arm of the operation known as Nuart Plus. This year's programme of workshops, films, lectures, panel discussions and public debate – curated by Reid and Dr Susan Hansen and co-hosted by Dr Sabina Andron – has tackled thorny topics such as how art on the streets is shaped by governance and law, from protection to criminalisation. Another discussion focused on the relation between street art and communities, and ways to challenge white male dominance of the field.
A festival highlight had to be Juxtapoz editor-in-chief Evan Pricco talking to the documentary photographer Martha Cooper about her forthcoming book, Spray Nation. Cooper has spent decades immortalising art that is often overlooked, and usually illegal. Her first publication, in 1984, Subway Art (co-produced with Henry Chalfant) is affectionately referred to by graffiti artists as the bible. And in a film directed by Selina Miles called Martha: A Picture Story we saw Cooper then aged 75 following 1UP Crew trespassing on Berlin's U-Bahn train depot to shoot an illicit graffiti art action.
Nuart looks set to continue its annual visit to the Granite City for years to come. Enthusiastically supported by both the city council and business development organisation Aberdeen Inspired, Nuart's contribution both visually and in terms of supporting economic regeneration is deemed significant and worthwhile.
And it's not just the walls of the city that have been transformed. Hearts and minds have been won over as well. Not least in the case of Aberdeen Inspired CEO Adrian Watson. He was at one time the most senior police officer in the city, responsible for ensuring his force had a zero-tolerance attitude towards tags, graffiti, style writing and street art. He now says he wished he'd known a little bit more about some of the root causes and circumstances attendant on "unsanctioned" art interventions.
Sadly, in Stavanger where the festival first began, things seem to be going in the opposite direction. A shift to the right in local politics and the bull-headed attitude of fine art "gatekeepers" has meant the original Norwegian home of this remarkable festival has ceased to operate. They're missing a treat.
Free guided walking tours of all the Aberdeen street artworks created in collaboration with Nuart since 2017 continue weekly throughout the summer. Places can be booked through the website here.
Adrian Burnham writes and lectures about art and urban culture. In 2016 he founded and continues to curate flyingleaps.co.uk, a platform for politically engaged street art