Daily Mail insiders have somewhat tastelessly talked of the toppling of the progressive Geordie Greig as editor being followed by a period of "grim and pointless fundamentalism, not unlike the Taliban retaking Kabul."
Now, as even the Daily Telegraph seems to be tiring of its prodigal son and Rupert Murdoch's rags are brazenly bigging up Liz Truss and Rishi Sunak, Paul Dacre and his trusty lieutenant Ted Verity are making one last stand for Boris Johnson. Their Daily Mail recently laid into all those attacking Johnson for his lying and partying and told them to "move on."
"Moving on is, of course, the last thing Labour and the rest of Mr Johnson's enemies want," the paper lamented in its editorial. "They would rather see him mired in Partygate indefinitely, even though the honourable thing would be to let him focus all his energies on running the country at this critical time."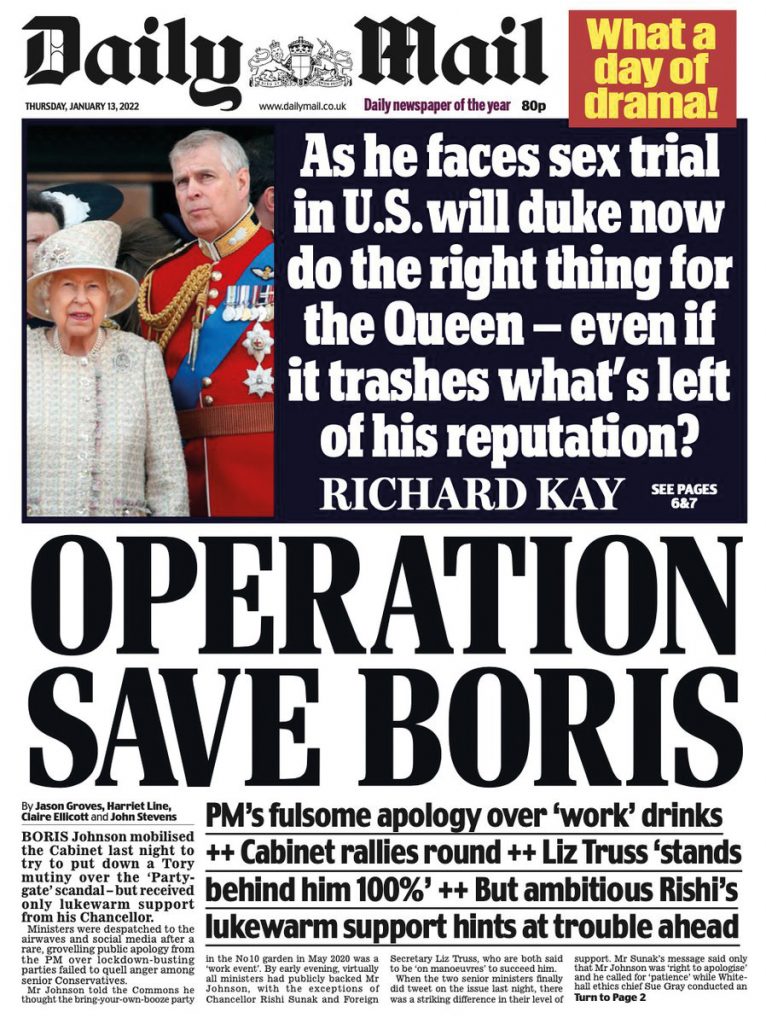 The Mail also dredged up a lame eight-month-old Sun story about Keir Starmer drinking beer during lockdown, but the Labour leader has responded robustly. "There was no party, no breach of the rules and absolutely no comparison with the prime minister," Starmer said of the sparsely-attended break for snacks in a constituency office. A number of his MPs have been saying the Mail front pages smacked of "desperation."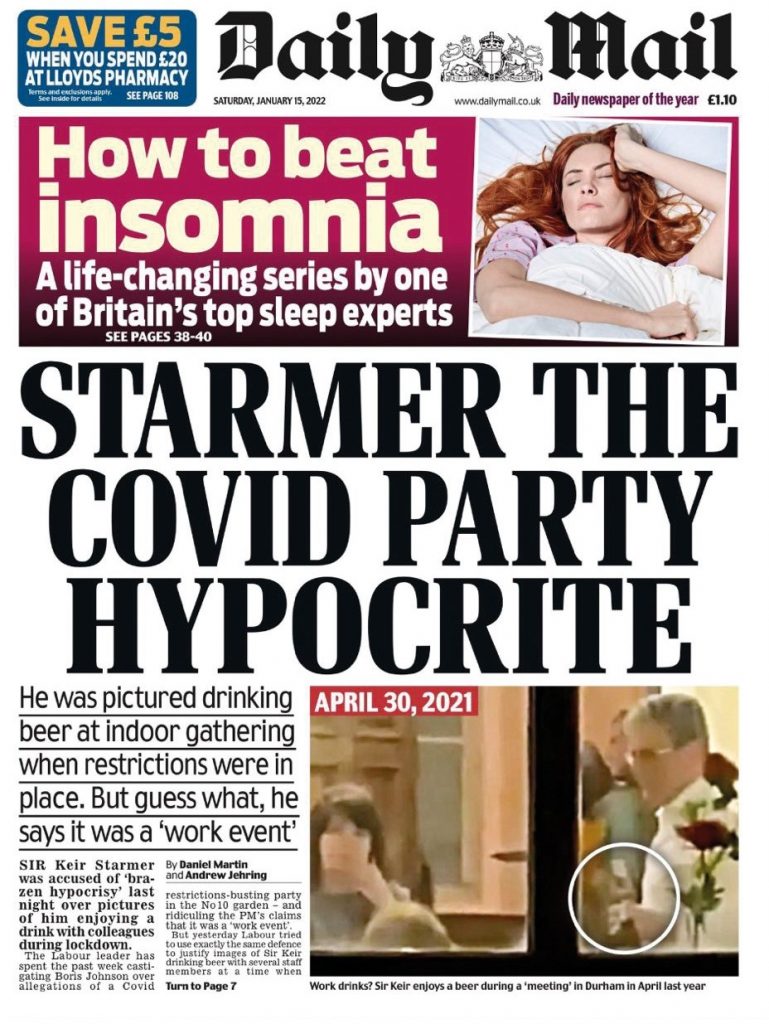 In Greig's days, Mail readers were allowed to be informed of how any enterprise Johnson is in charge of must sooner or later descend into "loucheness." In 2019, when the PM was at the centre of another scandal – Gropegate rather than Partygate – journalist Richard Kay wrote about Johnson's time as editor of The Spectator and how on his watch the magazine degenerated into "a veritable hotbed of intrigue and infidelity, casual affairs and sexual shenanigans."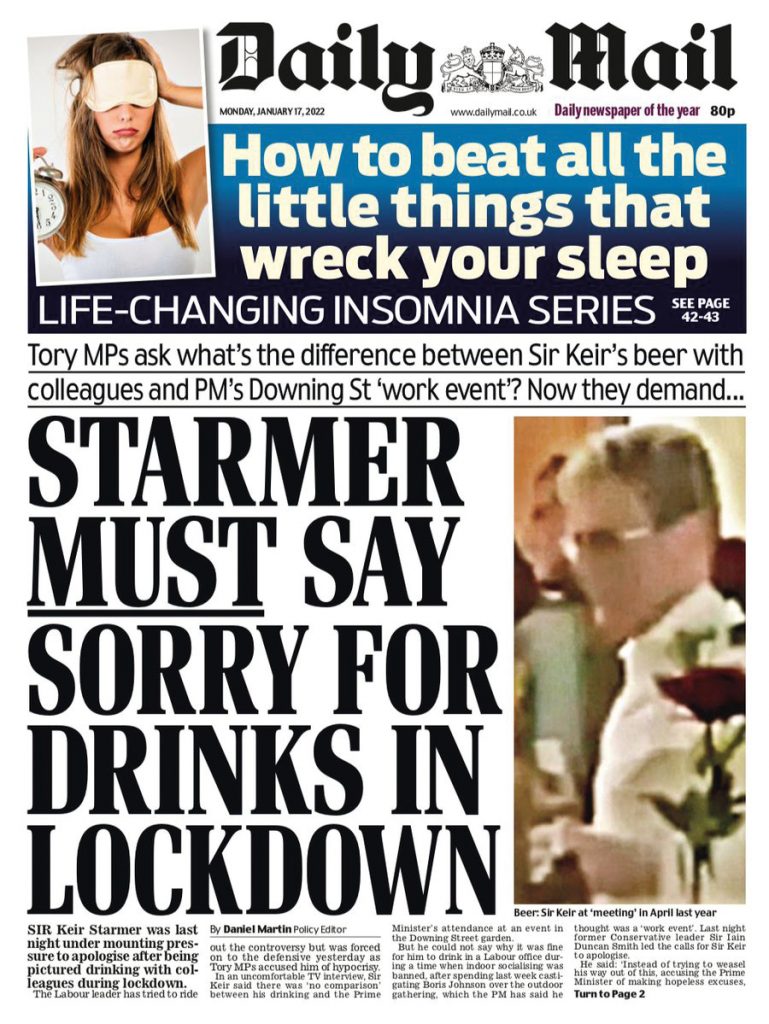 Kay detailed how Johnson had attempted to grope his co-worker Charlotte Edwardes during a private lunch at the magazine's office. Of course, he managed to find time, too, at the magazine for the "lavish parties" that are now so much his hallmark.
---
Meanwhile, whatever happened to The World According to Paul Dacre? The series of three 60-minute documentaries fronted by the outspoken Daily Mail editor-in-chief as first announced in 2019, but has since become The Documentary That Dare Not Speak Its Name.
I've been pressing Channel 4 News and Rogan Productions to find out when it's going to be aired for years, but neither are willing to say a word.
Now Press Gazette – the newspaper industry's bible – has been asking, too, again with no response. Has Dacre been overcome by shyness?
---
Amara Karan, who is to portray Gina Miller in my play Bloody Difficult Women when it opens at the Riverside Studios in London next month, is every bit as financially literate as her character. She quit investment management – also Miller's line of work – to pursue a career in acting.
"I could see myself in a parallel life being a kind of Gina Miller figure, or at least aspiring to be," Amara, pictured, tells The Stage. "She works in the City, I worked in the City. She's a mum, I'm a mum. We both have a kind of colonial background and a respect for British values that comes with that. There are a lot of similarities."
The real Miller was savaged by the right-wing press when she launched her new True & Fair Party last week. It is pushing for an urgent rethink of an electoral system that has saddled the nation with Boris Johnson.
Some of the language used – Miller was compared to Mussolini – harked back to the bad old days of Brexitmania and even some of the hardest-line pro-Leave commentators sensed the papers had gone too far. Tim Montgomerie, along with Toby Young and Isabel Hardman, urged people to give Miller a break.
"There was (and is) a lot of nastiness between too many Brexiteers and Remainers, but Gina Miller stayed well away from any mud-fighting," Montgomerie tweeted. "I found her genuine and funny on the couple of occasions we sparred in TV studios."
Is it a bird, is it a plane? Sadly, it's only Conor Burns, the Bournemouth West MP, who was last week imploring the BBC to let him fly once more to Boris Johnson's rescue.
"They're saying no minister accepted to come on and they're interviewing some unelected special adviser," Burns harrumphed as he watched the BBC's rolling news show. "I would happily have come on."
Burns, one of Johnson's last fanboys, is desperate for airtime, but he isn't a minister anymore and Conservative HQ – where he's nicknamed "third degree Burns" – only deploy him as an absolute last resort after he had to resign as a trade minister in 2020, when a Standards Committee inquiry found he had made "veiled threats" to use his position to "further his family's interests" during a financial dispute involving his father.
---
I suppose I shouldn't be entirely surprised that an emphatic "no" appears to mean "maybe" to the right wing broadcasting outfit GB News. Regular readers will know I made it abundantly clear just before Christmas that I wasn't interested in taking them up on their offer to appear as a regular pundit for them.
They've just got in touch again to belatedly wish me a happy new year. "I was wondering if you'd had a think about this," adds their producer Henry Monk. "We now have a new breakfast show with Eamonn Holmes and Isabel Webster. Let me know your thoughts." My thoughts, Henry, remain the same as they were last time.
---
In July 2019, Allister Heath, the fanatically pro-Brexit editor of The Sunday Telegraph, wrote of Boris Johnson: "Could this finally be The One? The government all true conservatives, all true Eurosceptics and all true free-marketeers have spent years pining for? The first genuinely centre right government since Margaret Thatcher, committed to changing Britain in deep, radical ways?"
Last week Heath told his readers: "Boris was put in power to confront the elites, but he did nothing of the sort. His voters are seething at his broken promises, his massive tax increases, his inability to gain control of the borders, his failure to tackle crime, his apparent unwillingness to leverage Brexit to truly change Britain, his lack of interest in economics, entrepreneurship and the cost of living, and his failure to prevent the woke revolutionaries from taking over every British institution and workplace." Maybe not The One, then?