With her intricate blue and gold headwear, wound over hair as dark as her eyes, the young woman thought to be the lover of Raffaello Sanzio da Urbino – known simply as Raphael – is among the last subjects painted by the
young master. He died aged 37, shortly after beginning, but possibly not finishing, the portrait.
Currently loaned to London by the Galleria Nazionale di Arte Antica in Rome, this beguiling late picture is sure to fascinate art lovers who have waited two years for an exhibition at the National Gallery that marks 500 years since the death in 1520 of an artist sometimes compared with Mozart. Each started young under a father in the business, developed at high speed, left his rivals standing with his ingenuity and sophistication, and died young.
Indeed, as with Mozart, there is an element of mystery about Raphael's demise. For some years he had been somewhat dutifully engaged to be married to Maria Bibbiena, the niece of a Medici cardinal, the arrangement
being an endorsement of his talent rather than a love match. Maria died a
few days before Raphael, but there is nothing to suggest that he died of a
broken heart. Rather, new medical research suggests that he was the victim of a misdiagnosis, and suffering from a coronavirus similar to Covid-19, and with similar symptoms.
A disastrous round of blood-letting, totally the wrong treatment for a pulmonary disease, undoubtedly hastened his death, which until recently was ascribed, in view of his energetic nocturnal life, to syphilis. Out of self-belief rather than intimations of mortality, he had bought a plot in the Pantheon, the Christian church on the site of a Roman temple. But his illness lasted long enough for him to leave a will, and his funeral was a grand affair
attracting vast, grief-stricken crowds. The practice of honouring great lives
in the Pantheon continued thereafter, and was imitated in Paris's own version of the same mausoleum.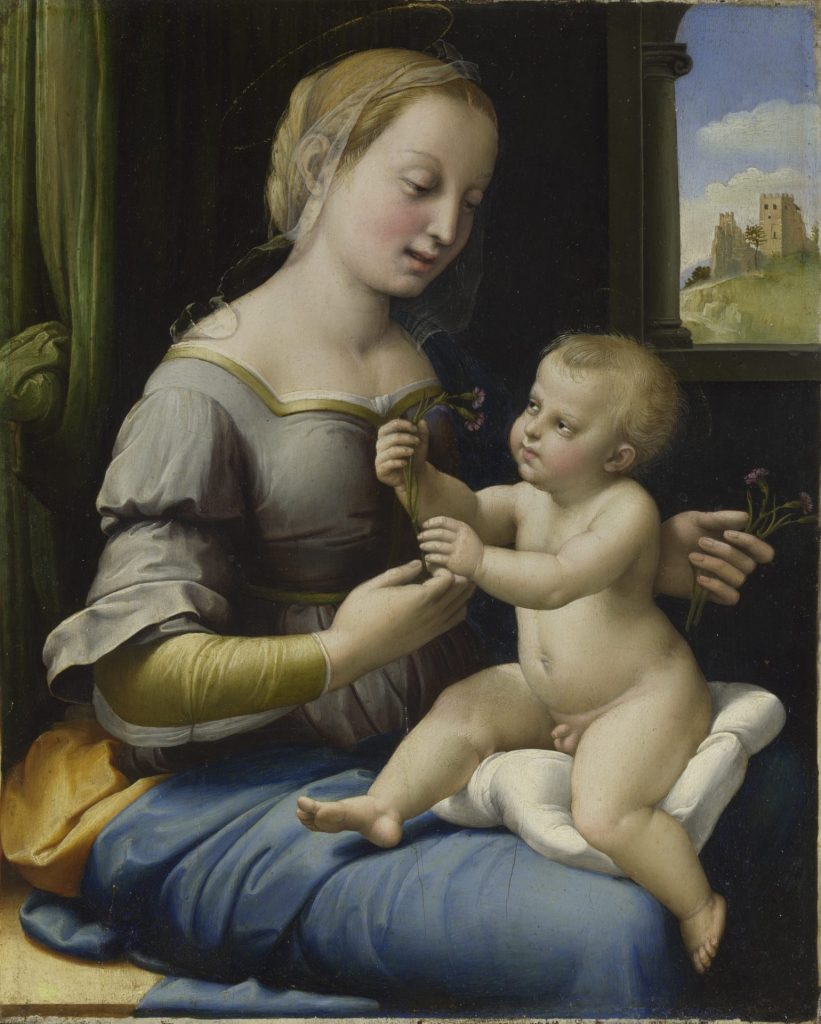 Fascination with the personal life and personality of the painter, coupled with the impossibility of removing many of Raphael's most important works, including entire rooms in the Vatican, are destined to make this small, personal, portrait a highlight of a show with big ambition.
Perceptive portraits and innovative work in traditional genres such as altarpieces are only one aspect of an artist generally considered a painter, but whose brief, speedy output also included work in architecture, sculpture and designs for tapestries.
Raphael was born in the walled hill city of Urbino in what is now the Le Marche region of Italy to Magia di Battista di Nicola Ciarla and her husband, Giovanni Santi di Pietro, court painter to the Duke of Urbino, Federico da Montefeltro. The couple's only child to live beyond infancy, the boy learned at his father's knee and, showing prodigious talent, undertaking work himself from the age of 11 upon the death of his father in 1494.
By his mid-teens he had struck out on his own, working under the influence of, initially, Umbrian master Luca Signorelli, and then Pietro Vanucci, dubbed Perugino, after the Umbrian city at the centre of that master's extensive and largely religious commissions. Early signature work included, for Città di Castello, a double-sided processional banner, too fragile to leave the city, a Marriage of the Virgin now in the Brera in Milan, and, for a wealthy local cloth merchant's chapel, the so-called Mond Crucifixion now in the National Gallery collection, and a star of the exhibition delayed by the pandemic.
In these works, the younger artist was already outstripping his elders with more dynamic compositions and characterisation, even within the confines of readily recognisable religious scenes. His Alba Madonna plays on the ground with her child and friend, radically twisting and cupping the babe with her raised knee to keep the child close, her clothing crumpled.
---
Ever on the move, Raphael lost no time on arrival in the artistically important city of Florence in making the acquaintance of Leonardo da Vinci, 30 years his senior, and in absorbing his innovations. Of Raphael's few portraits with female subjects, Young Woman with a Unicorn, at the Galleria Borghese in Rome, notably resembles the Mona Lisa.
A study for this, loaned by the Louvre to the National Gallery exhibition, and a portrait in oil known as La Muta (The Silent One), illustrate Raphael's own ability to suggest mystery with a turn of the head and an ambiguous, direct gaze. La Muta is on loan from the Galleria Nazionale delle Marche in Urbino, where it is housed in the Ducal Palace that Raphael and his artist father knew well.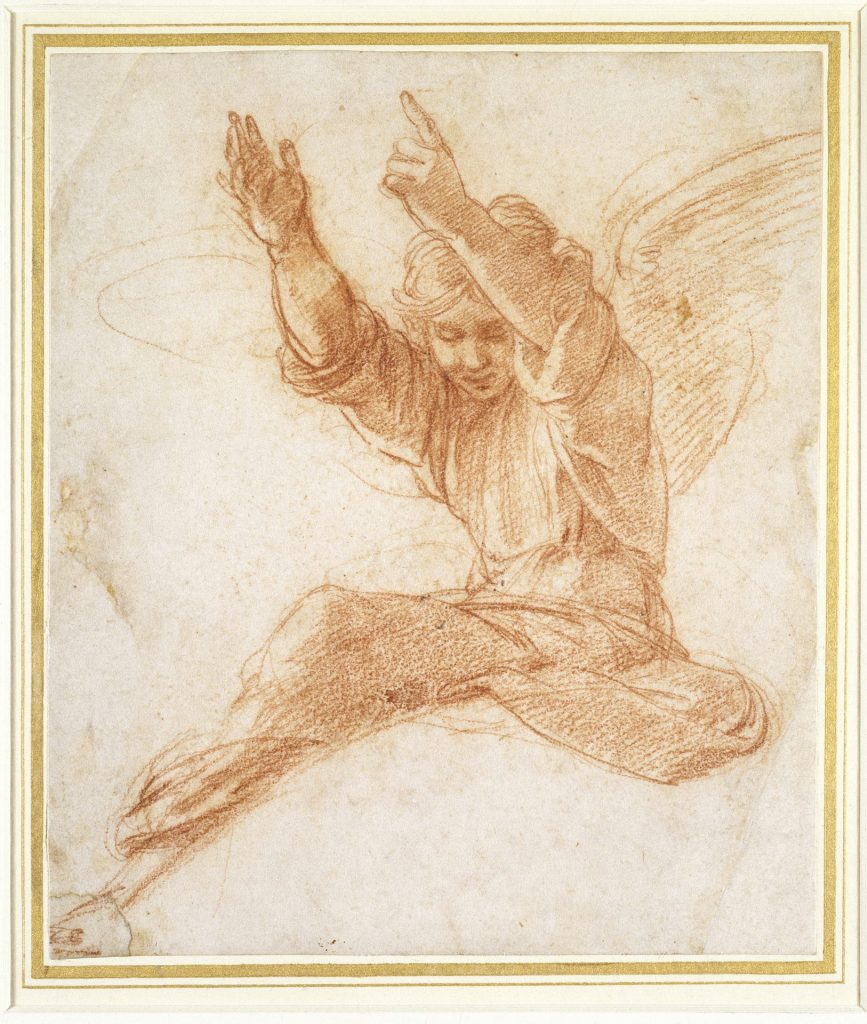 With loans from many prestigious institutions, this important show has, despite overcoming Covid delays, hit a new complication with the suspension of loans between institutions in Russia and those in the US and Europe. In consequence, the touching Holy Family (1506-07), depicting an anxious Joseph, serene Madonna and plumply wriggling baby Jesus, stays at the Hermitage in St Petersburg. There will be no satisfaction in this stand-off. The mutually beneficial system of loans between countries and collections is an impressive demonstration of borderless co-operation that enriches lenders and borrowers alike.
In the background of the painting is a landscape typical of the artist's rural
roots. It appears again and again during the same period, including the National Gallery's own Saint Catherine of Alexandria and a Virgin and Child
(The Tempi Madonna), loaned by the Alte Pinakothek in Munich. But shortly
Raphael was to move on.
His friendship with Da Vinci remained warm as the younger man set out from Florence on a literal and metaphorical journey to Rome. Far less cordial, here, was the relationship with Michelangelo Buonarotti, rivalry and ill-feeling constantly simmering. This was not least because Raphael had the knack of pre-empting the slightly older artist's motifs, possibly thanks to sneak previews of what was going on under wraps in the Sistine Chapel while Raphael was working on the rooms of Pope Julius II.
---
It takes a trip to Rome to get any sense of the scale or intellectual scope of
narrative frescos such as the imagined conclave of philosophers called The
School of Athens, or the solemn adjudication of the Disputa in a room that celebrates the arts and intellectualism. But Rome comes to Britain in the form of one of 16 tapestries designed by Raphael when his visual personality was fully formed.
Set again in rational Athens, the scene depicts St Paul preaching to a cluster of attentive men. On certain days the highly prized tapestries in silk and wool would have been hung in sequence below corresponding scenes on the walls of Michelangelo's Sistine Chapel. Crafted in Brussels by the workshop of Pieter van Aelst, some of the tapestries are now lost, making the survivors even more precious.
Other hands also set to in the Chigi Chapel of Santa Maria del Popolo. Here architecture, sculpture, mosaic and painting were to combine in a floor-to-ceiling artwork. Raphael had cut his teeth as an architect for the same patron, the banker Agostino Chigi, at his Villa Farnesina.
Four corner sculptures were carved by others, the finishing touches being
left to master sculptor Gian Lorenzo Bernini, painter Sebastiano del Piombo and others after the death in 1520 of both artist and patron. Preliminary studies include one of Raphael's most loved red chalk drawings. The angel who leaps over our upturned heads, loaned by the Ashmolean, has adorned countless Christmas mantelpieces.
At this time, an artist's collaboration with others was not unusual, and more than one pair of hands may have been at work on La Fornarina, as the intimate portrait of Raphael's lover is dubbed, although there is no proven link to the local bakery. Her features are considered weaker than, for example, her expressive hands.
That Raphael would have gone on to paint ever more perceptive portraiture
is not in doubt. His insight into the forceful character of Pope Julius II, painted in 1511-12, is exceptional. There is a rare double portrait, from the Galleria Doria Pamphilj in Rome, of two friends, part of the artist's own intellectual circle. And what is considered to be his self-portrait at the age of around 23 shows a graceful youngster confident in his own presence. Every one of the characters in The School of Athens – Socrates, Plato, Diogenes, Ptolemy and the artist himself – is a believable individual.
This exhibition looks at where else his talent might have led him. Had he reached the age of his friend Da Vinci, who outlived him by 30 years, or the
hostile Michelangelo, who outlived him by 50 years, who knows at what
Raphael architecture we might be marvelling now.
Raphael is at the National Gallery, London, from April 9 to July 31
Claudia Pritchard is a freelance journalist who writes about the visual artsm opera and classical music