As he began his 20th day on hunger strike outside the foreign office in London, Richard Ratcliffe said British officials were not acting with any sense of urgency to get his wife, Nazanin Zaghari-Ratcliffe, home from Iran where she is waiting for a phone call to summon her back to jail after serving a five-year sentence on spurious charges. 
Ratcliffe has been starving himself and sleeping in a pop-up tent outside the foreign office since October 24 in a desperate attempt to get his wife home and reunited with their seven-year-old daughter Gabriella. 
As public horror mounted over his inexorable physical decline and the tone-deaf inaction of prime minister Boris Johnson's government, Middle East minister James Cleverly met with Ratcliffe on Thursday. But it was a depressing encounter that yielded little.  
"I think the Iranians are pushing hard for a resolution, hence the briefing," Ratcliffe said, referring to Iranian comments on the issue of a decades-old £400 million debt owed by the UK for tanks that were never delivered in the 1970s.
"I didn't get any sense from the meeting yesterday that the British government has a similar sense of urgency," Ratcliffe said. "So no hope from me at present."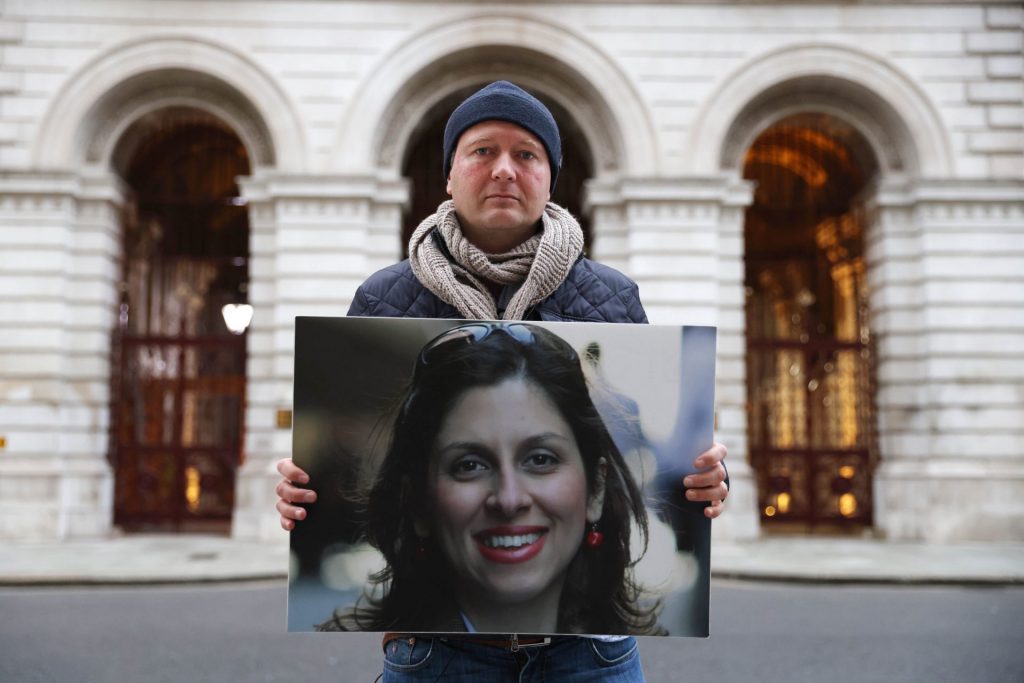 Ratcliffe's nearly three-week-long ordeal has moved everyone from politicians to celebrities to ordinary Britons, but seemingly not those inside the monolithic building across the road, or Johnson, who bears no little responsibility for exacerbating Nazanin's plight by saying in 2017 that she was in Iran to train journalists — a terrible mistake that enabled a propaganda campaign against her and was used to justify a second court case.
The decades-old debt has been explicitly linked by Iran to the detentions of 43-year-old Nazanin and other British "diplomatic hostages", like Anoosheh Ashoori, a 67-year-old retired engineer and British-Iranian citizen who was seized off the streets of Tehran while visiting his mother in 2017 and who is serving a 10-year sentence on trumped-up spying charges that he denies. 
Sherry Izadi, Anoosheh's wife, says their family is due to meet foreign secretary Liz Truss, who has been travelling in southeast Asia this week, on November 18.
"We are very disappointed that nothing came out of this face-to-face meeting (between the British and Iranian officials)," Izadi said on Friday. "I think it was an excellent opportunity for them to sort something out as it's always better for officials to meet face-to-face. Although, I'm guessing that even if something did come out, they would not tell us about it in line with the same lack of transparency and lack of sincerity the foreign office has shown towards us."
Nobody denies that the ultimate responsibility for the agony faced by these families, and others, lies with Iran but Ratcliffe and the Ashoori family believe that Britain's failure to pay the debt is the main hurdle to the return of their loved ones. An international court has ruled that the money should be paid and the cash is in an escrow account.
After meeting British officials on Thursday to discuss the resumption of talks on the Iran nuclear deal,  Iran's deputy foreign minister Ali Bagheri Kani told the Guardian that UK officials had said restrictions on bank transactions due to international sanctions meant they could not settle the debt.
Ratcliffe says this is just not the case. "I don't think the bank transactions argument is credible. Iran requested the money be paid to the Central Bank of Iran back in March 2017. The Bank of England could do that easily enough," he said on Friday.
The foreign office said Bagheri Kani "was pressed on the need for Iran to urgently release all British nationals unfairly detained in Iran, including Nazanin Zaghari-Ratcliffe, Anoosheh Ashoori and Morad Tahbaz". Tahbaz is a businessman and wildlife conservationist who was detained in 2018 and has British, US and Iranian nationality.
Izadi said she feared the cases of the British-Iranian detainees would now be bound up with the resumption of nuclear talks with Iran, scheduled for the end of November. "Unfortunately, I think the talks and these cases have become inextricably linked for no reason," she said.
Analysts also agree that there is now a connection between the fate of dual national and foreign national detainees in Iran and the stop-start negotiations to revive the 2015 nuclear deal, or Joint Comprehensive Plan of Action (JCPOA), which Donald Trump withdrew from in 2018, reimposing sanctions on Iran and prompting Tehran to breach mandated limits on uranium enrichment the following year.
After his meeting with Cleverly, Ratcliffe, whose face looks more worn and exhausted every passing day, seemed deflated. He told reporters the meeting was "depressing" and that officials wouldn't even talk about the debt. 
"We're still stuck in the same status quo … I don't feel they've given a clear enough message to Iran that hostage-taking is wrong," he said. 
Ratcliffe has said he is nearing the end of his hunger strike — he had originally wanted to keep going until an Iranian delegation left the COP26 climate talks in Glasgow. The talks were due to end on Friday but with delegations still haggling about the wording of a final declaration, there was some speculation they would continue into the weekend. 
Most popular