"Halfway through my life I found myself in a dark forest, and didn't know which path to choose." So opens Dante Alighieri's epic poem The Divine Comedy, written in Italy between 1308 and 1320. A cornerstone of western literature, the poem narrates Dante's existential journey of self-reckoning through the after-life accompanied by his guide, the Roman poet Virgil.
Some 700 years later, the Royal Ballet has crafted a once-in-a-generation collaboration between distinguished creative pillars of British music, art and dance for the Covent Garden stage in a long-anticipated retelling of the medieval epic with acute allegorical resonance for our traumatic times. 
British composer Thomas Adès provides the score. No stranger to the Royal Opera House, Adès has received critical acclaim for his operas The Tempest and The Exterminating Angel. The Royal Ballet's resident choreographer Wayne McGregor contacted the composer in 2014 with an invitation to develop a three-act ballet.
Seven years later, and joined by acclaimed British artist Tacita Dean who designed the set and costumes, award-winning light designer Lucy Carter and dramaturg Uzma Hameed, The Dante Project is a monumental contemporary ballet that powerfully speaks to our overwrought and despondent collective psyche in our bitterly divided present age.
Despite the complexity of Dante's densely peopled epic, the narrative thread of the Divine Comedy is relatively direct. At a moment of crisis, exiled from his birthplace of Florence, Dante descends into hell and encounters the souls of the damned living out their punishment for their sins in perpetuity before he comes face to face with Satan himself.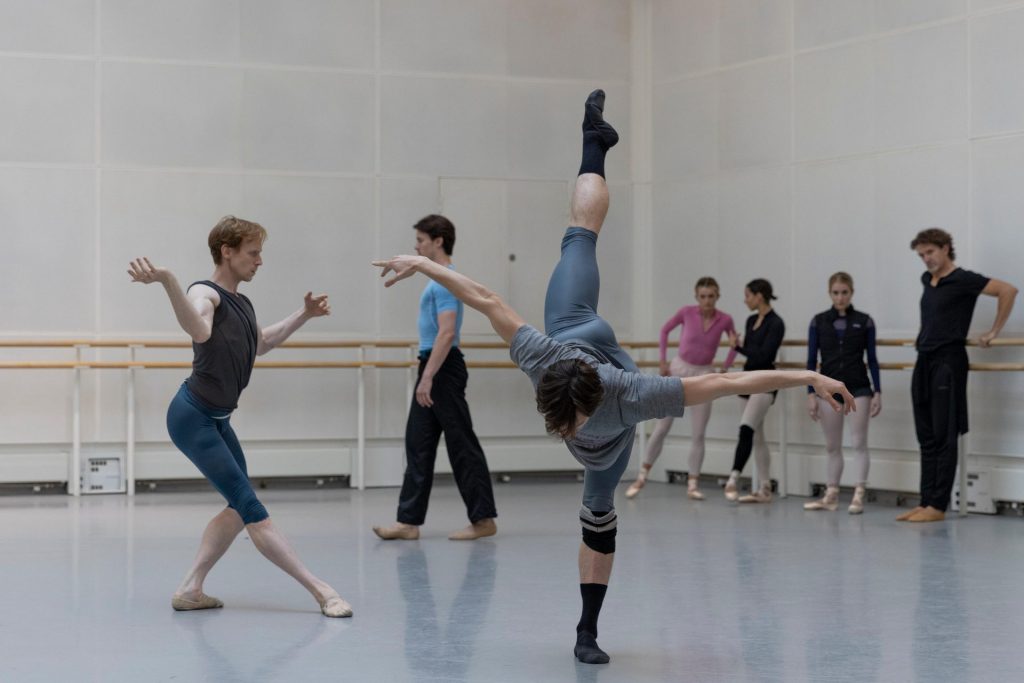 He then emerges from the pit to scale Mount Purgatory where souls struggle collectively for redemption, before he ascends into the realms of heaven among the celestial bodies of Paradise. Here, guided by his paramour Beatrice, Dante glimpses the mystery of god and comprehends, in the final words of the poem, "the Love that moves the sun and other stars."
The curtain raises in the Inferno, our backdrop a vast inverted mountainscape drawn in white chalk on blackboard. Contrary to the traditional depiction of hell as a scorching pit of fire and brimstone, Dante's hell is ice cold and barren, to reflect sin as the absence of emotion or feeling. In this inverse world, sin is ice white in colour, conveyed by Dean's costume designs which see dancers sprayed with chalk, and Satan, a female figure, entirely in white.
Musical vignettes play with horror by drawing on traditional and familiar phrases that recall Tchaikovsky and Liszt that are subtly manipulated and made gently dissonant.
Over the course of the ballet, colour gradually returns to the stage. Dean's highly emotive stage set evokes the limbo of Purgatory as an in-between state with a huge image of a jacaranda tree in full majestic bloom in an otherwise banal streetscape in her adopted home of Los Angeles. "I wanted to convey the sense of an image in between a positive and negative," she says.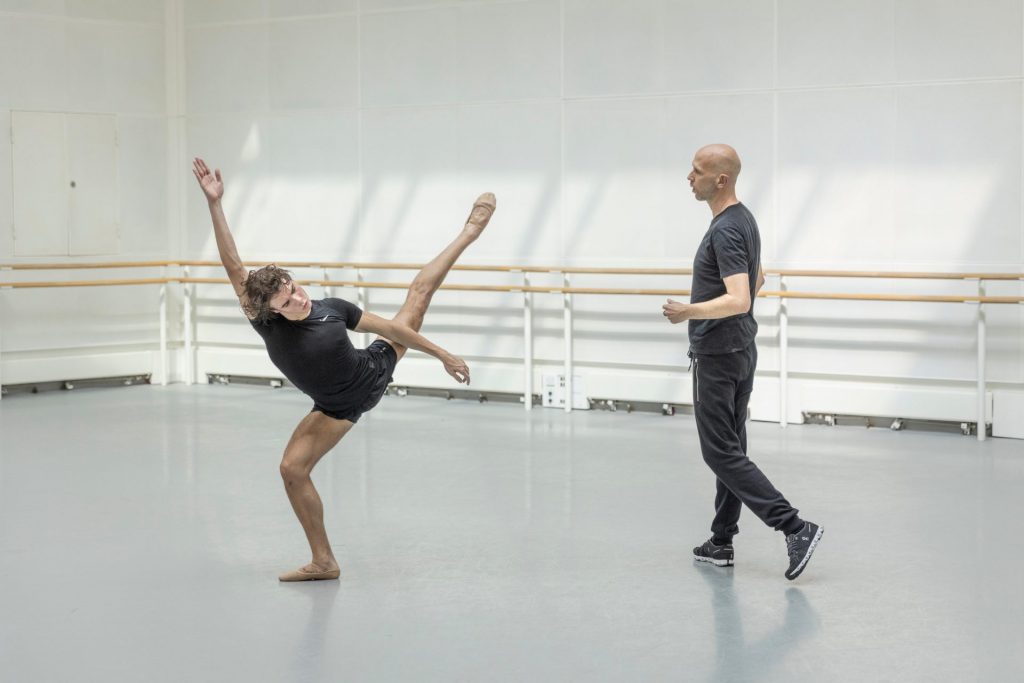 Here the atmosphere is monastic and cleansing with a musical shift incorporating kettle drums and tambourines and sung prayer from the Ades synagogue in Jerusalem (founded in 1901 by Syrian emigres fleeing persecution) as we see Dante (played on opening night by outgoing principal dancer Ed Watson) experience a flashback in time to his youth and first encounter with Beatrice, who was to become his idealised vision of grace and beauty.
Once Dante and Virgil reach heaven or 'Paradiso' in the final act, the set is saturated in refractions of colour, with a projection of Dean's abstract 35mm film of evolving celestial bodies while the music  conveys what dramaturg Uzma Hameed describes as 'continuously unfolding constellations, of a universe expanding'. The effect is something like a solar eclipse, a transcendental deliverance of colour, light and movement. "I returned to the motif of the circle but now it's planetary and celestial rather than a circle of hell. It's a complete antithesis to the very dark, figurative negative world of Inferno," says Dean.
 'Wayne's choreography inhabits narrative and more abstract themes with choreography so rich, so rarely gestural. It is abstract but full of meaning.', says Hameed, esteemed dramaturg who collaborated with McGregor in the Royal Ballet's production Woolf Works in 2015, based on the life of author Virginia Woolf. She explains the palpable resonances that the 700-year-old poem has for our contemporary moment.
"When we made Inferno in 2019 we had already had Brexit, we already were a very bitterly divided society in the same way that Dante's Florence was, then by the time we came to do the second two [acts] we had been through the pandemic and it just felt like this world of suffering and grief and anger and this feeling of being trapped were in a way more relevant than ever," says Hameed. "Dante was concerned with the leaders of society both spiritual and secular, how it was more about pursuit of wealth and power than it was about leading people to lead a good and moral and productive life and I think that's very much a concern of our time. Increasingly people yearn for life to have a spiritual core and not just be an endless pursuit of wealth and consumerism."
Such a collaboration between trailblazing choreographer, composer and visual artist inevitably invites comparison with other mythologised partnerships for the stage, such as Sergei Diaghilev's revolutionary dance company the Ballet Russes, which first performed in Paris in 1909, harnessing the avant-garde verve and talents of composer Igor Stravinsky with choreographer Mikail Fokine's ground-breaking new languages in movement. Modernist artists and designers Pablo Picasso, Henri Matisse and Coco Chanel, Andre Derain, Joan Mirò and Georges Braque all contributed over the years of the company to express a quixotic spirit of the age.
It's a comparison that that is also felt by McGregor's co-collaborator, artist Tacita Dean "These sort of collaborations are so rich and haven't happened as much as they should have done. Wayne is an old school impresario. He's putting together people from various disciplines and not asking them to mutate and fit into the box but just bring what they are to [the project]. Everyone still works with their own integrity, there's no compromise." Dean also suggests an affinity with the famous avant-garde collaboration in postwar America between composer John Cage, choreographer Merce Cunningham and visual artist Robert Rauschenberg.
When it comes to the depiction of the Divine Comedy in visual art, Dean had a rich sourcebook to revert to encompassing illustrations by Gustave Dore, Robert Rauschenberg, Auguste Rodin's sculptures, to the Neoclassical purity of John Flaxman and William-Adolphe Bouguereau's sensuously corporeal paintings, but she mainly drew on Italian Renaissance artist Botticelli's illustrations for Lorenzo di Pierfrancesco de Medici in Florence in the 1480s, as well as William Blake's colour palette in his illustrations of the 1820s for the final sublime 'dirty but rich' colours of Paradiso. 
In some ways, it's surprising that this is the first time that Dante's existential journey to revelation in the Divine Comedy has been made into a full-length ballet, especially since the themes are so congruous with the way in which dance has so frequently been adopted as a metaphor for expressing life's journey. Artists and writers across all ages have explored these parallels, from the classical world to Poussin's painting Dance to the Music of Time (currently the subject of an exhibition at London's National Gallery) to highlights of art history such as the sturm and drang of Edvard Munch's Dance of Life (1899) and Paula Rego's moonlit meditative The Dance (1988).
Dance as an art form is a universally accessible language that has not only been mobilised as a means of telling a story, but also for its power to communicate something spiritual or reveal to us connections between elements of our lived experience that would otherwise remain foreclosed. From the sacred dances of Hinduism and Sufism, to the ecstatic release of the rave, dance tells us stories about ourselves and our needs in vital ways.
As Hameed explains. "The fact is ballet is so sublime, it's so abstract it's so non-verbal, even while you are embodied you can reach these emotional and mystical states through the choreography and through what that body is doing which is not literal."
The Dante Project is at the Royal Opera House until 30 October, with a digital stream on 29 October. Booking via www.roh.org.uk