No publicity, they say, is bad publicity, but even then it is odd to see Sea Power singer Jan Scott Wilkinson, known as Yan, chuckling away at shock-jock Dan Wootton's monologue attacking the band on his GB News show.
In August last year, the band previously known as British Sea Power announced they were changing their name due to "a rise in a certain kind of nationalism in this world – an isolationist, antagonistic nationalism that we don't want to run any risk of being confused with".
It certainly antagonised Wootton, who told his audience – who in all likelihood were not previously au fait with the band – that the alternative rock group were "leftie losers" whose decision was "indicative of the toxicity of woke culture running riot through the entertainment industry".
"He's nailed it, hasn't he?," laughs Wilkinson down Zoom from his home in Brighton.
"It was the way he said it – it was like some kind of baddie out of Harry Potter, the way he was doing it. He did us more of a favour than anything, 'cause after he did that even the people who were a bit on the fence – like, 'what are you doing, trying to be clever or something?' – were just like, 'yeah, I can see why you were fed up with anything like that now'."
The decision, initially his, was not born out of Brexit, but that jolt accelerated a feeling he had had going back a decade. While the band "all feel immensely fortunate to have grown up in these islands", they said at the time, the name was being misapprehended.
"I started thinking it was a bit awkward, it was a bit weird," says Wilkinson.
"I didn't like saying it to strangers. It wasn't really people who know us and stuff, it was just like, you'd go to a family or something and you'd meet someone you don't really know and it would be 'oh, what do you do?' 'I'm a musician'. 'Oh, what band is it?' and then you'd say your name and there's always a weird pause while they think about it.
"And then it started… it felt like it was suddenly a hot topic again and it got in the way of things. You'd write a song and you'd think, 'well, this is called this, but if you put that name above it sort of seems to start influencing how you might read that song'.
"But I guess everyone started to feel the same way after a while. They were going 'I normally just say Sea Power'," he laughs. "If there's a chant at a gig or something it's like 'Sea Power'. It just seemed natural and a way to get out of the awkwardness and the centre of all this weird culture war bollocks."
Brexit and the ensuing rise in nationalism as it made its painful way through Parliament was, he says, "the final straw. Or the final several straws." He laughs again. "The thing that just made it not just a wacky idea I was going on about."
The backlash was short but intense. "I mean, it was a weird week or maybe two weeks. There was, like, a few angry people and then, because I'm inquisitive, I'd have a look at their profiles, see what else they'd be saying, and it's like… some of them I could understand, but there was a small, loud minority who latch onto any new thing to do with British and they're just like, you know, 'stop them coming across the Channel' and that kind of thing. And you just think, fuck off."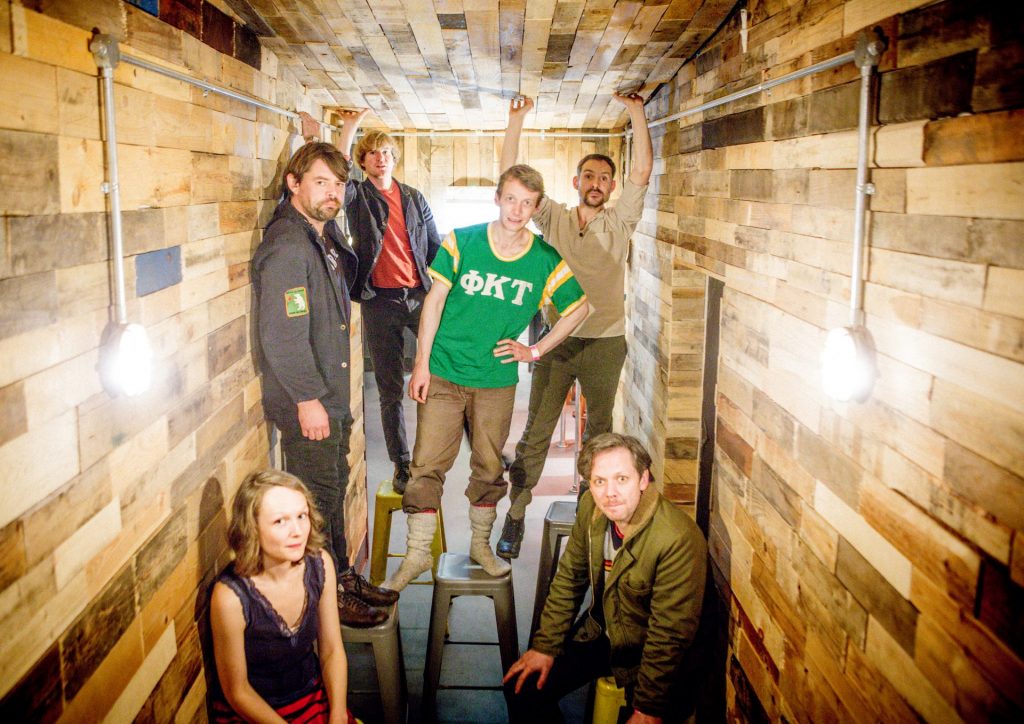 He's speaking ahead of the release of Everything Was Forever, the band's eighth album and their first in five years. Recording it was an achievement in itself, not because of Covid restrictions in particular, but because the band, long associated with England's south coast, are now spread out across Britain. Other members live in Cumbria while Wilkinson's brother and fellow guitarist Hamilton lives on the Isle of Skye with violist Abi Fry ("it's quite hard to get them away from Scotland these days," says Wilkinson. "They live in the middle of nowhere and they've got some sheep and I think they like it, just secluded").
The album itself is classic Sea Power, modernist rock with probably even more of a pop sensibility than 2017's Let the Dancers Inherit the Party. Simultaneously poetic and epic, much of it aches to be heard from a festival stage.
"There was a few sort of unanimous kind of feelings about things we didn't want to do," Wilkinson says of its creation.
"Sometimes we've done quite skilful, well-crafted, intelligent kind of good songs and we can't resist putting in a bit of a swerveball sort of comedy gimmick or something on the top of it. That was the main decision – to not do that and have it a bit more straight-ahead and open, emotional and, you know, personal, I guess, if anything." (For the uninitiated, Sea Power's eclecticism has seen the band release a split single with the Wurzels, share a bill with Ronnie Corbett and written songs about Canvey Island, Slavia Prague FC and the wrestler Big Daddy).
The name comes from the title of a 2005 book by Russian anthropologist Alexei Yurchak, "about the last Soviet generation via various side-stories and political and artistic and personal little stories. I read that and I thought, well, this could easily apply to other places, maybe closer to home. Either here, America, different places. And it's such a lovely title."
The University of California, Berkeley, professor actually got in touch with the band upon hearing. "He's like, 'I hope you're gonna credit us!'." laughs Wilkinson. "Sounds like a nice guy. He's into his music and stuff. I don't know if he likes the album yet. I hope he does."
One theme which does, at least, inform the album is reflection, or even loss, an elegiac sense felt even more keenly when you learn that Everything Was Forever was written not long after the death of the Wilkinson brothers' father, Ronald, and their mother, Margaret, died during its creation.
The grief at losing one's parents, I suggest, is not one often tackled in art, let alone music, even though it's one the vast majority of us will experience.
"It's not the most sort of Top of the Pops theme, is it really?," Wilkinson laughs.
"So… the sort of summer of the first lockdown my mum passed away after having dementia for quite a long time. And she was very old, and she had Covid and, you know, started to do falls and break bones and things. And it had been going on for a long, long time and it was only a couple of years before that that my dad had passed away, and he was in his 90s as well, so… it had been, you know, for the family a good few years where you sort of… it's pretty stressful and you're being a bit of a carer. And you're just going through that sort of weird final phase where you know where it's going.
"It just added an extra element of sort of strangeness, it being in the lockdown, which maybe is partly why I welcomed this peace and quiet, really. I think it's better than getting on with it in a normal kind of way. I'd ended up thinking a lot about growing up, being a kid and the in-between bit and 'why are you like you are?' and all those kinds of questions. And everything's extra emotional. Like little things trigger more than they do the rest of my life. I'm sure it's different for everyone but I'm sure there are similarities.
"Neil would have been going through a similar thing himself in his own way. It's gonna have an effect on the album, I guess. Which is probably why we couldn't handle having any of the sort of nonsense or silly or bullshitty kind of elements and kept it cleaner and fresher."
For now, the band are just keen to play live. In September they are curating their own festival, Krankenhaus, at Muncaster Castle in Cumbria. Prior to that, from April, they will be on tour, having managed to play just eight nights last October.
"It's a bit weird, you know… you get a few people in the front row in their masks and you just think 'that's intense'," says Wilkinson. "It's like Slipknot or something." He laughs again. "That's something, isn't it?".
● Everything Was Forever is released on February 18
Most popular