Spare a thought for Matt Hancock, Robert Jenrick, Robert Buckland and Gavin Williamson. They are bound by two defining moments in their oscillating political careers.
All of them campaigned for Remain in the 2016 referendum. Hancock was close to the then chancellor George Osborne and shared his views about the economic dangers of even a soft Brexit.
The others were sincere in their support for staying in the EU. Now the quartet has another common bond. They are all out of the cabinet, unrewarded for their  subsequent unquestioning backing of Boris Johnson's version of Brexit.
When Johnson and his delusional unelected courtier, Lord Frost, were negotiating their deal the four of them kept their heads down.
In cabinet meetings they raised no questions about what Frost was up to. In interviews they defended the hard Brexit that the UK was heading towards, before moving on to other topics as speedily as possible.
In the single cabinet meeting held to endorse the Brexit deal that was published on Christmas Eve there were no questions asked by any of them, these Remain campaigners who had issued many warnings about the deadly consequences of leaving the EU.
What followed their subservient and negligent loyalty is a powerless exile from government. The reasons for their departures were different of course, but the result is the same. They put their careers before the interests of the country and yet languish on the backbenchers.
If they had chosen to do so they could have bravely asked questions in cabinet meetings as to what Frost was up to. Johnson would have loathed such scrutiny but they would have been carrying out a patriotic duty in holding an erratic prime minister to account.
No doubt he would have sacked them, but he has done so anyway or in the case of Hancock pretended to have dispensed with him.
Hancock had no choice but to leave. How much nobler an end it would have been if he had dared to raise the occasional doubt privately about the wisdom of Johnson's Brexit. 'Sacked for Challenging Boris Over Hard Brexit' is a nobler headline than the ones that greeted Hancock's amorous advances in the deceptive privacy of his office.
In contrast to the sacked quartet there are some Tory Remainers who continue to flourish, not least the new foreign secretary.
In the last week of the 2016 referendum campaign Liz Truss, was in the 'spin room' for the final live televised debate.
I had quite a long conversation with her during which she explained with passion why she hoped that Remain would win and how vital it was for the UK. Endearingly, as we parted she crossed her fingers.
Perhaps she was pretending to be more passionate than she really was in order to keep in with her then boss, David Cameron. Truss has a genius for reflecting the views of her leader at any given time.
Even so to switch from an ardent Remainer to the main cheerleader within government for Johnson's comically named 'global Britain' is quite a leap. Far from scrutinising the approach of Johnson and Frost she has hailed their every move.
On the backbenches there is silence. Long ago when in opposition the Conservative MP, Damien Green, told me that Europe was the great test for a modern Conservative party.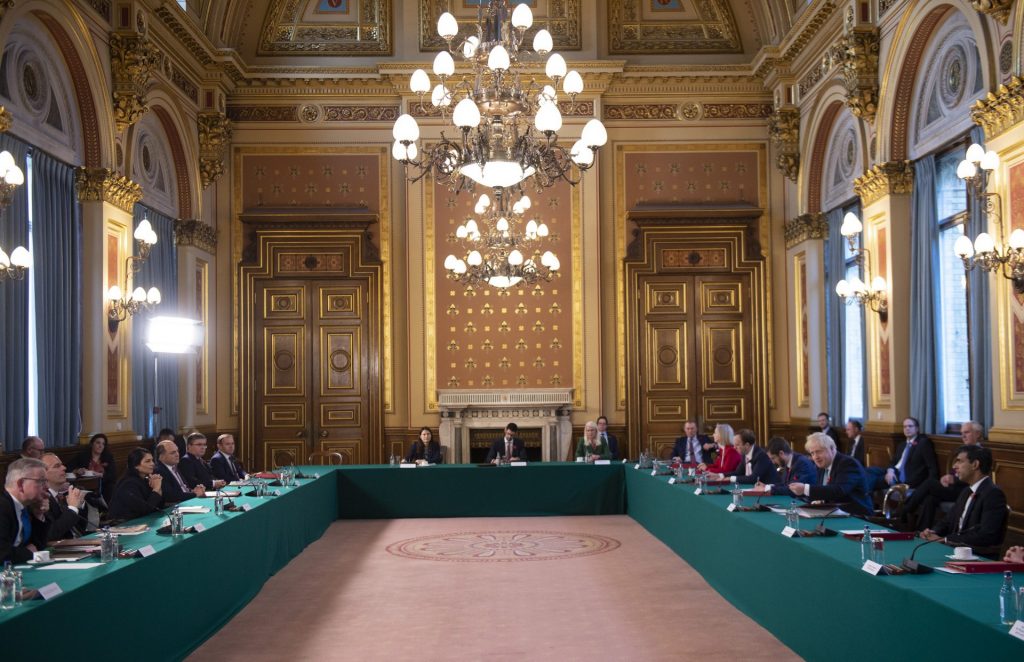 Only when it became pro-European would the party be qualified to rule again. Fair enough that Green does not make the same case now, given that Brexit helped Johnson win a near landslide at the last election.
It is the supportive silence that is dangerously irresponsible. Given his previous stance Green will know how damaging Johnson's chosen Brexit is and will continue to be.
Yet he asks no questions and makes no attempt to hold the prime minister to account. Perhaps Green has calculated it is too risky to do so, given what has happened to the Hammonds, Letwins and Gaukes, airbrushed out of history and nowhere to be seen.
Yet his silence and that of his colleagues is even more dangerous for the country. The consequences of Johnson's Brexit are being played out in many different forms.
There is no internal scrutiny now and there was no attempt to probe at points when the UK still had options to move in more expedient directions.
During his recent trip to the US Johnson came up with an illuminating excuse as to why a trade deal seems as far way as ever. With a straight face he declared that it was more important for the UK to take its time in order to secure the best possible deal rather than rush ahead.
The words were disingenuous in that it is president Biden who is indifferent to a speedy deal, but on one level Johnson makes a sensible argument. Trade deals are complex. The larger, more powerful potential partner in any negotiation holds more of the cards. A rushed deal with the US could easily see the UK being the loser rather than the winner.
The reason this observation becomes absurd is that Johnson applied precisely the opposite approach to the Brexit deal with the EU. He insisted there was no need for any extension in spite of Covid disrupting the talks and with at least as many thorny issues to resolve as there would be in a US deal.
His Brexit agreement was negotiated with impatient haste. Frost made his moves with a jingoistic flourish, taking orders first from Dominic Cummings and then from Johnson alone.
All of it happened at the speed of sound while Tory Remainers remained silent. For sure the ministerial Remainers, and those backbenchers that survived the purge, had little choice but to back some form of Brexit after the referendum. But only in this era of freakish cabinet passivity are there no questions raised.
In the 1970s prime ministers were constantly challenged from within governing parties about economic policy in particular. Contrary to mythology Margaret Thatcher tolerated cabinet debate and sometimes almost encouraged it.
The Blair/Brown duopoly meant that scrutiny of one by the other was intense. Now the UK totters towards the edge of a Brexit cliff because Johnson opted for speed over substance and no one from within the governing party made any attempt to politely ask whether he knew what he was doing.
There are many guilty men and women in the Brexit saga. The deepest guilt applies to those Conservatives with a degree of influence that looked on supportively since Johnson seized the crown when they knew he was about to inflict deep damage on an already fragile country.
Steve Richards' latest book is The Prime Ministers We Never Had – From Rab Butler to Jeremy Corbyn