Bacon and cabbage is one of my favourite dishes. This might be because it is by definition the pinnacle of "meat and two veg", an archaic and unfashionable way to go about preparing dinner but one forged in much of what makes for good modern-day cooking: simplicity; and the fact the food allows for fine produce to speak for itself. I'd argue bacon and cabbage is archetypal in its progressiveness because bacon is a cheap cut of meat, potatoes are sustainable and sustaining, and cabbage is healthy and bountiful.
Bacon and cabbage of exceptional quality is not easily found in Britain. All that's required in a classical sense is a thick hunk of pork; fine, buttery mash; cabbage cooked carefully; and a balanced parsley sauce. You might suppose the UK's being discordant with the dish is a puzzling and woeful fact. Actually, when you read over the ingredients, you see why so many cooks have problems: there's nowhere to hide; everything needs to be done well. Preparing the meal is much like turning out a cocktail – a Hemingway daiquiri, for example, which is another thing made in Britain but usually made poorly.
One of my most enduring experiences of bacon and cabbage was served at the English Market in Cork. Another excellent example came by way of Anna Haugh at her Chelsea restaurant Myrtle. In her new iteration, the bacon and cabbage is prepared with more flair and intensity but the end result remains hearty and nostalgic.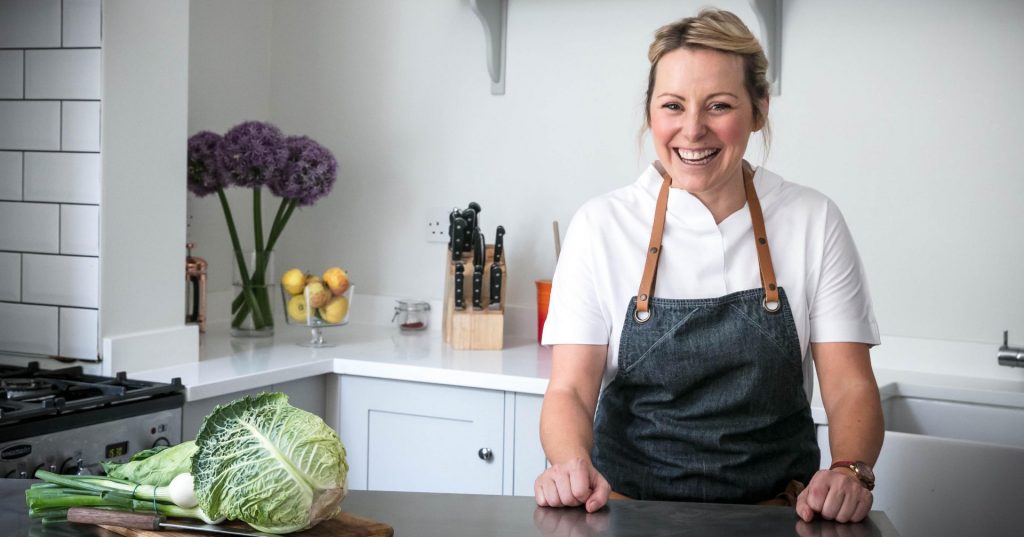 For the ham:
1 ham hock
1 Spanish onion
2 carrots
1 head of garlic bay leaves
For the chicken mousse:
150g chicken breast
150g double cream
15g egg white salt
For the cabbage:
1 Savoy cabbage

For the mash:
1kg peeled potatoes
100g butter
100ml milk salt to taste
For the sauce:
60g shallots (peeled, chopped)
120ml white wine
350g pork stock (from the ham hock)
50g double cream salt parsley
Method:
Ham: Place the ham hock in a large pot, cover with water and add bay leaves.
Bring to boil and leave to cook on a medium heat for half an hour. Add vegetables peeled and roughly chopped.
Leave to gently boil until it's possible to pull out the bone with the meat falling apart from it.
Remove the ham hock from its stock and, while still warm, pull the meat off the bone.
Strain the stock through a muslin cloth and save to make the sauce.
Using cling film, roll the meat tight in ballotines (10cm length) then refrigerate to allow the meat to set

Chicken mousse:
Clean chicken breast to remove sinews and fat, dice and place in a food processor with salt.
Blitz to a smooth purée.
Add egg white and briefly blitz again.
Slowly pour half of the cream to emulsify to a smooth consistency.
Move the mixture in a mixing bowl then using a spatula, fold in the remaining cream.
Keep refrigerated until use.
Peel the leaves from the cabbage, remove the midrib.
Blanch in salted boiling water, chill in iced water then tap dry.

For the mash:
Boil the potatoes until a knife can easily slip into the centre. Mash with a ricer or hand masher.
Add butter.
Warm milk (do not add cold it will make your mash lumpy).
Add milk gradually, depending on how fluffy your potatoes are you might need extra milk.

Sauce:
Heat veg oil in a pan, gently sweat the shallots without colour, until soft.
Add white wine and reduce to 1/3.
Add pork stock and bring back to simmer.
Add double cream, season and allow to cook for a few minutes.
Move sauce in a food processor, blitz and pass through a strainer.
Adjust with salt and a drop of lemon juice, if needed.
Finely chop parsley then add it to the velouté at the moment of serving

Assemblage:
Unwrap ham hock ballotines from cling film.
Using a spatula, spread a thin layer of chicken mousse on a cabbage leaf, place ham hock and roll in.
Wrap tight in cling film.
Poach in boiling water for about 10 mins then allow to rest for a few mins.
Cut in half, discard the cling film, and serve with mash, cabbage, and sauce.