The Booker Prize has been and gone again, the 2021 award going to South African writer and bookies' favourite Damon Galgut for The Promise at a ceremony held last week at the BBC Radio Theatre in Broadcasting House in London.
The Covid-straitened shindig went out live on the BBC News Channel, iPlayer and Radio 4 supported by a carefully managed social media campaign that drip-fed bookish thrill-seekers with tantalising snippets of interviews with the six shortlisted authors (special mention here for Patricia Lockwood, author of No One Is Talking About This, whose response to being asked how it feels to be shortlisted differed from the "amazing" and "great honour" replies of her peers by slowly producing a glass egg paperweight from her mouth and declaring, "that's how I feel about being shortlisted for the Booker").
There were also the expected platitudes from the judges about what a difficult time they'd had even picking a shortlist, let alone a winner, and how the standard was incredibly high this year and how lucky readers are to have so many gifted writers with important things to say about the world we live in and the human condition itself.
This was all a long way from the inaugural ceremony in 1969, a po-faced affair held in the stuffy surroundings of the Worshipful Company of Drapers in London. In contrast to the hype and ever-such-adifficult-decisioning we're familiar with today, when that first shortlist was announced the chair of the judging panel, Guardian literary editor W.L. Webb, said of the selection process: "The trouble was not that there were too many good novels, but that so many of them were evenly middling."
It hadn't, he said, been a vintage year for fiction, a lamentation that must have delighted sponsors Booker McConnell who had just stumped up £5,000 for the winner, which was at the time by far the biggest bag of cash ever handed over for a British literary award.
"Many of the established writers produced work that was notably less than their best," said Webb, the joy and excitement of presiding over a new dawn for British literature fizzing from every pore, "and there were no newcomers of arresting originality or sure promise."
Fifty-two years on and the Booker Prize is now one of the glitziest gongs in the whole of the arts, that £5,000 prize now stands at £50,000 and the chair of the judging panel no longer announces the shortlist like a lunch-break football captain reduced to selecting the last no-hopers in the playground.
This year's shortlist felt a little like the result of a Venn diagram with "safe bets" at its centre. There were three men and three women. Half the shortlisted writers were from the US, one was British-Somali, one Sri Lankan and Galgut from South Africa. There were two writers of colour and two members of that irreducible literary class the middle-aged white bloke. The closest we'd had to a wildcard, Karen Jennings' wonderful An Island, published by a small press in an initial print run of just 500, didn't make it past the longlist, leaving us with half a dozen novels drawn from major publishing houses that were fairly conventional in form and boasting that inclusive trait of "readability".
A safe selection for sure, but that didn't prevent this year's crop from being a really good shortlist. There are those who roll their eyes at qualities like "readability" and believe that the biggest literary prize in Britain should be picked from challenging, experimental texts aimed at a handful of elitists rather than absorbing narratives with wide appeal. These snobs should pipe down – the days when even the boss of the judges would sigh and mutter about the books selected are thankfully long behind us. The Booker is brilliant.
Unlike last year when lockdown dictated they appear from their sofas on a big screen, the shortlisted authors were all in attendance this time. Covid restrictions meant the customary bunfight of boozed-up publishers was limited to what appeared to be two guests for each author. This scatter of socially distanced VIPs among rows of empty seats lent the proceedings an agreeable local-author's-Thursday afternoon-reading-at-a-market-town literary-festival vibe in contrast to the slick production playing out on the stage.
The always excellent Samira Ahmed hosted proceedings, which fell under the banner of her flagship Radio 4 arts programme Front Row, and provided the right mix of sympathy and warmth towards the anguished authors squirming in front of her and informed journalistic heft when discussing the books.
It must have been excruciating for the writers. The ceremony ran for 45 minutes at the end of weeks of speculation and wondering, anxiety and anticipation, and here, in the home straight, there wasn't even a bottle of Sauvignon to take the edge off as there would have been at pre-pandemic ceremonies. At least they were actually there, though, an experience denied last year's winner Douglas Stuart, author of Shuggie Bain. He was given his moment in the spotlight this time, a brief on-stage exchange with Ahmed ("I have to be the greenest winner ever, I just did all my travelling on my sofa") as well as a slightly bizarre filmed insert of him taking tea at Clarence House with the Duchess of Cornwall.
New to the business of interviewing, whenever Stuart spoke the Duchess took to nodding furiously with tangible panic in her eyes, like a novice parachutist braced at the open door of an aeroplane receiving final instructions. The earnest nodding increased so dramatically when Stuart described documenting the experiences of "young queer men in very masculine places" I feared the sudden crackle and pop from the fire by which they were sitting was the sound of her head coming off.
Back in the Radio Theatre, the deeper history of the award was acknowledged by a beret-wearing Ben Okri, who doesn't appear to have aged a day in the 30 years since he won the 1991 Booker with The Famished Road, describing how the prize "has become more inclusive and open to a richness of experimentation, voices across the world, more people of colour, more women, it's become richer, it's become bolder".
These could have sounded like empty platitudes but Okri's sincerity was plain: his belief in the power of the Booker Prize to change not only the winner's life for the better but to provide opportunity and inspiration for underrepresented writers shone through in what was arguably the highlight of this year's ceremony.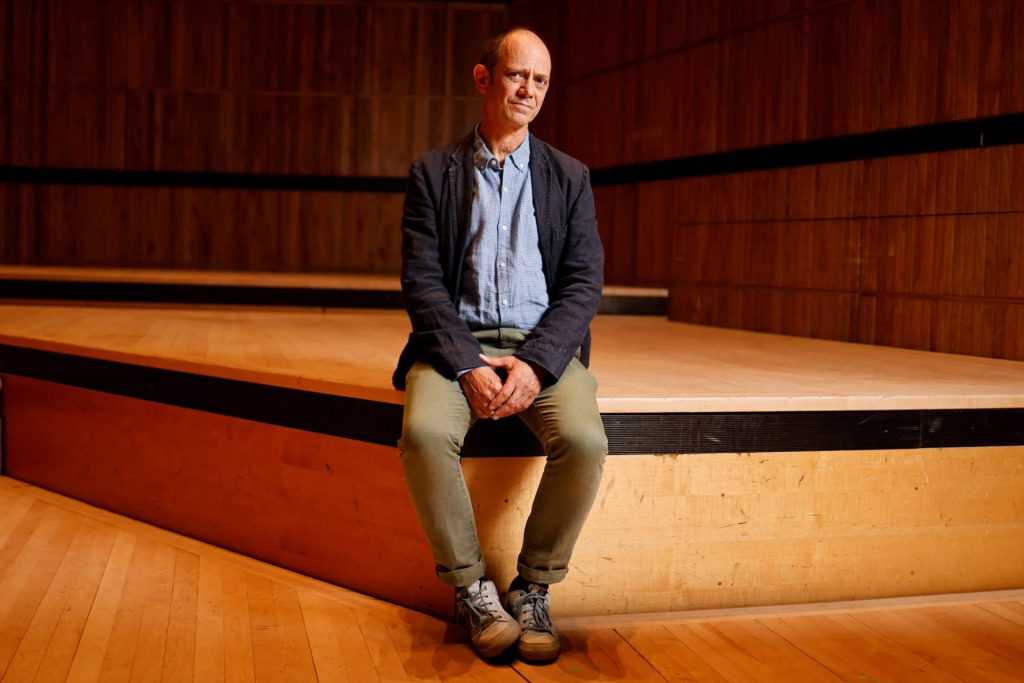 The Booker and publishing itself have been transformed since Okri's win and listening to him last Wednesday evening made it clear that both have changed much for the better.
Galgut's win was well deserved. Shortlisted twice before, in 2003 and 2010, nobody could begrudge him his moment this time particularly as The Promise has been so widely praised.
We all had our favourites – I was rooting for Maggie Shipstead's epic, extraordinary Great Circle followed by Nadifa Mohamed's The Fortune Men, a vivid evocation of a real miscarriage of justice in 1950's Cardiff – but few Bookers over the years have been as justified as this one.
Winning the Booker is life-changing.
There are those 50,000 smackeroonies for a start, but the knock-on effect on sales can be astronomical: Shuggie Bain has sold more than 800,000 copies in Britain alone, proving the Booker's role as a trusted arbiter of literary taste.
Winning the prize is an endorsement like no other: the award's cachet is such that people in the hundreds of thousands trust the opinion of the judges enough to take a punt on the book piled on the bookshop table with a sticker on the front saying "winner".
For the other five authors the experience will be quite different.
As Galgut himself said in September even before the shortlist was announced: "The Booker pulls a nasty little trick on you right at the very end.
"For a few weeks, you're one of six winners, then all that attention gets sucked away and very, very suddenly, there's only one winner. The rest of you are losers."
Few people know how that feels more than him, but he will have woken up last Thursday morning feeling very different indeed.
For Galgut, life will never be the same again.
Could that be said of the winner of that first Booker, back in 1969?
Well, no. P.H. Newby picked up the five grand with Something to Answer For, his 14th novel, set in Egypt during the Suez Crisis.
Newby, who wrote his novels on Sunday mornings because of his day job as controller of the BBC Third Programme (now Radio Three), was apparently as underwhelmed by it all as W.F. Webb.
"It would be nice to win it seven times," he said. "Then one would be wealthy."
A European Library
A weekly selection of fiction and non-fiction, new and old, to build a comprehensive literary portrait of our continent.

IN EUROPE: TRAVELS THROUGH THE TWENTIETH CENTURY by Geert Mak, translated by Sam Garrett (Vintage, £12.99)
In 1999 Dutch journalist Mak set out on a journey tracing the 20th-century history of our continent, completing it just in time for the turn of the millennium. In Europe is a remarkable combination of travel and history, covering all the major events of a tumultuous 100 years. From Verdun to Berlin, St Petersburg to Auschwitz, Kiev to Srebrenica, In Europe feels almost like a television documentary series on the page. Wise and evocative, for all the dark events visited, this remains a wonderful celebration of Europe.