Shiny, shallow and very expensive, the art of Jeff Koons holds up a bubblegum pink mirror to Qatar, the richest of the oil-soaked Gulf states and one that is about to take its place on the global stage as host of the controversial football World Cup in November.
In 2019, Koons' Rabbit became the most expensive work of art by a living artist ever to be sold, and his works are among countless high-profile purchases made on behalf of Qatar Museums by its chairperson, Sheikha Al Mayassa al Thani, who, in 2014, emerged as contemporary art's biggest buyer.
It looks like a blingtastic match made in heaven, but the partnership – friendship, even – between Koons, one of the canniest and most intriguing figures in the art world, and Sheikha Al Mayassa, who is the sister of the emir, is about much more than conspicuous consumption, as this small but powerful state, reshapes itself in a post-oil world.
Recently emerging from a three-year blockade by Saudi Arabia, Bahrain, Egypt and the United Arab Emirates, Qatar's efforts to shore up its cultural credentials seem calculated to use art and culture as a channel for the discreet exertion of real influence, internally and internationally.
Koons' exhibition Lost in America opened in November, at the Al Riwaq gallery, a vast, hangar-like space on the Doha Corniche, a 7km-long spit of land from which the city's skyscrapers make a striking backdrop to the dhows bobbing in the perfect blue of the harbour, a vista punctuated by the
spectacular architecture of IM Pei's Museum of Islamic Art (MIA), and Richard Serra's sculpture, 7.
Separating the gallery and the waterfront is the MIA park, where families picnic and fly kites on its improbably green grass, the sand close to its borders a constant reminder of the city's desert origins.
Koons can be provocative, and although his 1989-91 forays into erotica are absent from this overview of his career, they are inevitably implied by their omission.
When Matthew Anderson, of The New York Times, raised the topic of the artist's "sexually explicit" back catalogue, he was tartly dismissed by the sheikha, who said: "That's a typical journalist's question Jeff, don't worry about it."
The exchange was a fascinating demonstration of the immense power
of art as a vehicle for messaging that is vague and targeted in equal measure:
somehow, though excluded from the exhibition, the very existence of these
works in the artist's output suggests a tolerance for such images that rationally we know is not there.
Koons is helpfully sphinx-like whatever the subject, as unwaveringly cheery as his balloon dogs and giant pile of Play-Doh. Asked how he felt about the enormous sums of money his works command, he answered: "I was just wanting to participate."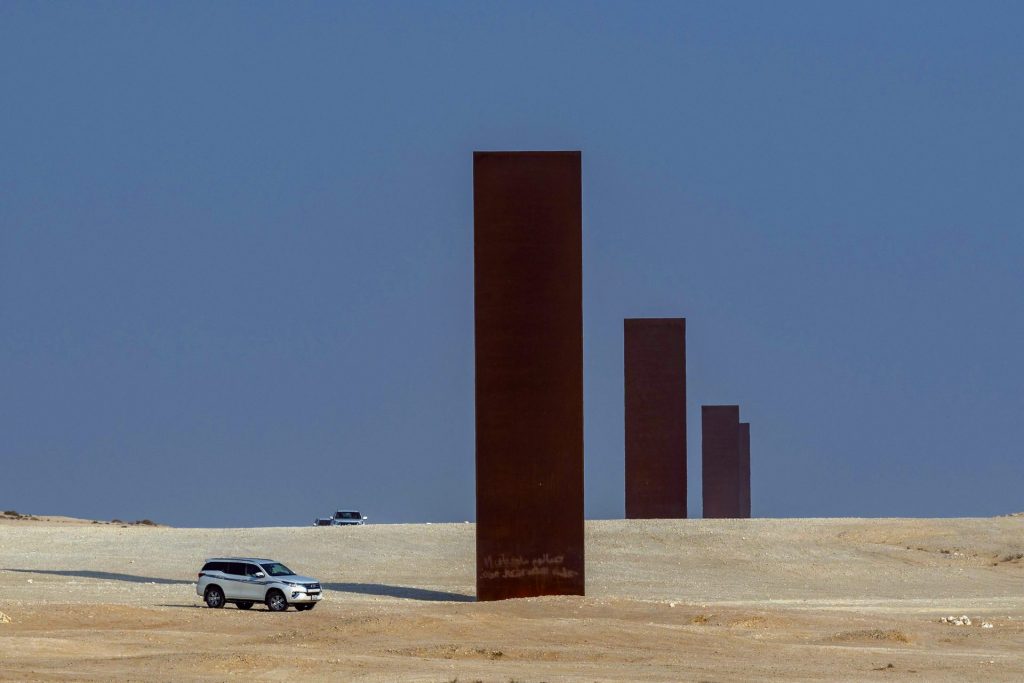 Asked about the title of his show, which he borrowed from the Albert Brooks comedy Lost in America, he said: "It just seemed like it could mean anything to people."
Years of Culture was set up following Qatar's winning bid to host the 2022 World Cup. As the first Gulf state to host the event, Qatar's success brought scrutiny of its poor human rights record and curbs on free speech. At least 6,500 south Asian construction workers are estimated to have died since 2010, the year Qatar won its bid to host the World Cup.
In addition, the treatment of LGBT+ people, and women, who, according to Human Rights Watch (HRW), "face significant discrimination", has come to the fore in the run up to the World Cup, notably via criticism of David Beckham, who took on a lucrative role as the state's cultural ambassador.
---
Qatar's efforts to tackle its image problem have looked superficial so far. In October, it held its first general election, although the process, which excluded swathes of the population, was hardly democratic. According to HRW's Adam Coogle, "The new laws have only reminded Qataris that they are not all equal."
HRW also reports that despite legal reforms, the "Qatari authorities' efforts to protect migrant workers' right to accurate and timely wages have largely proven unsuccessful".
Still, it seems that attitudes may be beginning to shift, perhaps partly in response to changes elsewhere in the region, such as Saudi Arabia's 2019
reforms, which eased some restrictions on women's freedom.
Three women hold posts in the Qatari government, while senior roles in the cultural sector are dominated by women, with Sheikha Al Mayassa at the very top.
Maha Ghanim Al Sulaiti, director of M7, Qatar's new hub for the creative industries, describes the sheikha as "a hands-on mum" who "leads by example", empowering women to take on responsible roles in big projects.
The use of culture to oil political and commercial dealings is tried and
tested in the Middle East, with the Louvre Abu Dhabi providing the gold standard for East-West commercial and cultural cooperation.
The partnership between the UAE and France was given new vigour during President Macron's recent tour of the Middle East, when the licence to use the Louvre's name was extended until 2047, a deal that will earn France a further £141m, in addition to the £0.86bn from the initial deal.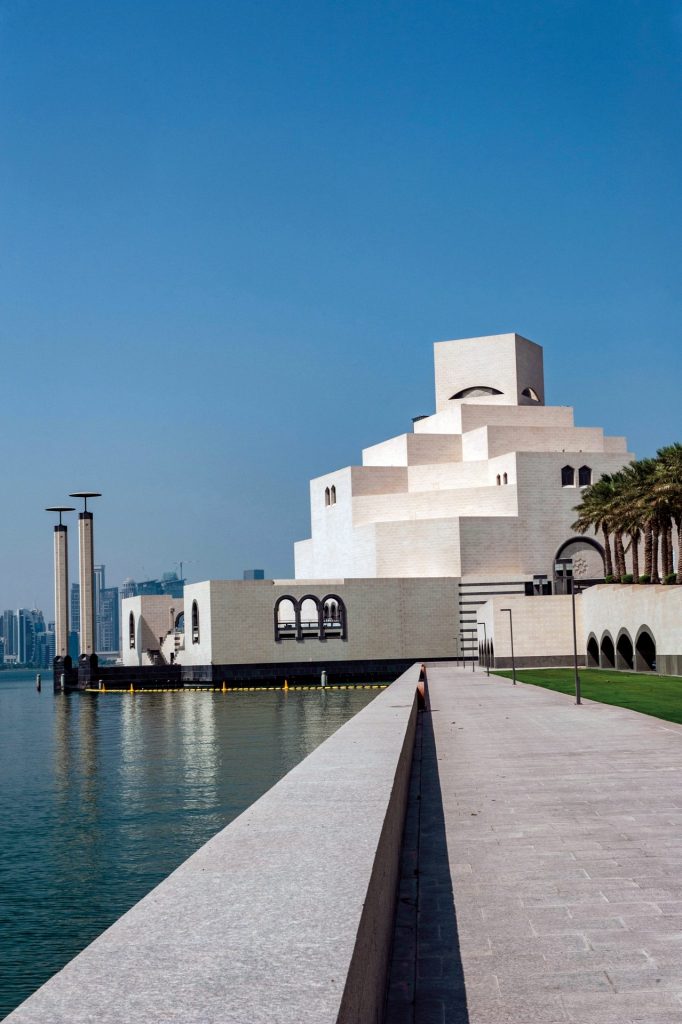 The agreement not only secures for Abu Dhabi the Louvre's prestigious marque, but also high-profile loans from the Paris museum.
On the same trip, the French president finalised a £11.9bn sale of 80 war planes to the UAE, while in an interesting flex, Macron broached the topic of regional stability with Saudi Arabia, Qatar and the UAE.
But while its neighbours pursue a war in Yemen, Qatar has chosen a different path, bolstered perhaps by the blockade which made urgent the need to forge stronger links further afield, by asserting its own identity rather than through aggression.
Writing in the Middle East Eye in October, Dr Andreas Krieg, an expert on the region, noted the impact of the blockade. "Advocating dialogue, mediation and diplomacy as an alternative to war will be integral to Qatar's regional policy, providing avenues of dialogue that can bridge ideological and geostrategic gaps.
"Drawing on Qatar's recent diplomatic successes in Afghanistan and Gaza, Doha is eager to become an indispensable partner for the US and European allies, while remaining mindful of its own limitations."
Qatar's sense of its own identity, independent from that of its neighbours, finds expression in art and cultural policy. Sulaiti explains: "It's different [in Qatar] in that we have a vast network internationally, and connections that we are trying to leverage off of. At the same time, we try to be grounded in what we do, and very authentic and organic in not forgetting our heritage. There are initiatives to try to preserve that heritage and not allow it to die out."
There may have been an element of posturing in Qatar's decision to hire Jean Nouvel, the French architect responsible for the Louvre Abu Dhabi, to design its National Museum, which stands as a beacon of national identity and self-confidence, in some contrast to the Louvre's Abu Dhabi outpost, currently filled with loans from French museums.
Known as the "desert rose", Nouvel's Doha building projects Qatar's post-oil future as a tourism-based economy, an ambition that reverberates noisily through the building sites of a city so riven by the construction of five-star hotels, that even local drivers are lost without Google.
Inside as well as out, the "desert rose" is breathtakingly beautiful, with a series of vistas that evoke the desert's surprisingly diverse flora and fauna, and sloping floors and ceilings that rise and fall in evocations of sand dunes, caves and open skies.
---
The traditional nomadic pastoralism of the Bedu, and the more settled coastal populations, who relied on fishing and pearl-diving for their livelihoods, are explored in detail, with extensive and well-preserved
collections of costumes, jewellery and textiles. These create a vivid impression of a life that had remained unchanged for centuries, captured also in black and white photographs from the 1950s.
The advent of oil is a poignant moment in the museum's chronological display, marked with fragments of rusting pipelines heaped together like the bones of a dinosaur.
Meanwhile, the pearl trade, which died out in the 1930s with the discovery of synthetic manufacturing processes, is commemorated in one of the museum's most evocative films.
Today, these symbols of former glory are the currency of the five-star hotels that greet their guests with sugar-crusted dates and elaborately crafted chocolates disguised as pearls.
But while tourism offers a future post-oil, it would be wrong to understand the crop of new museums and cultural institutions solely as tourist destinations, instruments of soft power, geared towards a Western clientele.
The museum is one of a cluster of recent initiatives by Qatar's rulers to foster social cohesion through education and shared history. The National Library, opened in 2017, is another – established to provide Qataris with free access to books and cultural events, with an extensive children's section and services for mothers and babies.
If such initiatives have been spurred on by Qatar's newly found prominence on the international stage, they have secure roots in Qatar's ruling family. In 1995, Sheikha Al Mayassa's mother, Sheikha Moza bint Nasser, co-founded the Qatar Foundation, set up to promote education, science and cultural initiatives at home and abroad.
Mathaf, Doha's Arab Museum of Modern Art, was founded in 2010 by Sheikh Hassan Al Thani, another member of Qatar's royal family, who began collecting work by Arab artists in the 1980s. The collection, the most important of its kind in the Arab world, showcases a long-standing dialogue between east and west, with European modernist influences often evident among traditional subject matters and styles.
Temporary exhibitions, currently a show by French-Algerian superstar artist Kader Attia, continue the trend.
Nurturing home-grown talent is a vital part of increasing this particular strand, and projects such as M7 and the artists' residency programme at Doha's Fire Station are focused on supporting and cultivating local talent, and exposing them to international audiences and influences.
Government support for such projects attests to the understanding of the "soft power" of art and culture, although to a cynical Westerner, the suspicion remains that women have been handed the reins because men have not appreciated its true value.
For the time being, Qatar's cultural leaders are forging ahead with an increasingly diverse programme, that simultaneously builds a creative economy and fosters cross-cultural understanding.
With understanding, comes tolerance and perhaps freedom. Sulaiti says: "Within M7 we know there's so much benefit to be had in terms of diversity and learning from other cultures. Through visual arts and design, and even food, you understand a culture a lot more and we see that as really important.
"We look at our own identity and how we can share that with the world,
and how it can be translated into art and design. It definitely makes it easier to exchange, and it's more interesting and more inspiring."
In the shadowy grey spaces of politics and power, where understanding might usefully be tempered with ambiguity, Jeff Koons' "It could mean anything" may prove a motto to live by.