It was supposed to be the holiday of a lifetime. James Gandolfini, in possession of all the fame and fortune a man could ever need, was in Rome with his only son, Michael. A treat to celebrate the 14-year-old's high school graduation, the actor was apparently every bit as excited about visiting the old country as his boy.
On the evening of June 18, 2013, father and son dined at the restaurant of the hotel they were staying in, the Boscolo Exedra Roma. The newspapers would later claim that Gandolfini looked haggard and half-cut after a meal that took in two pina coladas, four shots of rum, two beers, two orders of fried king prawns with mayonnaise and a large portion of foie gras. However, the waitress who served him that evening reported nothing of the sort.
"I remember him because he was a very nice person," waiter Andrei Burca told the New York Post. "He had a big smile, a big laugh and looked happy."
It's likely that James Gandolfini's good mood was the result of a vacation that had already seen him visit the Vatican and enjoy the hospitality of many of Rome's finest eateries. Having just become a father again – his daughter Liliana was born the previous October – he had everything to live for.
He also had a trip to Sicily's Taormina Film Festival to look forward to. While there, he was set to receive the Taormina City Prize, after which the festival would air a number of his films and episodes of his signature TV show.
As it was, the festival screenings still went ahead but as a tribute to rather than a celebration of the Emmy and Golden Globe-winning actor who, though superb in so many things, is destined to forever be remembered as neurotic Mafioso Tony Soprano.
Although the role was originally earmarked for GoodFellas star Ray Liotta, it's hard to imagine anyone besides Gandolfini portraying the most charismatic street boss of the DiMeo crime family. Like Anthony John Soprano Sr, James was born in New Jersey into an Italian speaking family. Admittedly, James's dad Jimmy and his wife Santa had little to do with the Cosa Nostra, what with him being a bricklayer and her a dinner lady, but the combination of Gandolfini's upbringing and his familiarity with Soprano's stomping ground made him uniquely qualified for the acting challenge of a lifetime.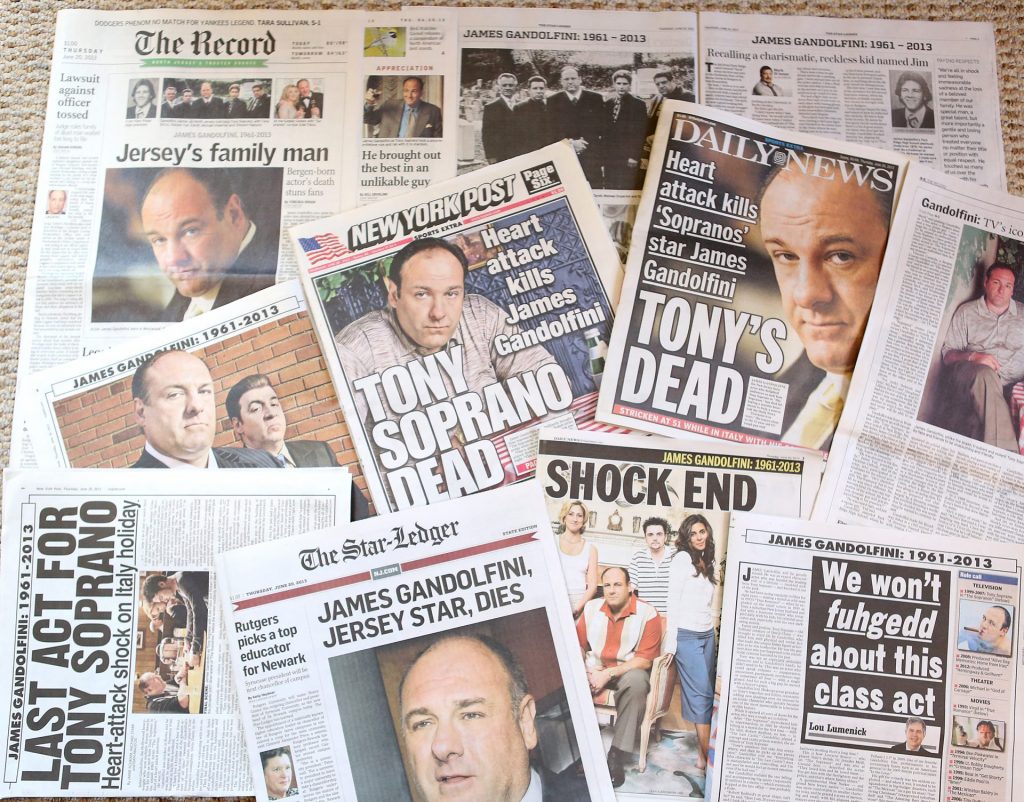 Though Tony Soprano's fate remains unknown after the series ended with a sudden, divisive cut to black, the man who essayed him passed away in a manner that's no less tragic for being so mundane. Having made it back to their 580 euros per night (£496) hotel suite at the Exedra around 10pm, young Michael Gandolfini was watching TV when he heard a commotion coming from the bathroom. On opening the door, Michael found his father slumped against the bathtub, struggling to breath and barely conscious.
With the house doctor summoned, James Gandolfini arrived in A&E within 40 minutes of Michael finding him. Twenty minutes later, after trying everything to revive him, the doctors declared the actor dead, the victim of a massive heart attack. He was – and this is still hard to believe – just 51 years old.
As mentioned earlier, the combination of huge star and untimely passing allowed the tabloids to fill acres of page space. Allegations of cocaine use that emerged during Gandolfini's 2002 divorce from Michael's mother resurfaced. 'Friends' claimed he had been secretly attending AA meetings although he'd apparently assured one such intimate – one assumes even more secretly – that he had no interest in getting sober.
In amongst the scuttlebutt, something important was forgotten. A bereaved 14-year-old alone in a foreign country, Michael Gandolfini's situation would break even the hardest of hearts. At a time when mercy was in short supply, it must nevertheless have been of some relief that one of James' sisters arrived in Rome within a day of her brother's death.
Leta Gandolfini had been due to accompany her sibling and her nephew to Sicily. Instead, she made found herself making arrangements to have her brother's body returned to the United States.
Eight years on from his death, it's still not easy to believe that as robust a character as James Gandolfini could leave us so young. Just as Tony Soparno's inevitable death was muddied by David Chase's brave/ foolish decision to leave his series in limbo, the dour oddness of the actor's demise – occurring overseas and at an age when the greetings cards would have you believe that life has barely begun – seems somehow to have denied the performer his due.
All of which said, it's fitting that the nearest thing the James Gandolfini story has to a happy ending comes courtesy of the boy who found himself alone in Rome without his beloved father that summer's day in 2013. This week sees the UK opening of Sopranos prequel movie The Many Saints Of Newark, with Michael Gandolfini as the young Tony.
The Sopranos was a series all about family. How fitting that family should ensure that James Gandolfini – a man taken from us while visiting the Eternal City – can now enjoy something approaching an afterlife.