The Albert Hall had never witnessed a rowdier crowd. Ten years ago South
Kensington's French contingent turned out in force to see a national legend
perform in London for two nights only. Johnny Hallyday, dubbed the "French Elvis" – although it is a shorthand that hardly reflects what the bombastic, gravel-voiced, rocking balladeer meant to the French national psyche – had only performed on British soil once before, doing a brief turn at the Royal Variety Performance in 1965. After those back-to-back nights in 2012 he would never perform here again. He died five years later aged 74, unleashing a wave of national grief in France.
In Johnny Hallyday: Beyond Rock, a five-part French-made documentary
series which came to Netflix this week, previously unseen archive footage allows the Gallic rock icon to tell his story in his own words from beyond the
grave (its French title is simply Johnny par Johnny). The turbulent private life
that made Hallyday beloved of the French gossip mags – the endless health
scares, four wives and multiple affairs – is explored in the series, but its chief
achievement is highlighting Hallyday's prolific output and incredible on-stage presence as a live performer, as well as his creation of a public persona for himself which held a nation spellbound for decades.
"I'm a liar," Hallyday says in Beyond Rock, elaborating: "I need to make myself dream. I need to believe in my lies in order to make people believe, to make them dream."
---
Hallyday was both a master of his own myth and a live performer of such savage magnetism that he could indeed "make people dream". That myth was evident at that first night at the Albert Hall, which I watched from the gods. Although often dismissed as something of a naff joke in the Anglophone world, he was the most engaging live performer I've ever seen.
As Beyond Rock shows in glorious technicolour, Hallyday was known for expensive, elaborate staging, and he always arrived on stage with aplomb,
whether it was being winched down from a helicopter, emerging from an
exploding silver balloon or appearing in the palm of a giant hydraulic fist.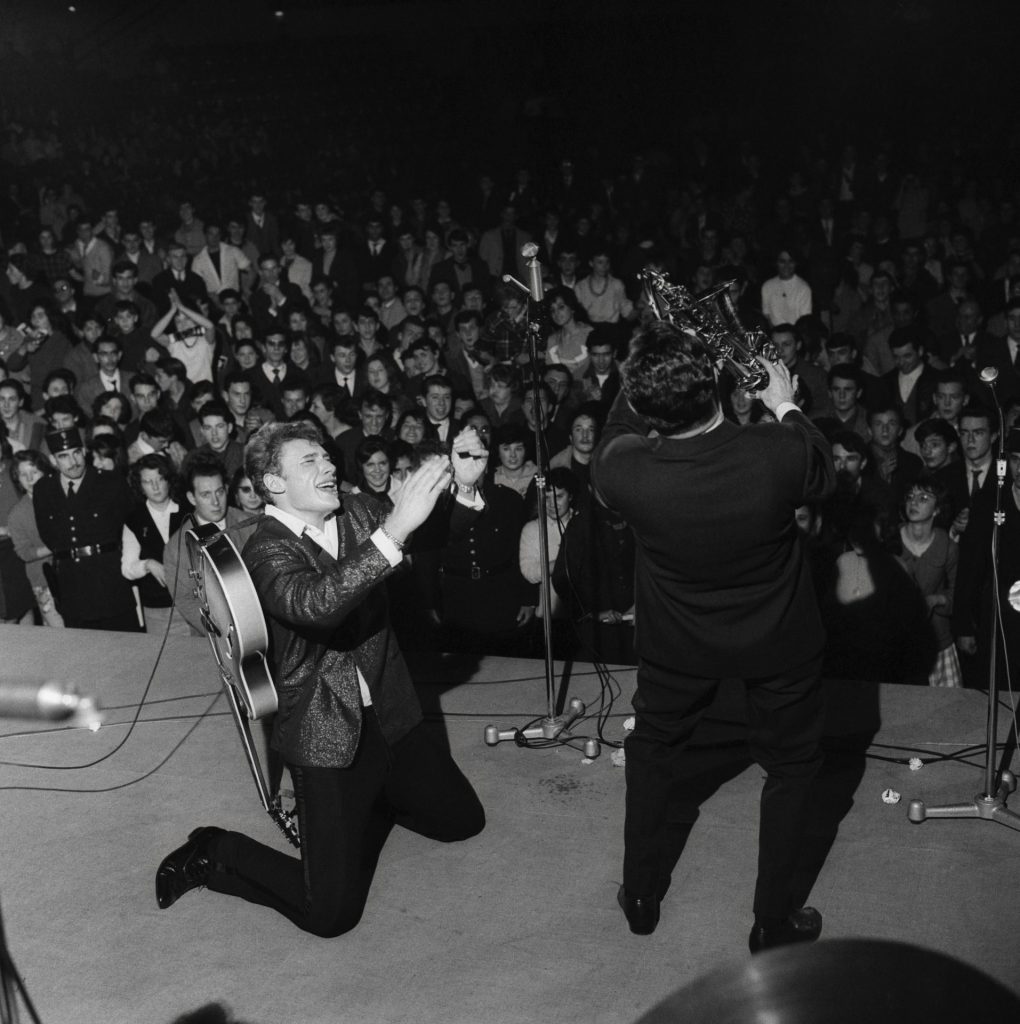 The Albert Hall did not permit such excesses, but as he appeared in a cloud
of dry ice, the ushers were powerless to prevent the stalls emptying and the
audience surging to the front. As even the burliest men proffered roses and
strained to touch their idol, it was clear that Hallyday still had the same ability to galvanise a crowd he had possessed over 50 years before, when he whipped up the audience at the 1961 Premier festival international de rock in Paris into a riot.
Hallyday stood dressed head to toe in leather, with his bouffant hair carefully dyed and his features tanned and deeply lined but bearing more than a little evidence of surgical tampering, and launched into two songs that had been tailor-made to express the wild man image he fostered throughout his career.
Allumer le feu ("Light the Fire") was specially written to open Hallyday's
huge concert at the Stade de France in 1998, and it became his signature rabble-rouser, full of the baroque Americana – motorbikes, wolves, thunder and lightning – he had made his own. This was followed by Je suis né
dans la rue, Hallyday's self-mythologisation song. Beginning "Je
m'appelle Jean-Philippe Smet/ Je suis né à Paris/ Vous me connaissez mieux/ Sous le nom de Johnny", it goes on to recount his birth "in the street" during
the occupation of the French capital, and his rise to fame.
His rags-to-riches story narrated in that song – abandoned by his parents,
raised by an aunt, and given both his name and his early schooling in showbiz by his cousin's husband, US-born leader of the family touring dance troupe, Lee Halliday [sic] – suited his gritty public image, and the setlist that first night at the Albert Hall served as a journey through Hallyday's long career.
Next came Excuse-moi partenaire, Hallyday's 1964 cover of Johnny Guitar Watson's Cuttin' In. This was a single that, having signed his first record contract in 1960 aged just 16, was typical of his early-career modus operandi,
releasing a stream of French-language versions of US hits and stealing Elvis's
hip-swivelling schtick. Later in the set there was Hey Joe (covered by Hallyday just weeks after Hendrix made it a hit in early 1967), L'idole des jeunes (his French-language cover of Ricky Nelson's Teenage Idol), Elle est terrible and Cours plus vite Charlie (both Eddie Cochran covers), and Tes tendres années (another adaptation from an English-language original).
But those songs from Hallyday's teenage idol era were followed by one
that signalled a turn to the rock balladry that would come to define his career. The trepidatious opening organ line of Que je t'aime saw the hall erupt in raptures, and when this sexually charged ballad appeared in 1969 the
French public had had the same reaction, keeping it at No 1 for 11 weeks. It had all the drama and vocal fireworks that would become hallmarks of Hallyday's oeuvre, and lyricist Gilles Thibaut's overwrought lines like "Quand mon corps sur ton corps/ Lourd comme un cheval mort" couldn't have been delivered by anyone but Hallyday.
Que je t'aime had been a turn away from the difficult 1960s when Hallyday had found fame and grown up, marrying yé-yé singer Sylvie Vartan and
having his first child, but had struggled with his notoriety to the extent of
making a suicide attempt. Despite hanging out with Hendrix, working with Jimmy Page, Steve Marriott, Ronnie Lane and Peter Frampton, and flirting with protest singing, mod rock and psychedelia, he'd struggled to adapt to
changing fashions in music and find his own voice. Que je t'aime was Hallyday finding that voice, and over 40 years later it still sounded like a song from the heavens.
As Hallyday rolled out old favourites Fils de personne, his 1971 cover of Creedence Clearwater Revival's Fortunate Son, and the 1976 Smokie cover Joue pas de rock'n'roll pour moi that night, it was a reminder that the 1970s too were marked by some derivative material (they were no plain sailing personally either, with divorce, car crashes and drug problems).
But his first encore song, 1973's stripped-down blues rocker La musique que j'aime, and 1976's soft rock Gabrielle – where he sung of "ten years in chains" as a "convict of love", and the crowd anticipated and mirrored Hallyday's signature gesture of holding his hands aloft, wrists crossed – were emblematic of Hallyday's status not only as a balladeer, but as a purveyor of radio-friendly rock in the 1970s. It would be the sound to which he always returned.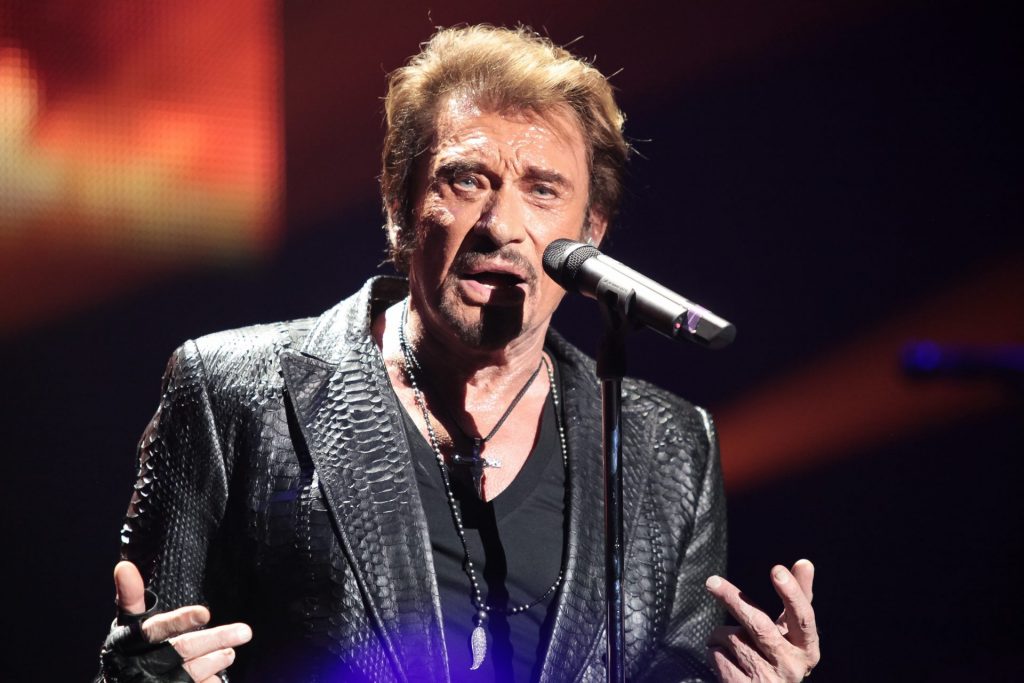 By 1979, Hallyday was honing an image as a tough guy and brooding malcontent, and the fourth number that night, Ma gueule (meaning "my gob" or "my mug"), was another watershed song. Also written by Gilles Thibaut, the idiomatic lyrics were one long variation on the words – "What are you looking at?" – while musically it had something of Jim Steinman's Wagnerian rock. The song's menace was undiminished three decades on as he performed it on this night, and it showed Hallyday's unrivalled mastery of the melodramatic rock ballad with grown-up lyrics.
Also of this ilk was the next song, his hit from 2002, Marie, the sort of stately
ballad befitting an elder statesman of rock. And then there were the massive
Michel Berger-penned hits, which Hallyday played back-to-back. Diego, libre dans sa tête, a strange little chanson number when originally recorded by Berger's wife France Gall, became a massive, guitar-strewn rock ballad in
Hallyday's hands. Written as a denunciation of the repressions of South American dictators, it showed how Berger was able to supply Hallyday – never seen as an intellectual artist – with some cerebral material.
And as Diego gave way to Berger's soft rock ode to Tennessee Williams, Quelque chose de Tennessee – which relaunched Hallyday's career in 1985 – affection radiated from the audience.
Lest we should forget that Hallyday was all but unknown in the Anglophone
world, there was a little interlude following Quelque chose de Tennessee when Johnny exceptionally sang in English. As he delivered a highly melodramatic rendition of I (Who Have Nothing) followed by a cover of blues singer Tommy Tucker's 1964 hit Hi-Heel Sneakers, it was the only time it didn't feel like Hallyday was performing at the top of his game. It was easy to see why his past forays into singing in English – 1962's Johnny Hallyday Sings America's
Rockin' Hits and 1994's Rough Town – were relative commercial flops.
The Johnny Hallyday who took the stage that night 10 years ago was the culmination of 50 years of myth-making. The detractors were not entirely wrong about his non-existent relationship with subtlety – during Bob Seger cover Deux étrangers, he dropped to his knees and humped his mic stand. It was a bit much for a man who was pushing 70, had a replacement hip, and was officially retired from touring. But Hallyday was a performer who never
left anything in the tank, and the brooding showstopper L'envie, a slow-burning song of lyrical contrasts and musical highs and lows, which closed
the show, also saw Hallyday giving it his all, fully embodying his brooding outsider persona.
But this performance was not just about this confected image – Hallyday's "lies", as he had it. The final encore was Hallyday's touchingly plaintive new
single, L'attente, performed under a single spotlight with piano accompaniment. Stripped of the rock spectacle, Hallyday proved he could
combine a powerful vocal with an ability to emote in a way rivalled only by
opera singers. Suddenly, all the artifice dropped away and half a century of
performing experience crystalised in a moment of genuine emotion. "Look at the crowd at his concerts," says Oscar-winning director Claude Lelouch in the final episode of Beyond Rock. "They're not on Earth. It's like being with God." He wasn't far wrong.