There's a sequence of pure cinematic magic in Italian director Michele Placido's new film L'ombra di Caravaggio (Caravaggio's Shadow).
Mourners are gathering around the bed of a dying woman. The camera moves towards the subject, and the scene suddenly flips from the live action to Caravaggio's Death of the Virgin, the 1601 painting that Placido's scene depicts. The effect is startling. Placido manages to faithfully recreate the composition and raw dignity of the original artwork, as well as capturing the quiet drama in Caravaggio's use of colour, light, and shadow.
L'ombra di Caravaggio is only the second fictionalised Caravaggio biography in cinema history – the other being Derek Jarman's 1986 work, Caravaggio. It's hard to fathom why there are just two dramatisations of a life as packed with intrigue as Caravaggio's, especially given the other side of the painter's coin – his artistic style and approach – has had such a profound impact on the processes of filmmaking, from early experiments and lighting techniques to modern-day dramas.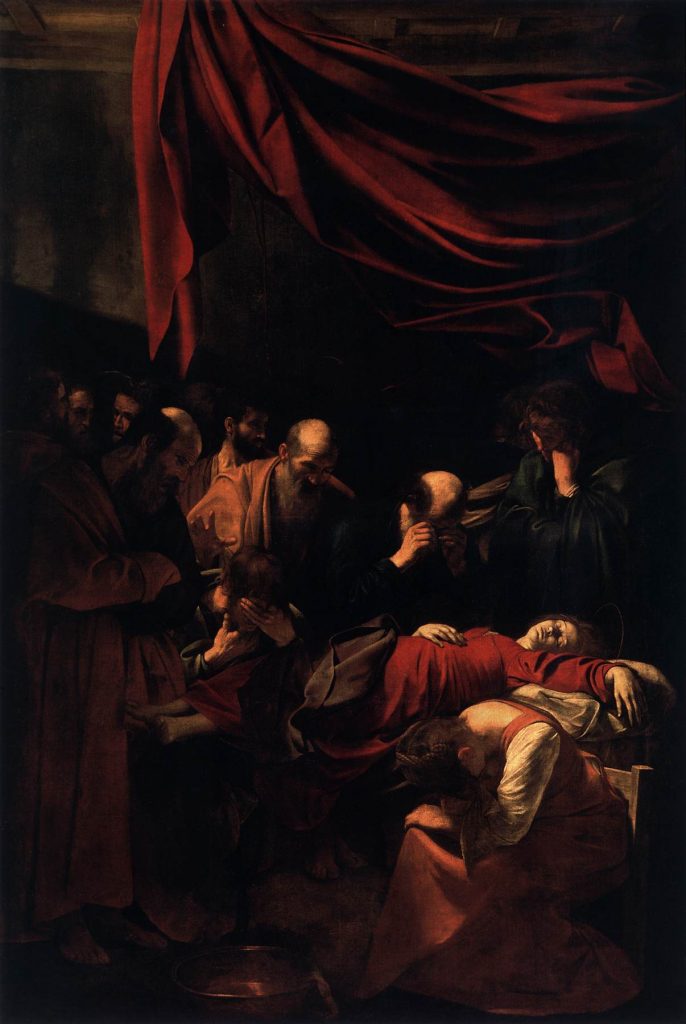 Born near Milan in 1571, Michelangelo Merisi da Caravaggio's story is a heady mix of fact and conjecture. While his professional career is traceable via the dates of his paintings and the patrons who commissioned them, there are enough gaps and rumours throughout Caravaggio's private life to enable writers, academics, and filmmakers to cook up their own conclusions. Some say he was a brawler and gambler. He may or may not have been gay. He might have murdered another man over a game of tennis. His death in 1610 was caused by either syphilis, murderous revenge, or malaria, depending on which biographer is best believed.
Played by Riccardo Scamarico, Placido's Caravaggio is a swashbuckling heartthrob that Scamarico has gone as far as likening to a young Elvis. What remains unshakable, though, is the painter's influence as an artist.
---
Caravaggio invented tenebrism (from the Italian tenebroso, meaning darkened). Other painters – himself included – had been working with chiaroscuro techniques for some time, the demand for religious subject matter lending itself to painting that employed extremes of darkness and light. Caravaggio took chiaroscuro further. He used paint to render voids surrounding figures in pure blackness, pulling viewers towards the artworks' Stygian depths. Caravaggio's tenebrism was a new, brazen way of painting that would be adopted over time by Velázquez, Goya, Rembrandt, and more.
Caravaggio was also a realist. While his contemporaries painted Biblical scenes using picture-perfect life models in white robes, Caravaggio rejected flawlessness for grit.
The Virgin Mary in Death of the Virgin is a real woman. She is fleshy and floppy and clearly deceased. No crowds of angels hover above her head. There are no halos or shining lights of ascension.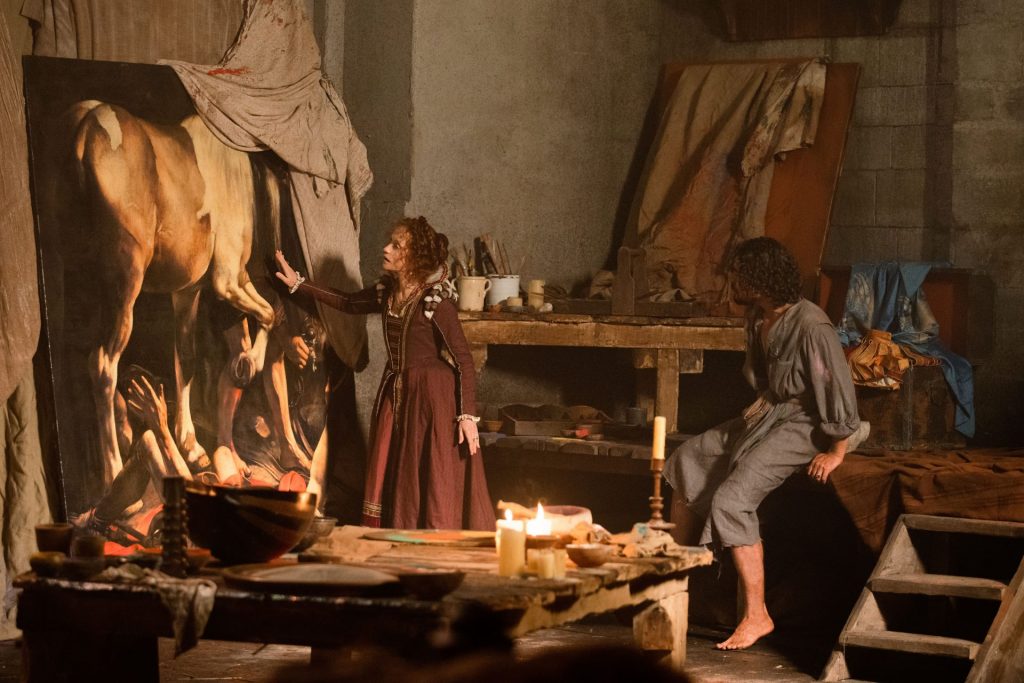 The models for Caravaggio's paintings were ordinary people. He employed beggars, market traders, and cleaners – the types he'd meet in the taverns of Rome and Naples – and posed them as saints and sinners, dressed in the clothes they were wearing that day. One (unverified) account suggests Caravaggio's model for Death of the Virgin was a drowned prostitute. It's these twin towers of painterly ultra-contrast and understanding that people need not be archetypally beautiful or professionally trained to tell a tale that has inspired auteurs ever since.
Early 20th-century films from the likes of Fritz Lang and FW Murnau are steeped in Caravaggio's tenebrism. Both directors used celluloid's ability to render extremes of light and dark to reflect the painter's shadowy theatricality. The rise of the American film noir genre in the 1940s grew from Lang and Murnau's melding of German Expressionism with melodramatic lighting. Published in 1949, cinematographer and film noir pioneer John Alton's book Painting with Light is still required reading on how light, setting, and camera technique can create Caravaggio-esque visual mood in film.
For his own Caravaggio film, Jarman (a painter himself, first and foremost) leant heavily on the artist's purported sexual ambiguity, using the painter's depictions of simmering homoeroticism and fabled promiscuity to highlight themes of Catholic greed and religious hypocrisy. Pre-empting Placido by more than 35 years, Jarman also assembled tableaux vivants to recreate Caravaggio's paintings, augmenting film sets with lush red fabrics, bowls of fruit, and armour placed on and around posing models, all bathed in starkly contrasting light.
Speaking of the artist at the time, Jarman said: "Had Caravaggio been reincarnated in this century it would have been as a filmmaker, Pasolini". No stranger to controversy himself, the Italian writer and director Pier Paolo Pasolini mirrored Caravaggio's use of real people – rather than professional actors and models – in his film projects. The Oscar-nominated 1964 drama The Gospel According to St Matthew starred an amateur actor, Enrique Irazoqui, in the role of Jesus, and his 1974 film Arabian Nights featured casts of local traders and friends.
In a 2004 interview with the American Society of Cinematographers magazine, The Passion of the Christ cameraman Caleb Deschanel spoke of how he used the artist's paintings, saying: "Caravaggio's work inspired the film as much in terms of the faces he used in those paintings as it did in terms of the lighting and composition".
Elsewhere, the director Julia Ducournau talks often of studying Caravaggio's work, most recently in the run-up to directing her 2021 award-winning French horror hit, Titane. And the Portuguese filmmaker and artist Pedro Costa pays homage to both Caravaggio's tenebrist lighting techniques and his inclusion of everyday people in his pieces. His 2019 film, Vitalina Varela, is a lesson in haunting scenes of luminescence and shade.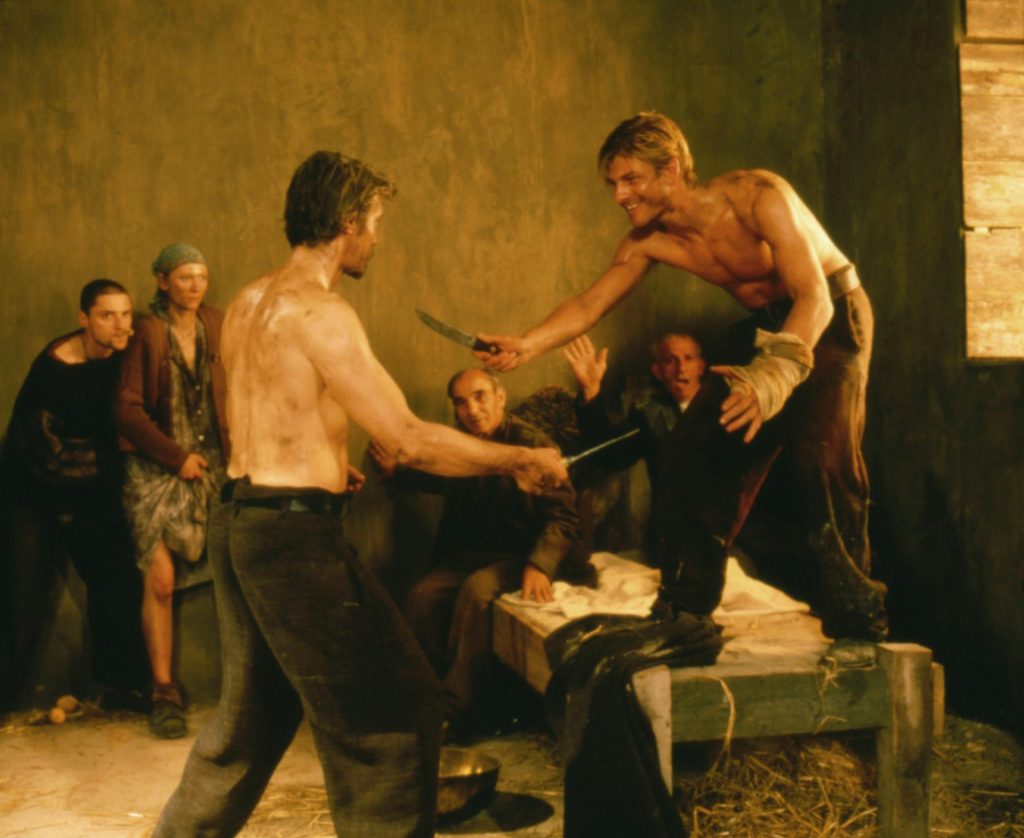 For Andrew Graham-Dixon's 2010 biography, Caravaggio: A Life Sacred and Profane, the art critic asked Martin Scorsese to describe how the painter had influenced his projects. Recalling interior crowd scenes in his 1973 film, Mean Streets, Scorsese said: "It's basically people sitting in bars, people at tables, people getting up. The Calling of St Matthew, but in New York! Making films with street people was what it was really about, like he made paintings with them."
Then there's timing: the exact point within an event that Caravaggio chose to illustrate. "The Conversion of St Paul, Judith Beheading Holofernes," says Scorsese: "He was choosing a moment that was not the absolute moment of the beginning of the action. You come upon the scene midway and you're immersed in it. It was different from the composition of the paintings that preceded it. It was like modern staging in film: it was so powerful and direct. He would have been a great filmmaker, there's no doubt about it."
L'ombra di Caravaggio is in cinemas from December.