It's a ten-minute walk from Forster Square station to Bradford Interchange – two small, underserved stations that have surely seen better days. If you want to travel by train between towns either side of Bradford, this is the route you must use — a permanent version of the irritating replacement bus service without the convenience of the actual bus.
When you do get on a train, your options for a direct journey are fairly limited.
Businesses with more than just local ambitions would hesitate to set up here.
"It's going to take me 40 minutes now to get home – only seven miles away," John Fry, a lecturer, told me on the platform of Bradford Interchange. Bad connections, overcrowded, unexpectedly short or late trains often conspire to keep him from his dinner. "Commuting in the north is terrible. I don't think anybody in the south can understand just how bad. I read somewhere that the trains were better in the age of steam."
Yet Bradford isn't just a small town in the north. The UK City of Culture candidate, home to more than 537,000 people, is billed as Britain's seventh largest city and, according to a recent study, the worst connected.
That it may well remain so goes to the heart of a bitter row over the government's new Integrated Rail Plan (IRP) — slammed as an enormous betrayal of the region for abandoning the eastern branch of the HS2 high-speed railway to Leeds and ripping up part of the Northern Powerhouse Rail project on cost grounds.
---
Bradford is the biggest loser. The West Yorkshire city foregoes both its new station and a spanking new Manchester to Leeds high-speed line that would run through it. Instead, the short route to Leeds will be electrified.
"The Leeds-Manchester line was a real opportunity for us. It would have added another 30 billion pounds to our economy over ten years, and 27,000 jobs. Without consulting us, the government just came in and plonked a new plan in its place that won't work," Bradford council chief executive Susan Hinchcliffe told me when we met at a café near Bradford City Hall. The imposing 19th century building recalls a time when this was among the richest cities in Europe as a world centre for wool and textiles. "We want to be a net contributor to the UK. We don't want charity handouts – just our rightful investment to be part of that."
According to Hinchcliffe, the chronic lack of connectivity – not even the M62 goes to Bradford — has already stymied health and career options in the young city (127,000 under 16s). But beyond that, the new station would have offered a million square feet of commercial space. Bradford is full of small businesses and is considered among the best places to start one – Morrisons and the Mumtaz restaurant chain grew out of the city. Hinchcliffe had already received demands for the planned new retail space: "Now they'll go elsewhere. It'll lose that business."
The IRP does promise £96 billion in rail investment, and offers a patchwork of alternative solutions, including electrification, upgrades and some new high-speed stretches of railway, but it has caused anger as it represents huge cuts to promised funds in the north of England. Large chunks of money announced earlier are recycled within that figure, and around half is committed to the under-construction London-to-Birmingham part of HS2. According to the Northern Powerhouse Partnership, the cuts total some £36 billion.
Northern mayors are incandescent. South Yorkshire's Dan Jarvis accused Boris Johnson of squandering the opportunity to "unlock thousands of jobs, massive new investment and the regeneration of our towns and stations across our region."
"We will not roll over and accept this," said West Midlands mayor Tracy Brabin.
James Lewis, leader of Leeds city council, said the region had been preparing for a decade for the projected benefits, including an estimated 160,000 jobs, £200 billion economic uplift and up to 38,000 new homes. The buzz had already encouraged institutions such as Channel 4, the Bank of England and the National Infrastructure Bank to set up regional hubs in Leeds, Lewis maintained.
While they are grieving in the North, in theory, they should be cheering in the South, where HS2 inspires a deep-seated hatred for blighting homes and countryside yet offering no station in return.
They are not.
While Alok Sharma was telling his audience, at COP26, that they were the "new Swampys", the real Swampy was in a tunnel under Wendover, in Buckinghamshire, protesting against the destruction of ancient woodland and the carbon emissions caused by HS2. Angry protesters have flocked to sites along the line, including Old Oak Common in London, where venerable trees were uprooted to make way for a new superhub station.
Sprawling works are already tearing gashes through the fields, house-demolishing is underway, homes, churches, and schools are braced for future noise. HS2 was cited among the (many) reasons why Chesham and Amersham voters abandoned the Conservatives. I live on the route and have friends forced to leave their family homes. One family lost everything after the arrival of HS2 spooked the bank and upended their remortgaging plans to pay an old debt.
Now, they feel entitled to ask – what was it all for? They believe HS2 should have started in the North – where it was useful and wanted. That way, even if funds were cut later, what has been spent would be helping rebalance one of the most regionally unequal developed countries in the world.
In this, the southern "antis" and the northern champions of the route are now in agreement.
"Building from the north was our consistent ask. Yorkshire MPs were saying this about a decade ago," said Henri Murison, Director of the Northern Powerhouse Partnership (NPP), a body of civic leaders and businesses pushing to connect the big cities of the North as a network of economic hubs.
When I meet him in Ilkley, the picturesque town at the end of a slow, multistop ride away, Murison is busy fielding calls about the "disastrous" news. The government's own review had said HS2 only worked if built in full, he said. Analysis commissioned by the NPP had estimated that building HS2 and northern rail in full and investing in other drivers of productivity, would create a trillion pounds in economic output, Murison said: "For saving 36 billion you're throwing away a trillion – that's the maths."
HS2 was announced in 2010 by then Labour Transport Secretary Andrew Adonis in order to solve the expensive problem of upgrading Britain's creaking Victorian railways, increase capacity and city connections, and bring Britain's transport infrastructure level with European and Asian countries.
Adonis told me Japan had bullet trains since 1964, Italy since its 1977 Florence to Rome link. France opened its Paris to Lyon line in 1981.
"It was stark staringly obvious in the 2000s that we were behind the curve," he explained. "We had all the problems of congestion, particularly on major urban routes, that they had. It looked like an idea whose time had come."
This conjured up the vision of a sleek railway gliding down from the great northern cities through London to Paris in one, smooth unbroken journey. Although now more bitty and complicated, HS2 has an evangelical coterie of fans, especially in politics and business. At a dinner a few years ago, I met one of the railway's designers. Unruffled by my sceptical questioning, he said: "Don't worry. It's going to be beautiful."
But it also has the haters – and not all of them people whose dog walks have been spoiled by bulldozers and men in orange boiler suits. From the very start, they have picked big holes in it.
---
First under attack were HS2's green claims. Even HS2's own calculations show it may not be carbon neutral opponents said. An extensive survey has found it would damage or destroy hundreds of wildlife sites, some irreplaceably. Supporters describe a "modal shift" of people moving from gas-guzzling cars and climate-destroying planes onto much cleaner trains, while opponents are unconvinced — especially with planes still cheaper in the topsy-turvy world of transport pricing and now tax cuts on domestic flights. The London-to-France HS1 has not hit its passenger targets.
Many environmentalists are against, including Extinction Rebellion, Springwatch presenter Chris Packham and the Green Party leadership (although the party is split). Environmentalist writer George Monbiot called it: "The Concorde of the 21st Century: a money-guzzling, carbon pumping white elephant."
Its business case has also been criticized for overestimating the need for quick train travel by failing to sufficiently account for work accomplished en route thanks to wifi and laptops, and, lately, changes to work since the pandemic. HS2 contends it's not about sped but capacity – that building a new railway line for freight and long-distance traffic frees up other lines to cater to local traffic and ease congestion. Freight from northern ports could reduce longer journeys from the south.
Railway writer Christian Wolmar, a longtime critic, is nevertheless withering.
"It's a line plonked down to imitate other countries without really much thought," he told me. "It's very disjointed from existing railways – there are lots of parkway stations by definition in the middle of nowhere, many terminal stations, which is a bad idea. What you want are through stations in city centres. This has always been flawed."
Almost uniquely, he grudgingly sees merit in the IRP. It was done for the wrong motives – to save money – and the government can't be trusted to follow through he said: "I wouldn't say it all works. But, by mistake they have stumbled on a more coherent process."
The new plans still build links through the east, he says. The original HS2 line didn't connect with either Derby or Nottingham, instead there was a parkway in between them – now they'll have faster links to Birmingham. Leeds is now slated to have a through station and new tram system.
But other destinations lose out. "HS2 will deliver nothing for Teesside, Darlington and Hartlepool," Teesside's Conservative Mayor Ben Houchen said last month. "As a mayor, if I was given one per cent of the HS2 budget I would be able to revolutionise public transport on a scale we couldn't possibly imagine."
One reason such projects, built for the next century, are so divisive is that they rely on projecting future benefits and behaviour that are difficult to quantify – especially in times of turmoil and changing circumstance.
How the pandemic changes work is still unclear – will everyone really remain working from home and using videoconferencing, diluting the need for train connections? Will changes to the ecology from building the line be overcome and forgotten, or will they incrementally contribute to a climate catastrophe?
How do we value each hour spent on a train? As a loss? Yet I wish my journey from Leeds to London had been longer so I could have finished this piece on the train rather than at home in the middle of the night once the children went to bed.
Positive arguments trying to justify a project are often over-egged, making it easier for detractors to find flaws, but also more seductive for believers. And while there are winners, losers can lose quite badly – ask those forced out of their homes.
While the media focuses on the rows around HS2 — from protests and spiraling costs to speculation about its future – Adonis points out that it has stood the test of time. Apart from the latest cuts, it's still very close to the structure he first proposed. It's been supported by every prime minister from Blair onwards, and even survived attempts by Dominic Cummings and Johnson's transport adviser and arch HS2-critic Andrew Gilligan to blow up the whole idea.
But even in the north, it's easy to find people who are lukewarm. Here, HS2 is often seen as a London-centric project, Bradford university professor David Spicer, told me in his office overlooking the city. When he first heard about the HS2 line to Leeds, he thought "Great, but where's the top bit."
Whilst the infrastructure investment was very welcome, the connectivity regionally and across the north was as big a priority," he said. "In terms of value added, that east-west link across the M62 corridor from Hull to Liverpool" is what properly connects all the centres. "If we lost HS2 to get that, I would be happy with that as a trade off," he said.
And here we come to the most perplexing part of the new rail plans. Most of HS2 will still be built, but great swathes were cut from Northern Powerhouse Rail, a symbol of the one constant that underpinned the whole fast rail project – to help the North.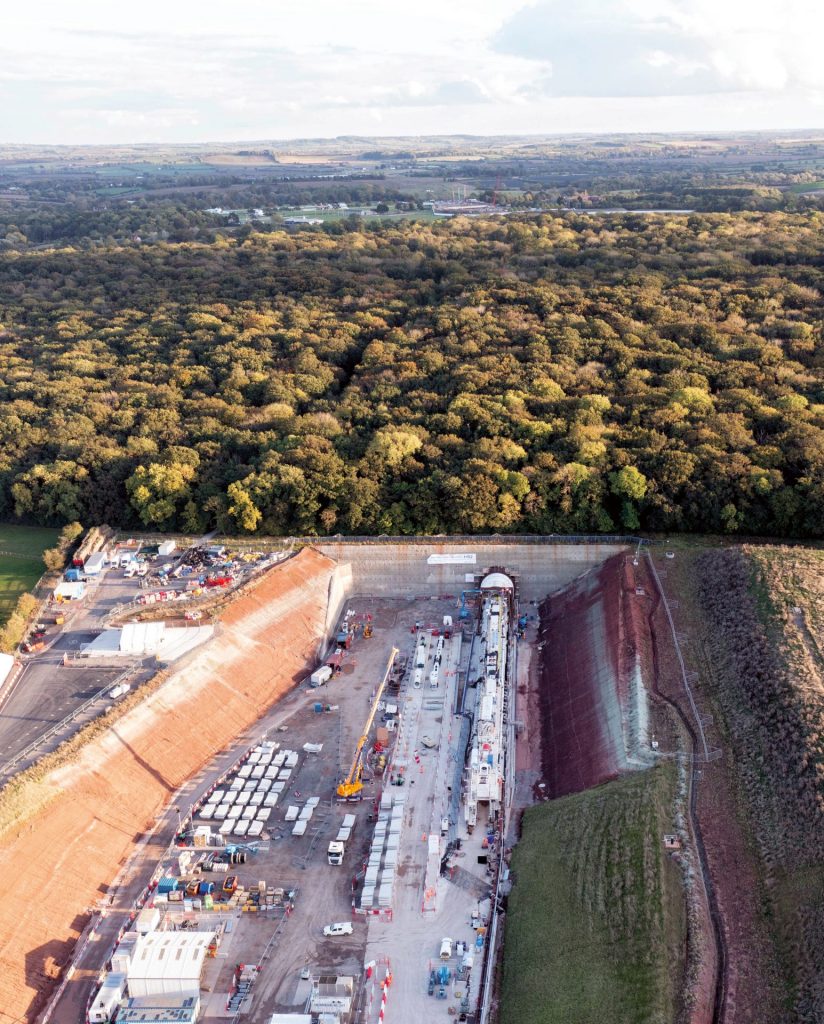 Several studies have shown that when you connect a big hub like London with a faster route to a less prosperous place, the lure is mainly one way – towards the money. But linking regional peers across the Pennines would make them collectively stronger.
It's no coincidence the northern political rebellion is so angry.
Reducing regional inequality depends on integrated, multifaceted transport systems, the kind that currently enables even sparsely populated rural German regions to keep up with or surpass urban cities' economic growth. Manchester mayor Andy Burnham told me earlier this year that the northern city could never achieve London-level prosperity without a London-level local transport. In Cornwall, a chronic lack of connectivity can prevent skilled young graduates dependent on public transport joining up and coming businesses that need them.
Yet when HS2 cuts were sought, they had to come from the north rather than the better-connected south, as the first London to Birmingham leg had already sucked up funds for what is, on its own, a needless 20-30 minute time saving.
"If levelling up was an economic project in the government's mind, not a political one, then you would do Bradford every day of the week," Murison said. "It's such a missed opportunity."
The fear now is that, instead of bridging divides, the curtailed version of HS2 will create a new one. Whatever you think of HS2's powers to magic forth prosperity, it will be notable that the west will have a fast bullet train from London while the eastern route up north will not. Is levelling up now dead?
This is one reason why regional mayors are looking for a way "contribute" to the works if the government won't pay, including an idea to 'leverage' rising land values along the improved routes, something that has been done in Hong Kong.
In the end, in the north the visceral reaction to cutting HS2 and NPR is not just a rational one, but hugely symbolic. It was striking how many commuters questioned in Bradford and Leeds sounded resigned to the funding cuts – 'of course they've let us down', was the collective response, 'they always do. Why would it be different now?'
For Hinchcliffe, the battle is quasi-existential and she won't give up. The scrapped plans and expected side benefits would have helped the latterly upwardly mobile city of young people with much to offer.
"If we want them to contribute to the region, the most able need to have a reason to stay," Hinchcliffe told me. "They're diverse and international – they go to America and Europe to study, they move around. If they don't get what they need here, they go to Dubai — they'll leave. That would be a great loss for the potential of the region and the country."