On a drizzly, wet afternoon in Croydon, two musicians are bringing in some light. Watched by a group of keen, energetic eight-year-olds, harpist Veronika Lemishenko and cellist Natalia Subbotina are playing and explaining their music to the seemingly awe-struck youngsters. They're even allowed  to have a go, their tiny torsos slotted incongruously underneath the oversized instruments.
With a devastating war ripping their country apart, the last thing I imagined was to see musicians from Ukraine doing outreach work with British children. Not so, says Lemishenko, who is here as part of a 17-date UK tour by the National Symphony Orchestra of Ukraine (NSOU).
Regardless of Russian bombs falling daily on their home country, such work with young children also takes place in Kyiv and beyond. "It is very important to support and raise culture in our future generation," she tells me. "Just this August, I was leading a summer harp academy in Kyiv for the young harpists who were currently in Ukraine."
When the attacks began, it was as if some musical god of war rose to the challenge. From the early days of the defiant and mournful videos of violinists in underground shelters and pianists playing Chopin in their bombed out homes, to the energetic performances by orchestral players who have not yet been conscripted, there has been an air of "can-do", "we're going nowhere" vibe among Ukrainian musicians. 
This is palpable in the evening concert, where the 83-strong orchestra storms through a repertoire that travels through Richard Strauss to Ukrainian composer Boris Lyatoshynsky, receiving a standing ovation and performing three encores. It's almost as if the heroic effort of Ukrainians resisting Russia's invasion has galvanised the musicians on stage.
Which is no surprise, given how close the war is to them all. Everyone in the orchestra has lost family and friends including a cellist and double bass player who both lost brothers. Older players have sons in the army. Each morning, they wake up and check social media to check the latest deaths and pray they are not theirs. From the start of the war, many have volunteered to help how they can, in kitchens serving those displaced or who have lost their homes, as first aiders, in other support roles. 
Some have been fighting — one of the viola players has been enlisted and tuba player Oleksii Li is now a machine-gunner in the Ukrainian army. "Every day you risk your life, every day you can die. You start to appreciate what you didn't pay attention to before," says his friend, and principal trombonist, Andrii Holovko.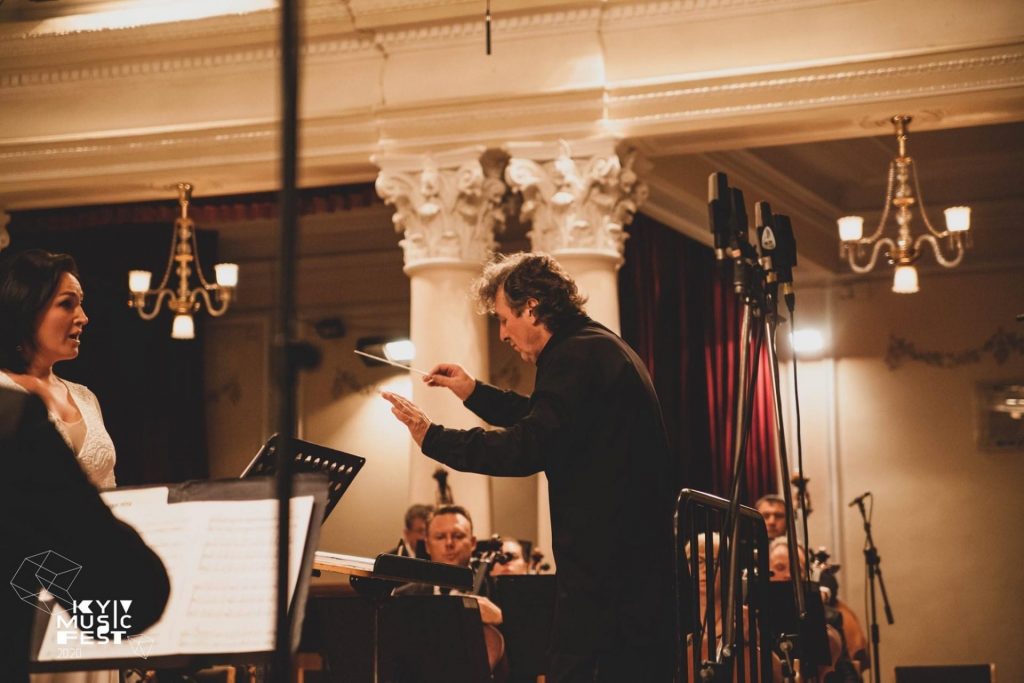 After a short break when the war started, the NSOU reformed. Their first post-invasion concert in April 2022 was, appropriately, at Venice's burned-and-restored opera house, La Fenice — the Phoenix.  It has been working and rehearsing in Kyiv, often under the threat of drone or missile attacks. 
"There are now air alarms interrupting rehearsals and concert performances. During an alarm, we must hide in a shelter," trumpet player and deputy managing director Roman Oleksiienko, tells me. He was also the subject of one of the early war viral images — playing his trumpet in the rubble of his hometown, Irpin. 
These concerts are sometimes interrupted several times. One they had to abandon altogether. The audience is now limited to 150, so they can fit into the bomb shelter together with the players and conductor. The musicians play Bach there until the danger passes. They're now so used to the dangers that they indulge in dark humour. One complains, jovially, about how it takes so long to get his 83-year-old mother down there that it's not even worth the bother. 
But the invasion has certainly taken its toll — it has made the musicians jumpy and agitated, they tell me, alert to the possibility of danger even during the most calming, lyrical slow movement of a concerto.
This has no doubt added to the intensity of performances — it certainly hasn't harmed them, given the glowing reviews for the tour's early performances, and the growing interest in future ones. 
"So many concert halls wanted to provide space for this orchestra. This is just a wonderful to celebrate Ukrainian culture," Mary Harrison, head of UK touring at IMG Artists, tells me. This is their first concert here for 22 years, and their biggest ever.
The previously Grammy-nominated orchestra "bowls me over", she said. "They cope with what they're being dealt with but don't give in. They continue to programme performances — that provides utterly necessary soul food and respite. "
This is echoed by the musicians, who say playing is like therapy, that music removes them from the harsh reality and gives them hope.
The tour began in Bath, and after its turn in Croydon, London's 2023 borough of culture, winds its way across the UK via London's Cadogan Hall, Cardiff and Edinburgh, all the way to Perth, before ending on November 5 in Norwich.
Normally tours like this will have a handful of performances, but offers flowed in, and the number of gigs grew. Dignitaries across the country plan to attend, and local media have been eager to advertise their coming. The day they played in Croydon, several members of the orchestra went to Parliament on the invitation of Commons Speaker Lindsay Hoyle, who made a speech of solidarity before hearing them play music by Ukrainian composers Maxim Berezovsky and Myroslav Skoryk in the Speaker's House.
Some form of a UK visit had been under discussion before Covid, the orchestra's managing director Oleksandr Hornostai told me, but after the war, demand grew rapidly and the mega-tour took shape over the past 18 months.
There is no doubt it is steeped in geopolitics. The orchestra has focused strongly on touring, keeping Ukraine's profile high and sending out a message of defiance. It's little wonder that it got a rapturous reception in Taiwan, itself living in the shadow of a larger, territorially-ambitious neighbour, China. 
Now, the NSOU is effectively replacing the Moscow Philharmonic Orchestra, whose earlier plans were cancelled following Russia's invasion. And — although coincidental since these events are planned well ahead — it also comes at a time when support in some countries has been wavering, the spectre of a much less sympathetic Trump presidency in the US looms and attention is switching to the growing catastrophe in the Middle East following a devastating Hamas attack on Israelis and Israel's deadly retaliatory bombing of Gaza. 
The NSOU tour — and those by others such as the Ukraine Freedom Orchestra, which includes those based abroad, some of them refugees, and the Lviv national Philharmonic orchestra — serve as a reminder that their war is far from over.
---
Yet, while the war has devastated the lives of musicians and targeted cultural venues, the spotlight of war has also illuminated Ukrainian arts. Interest in Ukrainian writers and artists has led to publishing deals and exhibitions, while classical musicians have seized the chance to highlight their home-grown composers who for so long were hidden behind in-demand Russian repertoire.
"In our history our orchestra played a lot of tours but it was not so easy to bring Ukrainian music to the world because most of our international partners wanted to listen to Russian music like Tchaikovsky and Rachmaninov," Oleksiienko tells me. "Now we are happy to be able to play Ukrainian music because they can sell it to the world."
While Ukrainian musicians I have spoken to over the past year are equivocal about earlier attempts to cancel Russian composers altogether — after all, these composers were often anti-government and oppressed themselves — this tour is unapologetically non-Russian and meaningful.
The showcase figure of the series is Lyatoshynsky, who died in 1968 but whose modern works are also infused with the sensibility and romanticism of earlier composers such as Gustav Mahler.
"Lyatoshynsky's symphonic work can be placed alongside the best representatives of national composer schools such as Jean Sibelius, Karol Szymanowski, Bela Bartok, Leos Janacek…," artistic director and chief conductor Volodymyr Sirenko explained.
Lyatoshynsky has been described as the "godfather" of Ukrainian composers, but has long been overshadowed for mostly political reasons. His barnstorming Symphony No 2, although commissioned by the Soviet Composer's Union, was called "dissonant" and "bourgeois individualist", condemned before it was ever performed and slammed by the Communist Party as "anti-national", "disharmonious", "cluttered with unjustified thunderous sounds that depress the listener" and "poor and colourless". It was banned for years.
"As a composer, I am dead," Lyatoshynsky said at the time, "and I do not know when I will be resurrected."
That time could be about now. The current tour is undoubtedly part of that resurrection, as it introduces both the symphony and Lyatoshynsky's brooding, heroic 1955 work Grazhyna. The numerous encores demanded of the orchestra also feature Ukrainian music, including the overture to the opera Taras Bulba by Mykola Lysenko.
From the better-known Western classical cannon, there is Hungarian composer Franz Liszt's Mazeppa, about the story of a 17th-century Ukrainian hero who defended his homeland against Russian imperialist forces, and two works by Jean Sibelius — his Symphony No 1 and Finlandia, which represents Finland's nationalist struggle against Russian domination.
Beethoven, no stranger to politics, also features prominently. An admirer of the ideals of the French Revolution, he famously ripped up his dedication to Napoleon for his 3rd Eroica symphony in anger after Napoleon declared himself emperor. The NSOU played his Piano Concerto No 4, with the soloist Anatonii Baryshenskyi, who, in an apparent homage to the unsettling dissonance of the war, added his own thought-provoking cadenza in the first movement of the piece.
"It felt totally appropriate — breaking down the normal structure,  the breakdown of structure, the breakdown of civilisation, the breakdown of normality," Harrison said.
Comparing playing music with risking life and limb fighting might be glib, but clearly the Ukrainian government sees the soft power of the arts as vital, especially amid volatile international attention. It allows the orchestra to keep most of its musicians and go on tour despite an effective ban on men of fighting age leaving the country.
"We go abroad and introduce Ukrainian music and Ukrainian musicians to the world — if it is good, the people in the UK can see that nothing is lost in Ukraine if such an orchestra plays and gives them happiness," said Hornostai. "It's like a front in the war — our soldiers against the Russians there, and we do our best for Ukraine through our arts and music."
NSOU play Birmingham Symphony Hall on October 24, Cambridge Corn Exchange on the 25th,  Bradford St George's Hall on the 26th, Manchester Bridgewater Hall on the 27th October, Perth Concert Hall on the 28th, Edinburgh Usher Hall on the 29th and Middlesbrough Town Hall on the 31st.
They also play Sheffield City Hall on November 2, Liverpool Philharmonic Hall on the 3rd, Nottingham Royal Concert Hall on the 4th and Norwich Theatre Royal on the 5th.