The Cherry Orchard
Theatre Royal, Windsor, until November 13
Alexander Borodin's String Quartet No. 2 is one of my favourite pieces of music. It starts off gradually, like a child finding its feet, builds up to a great youthful flourish, and, then after a few mournful lulls towards the end, comes back, when you reckon it's about to peter out completely, with a defiant burst of energy. It's a bit like the career of Sir Ian McKellen, which, three years ago when he was almost 80, I'd assumed he'd decided to end with his triumphant turn as King Lear.
It's never a great idea to write anyone off, however, and, after his startlingly energetic turn in the title role of Hamlet, McKellen is back in Chekhov's The Cherry Orchard, which is once again directed by his long-term collaborator Sean Mathias. McKellen, slap-headed and with a splendidly lustrous stick-on beard this time around, turns in what is for my money one of the great comic stage performances of all time as Firs. There's something of Rambling Syd Rumpo – the character Kenneth Williams made famous in the classic radio series Round the Horne – in his elderly, loquacious, retainer who is always droning on about the good old days.
There's a very funny scene early on when McKellen slowly and laboriously conveys a glass of wine on a silver tray to Robert Daws' sprawling, entitled Pishchik, only to have the bounder casually wave him away when he is finally about to deliver it. You'd have to have a heart of stone not to laugh at the look of dismay on McKellen's face.
He understands there are no such things as small parts in stage productions, only small actors, and he makes the most of every moment he's on stage. It's necessary to go back more than 30 years to find a retainer played quite so hilariously and classily when, say, Edward Fox had so much fun in the title role in The Admirable Crichton.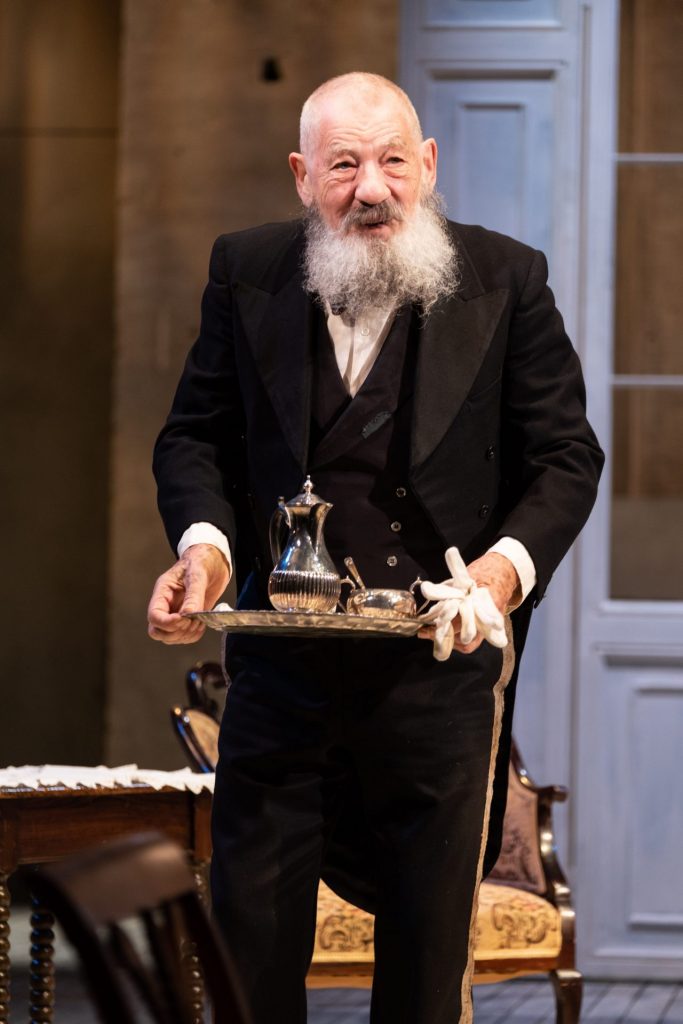 The season at the Theatre Royal in Windsor has turned out to be a real treat for theatre fans over the past few months. The West End has come back since the Covid restrictions were lifted with what might most charitably be called a mixed bag of a succession of all-too familiar musicals, film spin-offs and revivals of old plays with tried-and tested casts. The newly-restored Theatre Royal has, by contrast, come back with a roar, it's been willing to take some big risks, and, better still, its two great productions have showcased the talents of what is without question our greatest living male actor. For anyone genuinely interested in theatre, Windsor has lately become every bit as important – if not more so – as Stratford-upon Avon, the home of the Royal Shakespeare Company, and the South Bank, where, of course, the National is located.
In true repertory company style, Mathias's second production has many faces that will be familiar to anyone who has seen the first. Apart from McKellen, there is Francesca Annis as Ranevskaya, the bereaved old matriarch making a bittersweet return to her estate after a period of exile in Paris, and Jenny Seagrove, looking a bit like Charlie Chaplin with short-cropped hair and moustache, in the role of the bewildered Gaev. This time around they are joined by Martin Shaw, as a vulgar businessman named Lopakhin, who sees money to be made out of acquiring her much loved cherry orchard for redevelopment. Chekhov's work about the old order giving way to the new at the turn of the 20th century in Russia has never really been sure if it's a tragedy or a comedy largely because the playwright could see only too well that what was about to follow wasn't any better than what had gone before. Different directors have interpreted The Cherry Orchard in their own ways over the years and Matthias's production – with an adaptation by Martin Sherman – appears to grasp the contemporary resonances and makes it clear that any generation that believes it's about to "take back control" has almost certainly been taken for a ride.
Some of the actors talk in modern northern accents and occasionally it all feels like it's being played out in the snug of Coronation Street's Rovers Return on a particular bleak and depressing Monday night. The self-interest and short-sightedness on display show that the more things change, the more they stay the same.
It is for all that a relatively upbeat play by Chekhov's standards – there is for once no suicide at the end – but when Ben Allen's lusty Trofimov talks of mankind continually moving forward and "always improving himself ", there appears to be a general understanding that he's talking balderdash.