A chainsaw is perhaps the ultimate power tool. Those who use one for the first time are awed, fearful and a little intoxicated by the power and menace of what they hold in their hands. The required safety precautions inspire a certain solemnity, at least to begin with.
But once the basics have been mastered, the user can relish the immense satisfactions of using the power that the tool hands out so generously. Here are some of the things you can do with a chainsaw:
You can make a supply of firewood to keep yourself and your dear ones warm in the winter.
You can build a firebreak in an area susceptible to wildfires.
You can create a woodland ride, which in season will be full of wild flowers and butterflies.
You can make all kinds of furniture.
You can make a totem pole.
You can make a wonderfully eye-catching flight of spiral stairs.
You can restore a wetland, taking out small trees and shrubs that have encroached on the land and are drying it out and taking away its uniqueness.
You can sculpt. Chainsaw artists make eagles, bears, wizards, dragons and hedgehogs.
You can make a log cabin.
You can cut down the tree in Sycamore Gap in Hadrian's Wall.
A chainsaw gives you power, and you can use that power in all sorts of different ways. But if you see power as an end in itself, you're always going to take the Sycamore Gap option. It's so much easier, so much quicker, and it captures people's attention far more quickly than art or craft or wildlife conservation.
The still unknown feller of Hadrian's Wall has achieved in a few minutes far more fame than the chainsaw artist who works near my place will find in a lifetime. This local man crops up from time to time on the A146 selling bears, owls, eagles etc. It's very nice work, in its uncompromising way, but the artist has never topped a news bulletin in his life. 
None of the people who work with chainsaws on, say, the Little Ouse Headwaters Project, a fine small-scale conservation scheme at a wetland not a million miles from where I live, will ever do a deed that stops the nation in its tracks and makes a Hairy Biker weep. All they have ever managed to do is to make a nice place a great deal nicer and to give it a long-term future.
Chainsaw operators use the power that the machine lends them in many different ways. It's up to us the public – us the electorate if you like – to decide which kind of power-wielder we prefer.
The saw-operator of the Sycamore Gap showed a classic use of power, power in the purest sense. He (or perhaps she, who knows?) wasn't interested in the useful, important and pleasing things you can do with power, how you can make wetlands and bears and totem poles, how you can perform helpful deeds and make beautiful things that improve people's lives. He was interested in power for the sake of power.
So now we're reduced to watching the tree's starring role in Robin Hood: Prince of Thieves on YouTube, with Kevin Costner playing Robin as a Californian émigré and Morgan Freeman being wise. We're wondering if the tree will rise from what's left and form a coppice: perfectly possible, because it's a healthy tree, but it'll be a bush with attitude rather than a statuesque tree with a single trunk.
We can speculate how old it is or was: the National Trust says it was planted in the late 18th century, others prefer a more sexy age of a good three centuries. We can reflect on the time that it was voted English Tree of the Year by the Woodland Trust; and how it was featured in a Bryan Adams video that appeared on Top of the Pops: fame indeed.
"This is my land and my tree," drawled Kev as Robin of Locksley: but it isn't any more. The tree is now nothing but a gap in the gap: and those of fair mind must acknowledge that the unknown vandal may have done a dreadful thing – but he has had an experience of power few of us will ever know.
And I'm reminded of the famous cover story in the satirical magazine The Onion about the sinking of the Titanic: "World's largest metaphor hits iceberg". Let's try this: metaphor for witless use of power found in Sycamore Gap.
The Conservative Party has held power for 13 years. The chainsaw has been passed from hand to hand: David Cameron, Theresa May, Boris Johnson, Liz Truss and currently Rishi Sunak. It has been wielded with lordly disdain, with uneasy self-consciousness, with unseemly relish, with reckless abandon and now with an air almost of resignation.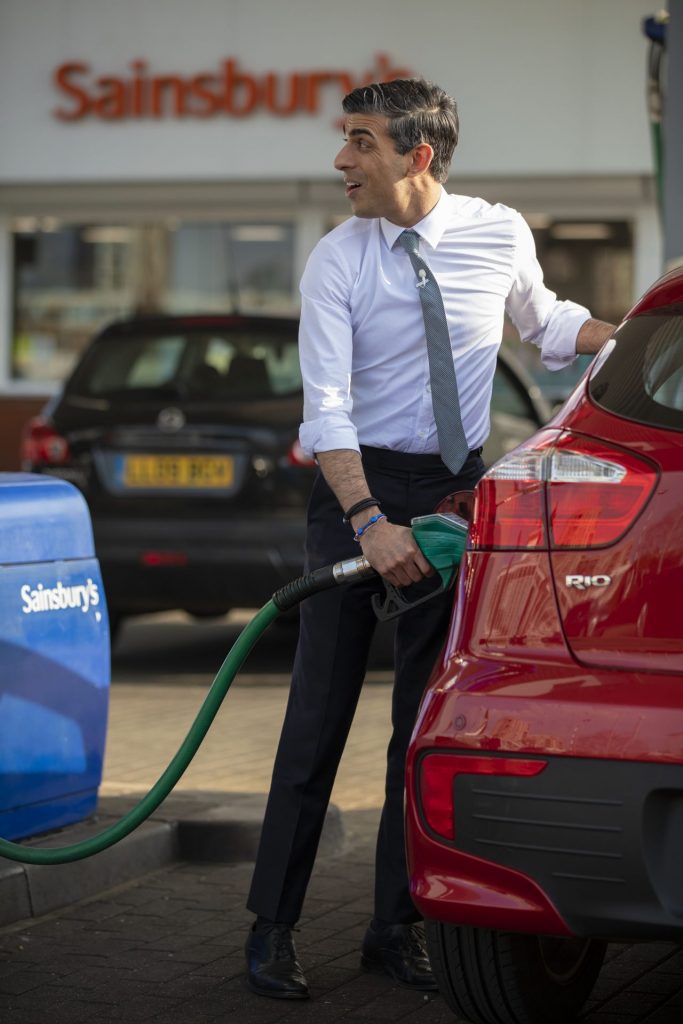 The party is already stressed about the next election, presumably next year sometime, and trying to work out what, if anything, will keep the chainsaw warm and roaring in their hands. As they look uncertainly forward, those who plan to do the actual voting – unless the Conservatives come up with new ways of stopping them – are entitled to look back and ask about their record over those 13 years. Have they made woodland rides and wetlands, bears and cabins and beautiful furniture?
Their one unarguable achievement is as obvious as the felling of Sycamore Gap. They chainsawed the UK's membership of the European community: a rare example of a country placing long-term economic sanctions on itself.
To do so they puffed heartily on the embers of xenophobia, always smouldering away at some level in the UK, and the resulting conflagration was enough to blaze the offshore islands of Europe Minor into proud but useless independence.
Why did they do it? They didn't do it because it was the right or the moral or even the profitable thing to do, but because they believed it might keep the Conservative Party in power. That, apparently, is a good thing in its own right. Cameron called the referendum and then campaigned for Remain, believing that simply offering the choice would keep him in power. It didn't, but it allowed us to see the pattern without ambiguity: it's not about what you do with power, power itself is all that matters.
May tried to sort out the mess by being reasonable and listening to absolutely everybody. Alas, it's not an issue in which reason is much use: the campaign was based around unthinking hatred of all foreigners and the idea that as soon as Turkey was voted into the EU, Britain would be full of Turkish migrants.
Enter Boris, who had previously told parliament that he was "a bit of a fan of the European Union". He famously wrote two columns for the Daily Telegraph, one for Leave and one for Remain, and eventually went with the former. His decision to back Leave was, it seemed, based not on the option most likely to bring peace, prosperity, tolerance and decency to the UK, but the one most likely to hand him the chainsaw.
And it worked… which led to a single terrible question: what do I do now? He had achieved his lifetime's ambition, he was prime minister: the only problem was that he now had to govern the country. He completed the felling of the trees that had once ornamented the Euro Gap, but after that he was stumped.
Truss then ran amok with the chainsaw, recklessly slashing down taxes without anything helpful like the money to fund the cuts, and that left us with Sunak, gingerly holding the machine while wearing every possible item of safety gear. He told the Conservative Party conference that British politics was broken and that the voters were exhausted – though it's possible that this statement is truer of his own party than of politics in general.
Perhaps people are fed up with a government that has no social, moral and environmental agenda: simply a total absorption with the pursuit of power, with very little interest in what's actually done with it.
We now have a situation in which politicians are involved in a nastiness competition: who can be most beastly to some of the most unfortunate people on earth? We all know it's not moral to be violently hostile to refugees, but if it wins cheap votes and shows the way to power, who is going to argue against it?
So what is the Conservative Party's election-winning policy, the one that will allow them to keep both hands on the chainsaw? Their unexpected success in holding on to Uxbridge and Ruislip in the by-election was put down to opposition to London's ultra low emission zones (Ulez), so Sunak is now the Motorist's Friend.
He's going to do all he can to discourage such inconveniences as the Ulez and 20mph zones. Well, who needs clean air? Who cares if children can walk or cycle safely to school? Who wants to save time for parents and avoid the daily dose of pollution and congestion from the school run?
Will this even work as a populist policy? Do voters really want their own neighbourhood to be operated for the convenience of people passing through it? But look (as Tony Blair always used to say) – do we want safer and cleaner streets or do we want to keep the Conservatives in power?
What else has the power-wielding Conservative Party actually done in the past 13 years? What are the achievements of the shifting population of leaders and followers that has been running the country for so long?
We all now know and accept that the planet, its human population and everything else that lives on earth is moving at an accelerating rate into a crisis caused by rising global temperatures, extreme weather conditions, deforestation, wholesale pollution and the ecological holocaust. Which is something of a problem.
The Conservatives have a great populist answer to that and it goes like this: "Oh no it isn't!"
It goes on: "Who cares about evidence? Voters want to hear that everything is going to be all right really – so let's pretend it is! Then they'll vote for us!"
The conference even came up with a new term for people foolish enough to acknowledge the truth: "net zero zealots". Never mind the future of the planet: what matters is us staying in power. Last year the Conservatives approved the first new coalmine in this country for 30 years.
All this goes alongside their management of public health and public education. (Note that neither matter affects the rich and privileged.) Exhaustion, disillusionment, breakdown and burnout are now routine for people working in these areas. Doctors, nurses and teachers – people who live by and for a genuine vocation – are now regularly going on strike. They have been brought to despair. But that's fine for the rest of us, so long as we (a) never get ill or (b) don't wish to educate our children.
The priority of the Conservative Party is not to fix the country, but to keep their hands on the chainsaw. The strongest electoral card they hold is our suspicion that the other lot might not be much different: that once they have power, they too will be more interested in holding on to it than in making woodland rides.
I remember discussing sex education with a teacher when I was at school in the 1960s. He told me that the education authority had a single item of policy on that subject: anyone who volunteered to teach it was for ever banned from doing so. Perhaps the same thing should apply to politicians: everyone who actively seeks power should be subject to a lifetime ban from seizing it.
Using a chainsaw is the most enormous thrill, but it's possible that thrill-seekers aren't the right people to govern a country. It's not about being mighty enough to hold a chainsaw: it's about what you do with the damn thing. But try telling them that.