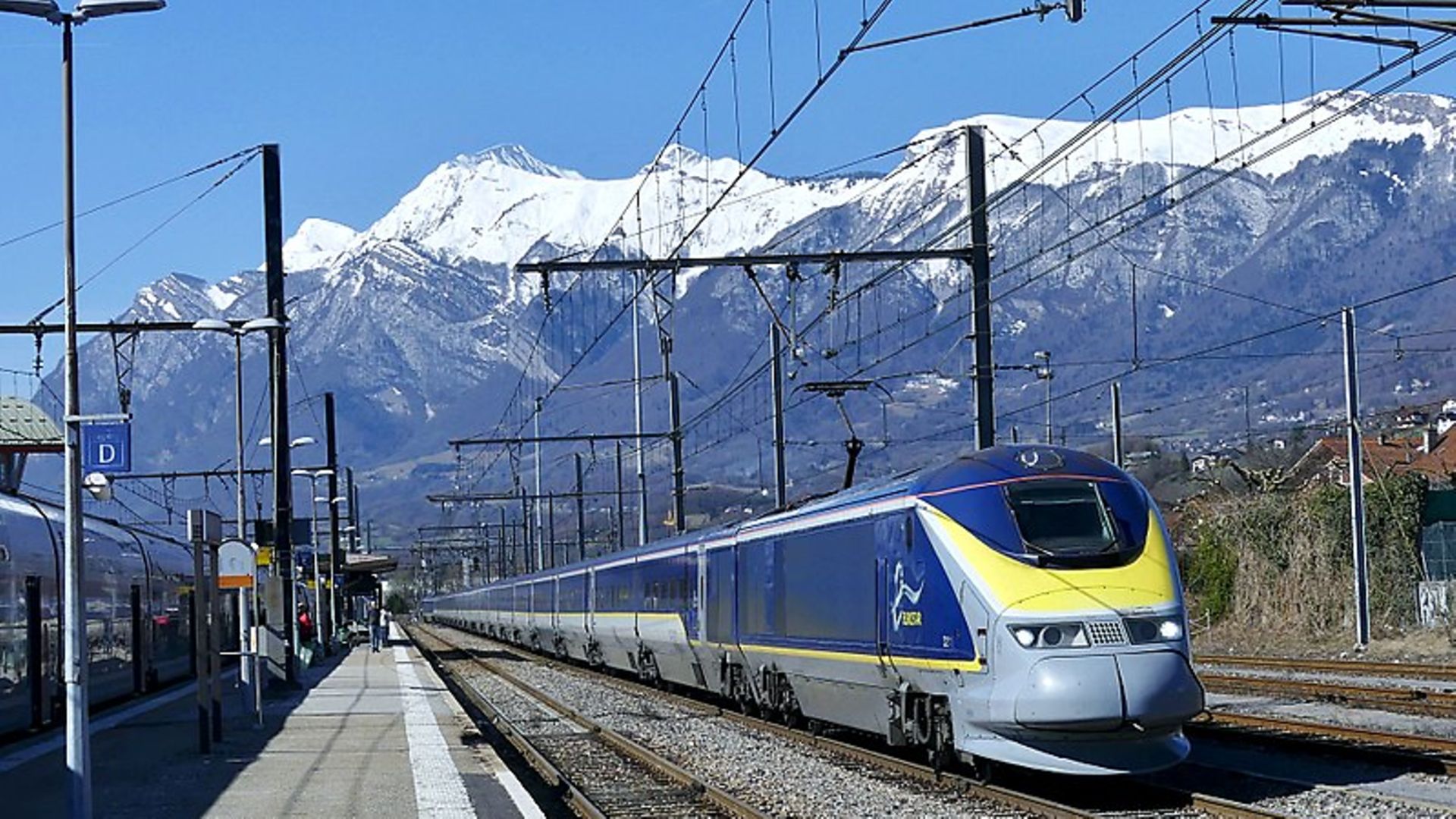 I was very pleased to read Tom Chesshyre's feature ("Arrival Delayed: Europe's second golden age of rail") in TNE 254. This provided a critical evaluation of the measures the EU is taking to encourage greater use of the European Rail Network as a low-carbon alternative to air travel.
It is now quite clear that we face a climate emergency, as evidenced by the sheer number of "record-breaking" fires and floods all over the world. As part of the EU New Green Deal there now seems to be a clear political and financial commitment to improve cross-border long-distance day- and night-time train services in Europe.
Yet due to Johnson's hard Brexit, the UK is now effectively cut off from these plans, and there is no political commitment from the UK government to improve our rail links with Europe.
The UK could, if it had wanted to, have supported The European Year of Rail, like Norway & others, even though they are not EU member states. The failure to do so is rather ironic, with the UK chairing the crucial COP 26 meeting in November in Glasgow this year.
We are now faced with the sorry spectacle of Eurostar (with no UK government financial support) running just a few trains a day from London to only five European destinations, while the airlines (with UK government support) are steadily increasing their services to destinations all over Europe.
In view of the climate emergency, there is absolutely no reason not to develop better rail links between the UK and Europe. Rail could become our "Green Gateway" to the rest of Europe.
Nigel Perkins
Chair, European Rail Campaign (UK)
www.eurorailcampaignuk.org
Ping wrong
Steve Anglesey is quite right (Sunlit Uplands, TNE #254) – you can't blame pinging for all the supermarket shortages and resultant rising prices. Brexit is a major underlying cause and the one which will continue long after the pings have subsided.
It's not just food – ask anyone in the construction trades about the availability of timber, much of which comes from Scandinavia and central Europe, tools, replacement parts and steel beams, and they will tell you there are huge delays in delivery and prices have shot up.
But the underlying problem with the underlying cause is the huge shortage of trans-European HGV drivers and skilled tradespeople, many of whom used to come from the EU and whose absence is now being keenly felt but equally keenly ignored or denied. The same goes for other sectors.
Phil Green
Come undone
I thought it apt you illustrated Steve Richards' profile of Lord Frost ("Touch of Frost is like Midas in reverse", TNE #254) with an image showing the shoelace he had recently done up now unravelled and undone.
Much like his Brexit treaty, which also flaps around his ankles.
Peter Haydon
London SE24
Dane dames
In his review of Ian McKellen's new version, Tim Walker mentions the prospect of women playing Hamlet (TNE #254). Fanny Furnival played the role in Dublin in 1741. The first Hamlet on film was a woman, Sarah Bernhardt, in 1900.
Some of the more recent performances include Frances de la Tour (1979) and Maxine Peake's excellent performance in 2014 (available on film). Tessa Parr played the Princess of Denmark at the Leeds Playhouse in 2019.
So many women have played Hamlet, you could write a whole book about it.
In fact, somebody has. Tony Howard, Women as Hamlet (2007). Recommended.
Catherine Long
Leeds
Try again
While I value Alastair Campbell's views on the politics of the rugby league World Cup ("PM is out of his league", TNE #254), he displays a peculiar northern ignorance about the 15-man game.
In Wales and south-west England rugby union remains a predominantly working class game.
If Alastair continues to think otherwise I would suggest he tries to spread his view in, say, the Forest of Dean or Blaenafon. I think he might be gently persuaded otherwise.
John Young
Usk
Wedded miss
On reading Roger Domeneghetti's reflections on the events of 1981 ("The darker side of Britain's golden summer", TNE #254), I recalled attending a gathering of malcontents at a "Stuff the Wedding Picnic" on the day of the royal nuptials.
I still have a souvenir tankard from that event. It celebrates the 600th anniversary of the Peasants Revolt, 1381-1981. How apt.
Rod Gay
Cheltenham
The island of Jeanne Moreau
Long before she took the central part in that anti-nationalist film Jules et Jim, the subject of Charlie Connelly's 207th Great European Life (TNE #254) had been quintessentially European. Jeanne Moreau spoke her very first words in Lancashire-accented English during one of her annual summer holidays at her grandfather's house in Oldham. They called her Chatterbox.
Her biographer, Marianne Gray, noted in 1994 that La Moreau could still sing Vera Lynn's version of the daily envoi from "Uncle Mac" that closed every BBC radio Children's Hour: "Goodnight, children, everywhere".
Asked in an interview whether she had ever loved an Englishman, Moreau said, "Yes. He had the impossible name of Granville. He was my grandfather." Granville Buckley, a former Fleetwood sailing trawler skipper who had known Joseph Conrad, owned a 54ft yacht moored at Littlehampton in 1939.
In the first winter of the war, Jeanne and her baby sister Michelle lived with their English mother Kathleen aboard the ketch Windswept on a deep water mooring in the River Arun. Jeanne went to an English school and joined the Brownies in Brighton.
Jeanne's mother returned to France on January 1, 1940. Kathleen and Jeanne pushed Michelle in her pram aboard the Newhaven-Dieppe ferry. The three lived in Paris for five months until the German invasion.
In June 1940 Kathleen fled from Paris with Jeanne and Michelle but was turned back by the Germans in a column of refugees intercepted at Orleans.
The former Tiller Girl was ordered as a British subject to report daily to the Gestapo in Paris, with consequences expressed years later by her bilingual daughter: "If my mother had left my father sooner. I would have been an English actress."
Andrew Rosthorn
Darwen
Reading Charlie Connelly's '30 Great European Books for the Beach' (TNE #254) set me thinking.
The accolade for being considered 'well-read' defies an easy definition. Was wondering whether Charlie might attempt a definition/ structure and recommend a European reading list that fitted the proposal.
David Handley, Skipton
Charlie's column now features European Library, a weekly selection of new and old fiction and non-fiction that will build into a comprehensive European reading list – ED
How to help ease crisis
In looking for solutions to the migrant crisis, Phil Jackman and Adrian Ward (Letters, TNE #254) are absolutely right to stress the importance of enabling poorer countries to stabilise and develop. Charity may well begin at home, but it had better not end there.
And what's needed is something more concerted than just charity. Remember that quote from Desmond Tutu: "There comes a point where we need to stop just pulling people out of the river. We need to go upstream and find out why they're falling in."
Our capacity to absorb more and more refugees and economic migrants is, unfortunately, finite. No-one thinks it a great idea for everyone in the UK to move to the south-east to live, and by the same token, global poverty cannot be solved by forever moving people from eastern Europe, the Middle East and Africa to north-west Europe and Scandinavia.
The underlying problems creating the urge to escape from poorer countries must be addressed directly, and that should include radical soul-searching in the UK and the EU over how trade policies and transnational companies continue to do damage to weaker economies outside the continent. Campaigning for totally open borders feels ethically and emotionally correct, but on its own it does not solve the problem.
Mark Hayward
Shrewsbury
James Ball is 100% correct in his analysis of the government's attitude to migrants ("What IS the liberal response to the migrant crisis?", TNE #253), and what needs to change to a more humanitarian response to human need.
This, though, would only be addressing the symptoms; people would always elect to stay in their homeland if it was safe and free of "famine, persecution and strife".
Addressing the vast inequalities between the rich and the developing countries would be a start. Collaboration on helping the developing world countries with industry and agriculture would require increasing cooperation between Western countries rather than competing in terms of which countries give most aid.
Pat Brandwood
Broadstone
Fourth man
I agree with the summary of Garth Groombridge (Letters, TNE #253) "A trio of twits" but please do not forget Sir Nick Clegg, to whom we owe the fall of the Lib Dems from 57 seats to eight in a single parliament.
He sacrificed the hopes of many supporters, especially young voters, by abandoning his promises in exchange for a 'deputy prime minister' badge.
The conversation between Clegg and Cameron was anticipated by the Groucho Marx quip: "These are my principles. And if you don't like them… well, I have others."
George Elder
Gloucestershire
Scott free
The charming Lord Digby Jones has criticised BBC presenter Alex Scott for her inability to pronounce the 'g' at the end of the names of various Olympic sports. I thought the importance of language was clarity in communication and I have never had an issue in understanding what she was saying.
The same cannot be said for many of our ministers – frequently I hear the words, but have little or no understanding of their actual meaning. The worst offender is our PMw ith his expensive Eton and Oxford education. Despite his alleged oratorial skills, he struggles to string a coherent sentence together – hardly a good advert for an education in Classics.
Meanwhile, an initiative has been launched to encourage the teaching of Latin in state schools. Given the imperative in recent years to move to STEM subjects, at the expense of the creative and humanities subjects, I shall be interested to see how they now justify the value of an academic subject such as Latin, when much of recent policy towards GCSE, A-Level and degree subjects has been focused on those that address specific labour market needs.
Or is the view that there is now a labour market need for Classics graduates?
Nick Roberts
Selly Oak, Birmingham
The recent photo of Boris Johnson attempting to communicate with primary school children whose facial expressions indicate they wish they were somewhere else (or more likely, being spoken to by someone else) reminded me of the experience of an Ofsted inspector in a nursery school.
Towering over the Wendy house, he asked those inside, "So, children, what are you doing today?". "F*** off, grandad" came the reply.
Clarity of communication – and message – par excellence.
Anne Green
Nothing new
A government statement read out on Radio 4's Farming Today claimed the UK had signed "new" trade agreements with 68 countries. Technically true but misleading.
Nearly all are rollovers from deals the EU struck with over 70 countries and which we enjoyed when a member. Some of those that are "new" merely extend the EU deals. One negotiated from scratch, with Australia, risks undercutting our farmers with cheap imports and harming animal welfare.
It's bad enough living with Covid-19 without lies seemingly becoming endemic in government.
Roger Hinds
Surrey
• Have your say by emailing letters@theneweuropean.co.uk. Our deadline for letters is Monday at 9am for inclusion in Thursday's edition. Please be concise – letters over five paragraphs long may be edited before printing