On a chilly night in Budapest's Heroes' Square this month, Milania Wissky crisply dismissed Hungarian prime minister Viktor Orbán's public support for EU sanctions against Russia in response to the invasion of Ukraine. "He's saying what he has been advised to say ahead of the election," she said. "In my opinion, he's still a Putin fan."
For Milania, a 42-year-old steel industry sales executive who was taking part in an impressive demonstration of solidarity with Hungary's neighbours in Ukraine, this was beyond the pale. As some 5,000 protesters, each bearing a flaming torch, formed a human version of the universally recognised symbol of peace and nuclear disarmament before joining in a soaring chorus of Agnus Dei "Dona Nobis Pacem" (Grant us peace), she had no doubt who was to blame. "If Putin wasn't in power we wouldn't be in this situation," she said. "War is not the way to solve disputes."
Milania's conviction that Orbán's conversion to EU policy on Ukraine is only skin-deep is understandable. He has said Hungary will not send, or allow through its territory, direct military aid to Ukraine. And while his otherwise fiercely anti-immigration government has welcomed more than 320,000 refugees across its 83-mile border, his support for EU sanctions is undermined by his prediction they will not work. More pointedly still, he was notably absent when his Polish, Czech Republic and Slovenian counterparts paid a solidarity visit to Ukraine's president, Volodymyr Zelensky in Kyiv on March 15. Last Friday Zelensky confronted Orbán in a video exchange with EU leaders, saying it was time for him to decide "who you are with" and adding: "Listen, Viktor, do you know what's going on in Mariupol?"
It was after Orbán became PM for the second time in 2010 that the one-time liberal (who had in 1989 electrified a rally in this very square by demanding the withdrawal of Soviet troops from Hungary) began his self-styled "peacock dance" to Putin, a leader whom he came to admire and in some respects imitate. Most topically, as part of his "Eastern opening", he signed a contract for Russia to build two nuclear plants, financed by a $10bn (£7.6bn) loan from Moscow, and a new 15-year contract to import cheap Russian gas. Given that Hungary imports 80% of its gas from Russia, his fierce opposition to an immediate energy boycott in response to the Ukraine invasion is no surprise.
But Milania, who will vote for the opposition to Orbán's Fidesz party on Sunday, was uneasy about this, saying that "when people are dying [in Ukraine], perhaps we should put up with a little less warmth in our homes for a while". For a few days, a series of posters were hung outside the Russian embassy in Budapest. One compared the situation in Ukraine with the Soviet invasion to crush the 1956 uprising as the western powers failed to act. Another echoed the rebels' cry in that momentous year: "Ruszkik haza!" – Russians go home. The most pointed urged: "Nato: Close the skies over Ukraine." Asked if she believed there should be a no-fly zone, Milania paused before saying quietly: "Yes."
Either way, the war – and what it means for Hungary's place in the world – has now overshadowed an election campaign that might have been very different. Orbán had hoped to focus on identity issues such as his law forbidding LGBT content in schools, one of many measures to have triggered a protracted stand-off between the EU and what Orbán has proudly labelled as Hungary's "illiberal democracy". But Orbán's opposition rival, the liberal/moderate conservative, Péter Márki-Zay, has accused him of being "Putin's poodle" and has pledged a Hungary wholeheartedly aligned with Nato and its western fellow-members of the EU. Introducing Márki-Zay at Chatham House in January, Timothy Garton Ash, professor of European studies at Oxford University, said Sunday's election would be "one of the most important in the EU for a decade".
---
By any standards, Márki-Zay, a church-going and personable 49-yearold father of seven with a doctorate in economic history, is an unusual politician. It's not just that if he wins on Sunday he will have shot from being mayor of his home town of Hódmezővásárhely to prime minister. It's also that he was chosen (in a primary election in which 850,000 Hungarians voted) to be the standard bearer of an unprecedented national coalition of six parties, bonded only by the desire to replace Europe's most authoritarian leader. And while most polls show a modest lead for Orbán's Fidesz party, his opponents are still hoping they can win round the "don't knows" and deny the "populist dictator", as Márki-Zay calls him, his fourth successive election victory since taking office 12 years ago.
Márki-Zay actually voted for Orbán in 2010. But Orbán's use of his two-thirds majority to turn Hungary into what Márki-Zay describes as a "one-party state" has provided plenty to campaign against. Some of those issues have attracted more international attention than others, like Orbán's 2017 legal instrument to force most of the prestigious Budapest-based Central European University, which Orbán correctly saw as a bastion of liberal democracy and an open society, into exile in Vienna. In part this helped to underline Orbán's demonisation of the billionaire Jewish Hungarian financier and philanthropist George Soros, who founded the university. At the height of the row over the CEU's future, the government plastered billboards across Hungary showing pictures of a grinning Soros and proclaiming "Don't let Soros have the last laugh". Budapest's Jewish community protested that the campaign carried antisemitic overtones. The then Israeli ambassador also issued a sharp condemnation, only to be repudiated by the Netanyahu government. Orbán, Israel's most reliable ally in EU deliberation on its treatment of the Palestinians, was about to make an official visit to Jerusalem.
Even some of Orbán's critics do not believe he is personally antisemitic. Rather they see him as happy to mount such a toxic campaign against Soros not because he was a Jew but because he was a liberal. Indeed, that campaign also focused on immigration: the year before, Soros had suggested that Europe tackle labour shortages in sectors like social care by taking 300,000 immigrants a year from Turkey, Lebanon and Jordan. Orbán had reacted to the 2015 refugee crisis by building a 109-mile barrier along the Serbian border, and introducing a law criminalising lawyers and NGOs who help asylum seekers.
What made the exile of the CEU even more striking was an alternative plan that shows how far Orbán's "Eastern opening" extends not only to Russia but China. This was to build – despite protests from students and others – a Budapest campus of China's Fudan University at a cost of £1.2bn. While the bulk would be initially financed by a Chinese state loan, the cost exceeds total annual expenditure on higher education in Hungary. Unsurprisingly, Orbán showed his closeness to Beijing by blocking an EU statement last year criticising China's repression of dissidents in Hong Kong.
For Márki-Zay, there may be even more to it. "I can only assume that there is some huge case of corruption behind it," he told his Chatham House audience. There is no evidence of that, but it's hardly in doubt that systematic cronyism and corruption, and the failure to prosecute it, is all but endemic in Orbán's regime. One of the main Hungarian subcontractors on the Russian loan-funded €10bn nuclear power expansion was the oligarch Lőrinc Mészáros, a close associate of Orbán. Specific misuses of EU funds reportedly ranged from a contract awarded to Orbán's son-in-law for street lighting that cost 56% more than usual, to "serious irregularities" over a €283m (£237m) new Budapest metro line; from a €2m visitor train to Orbán's home village of Felcsut (where passengers can watch football in a 4,000-seat stadium also built by Mészáros) to a major €1.7bn tourism development at Lake Balaton, much of whose profits go to Orbán's family and friends. Márki-Zay has vowed to set up an anti-corruption agency and join the European Public Prosecutor's Office system.
---
Corruption is a key factor in the mounting tensions between Budapest and Brussels, along with measures packing the judiciary and the powerful constitutional court with Orbán supporters, crackdowns on independent media and NGOs, and discrimination against minorities. Last month the European court of justice ruled that the EU was entitled to withhold tens of billions in structural funds from Hungary and Poland if they continued to breach European laws designed to protect the rule of law and democratic values. The wheels of the EU sanctions procedures grind extremely slowly, but if Orbán wins on Sunday, the landmark ECJ judgment could spell trouble ahead.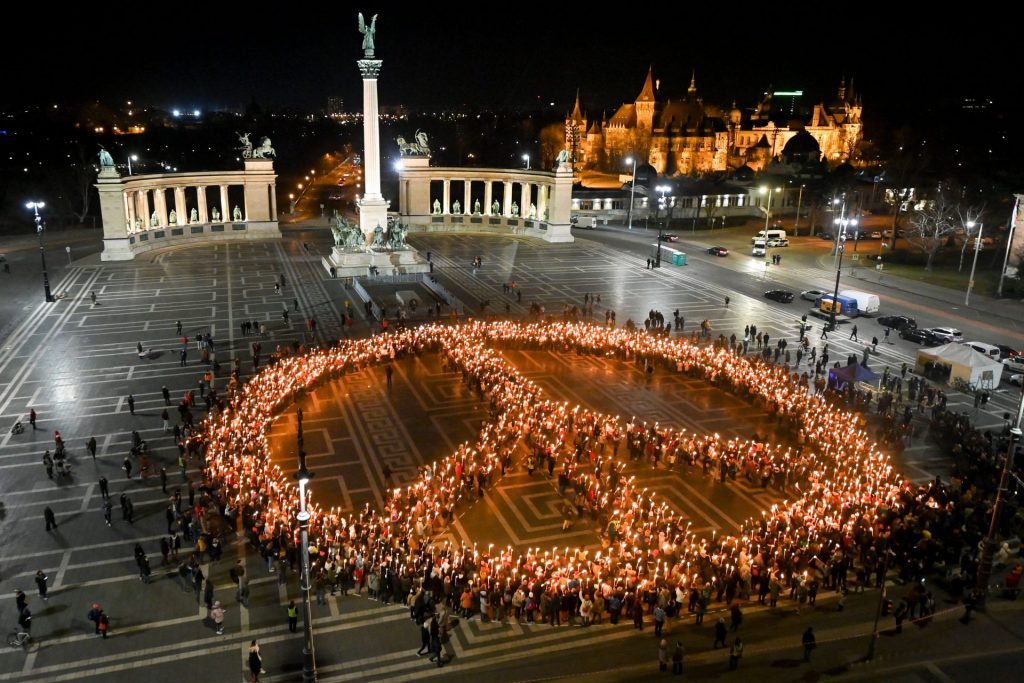 The contentious issues at the heart of EU-Hungary tensions certainly have traction with some voters. "Corruption," said Sarah Kovacs, a 26-year-old psychologist working with adolescents, to explain why she would vote for the opposition. She added: "I want to live in a country where people are kind to each other and where we have democratic values and where the government is transparent and not just ruling by propaganda."
For all that, the opposition's campaign is facing an uphill struggle. The coalition's choice of a conservative CDU-style leader should be a big help in attracting floating voters. But it has required a valiant effort by Márki-Zay to hold together a coalition that includes socialists, greens, the centrist Momentum (no relation!) and Jobbik, which has reinvented itself as a mainstream pro-EU party after a far-right ultranationalist past. Another challenge is that some of the very illiberal measures the opposition is campaigning against are also obstacles to the campaign, including the "propaganda" mentioned by Sarah Kovacs.
The Organization for Security and Co-operation in Europe, in a report on the 2018 election, identified some of the ways in which Fidesz tilted the balance against opponents. It cited the denial of government advertising – a vital source of revenue – to non-Fidesz outlets, some of which have closed as a result; the power of the state broadcaster, the "growing concentration of media ownership in the hands of party-affiliated entrepreneurs at the national and regional levels"; and the unchecked use of taxpayer-funded government advertising to push Fidesz messages, including on social media and especially at election time. As Politico has pointed out, some pro-Fidesz outlets have pushed disinformation smacking of Kremlin authorship: that the CIA helped install the current Ukrainian government; that the US provoked the invasion; that Ukrainian arms may be sold to "terrorists"; and even that Zelensky is behaving like Hitler in the closing days of the second world war. Which is probably why a poll by the Publicus think tank found that less than two-thirds of Hungarians, and less than half of Fidesz voters, see the war as Russian aggression. Finally, the opposition say they were only able to secure 1,000 billboard sites, compared with 15,000 for Fidesz.
Fidesz posters in central Budapest now carry a picture of Márki-Zay beside one of the former socialist prime minister Ferenc Gyurcsány of the Noughties, whose popularity nosedived after he told a private party meeting: "We have obviously been lying for the last one and a half to two years." The depiction of Márki-Zay as "100% Gyurcsány" is a classic trope; in the style of the late US political consultant Arthur Finkelstein, credited with devising Orbán's anti-Soros pitch before the last election. Márki-Zay decisively defeated Gyurcsány's wife, Klára Dobrev, in last year's primary. Other prominent posters claim that Márki-Zay will withdraw the pensioners' "13th month" bonus. He plans no such thing.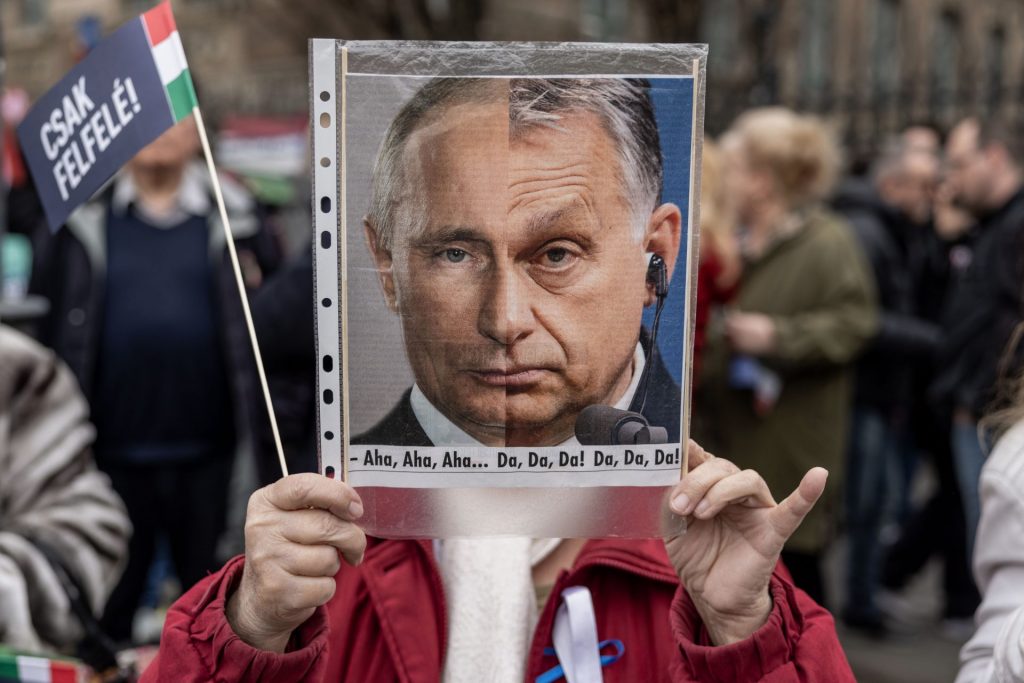 The opposition has other problems. In Hungary's mixed-party list/single member constituency system, some constituencies have been gerrymandered – usually by adding pro-Fidesz rural districts to urban opposition strongholds. And a 2010 law granted dual citizenship to Hungarian minorities in neighbouring countries; in the last election 358,000 such expatriates registered to vote, with 90% gratefully supporting Fidesz. Yet some of his supporters believe Márki- Zay's main obstacle may prove to be the ferocity of Orbán's messaging, especially that on the war in Ukraine.
At one level, this is surprising. Putin's murderous assault on Ukraine, according to István Hegedűs, who chairs the Hungarian Europe Society, has exposed the "total failure" of Orbán's strategy since 2010. "He wanted to play in Brussels and Moscow at the same time," said Hegedűs. "In his megalomaniacal view he was the master guy who wanted to get support from Moscow – cheap gas, cheap nuclear energy – but also all the transfers coming from the European budget." Confronted by the European institutions over his rule of law violations, Orbán thought his "peacock dance" to Putin might make him more independent from Brussels, said Hegedűs. That project has now collapsed – and incidentally has torpedoed his formerly close alliance with the Polish leadership, now in the forefront of solidarity with Ukraine.
But as Hegedűs also points out Orbán, as politically skilful as he is ruthless, may have found a short-term answer to that problem, diluting his support for the EU's condemnation of Putin's aggression by loudly and repeatedly insisting that Hungary should stay out of the war. In particular, he has presented Fidesz as the "party of peace" while spuriously depicting the opposition as "pro-war", eager to send Hungarian citizens as well as weapons to fight in Ukraine. Márki-Zay would loyally co-operate in joint Nato military action if it happened. But for Orbán's chief of staff, Gergely Gulyás, to say, as he did on March 18, that if the "left wing" (as Fidesz repeatedly describes the conservative-led opposition coalition) "were in power today, Hungary would be at war" is patently untrue.
The key question for Sunday is how far this line of attack, however meretricious, has convinced undecided voters. While polling shortly after Putin's invasion showed a majority seeing it as unjustified – and, last year, that 80% supported Nato membership and 78% EU membership, the attitudes of many Hungarians to their place in the geopolitical landscape are complex. Uncertain about which of the electoral rivals she agreed with on the war, Kamilla Melath, 29, a therapeutic masseuse who also has a master's degree in computational and cognitive neuroscience, said: "I hate the war but what can we do? I don't want prices to go up because they are high enough already. Sometimes I even find myself wishing that Ukraine could give something up to bring it to an end. I want to be with the West but maybe we have to be somewhere in between East and West. I just wish the war would stop."
---
As Hegedűs said, it has been hard for the opposition to answer Orbán's crudely opportunistic promise of "peace" with the more sophisticated argument that loyal and active membership of Nato can ensure real peace in the long term. If Orbán wins on Sunday, it may prove that the war, however unjustly, benefited Orbán more than Márki-Zay.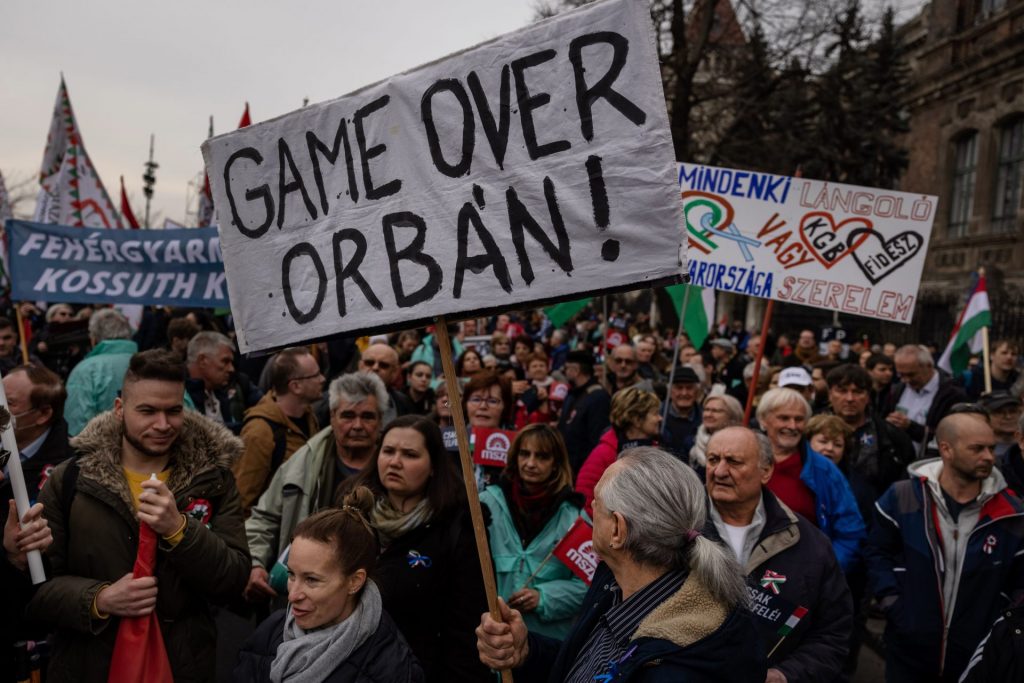 All of Europe will be watching this weekend and not just because a fourth Orbán term could be a serious drag on EU foreign policy, including on Russia and China. For many outside as well as inside Hungary, the stakes for European liberal democracy could hardly be higher. When Márki-Zay was challenged in London in January on whether he could hold his unwieldy left-right coalition together in office, he joked with surprising candour: "I have a nightmare, which is how can I govern with these six parties. But I have another nightmare which is even more terrifying: that Orbán will keep on governing." It's a nightmare that most of Orbán's counterparts in the EU will be fervently hoping does not come true on Sunday.
Donald Macintyre is a British freelance journalist and author. He was formerly political editor and foreign correspondent at The Independent.