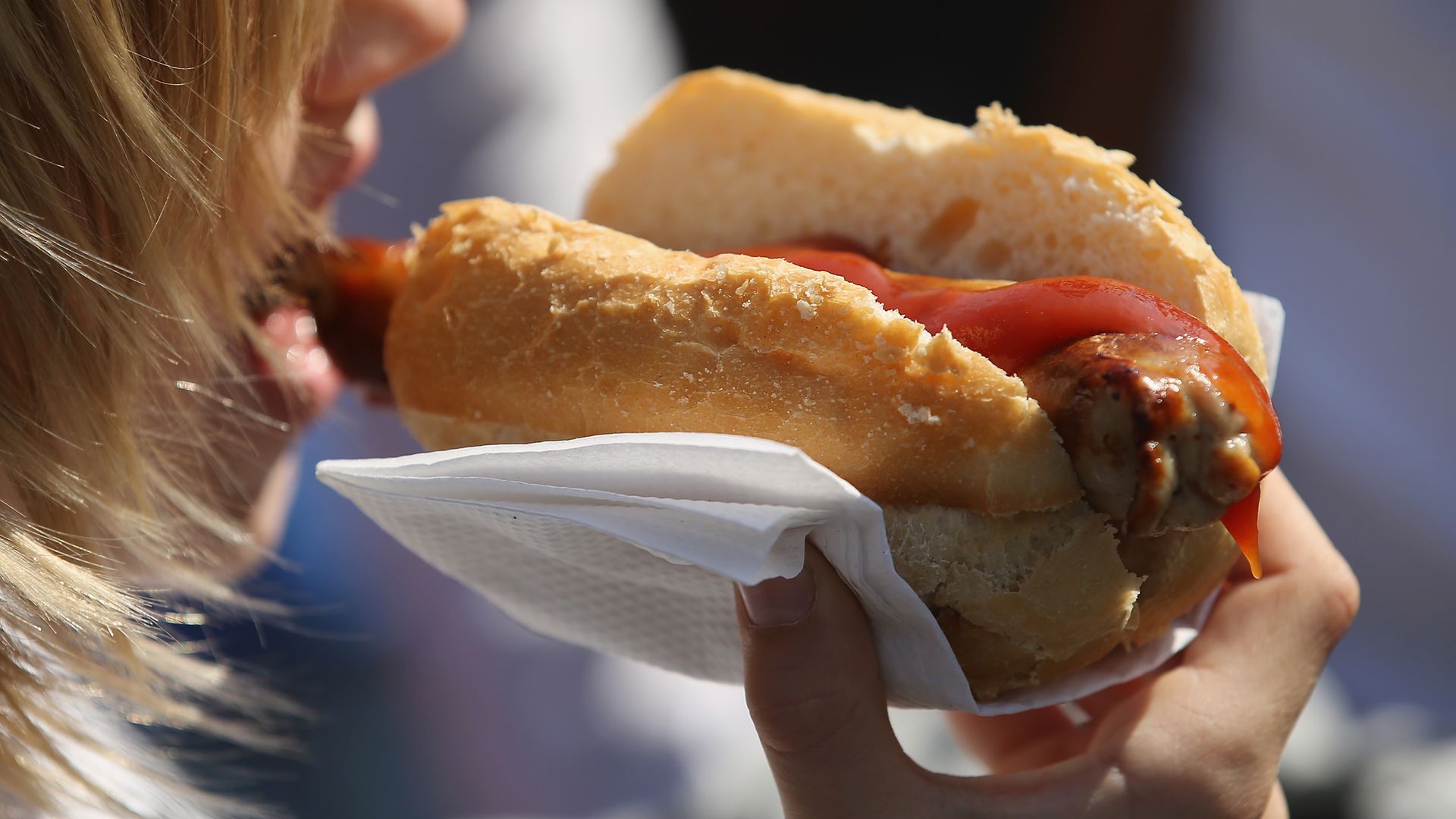 A vaccination centre in Sonneberg, central Germany, southern Thuringia, increased its footfall by nearly 80 per cent by offering a free bratwurst with every jab.
Jorg Metz, head of the local pandemic service, said the complimentary hot dog was part of a programme called 'Summer, Sun, Vaccination Appointment'. Vaccinations went up from 140 to 250 on the first day of the offer.
The news came as brands including Uber and Deliveroo were lined up by the UK's department of health to offer incentives to encourage younger people to get vaccinated.
***
Police in the north-eastern Czech city of Ostrava called off a five-day-long hunt for a missing crocodile after it was found in its owner's basement.
Thirty officers from city and regional police were involved in the search, which began when the man reported the reptile missing from its cage in his backyard, two days after he had last seen it.
Locals were warned not to approach the five-year-old croc, which was large enough to attack cats and smaller dogs. Officers feared it might have escaped into the nearby Odra River, possibly taking it over the border into Poland, but a search uncovered the beast, named Mireczek, at home. 
Its owner is now being investigated amid concern about illegal crocodile breeding in the Czech Republic. In May, firefighters encountered a three-meter-long Nile crocodile while putting out a house fire in the village of Klopina, near the eastern city of Olomouc.
***
An 18-year-old girl who visited a casino in the Austrian lakeside resort of Velden with her parents put one euro in a Fort Knox slot machine and won 228,554.80 (£195,410.26).
The family, from lower Austria, are remaining anonymous. The casino said they had been given a free bottle of Prosecco to celebrate.
***
A gang of jewel thieves named after a Hollywood movie series got an inadvertent helping hand from a Hollywood movie star, according to police in Paris.
Two Montenegrin citizens believed to be from the Pink Panther gang are being held on suspicion of stealing jewels worth between 2-3 million euros (£1.7m-2.5m) from the French capital's Chaumet store near the Champs-Elysses.
After taking the precious stones at gunpoint, their escape on an electric scooter was aided partly because a throng of locals had gathered outside a nearby optometrist where Jean-Claude Van Damme was buying spectacles.
The suspected thieves were arrested 200km from Paris on a bus headed for Belgrade. Authorities say they are linked to the Pink Panthers, who have been blamed for a series of jewel thefts worth a total of 420 million euros (£360million) over an 18-year period.
***
A young couple in Biograd na Moru, Croatia got a surprise gift when they went to buy pastries – the entire day's takings of the bakery, which had been bagged up ready to take to the bank but was put in with their shopping by mistake.
The money was later returned after an appeal on Facebook. The bakery said the pair would receive free cakes as a reward.
***
Police in Linköping, southern Sweden have apologised and paid compensation to motorists after a surveillance drone fell from the sky and crashed into two cars.
Officials say they were monitoring a district from the air when a bird flew straight into the drone. The drivers have received 45,000 and 13,000 krona (£3,770 and £1,090) each.
***
Deaf and hard-of-hearing people in France are being invited to 'hear' sounds at concerts by wearing a backpack that vibrates in sync with the music.
Parisian nurse Nathalie Perdu launched a test event for the 'Subpac' devices, made by American-Canadian company Timmpi, at a music festival in Arnac, a village in Cantal, at the end of July.
She said: "The vest is connected via Bluetooth to a mixer which receives the sound of the instruments and reproduces it by vibrations. It's quite incredible to see people dancing who, in their daily lives, are very isolated because of their disability."
***
Danish YouTuber Albert Dyrlund has died after falling 200 metres (656 feet) down Mount Seceda in the Italian Alps while filming a video.
Drylund, 22, initially became known for viral songs and sketches but had been testing out more adult, stunt-based video, including clips of him licking dog faeces and snails.