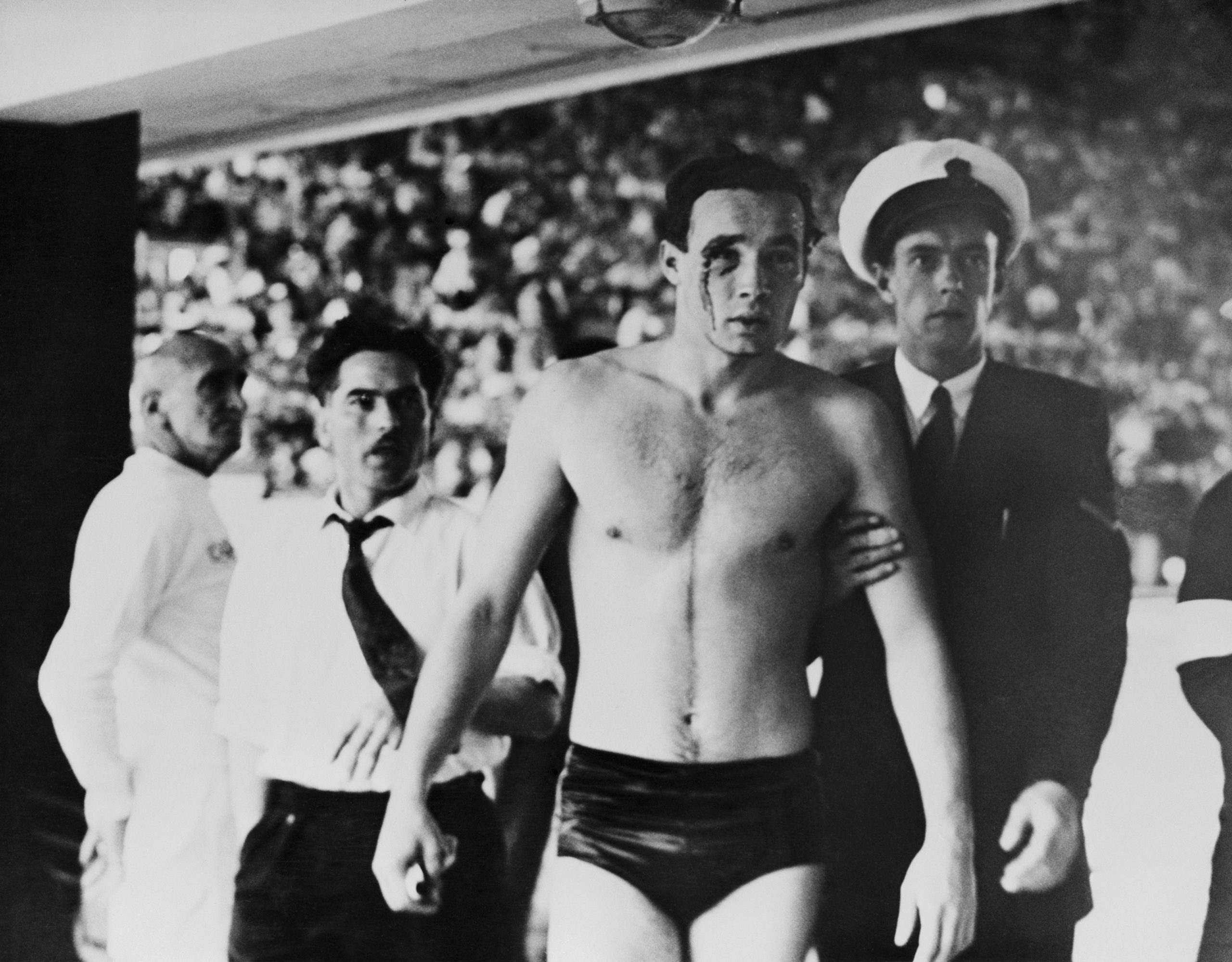 "I remember drinking coffee in the Olympic village. Istvan Hevesi asked me what we would do if we played the Soviets," Ervin Zádor said, years later. "I told him I didn't know, but maybe we should keep cool heads. I'm not sure that really worked out."
The pair were members of Hungary's water polo team at the 1956 Olympics in Melbourne, and had been chatting – rather prophetically, it would turn out – about who they might need to defeat to retain the gold medal the team had won at three of the last four Games (they took silver in 1948).
Their anxiety about a possible clash with the USSR was not purely down to sporting reasons. Just a few weeks earlier, their compatriots had been battling Soviet soldiers in bloody street fighting, as the Red Army crushed the Hungarian Uprising.
Those events had provided one of the Cold War's most tense and brutal episodes and had held the world's gripped and grim attention for days on end.
But there was one group who had been left completely in the dark about what was unfolding: the water polo team themselves. The players had left Hungary on November 1, 1956 – three days before Red Army tanks had rolled across the border – and headed for their training camp in Czechoslovakia.
The Czechoslovaks, key Soviet allies, were instructed to hide all details of what was happening back home from the Hungarians, and so the athletes remained incommunicado, unaware of the world-changing events unfolding across the border.
It must have been difficult to head into such an information vacuum, because they had just left the country on the cusp of a revolution.
Dissent had been simmering in Hungary since the summer when, under Soviet premier Nikita Khrushchev's instruction, Hungary's hardline communist prime minister Mátyás Rákosi resigned.
Believing his departure signalled opportunities for liberal reform of Hungary's obdurate one-party system, journalists, writers and especially students began organising opposition. But on October 23, what started as an almost intellectual pursuit erupted into outright revolt against the government and its Soviet backers.
Inspired by a similar rebellion in Poland, 20,000 students and supporters gathered in Budapest demanding independence from foreign interference. As day became evening the protest swelled and, turning their ire on prominent Soviet symbols, demonstrators toppled a statue of former Soviet leader Joseph Stalin.
When they surrounded the headquarters of Hungarian State Radio, the authorities finally retaliated. The secret police, the Államvédelmi Hatóság (ÁVH), began firing and Soviet soldiers stationed in Hungary left their barracks to follow suit.
As news spread of the crackdown, what had started as a niche protest quickly gathered momentum. The following day there were calls for a general strike and the withdrawal of Soviet troops.
Militias roamed Budapest ransacking government buildings, freeing political prisoners and confronting the ÁVH. Within hours the government, weak and hesitant, began to collapse.
Imre Nagy, the reformist prime minister ousted in 1955 following his attempts at liberalisation, returned on a wave of popular support, replacing Ernö Gerö who later fled to Moscow.
On October 28, Nagy's first broadcast on Radio Hungary announced the ÁVH would be disbanded and Soviet troops expelled. More provocatively, he later declared Hungary would withdraw from the Soviet-dominated military alliance, the Warsaw Pact.
Believing erroneously – perhaps following misleading reports on Radio Free Europe – that the United Nations and US-led western powers would back him, Nagy declared Hungary a neutral nation. It was the first direct threat to Soviet hegemony since Nazi Germany was vanquished in 1945.
Then the fighting stopped. And there was a uncertain lull of about a week, as the Hungarians waited to see how the Soviets would respond. The world watched – and the water polo team headed to their news black-out in Czechoslovakia.
The Soviet response finally came just before dawn on November 4, as Khrushchev sent 1,000 tanks backed by 30,000 troops into Hungary. Nagy made a final plea for western help at 5.20am, but none came. The US and its allies, already embroiled in the Suez crisis, were never going to risk nuclear war. Nagy and Radio Hungary were silenced.
A week later almost 3,000 Hungarians were dead. Seven hundred Soviet troops died too, some executed for refusing to shoot civilians. But the insurrection was crushed and the insurgents fled to Austria, alongside 200,000 refugees. The courts tried 26,000 Hungarians, imprisoning most and executing at least 229.
And while all this was happening, Hungary's still-oblivious water polo team was travelling from its training camp on to Australia. It seemed both banal and incongruous, but Nagy himself had demanded the nation's athletes attend the Games, to represent what he, and likely they, hoped would be a free Hungary.
Newspapers at Darwin airport told them everything they had missed. The athletes also learned the Netherlands, Spain and Switzerland had boycotted the Games in solidarity with Hungary and the dismayed players considered doing likewise. "In the end we decided winning would make a better political statement," said Miklos Martin.
After impressive performances in the early rounds, Hungary could have met any number of other nations at the semi-final stage. But inevitably, as often seems to be the case when numerous routes to a conclusion are possible, fate chose to decree that the script was followed to the letter.
Hungary would play the Soviet Union on December 6, 32 days after the invasion.
There was already deep rivalry. Hungary was the dominant water polo nation and defending champion. That spelt humiliation for their larger rival as regular defeats piled up.
It had become a sporting rivalry to match Celtic and Rangers, Real Madrid and Barcelona. In a pre-Games match in Moscow the tension had spilled over to a locker-room brawl. But now the contest had a new, far deeper, subtext.
Hungarians have always deemed themselves a tribe apart from the Slavic nations bordering them. Language, history and culture have bred an innate belief that their destiny differs.
It has sometimes served them well, other times it can manifest itself in less agreeable exceptionalism – the rise of Viktor Orbán and his populist Fidesz party being a modern example.
Nonetheless, in Melbourne, in 1956, the Hungarian team knew it was playing to restore pride in its nation and people – it would not be cowed by its oppressive suzerain, however big, however militarily powerful. Sport is the great leveller.
When Martin suggested "beating the s**t out of them," he was rebutted. "We play clean," replied captain Dezsö Gyamarti, who had attended some of the earlier Budapest demonstrations and would eventually become Hungary's most decorated player, "…but we must win".
They had a strategy. All had learnt Russian at school. "We knew every swear word. We set out to get them angry," said Zádor. "If they began fighting we knew we'd win."
If chaos theory can anticipate that the flapping of a butterfly's wings in Sumatra will lead, days later, to a tornado in Texas, maybe the organisers of the Olympic water polo competition might have foreseen that 3,000 dead on the streets of Budapest might lead, five weeks later, to multiple attempted drownings in a swimming pool in Australia. On the other hand, maybe they believed politics had no place in sport.
The crowd, however, was less naive. Packed with expat Hungarians and – their allies for the day – partisan Australians, from the start it was clear which side they were rooting for.
The Hungarians may have intended to play fair but from the off the match seethed with vitriol. Both sides elbowed, kicked and punched below the water, and more than once opponents were held under the surface off the ball. The sin bin was never empty.
The crowd cheered every Hungarian goal and every pugilistic act of retribution. "I was over from Perth just to watch sport," recalls Eric Enderson, "but once we learned what had happened in Budapest, the Aussies got behind Hungary. That day we hated the Russians more than the Poms. I seriously thought they'd not get out alive."
With a minute left the champions were 4-0 up and cruising. Zádor turned to question a refereeing decision but as he did his frustrated Soviet marker Valentin Prokopov struck his right temple. Blood spurted. "He looked like he'd come from the butcher," Gyamarti remembered.
As Zádor climbed groggily from the pool all hell let loose. The already frenzied crowd jumped the barriers, grabbing at Prokopov. Police flooded the building as spittle and abuse rained down on the Soviets.
A riot was averted, but the match was abandoned. After the briefest of inquests, the result stood, however. "Bedlam", wrote the Canberra Times. "Cold War violence erupts at Olympics", added the Sydney Morning Herald.
"Provocation worked," said Zádor. "Whenever we went near them we were yelling 'dirty bastards, get out of our country' and as much profanity as we could muster between breaths."
After pictures of Zádor's sanguinary trauma were wired worldwide the game become known as the "Blood in the Water" match. Sympathy for the Hungarian cause rose exponentially.
Hungary would beat Yugoslavia in the final match – without the disconsolate Zádor – to retain their title. But despite their triumph, many players were wary of returning home with a Soviet puppet government back in charge. They sought asylum in Australia and the US where later Zádor would have more success coaching nine-times Olympic champion swimmer Mark Spitz.
The events were immortalised in two films of 2006, the Hungarian language Szabadság, szerelem ('Children of Glory') and the Quentin Tarantino-produced Freedom's Fury, narrated by Spitz. The latter's director, Colin Gray, met many of the players, most of whom have since died. "They were all – both sides – really victims of circumstance, imprisoned by ideology," he says. And while Hevesi would agree, realising in later life that his opponents that day had little to do with what happened in Hungary in the autumn of 1956, he also still asserted: "At the time it was the only way to show opposition. We were playing for our nation, not just sports fans, but every Hungarian. The fire inside us. God help us. God help them. It mattered so much."